The information you submit via our enquiry form is shared only with the franchise business(es) that you have selected.
The franchise business will contact you by means of email and/ or telephone only to the email address and phone number you have provided.
By submitting the enquiry form you are consenting to send your personal information to the selected franchise business.
You also agree to receive further newsletter email marketing from What Franchise.
Close
Did you know?
The Zip Yard has an expected revenue of £40,235 net profit after 2 years!
Request free information in just 60 seconds!
Take the first step in becoming your own boss!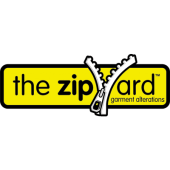 The Zip Yard
Provides a professional tailoring and garment alteration service
Minimum Investment
£12,000
Funding Support
Available from major lenders and banks
Total Investment
£48,000 + VAT
Franchise Fees
£12,000+ VAT
Expected Revenue After 2 Years
£40,235 net profit
About The Zip Yard
The Zip Yard was founded in 2005 as a garment alteration service provider and has grown across the UK and Ireland as a successful franchise due to high demand among customers for high-quality, cost-effective tailoring services. With no other bespoke tailoring franchises currently operating in the UK, there is extensive opportunity to find the right location to start your business.
By choosing to become a franchisee, you will be part of the largest and fastest-growing clothing alterations franchise in the UK and Ireland. If you are looking to invest in a business that also has an emphasis on sustainability – then this is the perfect opportunity.
An ambitious and enterprising brand, The Zip Yard is growing quickly and is constantly investing in marketing and brand awareness. The Zip Yard has recently begun a partnership with Tesco to open within Tesco Extra stores – a collaboration that will infinitely increase brand awareness and significantly benefit franchise owners.
Franchise owners need not have any previous experience of the tailoring industry and are provided with a turnkey operation package with everything needed to run a successful store from support setting up your business, right through to ongoing marketing support and access to the wider community. The business will even assist with the recruitment of staff – both locally, nationally and internationally.
The Zip Yard carries out a variety of services – from repairs and sizing adjustments to more bespoke tailoring and changes; offering fast and cost-efficient services for everyday and special occasion wear, some franchises even offer a dry cleaning service. For an additional charge, The Zip Yard also provides a one-hour express service for hems, zips and all other minor repair work. The brand can work on a more complicated bespoke tailoring service, such as repairs and modifications on soft furnishing, curtains, and leather. Additionally, special volume services can be provided for corporate clients.
How does The Zip Yard franchise model work?
Becoming a franchisee is an incredible opportunity for someone who is looking to run their own business or expand their portfolio by investing in a recognised brand and highly successful business model that offers excellent customer service.
The fact there are no other garment alteration franchises currently operating in the UK means there is a huge opportunity for franchise owners to dominate the high street offering, plus, there is extensive opportunity to find the right location to start your business.
Franchise owners are provided with a turnkey operation package, with everything needed to run a successful store. The franchise package includes a license to use the brand, operational training and professional shop fitting for your own site, and all equipment, furniture, and merchandise required to run the store.
The package also includes marketing materials and assistance with putting together a tailored marketing plan, as well as support with staff recruitment. Quarterly franchisee emails help to create a sense of community, and franchisees are actively encouraged to share knowledge and support each other.
Do franchisees get any kind of training or support with a Zip Yard franchise?
The Zip Yard prides itself on providing training and ongoing support for all franchisees. The objective is to ensure that they are fully trained and supported in their role as a business owner and are operational from day one.
Training will cover all the key aspects of running the business and specifically will include the following areas:
• Business financial management and VAT
• Employer obligations and PAYE
• Employment contracts and recruitment
• Marketing and sales
• Re-ordering
• Computer system
• Health and safety – COSHH poster
• Insurance – Employers' liability and public liability
• Customer service and customer experience
• Productivity
• Franchise cycles
Upon taking on a franchise, each owner will be invited to an operational induction. This induction takes place at the Leeds store over the course of three to five days. Franchise owners will shadow an already successful franchise owner and their team during which time they will have the opportunity to ask any questions they might have. During this induction, owners will be offered practical lessons on running a Zip Yard business, including the required experience to see individual items and the alterations that can be carried out.
The Zip Yard's franchisee package includes marketing materials and assistance with putting together a tailored marketing plan, as well as support with staff recruitment.
Once open, new owners will have a member of the team there with them for the first week of trading in the capacity of a mentor to provide advice and guidance on everything from the front of house welcome to practical information on pricing and repairs.
Ongoing support:
Whilst owners will be fully responsible for the day-to-day organising of the outlet, they will have the reassurance of having a fully trained member of the team available and ready to help out at any time. Ongoing support to franchisees is an integral part of the franchise model. The Zip Yard endeavours to develop the brand, operations and the business as a whole for the good of all involved:
• Operations Manual updates as and when is necessary.
• Additional training where required if new processes come on board.
• Franchisor site visits to meet with the franchisee to discuss various topics from budgets to local marketing to new business ideas.
• Weekly reports from The Zip Yard head office collaborating the network's results.
• Franchise meetings bringing all franchisees under one roof for the easy exchange of ideas and business development.
• Easy stock ordering system constantly updated with new items.
• Advice on business development.
• Support and guidance on our bespoke POS system.
• Financial Health checks for each franchisee if and when they require it.
• Generic attended phone number to allow for customer enquiries if you are not available.
• Advisory help with staff recruitment and training.
Who makes the ideal The Zip Yard franchisee?
The ideal franchise candidate will be someone dedicated and self-driven and with a strong level of self-motivation. The brand is looking for entrepreneurial people with the desire to succeed in business. You can choose to run your franchise as a lifestyle business or you can choose to develop and maximise revenue and profits – it's your business, so it's your choice.
Did you know?
The Zip Yard has an expected revenue of £40,235 net profit after 2 years!
Request free information in just 60 seconds!
Take the first step in becoming your own boss!
It's important to note that to start a Zip Yard franchise, you do not need to have previous experience in the industry. Most of its franchise owners do not have a background in tailoring or seamstressing. However, some do. The business model is proven to be successful with and without experience in the sewing industry.
All franchisees become part of The Zip Yard network: you will have more than 50 business owners that have the same goal as you – to be successful!! The sharing of information between franchisees is key, and all franchise owners have access to a dedicated app where they can access marketing materials, link up their social channels and order stock. Quarterly franchisee emails keep everyone up to date on what's happening across the business and provide a supportive and positive place to recognise achievements and share success. There is also an annual conference for The Zip Yard franchise owners where success and new ideas are shared amongst The Zip Yard family.
How much does a Zip Yard franchise cost?
The Zip Yard aims to be completely transparent with franchise owners about the cost to set up and run a Zip Yard business. A one-off upfront payment will buy your franchise license.
The Zip Yard franchise licence fee is £12,000-plus VAT, you will need to factor in the cost of your premises, and your preliminary stock and equipment – but don't worry – the Zip Yard can supply this to you at a preferential rate to help keep your start-up costs down.
The exact amount you will need to get your new business up and running will vary depending on a number of factors, such as location and property lease prices, however, based on a working average of the dozens of franchisees it has helped to start their own businesses, the franchisor estimates the cost of launching your own The Zip Yard store to be around £48,000-plus VAT excluding the property costs.
How much profit can I expect from a Zip Yard franchise?
Some of its stores exceed £300,000 in turnover. However, conservative forecasts based on real-life results from owners suggest that franchisees can expect to make a net profit of almost £30,000 in year one, £40,235 in year two and £60,000 in year three.
The Zip Yard franchisees are also offered the opportunity to open multiple stores in different locations – including the opportunity to run a Zip Yard inside a Tesco Extra store.
What kind of financial support can you get to start a Zip Yard franchise?
It may be possible to get financial support for some, or all of the amount required to start a The Zip Yard franchise, from most major lenders and banks.
Where can you find a territory to start a Zip Yard franchise?
The Zip Yard is looking for franchise owners across the whole of the United Kingdom. There is a scope for stores to be opened in hundreds of locations across the UK. For more information on the availability of territories please get in touch by filling in the enquiry form on this page.
What are the franchise terms of agreement and renewal?
The initial term for a The Zip Yard franchise is 10 years with an automatic option to renew.
Why is The Zip Yard franchise a good investment?
By choosing to become a Zip Yard franchise owner, not only can you run your own profitable business, but you can also own a genuinely sustainable company that makes a difference to the environment.
While results are dependent on the effort put in by the owner, Zip Yard franchisees consistently show profitable businesses – with conservative forecasts showing sales of over £160,000 and a net profit of £60,000 by year three.
Unlike some franchise networks, The Zip Yard is with you every step of the way, providing support and training to ensure that the business is operational from day one.
What do reviews say about running a Zip Yard franchise?
Existing franchisees have found running a Zip Yard business to be a highly successful opportunity. There is a high level of demand among customers for tailoring and alteration services. Most service providers in this industry take several days to carry out alterations, while the Zip Yard's ethos of providing fast turnaround times and reasonable prices offers a more efficient and attractive service, leading to their rapid growth and loyalty from customers.
The brand also offers a more contemporary and technologically-driven experience, with spacious and modern store design, and a useful computerised order processing system, which tracks all orders, and updates customers directly when collections are ready.
As the brand provides everything required to get started, including extensive marketing support in franchisees' local territories, many existing franchise owners have found that their businesses have grown rapidly, with fast growth in sales, and constant support from The Zip Yard team throughout. Some of its top-performing franchisees have earned turnovers in excess of £270,000 within a couple of years of opening.
Once established, franchise owners also have the opportunity to expand their services beyond the consumer market, with the option to target their services towards businesses, department stores, and other larger organisations, increasing their sources of revenue.
Working with The Zip Yard is an ideal prospect for anyone passionate about working and interacting with a wide variety of people, paying attention to detail and enjoying a varied working day.
How to get started on running your own The ZipYard franchise?
To find out more about starting franchise opportunities with The Zip Yard, contact the tailoring franchise by completing the enquiry form found on this page.

Request Free Information
Send a free enquiry to The Zip Yard for further information!
Enquire into this franchise today