The information you submit via our enquiry form is shared only with the franchise business(es) that you have selected.
The franchise business will contact you by means of email and/ or telephone only to the email address and phone number you have provided.
By submitting the enquiry form you are consenting to send your personal information to the selected franchise business.
You also agree to receive further newsletter email marketing from What Franchise.
Close
Did you know?
The Little Foxes Club is eligible for funding support!
Request free information in just 60 seconds!
Take the first step in becoming your own boss!
The Little Foxes Club
Changing sports coaching for children aged 18 months to 14 years. Delivering fun, fitness and promising financials
Minimum Investment
£14,950
Expected Revenue After 2 Years
N/A
About The Little Foxes Club
Working with young people to encourage and support them in developing a love of sports serves multiple purposes. This is why The Little Foxes Club has enjoyed steady business growth and is now developing a network of enthusiastic franchise owners. Schools, children and parents all welcome the services The Little Foxes Club provides in local communities, including delivering highly inclusive and accessible sports coaching during the school day.
The core of what it offers you is the chance to use that established brand, experience and premier reputation to create your own successful business that provides sports coaching for children aged 18 months to 14 years. It will help you grow your venture profitably, with the reassurance of being supported by a responsive, friendly and dedicated team at The Little Foxes Club HQ in London. It will even handle some of your communications and admin for you.
Possibly the biggest thing you stand to gain though is the knowledge you will be playing a central role in delivering health, fitness, new skills, friendship and fun to children, in a way that builds a strong income! That will include business-to-business work (such as schools in your area) and business-to-consumer activities (selling sports coaching directly to parents). Franchisees are not limited to working just during the school day and school year. Extra curricular clubs, holiday camps, birthday parties, competitive youth football teams, five-a-side leagues and pre-school sports classes are all great revenue streams for the school holidays
As you're likely to find your sports coach services in demand, one of your first tasks will be to recruit, train and manage local sports coaches, so you can timetable classes and activities across the week in your chosen area. Job satisfaction, physical activity, community engagement, being your own boss, profits and a strong business support process – does that sound good to you? Read on or use the enquiry form below.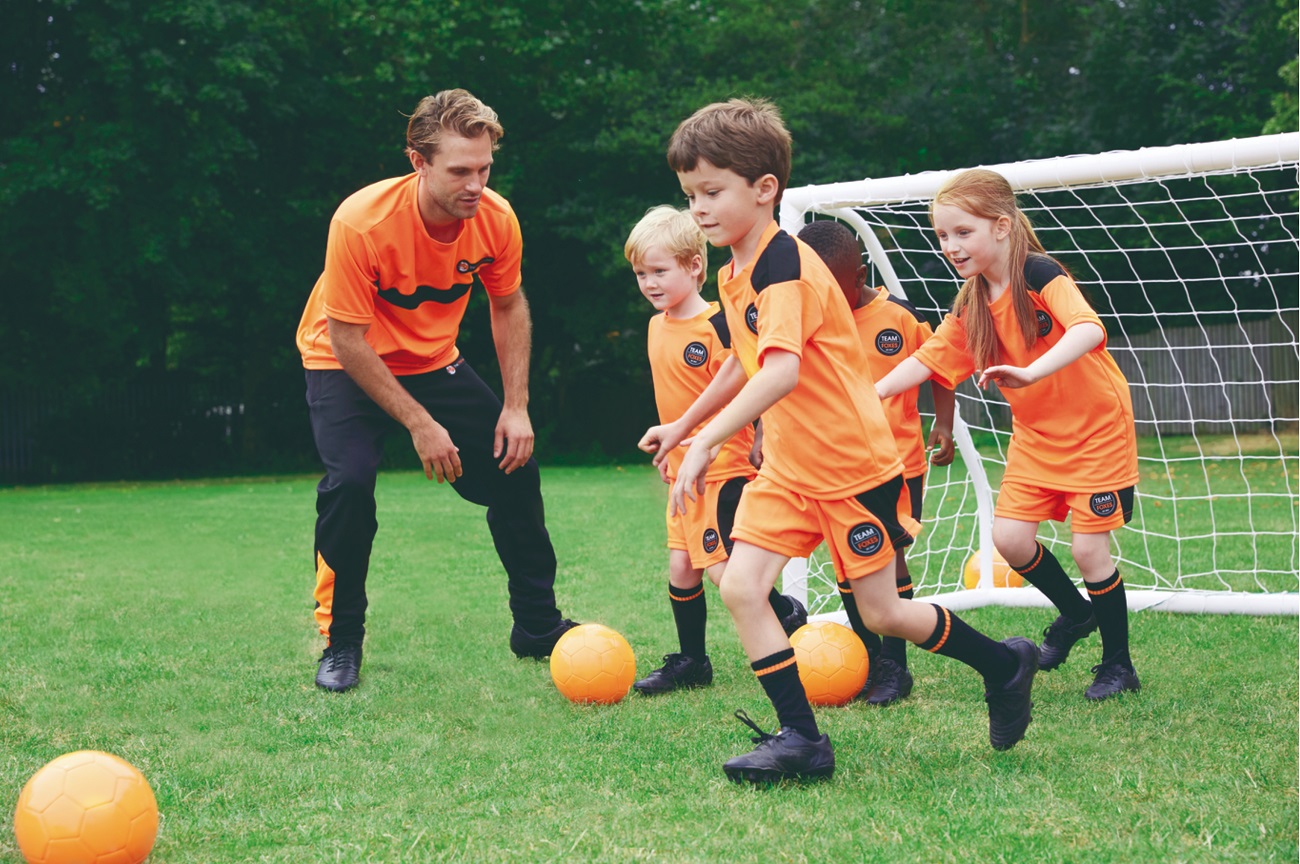 How does The Little Foxes Club's franchise model work?
The Little Foxes Club has developed its attractive sports-related franchise opportunity using best practice principles. For example, it is a member of the British Franchise Association (bfa). Qualifying criteria and coaching franchise start-up costs are outlined below.
However, the fundamental aspects of The Little Foxes Club's franchise package include:
• The chance to be your own boss and build a business in your community.
• The backing of a nationally respected sports coaching brand.
• Extensive sports coaching start-up (and ongoing) business support.
• Help in diversifying your income streams.
All of this pivots on responsive, nurturing and high-quality support from its head office franchise support team, as well as all the tools you need to build a strong, sustainable multi-sports coaching venture. Including a robust client management system, to orchestrate your business brilliantly, such as timetabling and booking classes, managing waiting lists, attendance monitoring, sending marketing emails and processing payments.
Why is The Little Foxes Club franchise a good investment?
With The Little Foxes Club on your team, you get a great deal of help with your initial business launch and ongoing operations, including consistent and reliable support and a rich source of new ideas and opportunities. Also, you will find that doors open more easily when your new sports coaching venture is backed by a national leader in this sector. In other words, The Little Foxes Club brand helps franchise owners hit the ground running.
Though you benefit from the company's reputation and support, you control how many hours you work (and at what times of day/week), making this an attractive franchise opportunity for parents. Also, you can create a wide range of sports coaching activities (football, tennis, rugby, gymnastics and netball for instance) or focus on ones you feel your community needs the most.
The start-up costs are referenced below, but keep in mind this is a relatively low-cost, home-based franchise opportunity. You don't need expensive premises and equipment and you enjoy the benefits of the company's buying power.
How much does The Little Foxes Club franchise cost?
The initial capital needed for a multi-sports coaching venture with The Little Foxes Club would be a minimum of £14,950.
How much can I make and what does it cost to run a coaching franchise?

With this successful sports franchise model, you are your own boss. How much money you make depends on you as a business owner, including the time you want to invest in delivering coaching activities for children and your commitment to promoting this company's strong brand and establishing new community contacts.
Did you know?
The Little Foxes Club is eligible for funding support!
Request free information in just 60 seconds!
Take the first step in becoming your own boss!
Keep in mind that health, fitness and social engagement issues are increasingly crucial to local schools and communities, providing you with a wide-open playing field for gaining new contracts. This will help you to diversify your revenue too.
Ongoing costs for operating a successful sports coaching franchise with The Little Foxes Club includes commission on sales and a fee for continued business support. These manageable running costs enable the pro-active head office team to support franchise partners in a diverse number of ways, as well as to grow their national reputation even more – all of which brings you benefits too!
Where can I launch my sports coaching opportunities?
Franchisees are offered exclusivity in key geographical areas. As the network of The Little Foxes Club is growing fast, it is best to fill out the enquiry form with your preferences on where to set up a sports coaching venture.
What ongoing support does The Little Foxes Club offer franchisees?
It all starts with providing you with a proven sports coaching business model and a wealth of help to launch your own business in this increasingly important sports franchise sector. From then on, you're part of Foxes FC and though you are your own boss, the company backs you every step of the way, including being available seven days a week to answer questions by phone and email. Likewise, you get access to year-round IT support.
Even more exciting is The Little Foxes Club's business admin and communications service, a unique advantage over other sports coaching-related franchises. The HQ team will answer your phone calls, emails and website online chat for a set amount of time each working day (including weekend mornings). Freeing you up to do things like networking, supporting your staff and even doing hands-on coaching if you prefer, whatever it takes to see you become a successful franchisee.
Other ways The Little Foxes Club helps franchisees to be confident, successful and profitable include:
• Smartphone with all calls/texts covered.
• Software to manage and deliver sports coaching activities.
• Software for everyday business control and financial planning.
• Help with HR and recruitment.
• Ready-made website, with payment processing and CRM built-in.
• Extensive ongoing digital marketing help.
• Offline marketing ideas and activities.
• Help in building eCommerce avenues.
What is The Little Foxes Club looking for in franchisees?
The best way to run a successful sports coaching venture under The Little Foxes Club's national brand is to focus on being a business manager, though some franchisees do deliver coaching activities in person too.
The things it looks for in franchise agreement partners include:
• Child development experience and dedication.
• An interest in sports and physical fitness.
• Core business management abilities.
• Organisational and planning skills.
• Excellent interpersonal and communication skills.
However, it is happy to talk to any potential franchisees. Just as sports coaching is inclusive, so is this opportunity to start your own business in coaching children in sports.
How do I start my own franchise of The Little Foxes Club?
It is easy to set up a sports coaching franchise with The Little Foxes Club. The franchise model has been created in a way that means it's a seamless transition to starting and then earning money with the franchise. All you have to do is fill in the contact form below to start a discussion about creating your community sports coaching venture with The Little Foxes Club. If you need more reasons why this is a great idea, The Little Foxes Club will be happy to put you in touch with existing franchisees to explain why they would recommend the franchise scheme.
One last fact to get you excited
The Government has injected an additional £320 million into primary school sports provision. That's the equivalent of £16,000 to spend per primary school in your geographical area. Would you like a slice of that?
Request Free Information
Send a free enquiry to The Little Foxes Club for further information!
Enquire into this franchise today