The information you submit via our enquiry form is shared only with the franchise business(es) that you have selected.
The franchise business will contact you by means of email and/ or telephone only to the email address and phone number you have provided.
By submitting the enquiry form you are consenting to send your personal information to the selected franchise business.
You also agree to receive further newsletter email marketing from What Franchise.
Close
Did you know?
Chemex International is eligible for funding support!
Request free information in just 60 seconds!
Take the first step in becoming your own boss!
Chemex International
Chemex International supplies a range of cleaning and hygiene solutions for restaurants, care homes, pubs, bars and the emergency services sector
Minimum Investment
£15,000
Franchise Fees
£22,500 + VAT
Expected Revenue After 2 Years
N/A
In Brief
Fast business set-up - external finance specialists secure up to 70% funding for an exclusive territory. First 30 clients guaranteed and multi-van expansion encouraged - capitalise on an impressive customer generation process and national account customers across multiple sectors. The repeat business model delivers consistent cash flow and predictable revenue - one vehicle can turn over £300,000 with 25-30% net profit. Successful long term businesses available due to retirement.
About Chemex International
Chemex is a leading hygiene specialist which manufactures and supplies a broad range of cleaning products and infection control systems to many different sectors including luxury hotels, Michelin-starred restaurants, high street stores, NHS Trusts, care homes, ambulance organisations, food manufacturers and many more. Chemex has all the products and expertise to handle entire hygiene systems for food preparation and large scale laundry and dishwashing systems.
Franchised locally across the country, Chemex states that it has more than the products it supplies: the Chemex service system will help its franchisees maintain strong relationships with its customers. As well as managing local customers, the franchisee will also service Chemex's national account customer base.
Chemex has successfully delivered high-quality cleaning and hygiene products for over 30 years, taking a customer-focused approach and delivering an outstanding value for money service.
The USP of Chemex is that the brand uses only biodegradable raw materials taken from sustainable source, and its biological products use nature's technology to perform cleaning tasks that even harsh chemical products can't.
The Chemex's drive to innovate — in an industry that is not renowned for innovation — resulted in the franchise being awarded the BFA/HSBC Award for Innovation in 2014, beating off McDonald's and O2. Chemex are able to showcase a series of changes to how the franchise looks after its clients, including new techniques, products, marketing and an app-based e-audit tool, all designed to give its customers access to products and information whenever and however they need it.
Chemex's service combines weekly deliveries, free of charge installation and maintenance, training and a guaranteed satisfaction policy.
Chemex International is a full member of the British Franchise Association, is compliant with the requirements of ISO 9001 and ISO14001 and other governing bodies in the industry and accredited by Investors in People.
What is Chemex International?
Chemex was originally founded in 1985 as Chemical Express, supplying commercial cleaning, hygiene and maintenance products.
Nick Stojic, former National Franchise Manager at McDonald's, was one of three partners with experience in franchises who took over the company in March 2006, the others being ex-Rainbow International master franchisee Melvyn Lusty, and Sean Derrig, previously the National Franchise Manager at Snap-on Tools. At the time the business had 88 franchisees in total and had established master franchises in Cyprus, Malta, Denmark, Belgium, Luxembourg and Ireland.
The original plan was to grow the businesses of franchisees as well as growing the franchisee network. The business experienced double-digit sales growth and moved to a state-of-the-art, 80,000 sq. ft. distribution centre in the Midlands to service its franchisees.
Stojic subsequently left to concentrate on WorkSense; Chemex was subsequently joined by Michael Graham, a former territory manager with Safeclean and owner of Pitman Training, as MD.
The company is considered a leader in several market sectors. Its network of 100 franchises is spread between 10 countries in Europe, Scandinavia, the Middle East, North America and Australasia.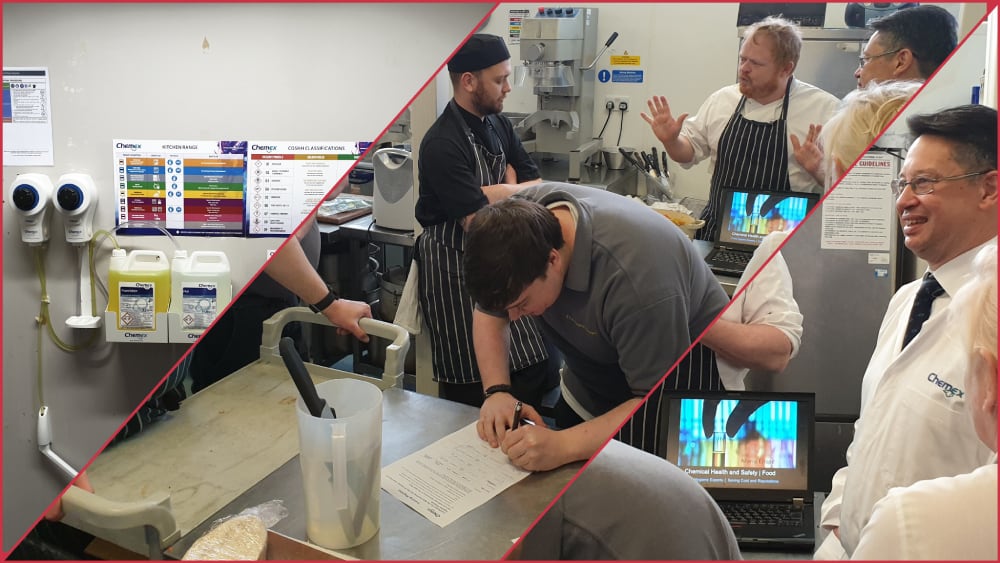 How does the Chemex franchise model work?
Chemex has been providing innovative, market-leading products for every type of industry for the past three decades. Whether what you need is general or specialist, mass-market or niche, the Chemex franchisee will have the product for you — and if none of the wealth of products that Chemex has invented over the years fits the customer's needs, they will formulate a product that matches them precisely.
Chemex states that there is no more waiting weeks for deliveries, inconvenient minimum order quantities, nor cupboards filled with stock… and its systems will save you money, too.
Chemex boasts a proven and flexible franchise system, with a consistent cash flow model with predictable revenue through repeat orders; sales are made to multiple sectors, making it a safer business model; and Chemex has an impressive system for generating new customers.
The Chemex franchisee can earn a six-figure sum from a single vehicle, which is capable of supplying a maximum of 300 customers, or a turnover of £300,000. With many franchisees operating at a net profit between 25-30 per cent, the rewards can be considerable.
A Chemex franchisee will have an exclusive territory with over 8,000 prospective customers, and they may choose to expand, and a multi-van operation is available.
The franchise fee is £22,500 + VAT with a total investment in the region of £23,500 + VAT.
How can I find funding for a Chemex franchise?
Chemex notes that its financing process is straightforward and efficient and funding of up to 70 per cent is easily possible. Chemex International works with external finance specialists to ensure the business is appropriately planned.
What training and support does Chemex offer?
After visiting Chemex on one of its discovery days, the company encourages potential franchisees to speak to current Chemex International franchisees. Armed with an understanding of the system, franchisees will be able to ask any pertinent question they have to make sure that a Chemex franchise is the right choice.
Training for a Chemex International franchise begins with the franchisee learning from pre-starter training workbooks before beginning a three-week in-house training course. During this, Chemex offers class-based training, in-field practical exercises and on-territory development exercises. Hotel accommodation is included in the price.
This initial training is followed by a 12-week kick-start programme, which guarantees the creation of 30 new clients to start the new Chemex International franchise a profitable head start. Once you have a solid foundation, you will find your Chemex International earnings start to roll in.
Did you know?
Chemex International is eligible for funding support!
Request free information in just 60 seconds!
Take the first step in becoming your own boss!
Chemex will also provide you with ongoing support after your initial training from the Chemex International head office team. Learning from the previous experience of the men behind the company, Chemex encourages positive collaboration among its franchisees.
Chemex trains you on how to safely handle chemicals and essential health and safety rules. This basic course will help you understand what risks there are and how to prevent any problems for yourself and others, franchisees can follow the course online for free and take a test at the end. Other simple courses that will assist franchisees include a course on Infection Prevention and Control (IPC), vital for anyone hoping to work in health or social care, whether you are directly involved with patients or not.
Chemex also has a qualification designed to provide franchisees and their staff with the basics of food safety practice: the Chemex Level 2 Award in Food Safety in Catering, Retail and Manufacturing, which is fully accredited by QUALIFI. It is a quick, simple computer-based course to ensure you are compliant with food safety regulations.
Can Chemex franchisees specialise in infection prevention and control?
Chemex International's management system fully meets the standards of the International Organization for Standardization (ISO) quality management, meaning that Chemex franchises can offer a range of cleaning and sanitising agents that are powerful protection against infectious and resistant bacteria such as MRSA and C. difficile. Market-leading products complement bespoke cleaning and hygiene control programmes and effective staff training to make sure that staff are making effective use of Chemex's products to maintain a clean, safe environment.
Chemex is a leading provider of hygiene products ambulances for both NHS trusts and private operators. They are leading authorities on deep clean and for making vehicles ready for use by ambulance providers.
For the peace of mind of a franchisee's customers, they will want to know that they and their staff are protected from acquiring infections. The unique Chemex compliance tools, in conjunction with proven products and systems, ensure your franchise service users and staff are in a hygienic environment.
The Chemex International franchisee can train a client's cleaning staff in the use of chemicals free of charge as part of their service. A franchisee can also help reduce labour costs of their clients by introducing more effective hygiene products and protocols, including free on-site staff training in how to effectively use the products supplied by the Chemex franchisee, the efficient and safe application of products, and advice on Control of Substances Hazardous to Health (COSHH) and other health and safety subjects related to products.
Chemex trains thousands of its clients' staff in chemical health and safety and infection control every year.
Who would make the ideal Chemex franchisee?
The Chemex franchisee does not need to have industry experience but will need to be organised in order to establish a dynamic business using the franchise model developed by Chemex of fulfilling the needs of regular, repeat clients with minimal staffing requirements. Chemex is looking for people who are strong at communication and sales; self-motivated people committed to doing an excellent job for their clients who don't mind hard work; and an ability to drive.
What is the resale potential of a Chemex franchise?
Chemex is actively seeking franchisees in its push to grow both in the UK and internationally. With nearly 70 territories allocated in the UK and seven master franchises in operation with international partners, Chemex states that it is facing the unique problem of 30 years success — almost a third of its network of franchisees, each with 10-30 years' experience in the business, are approaching retirement age. With the support of Chemex's head office and its in-field experts, the right candidate might find themselves busy for the next 30 years.
What are Chemex International's quality and environmental policies?
Chemex International and its franchisees are committed to deliver high quality cleaning and hygiene chemicals and ancillary products, ensuring that their clients receive a high quality service. Chemex strives to offer ongoing training to its staff and franchisees to ensure that they are aware of the quality and environmental impact of their cleaning services, and the entire network is regularly reviewed and audited by management.
Chemex franchisees use sustainable resources and lead the market in using natural, biological agents that offer incredible cleaning results. Products have been designed for maximum cleaning efficiency while using ingredients that are sustainable, biodegradable or environmentally neutral. Chemex also delivers high performance concentrated products which can by hydrated or diluted on-site, lowering the carbon footprint of the company by not transporting water around the country, saving money that can be passed on to Chemex's customers.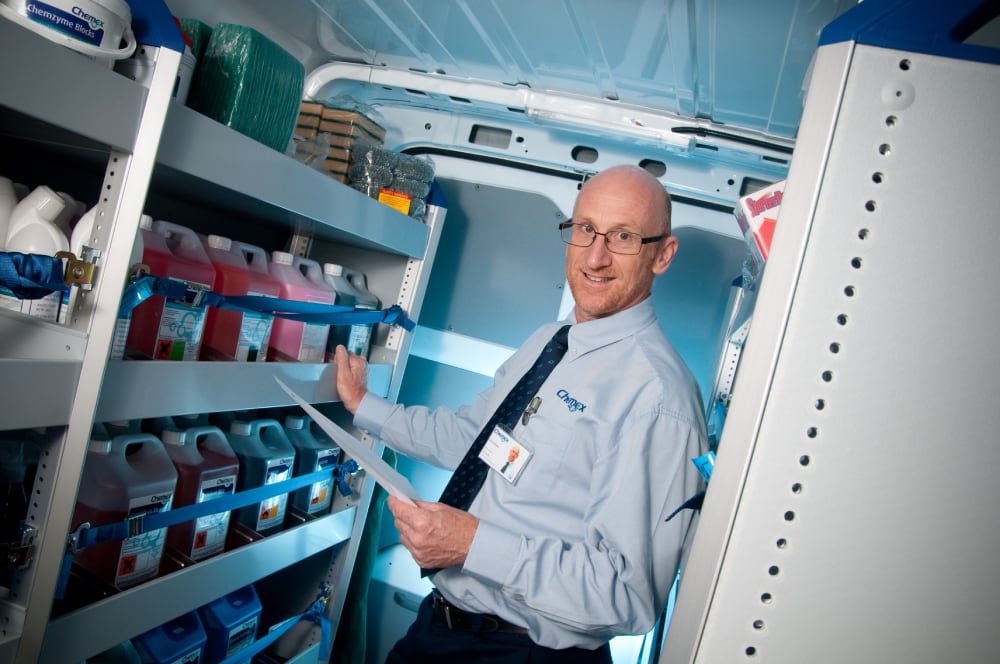 How in-demand are hygienist businesses right now?
The cleaning industry contributes over £24bn to the UK economy, and a growing number of firms are now outsourcing their cleaning, increasing by 27 per cent between 2011 and 2015. Chemex International estimates that supplying to this expanding industry is worth around £7bn annually with expectations of growth in the future.
How can I get started on setting up my own Chemex franchise?
A Chemex International franchise begins with a discovery day. To find out more, or to request further information on franchising with Chemex, click on the 'Send Enquiry' button now.
Request Free Information
Send a free enquiry to Chemex International for further information!
Enquire into this franchise today