The information you submit via our enquiry form is shared only with the franchise business(es) that you have selected.
The franchise business will contact you by means of email and/ or telephone only to the email address and phone number you have provided.
By submitting the enquiry form you are consenting to send your personal information to the selected franchise business.
You also agree to receive further newsletter email marketing from What Franchise.
Close
Did you know?
Clean Genie has outlets available across the UK

Request free information in just 60 seconds!
Take the first step in becoming your own boss!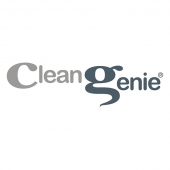 Clean Genie
High quality, cost effective specialist office and commercial cleaning services across the UK
Minimum Investment
£7,400 - £ 14,900
Expected Revenue After 2 Years
N/A
About Clean Genie
Clean Genie provides high-quality commercial and office cleaning services to businesses across the UK. Offering both day-to-day and specialist cleaning services at competitive prices, Clean Genie delivers national support with local management, ensuring that consistently high standards are maintained on every job. A 24/7 national call centre gives customers fast and easy access to support as needed, and the network of local partners offer a personal service.
Founded in 2003 and with 19 partners currently in operation in the UK, Clean Genie can provide a wide range of services including regular school, office, car showroom, and washroom cleans, along with one-off builders, pre-sale and property let cleans. Their services also include kitchen duct cleaning, IT equipment and lighting cleaning along with cleaning windows, carpets and upholstery. Other more specialist projects include graffiti removal, high-level access cleaning and touchless disinfection cleaning, along with floor maintenance and hygiene equipment rental.
Priding themselves on their high quality of work and low costs for clients, Clean Genie partners are fully insured, have a wealth of technical knowledge and have access to a range of high-spec commercial cleaning equipment suitable for any job. Each local business owner uses internet-based support systems to quickly and effectively respond to client communications and issues to provide an efficient, premium service to each and every customer.
How does the Clean Genie franchise model work?
Clean Genie operates a licence system, offering its 'partners' a 74 per cent controlling interest in their own limited company, while Group Genie retains a 26 per cent minority interest. This minority shareholding allows Clean Genie to consolidate the group accounts, making it easier to tender for larger contracts, share the AAA-rated Lloyd's underwritten group commercial insurance, support partners requiring future funding and vehicle leasing, along with utilising the Group ISO 9001 and ISO 14001 certifications.
A Clean Genie licence enables the business owner to carry out day-to-day operations of their cleaning company via one bespoke website that controls staff and customer communications, payroll, and invoicing. This virtually eliminates administration costs and allows the franchisee to work from anywhere, meaning that Clean Genie franchise business models naturally fall into two types: management and hands-on.
While around 70 per cent of Clean Genie franchise sales tend to be regular office cleaning contracts, management style franchisees tend to focus on school cleaning, builders cleans and more lucrative high access cleaning, while hands-on owners often target different markets to improve profitability, including industrial carpet cleaning, kitchen duct cleaning, graffiti removal, hard floor strip and seals, hospital disinfection, and emergency flood and smoke damage cleans.
How much does a Clean Genie franchise cost?
Clean Genie charge an initial one-off licence fee of £7,400. The licence fee renewal is £2,000, and royalty fees are charged from year 2 onwards at 5 per cent of all sales up to £10,000 per month, reducing to 2.5 per cent when sales are over £10,000 for three consecutive months.
Optional additional items include a Clean Genie van at £4,000 and a commercial cleaning equipment pack for £3,000.
What do you get for your Clean Genie franchise fee?
Included in the Clean Genie franchise fee is induction training including admin systems and health and safety, launch marketing, an intranet website, cloud-based CRM and sales tracking systems, fully comprehensive commercial insurance, a 24/7 call centre, credit control and recovery assistance, a VOIP telephone system and corporate workwear.
What marketing support is provided for Clean Genie franchisees?
Clean Genie launches marketing includes a quarterly email campaign sent to around 3,500 potential customers including schools, restaurants, offices and construction firms. Franchisees are also provided with digital print sales documents, business cards and leaflets targeting a range of different sectors. Along with a database and prospect tracking system, new Clean Genie franchisees also benefit from a Google AdWords campaign for the first year of business.
Did you know?
Clean Genie has outlets available across the UK

Request free information in just 60 seconds!
Take the first step in becoming your own boss!
Do Clean Genie franchisees need industry experience?
No. Clean Genie is looking for individuals with drive, determination and a willingness to listen and learn. An ideal opportunity for individuals with excellent organisational and people skills, Clean Genie franchise owners choose whether or not to be hands-on with the business so the opportunity would be suitable for individuals with both management and trade backgrounds.
What equipment does a Clean Genie franchisee need?
That really depends on the type of jobs your take on. Clean Genie offers an equipment pack with the key commercial cleaning equipment used by most franchisees, all of which can fit in the back of a mid-size hatchback car. This equipment package includes a carpet cleaner, commercial steamer, industrial wet/dry vac, portable jet wash and rotary floor cleaner.
Clean Genie also offers the option to borrow additional commercial equipment subject to availability. The equipment can be collected from the Manchester, London or Oxford depots for one-off jobs, saving on investment costs.
Can I list my Clean Genie franchise for sale?
No, but if you wish to leave the business after the first year, Clean Genie will buy back your 74 per cent interest in the limited company. The fee paid is calculated using an established formula based on the business's annual turnover.
Does a Clean Genie franchise cover an exclusive territory?
Yes. Each Clean Genie franchisee is given an exclusive sales territory based on postcode to ensure there are no conflicts of interest, and the franchise has an area with room to expand and grow.
Where are the new territories that Clean Genie is looking to open new franchise locations?
There are opportunities all over the UK, particularly in Wales, the North East and South West of England.
Why choose a Clean Genie franchise over other cleaning businesses?
As the largest market sector in the UK with an estimated annual turnover of £4-6bn, a cleaning business has the potential to become quickly profitable, particularly given the low overheads. Around 80 per cent of operators recover investment within 12 months, with many of those rapidly building a substantial business.
Offering business owners the opportunity to become part of a larger group, a Clean Genie franchise offers the protection and benefits of a large business with the freedom of running a small business. Along with group insurance and certification, Clean Genie supports franchisees with an Insured Funding Facility, allowing them to draw down 65 per cent of large invoice values as soon as the invoice is raised for a small fee, assisting with cash flow on projects worth £3,000 - £30,000.

How can I apply for a Clean Genie franchise?
The first step is to request a prospectus - by clicking on the enquiry form on this page - which provides details of the business model and further information on Clean Genie franchise costs.
Then, potential franchisees will arrange a telephone or Skype call with the franchisor to discuss the way the business works, along with the various market sectors that can be covered.
Finally, applicants are invited to visit one of the offices in Manchester, London or Oxford to see the web-based admin system that will support the business first hand and witness the entire Clean Genie process from start (initial quote) to finish (completed job). Applicants should then be in a good position to decide whether this is a suitable opportunity for them.
To request more information on starting a Clean Genie Franchise, please complete the web form on this page.

Request Free Information
Send a free enquiry to Clean Genie for further information!
Enquire into this franchise today