The information you submit via our enquiry form is shared only with the franchise business(es) that you have selected.
The franchise business will contact you by means of email and/ or telephone only to the email address and phone number you have provided.
By submitting the enquiry form you are consenting to send your personal information to the selected franchise business.
You also agree to receive further newsletter email marketing from What Franchise.
Close
Club-Clean
The nation's trusted mobile golf club cleaning valet
Minimum Investment
£5,950
Total Investment
£5,950-plus monthly franchise fee
Franchise Fees
£145 per month
Expected Revenue After 2 Years
Open-ended earnings with full- or part-time work
About Club-Clean
Club-Clean has now grown to a nationally recognised brand and works with some of the UK's largest blue-chip companies, golf events companies and at some of the UK's most prestigious golf courses. Its network of franchisees is spread across the country but Club-Clean still needs coverage in some areas to help it deliver its popular services to all parts of the UK and grow the brand.
When Club-Clean started in 2006, it provided a fantastic opportunity to work in the golf industry, providing a truly unique service. The prospect of working for yourself in this enjoyable environment, with no stock, employees or retail premises to look after, soon drew the interest of other people and the business was franchised the following year. With a franchise network, Club-Clean is able to develop the company as a trusted national brand with the benefits of local contacts and knowledge that franchisees bring.
The reduced initial franchise fee of £5,950 is currently available due to new ownership of Club-Clean in 2018 with the vision to further grow the brand.
It believes the Club-Clean service is unique because it is precisely that – a service. The Club-Clean experience means that golfers can have their clubs cleaned before they play, or whilst enjoying the benefits of the 19th hole. The service is quick, extremely effective, and invariably invites lots of attention from golfers, who love the service. Golf club heads come up sparkling and tackiness is brought back to the grips, resulting in a more relaxed hold by the golfer, as well as a clean strike of the ball and the psychological benefits of having a clean kit.
Club-Clean's focus is steadfast on providing the Club-Clean service to golfers at their golf clubs and, in particular, on corporate, charity and captains golf days. Club-Clean's professionalism has proved extremely popular and feedback from its corporate clients and customers has been excellent. Organisers are always looking for that something extra for their golf day and Club-Clean's service provides a unique 'wow' factor to help make their day more memorable.
Club-Clean continually seeks innovative marketing ideas to promote the business. Currently, it has an association with third party golf events companies, bringing with it more opportunities for booked company club clean paid fee days.
Club-Clean can also offer its customers a Hole in One Competition. As a Club-Clean franchisee, you can offer this unique service in your own exclusive territory, using Club-Clean's tried and trusted methods and bespoke ultrasonic technology.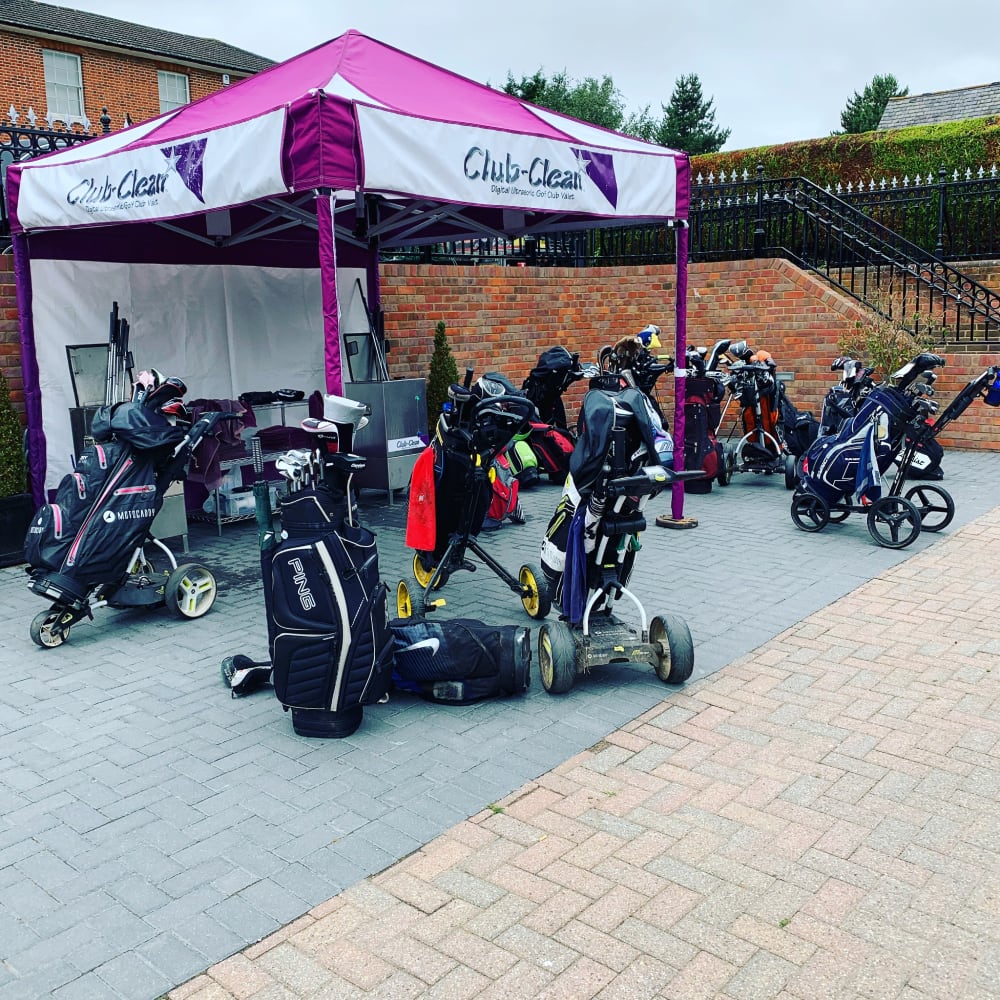 What is Club-Clean looking for in its franchisees?
Club-Clean is looking for individuals who want to work in a relaxed, friendly environment that golf clubs provide. You have the option to work as much or as little as you like, with some franchisees working full- or part-time. You may wish to work full-time in summer and give yourself some rest through the winter months.
Some franchisees use Club-Clean to help top up their pensions as the franchise is suitable for anyone looking to start their own business with minimal overheads.
Charlie O'Brien, Northampton and Milton Keynes franchisee (2013-2018)
Charlie built a very successful franchise and chose to sell a number of years later, providing him with good returns for a low-cost investment. He said: "I operated a Club-Clean franchise for five years and loved every minute of it. The golf industry is an extremely welcoming and friendly environment to work in. On top of that, being my own boss and managing my workload was a real bonus! I would certainly recommend this opportunity to anyone that is considering taking on a franchise and joining this established team."
What training and support does Club-Clean provide its franchisees?
The Club-Clean concept is simple yet effective. You will be provided with all the necessary marketing materials required to start your business right away and the training process will show you how best to use these and how to contact golf clubs within your territory, ensuring you have maximum impact from day one. You will be provided with Club-Clean's 'best practice manual' which you will be guided through in your training. This is to be kept by you for safekeeping so you can refer to it any time you need.
How much does a Club-Clean franchise cost?
The minimum investment for a Club-Clean franchise is £5,950 for an initial franchise fee, then an ongoing fee of £145 per month, starting after your fourth month in the business.
You will need to source a van or trailer within a budget that suits you. Once these costs have been considered, the ongoing expense is minimal and will include the day to day expenses for running your business.
It is possible for franchisees to own multiple units or territories, the costs for this would be largely the same.
What locations or territories is Club-Clean looking to operate in?
Currently, Club-Clean is looking for coverage across the UK. Its website highlights a territories map which shows where it has coverage to date. However, fill out the enquiry form on this page to ask if your territory is available or becoming available in the near future.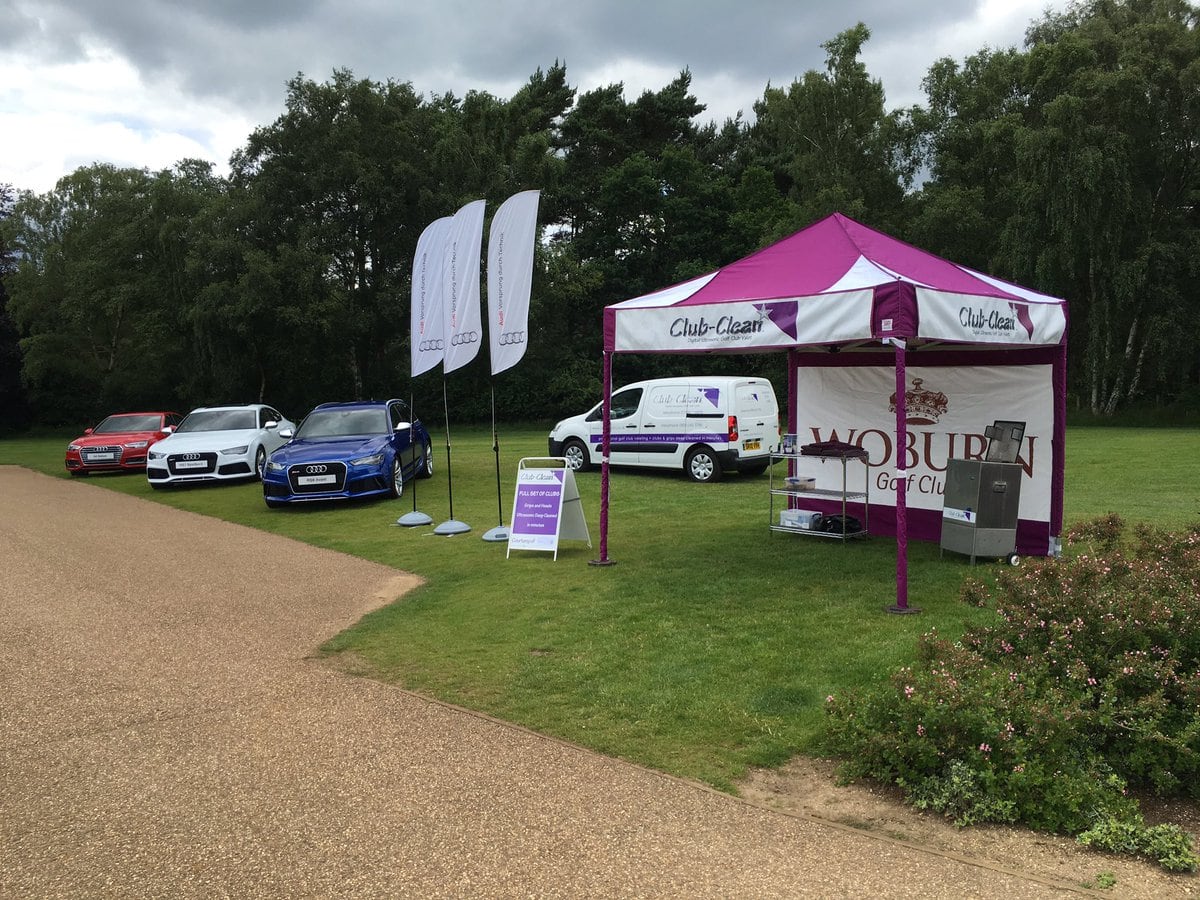 What are the franchise terms of agreement and renewal?
The Club-Clean franchise is a three-year term. The renewal process is simple. After three years you will be sent a new franchise agreement when accepted you will be required to pay the monthly franchise fee you have been paying with no other costs.
Why is Club-Clean a good investment?
Club-Clean is a great investment with low overheads. When you provide the service to golf clubs, golfers and golf events, the fee you charge on the day is largely all profit.
You will have the benefit of other Club-Clean agents based across the UK, providing exposure for its services and helping generate leads for all franchisees.
Golfers, golf clubs and corporate golf events love the service Club-Clean provides. Its friendly, professional manner makes the Club-Clean service stand out as a must-have for a lot of golf events.
The reduced initial franchise fee is attracting a high volume of potential franchisees wishing to start their own business within the golfing industry.
How do I start setting up my own Club-Clean franchise?
To find out more, or to request further information on franchising with Club-Clean, complete the form below and click on the 'Request Free Information' button now.
Request Free Information
Send a free enquiry to Club-Clean for further information!
Enquire into this franchise today