The information you submit via our enquiry form is shared only with the franchise business(es) that you have selected.
The franchise business will contact you by means of email and/ or telephone only to the email address and phone number you have provided.
By submitting the enquiry form you are consenting to send your personal information to the selected franchise business.
You also agree to receive further newsletter email marketing from What Franchise.
Close
Did you know?
Daily Poppins has outlets available across the UK

Request free information in just 60 seconds!
Take the first step in becoming your own boss!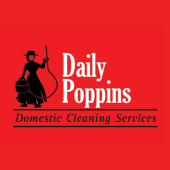 Daily Poppins
Daily Poppins is one of the largest cleaning franchises in the UK
Minimum Investment
£7,000
Expected Revenue After 2 Years
N/A
About Daily Poppins
Daily Poppins is one of the largest cleaning franchises in the UK, with 60 branches nationwide across the UK. They offer cleaning services for domestic and small business clients, with an emphasis on using technology to help improve and tailor their services to exceed client expectations.
What makes the Daily Poppins franchise unique?
Though it was not the first to offer a home cleaning service in the UK, Daily Poppins implements technology to help improve the booking process, improving customer service and give clients greater control. Daily Poppins offers a 24/7 online booking option, where clients can login and decide when to book a cleaner in.
Daily Poppins also offers a contract-free, guaranteed service with zero cancellation charges, giving customers more freedom and flexibility, and feature in-car tracking for all its cleaners, designed to monitor arrival and departure times, and ensures that customers are only charged for the actual time provided. In addition, the brand name itself is a play on the name of a well known film, adding a further feeling of trust and confidence.
This has won Daily Poppins a highly positive reputation with clients, making the brand an attractive prospect for anyone looking for a potential franchise.
Is the Daily Poppins cleaning company franchise based in the UK?
The headquarters of Daily Poppins are located in Reading, Berkshire. Their franchise territories are spread across the UK and Ireland.
How much does a Daily Poppins franchise cost?
To start your own franchise, you'll need to have minimum capital of £7,000, as well as paying a franchise fee of £16,995 (excluding VAT). This will allow you to secure a standard territory. You may also be able to purchase larger territories for a higher fee, depending on your experience in the industry and financial position.
What financial support is available for Daily Poppins franchisees?
Providing you have a good credit history, Daily Poppins may be able to help you arrange up to 80 per cent funding through popular high street banks, if you do not have enough capital available to set up your business immediately.
What territories are currently available for franchises?
There are over 200 territories currently available around the UK and Ireland to choose from. Territories are assessed and selected, depending on a range of socio-demographic factors, and take into account their target market, location, and population in the area, to ensure a high potential for success for franchisees.
Every franchisee is given a protected territory, and it is possible to purchase further territories once you have established a successful track record.
There are also occasional territories with current franchises already present up for resale – these have the added advantage of an exisiting client base and positive brand awareness. Currently, territories in Milton Keynes, St Albans and Ilkley are available.
What support and training is provided for Daily Poppins franchisee?
Daily Poppins invests heavily in supporting franchisees, and provides a comprehensive training programme, designed to equip and familiarise you with all parts of the business. You are first led through field training with an existing franchisee, where you are guided through practical activities such as the brand's approach to cleaning, managing client routines, planning routes and estimating quotes. This is followed by further operations and marketing support at their headquarters in Reading, and a subsequent launch programme.
Did you know?
Daily Poppins has outlets available across the UK

Request free information in just 60 seconds!
Take the first step in becoming your own boss!
In addition to helping you set up your franchise, through the early stages of running your business, Daily Poppins will also continue to mentor you with weekly online coaching sessions via Facetime or Skype, to provide tailored guidance and feedback on how to develop your skills.
This is continued for as long as you require, reducing the frequency of calls only after you feel confident in managing the business. You will also receive expert advice from third parties on areas such as managing finance, legal issues and marketing.
What do you receive when you become a Daily Poppins franchise?
Given the strong emphasis on technological tools throughout their business model, franchisees are provided with all the tools and training needed to get their business started, including an iPad installed with their bespoke software, designed to minimise and streamline business admin, and reduce the amount of paperwork needed so that franchisees can focus on other activities. You also receive an in-car tracker, access to their cloud-based diary system, a personalised website and ePDQ for payment processing.
Franchisees will get advertising and promotional materials, staff uniforms and branded cleaning products, branded stationary and more. There is also continued advice and support available through their intranet site.
Do you need to have prior cleaning industry experience to run a Daily Poppins franchise?
While having experience in the cleaning industry can be a helpful start before beginning your own Daily Poppins business, it is not a necessary requirement, as you will be given all the training and input needed on running a commercial cleaning company. As long as you have a keen entrepreneurial sense and good business skills, this franchise can be a highly successful prospect.
Past franchisees have come from varied backgrounds, including sales development and mortgage consultancy, and have succeeded in creating profitable businesses, with a high turnover and the opportunity to grow across multiple territories.
What opportunities does the Daily Poppins franchise offer?
The cleaning industry is a thriving market, estimated to be worth £5.6bn, and there is a vast potential of growth for franchises entering this sector, especially amongst Daily Poppins' core target of working mothers and the elderly, both of which are growing populations across the country.
Established as one of the market leaders in the industry, Daily Poppins is a popular and trusted brand to be a part of, and offers a high prospect of financial success. In addition to this, access to cutting edge technology and the high level of support and training given makes this a great franchise to choose – as you will be given expert guidance throughout, to help your business thrive.
How can you get started on setting up your own Daily Poppins franchise?
To enquire about potential territories or find out more about how to get started as a franchise, contact Daily Poppins to schedule an initial call with their team.
Request Free Information
Send a free enquiry to Daily Poppins for further information!
Enquire into this franchise today