The information you submit via our enquiry form is shared only with the franchise business(es) that you have selected.
The franchise business will contact you by means of email and/ or telephone only to the email address and phone number you have provided.
By submitting the enquiry form you are consenting to send your personal information to the selected franchise business.
You also agree to receive further newsletter email marketing from What Franchise.
Close
Did you know?
Domestic Angels has an expected revenue of £30,000 after 2 years!

Request free information in just 60 seconds!
Take the first step in becoming your own boss!
Domestic Angels
Domestic cleaning business that offers a variety of services in the home, from regular housework to intensive spring cleans
Minimum Investment
£8,000
Expected Revenue After 2 Years
£30,000
About Domestic Angels
Domestic Angels is a domestic cleaning business that offers a variety of services in the home, from regular housework to intensive spring cleans. As part of its evolving range of services, it also offers an element of "home-help" to clients should they require it to be available to make life easier and more sociable.
Domestic Angels loves what it does and it shows. It is a privately owned business with a fabulous team of successful franchisees, support and leadership team all working to the same objective – business success built on client satisfaction and team results.
Originally founded in 2002, the business model is constantly evolving through creativity and innovation to ensure it stays ahead of the competition, and relevant in a dynamic economy. It is its creative and innovative approach to the levels of customer service and client care that ensures franchisees have the very best opportunity to achieve their own goals; both professionally and personally.
Domestic Angels is quickly becoming the UK's most popular housework service provider.
It has a limited number of franchise opportunities available for people who want to join the team and enjoy the levels of success that working with a leading provider can support. Working from home you will be responsible for your own territory, attracting and servicing clients using the proven techniques and strategies of its franchise model.
There'll be plenty of help and support as you grow your business and you'll have a great team of existing franchisees to give you tips and advice, as well as regular guidance, training and support from its international team.
The brand will show you how to get started, build your business, build your team and, using the product and service portfolio Domestic Angels has developed over the years, have the opportunity to build yourself the business and lifestyle of your dreams.
The Domestic Angels brand is already strong, established, and enjoyed by many. It is also a multi-award-winning company, influencing government policy and leading as business experts in the industry sector. Domestic Angels will continue to grow these activities to underpin the success of the brand. Franchisees already enjoy incredible support from business coaches around the world and a resilient business model.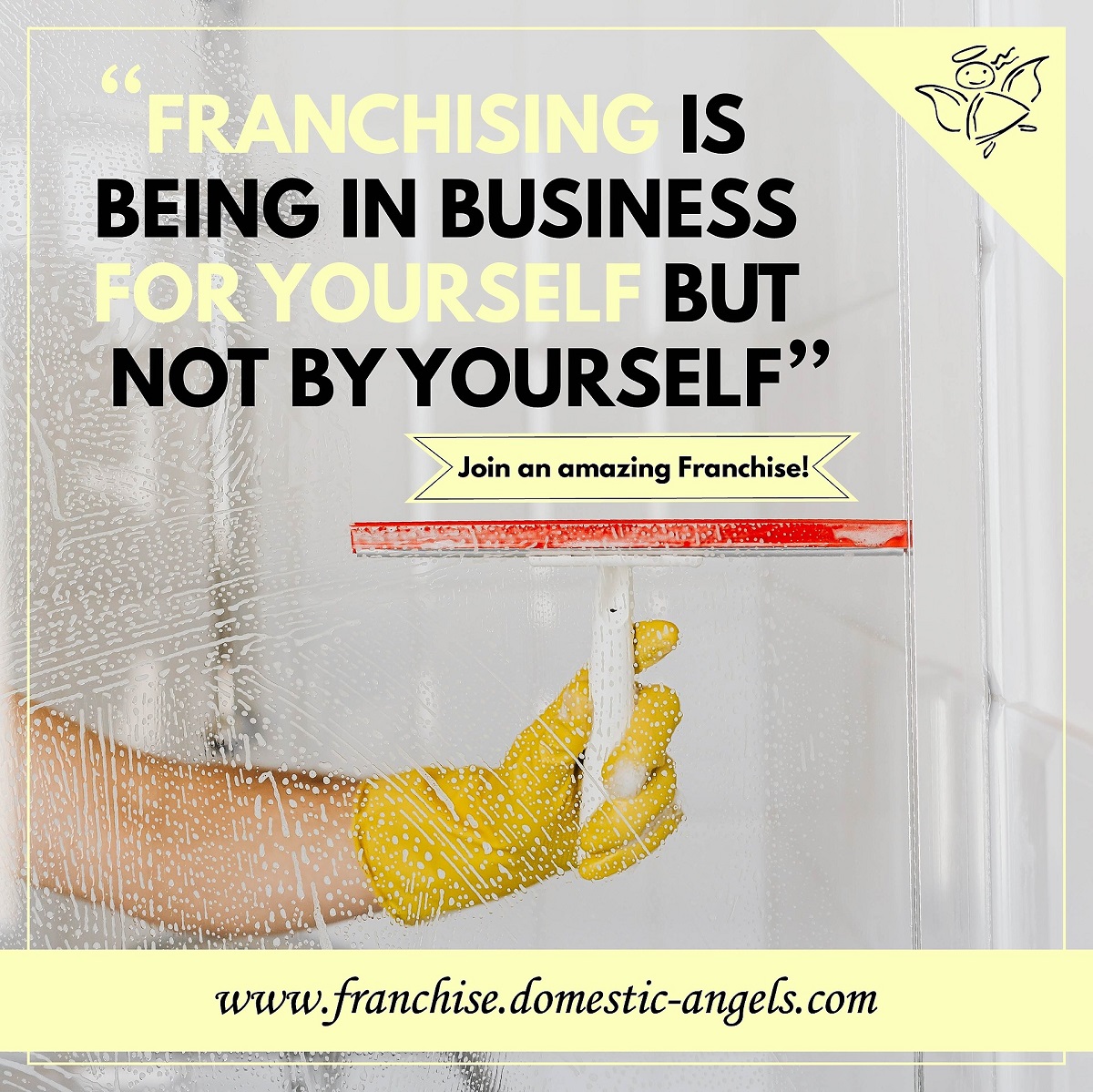 How does the Domestic Angels franchise model work?
As the boss of your Domestic Angels franchise, your key areas of focus are customer relationships and marketing. It's all about communication, organisation and the admin to make it all happen.
Marketing: You will need to tell your prospects that you are open for business and ready to look after them. Domestic Angels will set up your website and socials to get you underway and its expert team will provide training resulting in a marketing plan. Domestic Angels has got loads of visuals for you to use, you don't need to be a graphic designer but if you enjoy creating images, so long as they fit the bill, Domestic Angels are happy.
Customer relationships: People buy from people, talking to and supporting your prospects, customers and staff will be key to your success. Yes, your staff are also customers of your communications, if they are fully engaged and informed, your customers will be better looked after and your life will be so much easier.
Organisation and admin: You will hold the reins on allocating work to your "Angels", finding the right balance to fit with their availability and your customers' needs. You will use Domestic Angels' #smartdiary, Halo, to onboard your customers and staff so that you can book in work. Halo connects directly to the central accountancy system so we will be looking after your invoices, reconciliation, wage roll generation etc, all with your approval and monitoring. We'll show you how this all works and fits together during discovery sessions and training.
Touchpoint contract: Even once you have completed training and your 90 days accelerated launch, Domestic Angels will still be working with you. It has a touchpoint contract in place so that you can chat regularly, respond to your queries in a timely manner and continue training.
What is Domestic Angels looking for in its franchisees?
The relationship between franchisee and franchisor is symbiotic, your success is its success.
Domestic Angels is looking for potential franchisees whose work ethic, vision and values match those of the brand – values that are based on family, community, trust and professionalism. You will also have:
• Incredible customer service focus
• Independent thinking and clear decision-making capabilities
• Great organisational skills and a good level of computer skills
• Business acumen with sales and marketing confidence
There are many successful business owners around the world who are franchise owners, possibly even multi-franchise owners. These are entrepreneurs with a very special combination of strengths who thrive and grow within the franchise arena. Their decision to seek out a business franchise to buy was no mistake. In the 21st century world of franchising, options aren't just big-ticket or multi-layer marketing, they are sophisticated home-based opportunities making you a manager, an employer and owner of a long-term successful business with a future. Can you identify with the following traits for success?
• Motivated by results : You really enjoy achieving as an individual and as a team leader. You like goals, fulfilling them and you constantly review the route you are taking to these achievements to stay on track for success.
• Eyes on the prize: You are happy to roll up your sleeves and put in the time for work and play, it'll pay off in the long run. You imagine the possibilities for the future as a long-term result that motivates your day-to-day activities.
• Chief cheerleader: You can make business happen, care about success and recognise efforts. You don't expect to sit back and wait for business to come to you, you like to get out there and not only find it but attract it due to your enthusiasm. You recognise and relate to others who have your same 'get up and go' attitude to life.
• Optimist: Your glass is always half full. You see opportunities, not threats. You see options, not problems. You focus on solutions rather than wasting time pondering what went wrong or what might have been.
• People person: You can identify, relate to and empathise with your clients, keep good morale amongst your team, succeed at networking and become a voice within your community. You are quick to understand that regardless of what business you are in, everyone is a customer of your communications with clients and employees the most important factors in your success. Building relationships and keeping in favour come very naturally to you.
• Plan for success: You like direction, a plan for success, basically business model+you=success. You know you have the traits for success, put these together with a proven business model and all the support and processes required of a good quality franchise and you offset the business and personal risks which would concern you going it alone.
• Resilient: You trust in the future, keep setbacks in perspective, they are part of the bigger picture. You can't be held back by pessimism. Challenges excite you, they get you up in the morning and make you bubble over with intrigue and energy. You know that your combination of traits means that things will always get better, bouncing back from adversity is so normal for you that others don't even realise you were in an adverse situation.
• Cool and collected: The world around you knows you to be consistent and composed, you address issues with minimal reluctance. You always have a good idea of what is going on but very little causes you to panic or cause a scene, your ability to focus on the solution and the future overrides everything else resulting in success. Focussing on essential and important tasks keeps you calm and gives your team members and customers peace of mind.
Did you know?
Domestic Angels has an expected revenue of £30,000 after 2 years!

Request free information in just 60 seconds!
Take the first step in becoming your own boss!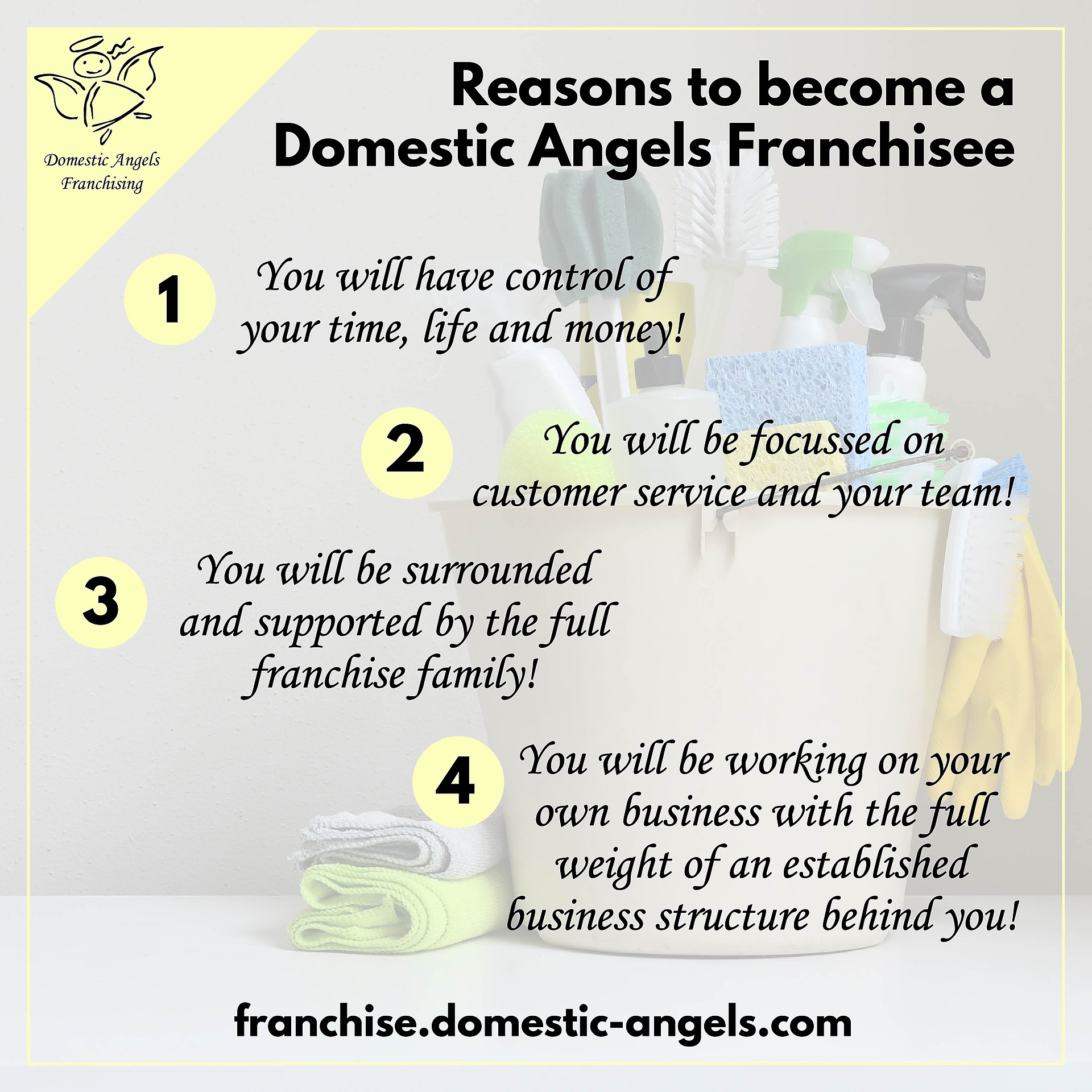 What training and support does Domestic Angels provide?

Support is ongoing through its Touchpoint Contract ensuring that Domestic Angels has regular contact with all of its franchisees. This intensified as it entered the first full lockdown with the provision of therapy, guest experts and business coaches. It is no mistake that all of its franchisees survived the pandemic and have thriving businesses today.
Discovery sessions will take you through:
• In-house #smartdiary which you will be using to organise your business
• Operating Manual covering the essentials
• How the money flow works and how you receive your profits
• A good chat about anything that comes to mind, this is YOUR discovery session.
Initial training includes:
• Handling chemicals; manual handling; ready for work; behaviour at work; collection of payments – all online modules that you will expect your staff to complete
• Customer service – delivering great customer service and how to use Halo
• Social media – an introduction to your social media platforms and guidelines
• Recruitment – how to recruit and how to use Halo
• Leadership - managing your team
• Marketing – planning your route to success, a marketing plan to deliver your agreed business targets.
This is all then underpinned by your 90-day plan of accelerated support focussed on the following objectives:
• Reviewing achievements vs agreed business targets
• Reviewing the success of each activity to identify:
- Business opportunity
- Training opportunity
• Set and agree plans for forthcoming week/month
• Chat through highlights and concerns to date
• Answer/investigate any business questions
• Access to training experts to ensure good practice is fully adopted and established.
How much does a Domestic Angels franchise cost?

Your Domestic Angels business requires you to invest £16,000 in total which you may fund through savings or borrowing. You should take advice to work out the right option for you. Either way, you will still be a treasured and valued franchisee. You will create a business plan based on its business model to establish how soon you will turn a profit. On average month 4 is rather popular. However, its first franchisee made a profit in month one.
Multi-unit opportunities are available. As with all franchisees, Domestic Angels only offers this if you tick all the boxes.
What locations or territories is Domestic Angels looking to operate in?
There are various territories available across the UK. For single-unit franchisees, the aim is to carve out a territory that reflects your local knowledge, your already established network and circles of influence. Know, like, trust is the formula to follow here so Domestic Angels might as well make the most of what is already established.
What are the franchise terms of agreement and renewal?
The term is five years with the option to renew for a further five years.
Why is Domestic Angels a good investment?
When it first looked at franchising, Domestic Angels felt that many options were highly-priced with minimal value. It looked as though folks were handing over their hard-earned cash for empty shoeboxes.
Domestic Angels has been on a mission ever since to overfill its shoebox. It wants its franchise offering to give as much as possible and more. Domestic Angels works together with international coaches and the Bournemouth MBA team to regularly review what it does and where it's going; to look to the future and constantly strengthen what is on offer.
This is as much for you as it is for the company. It needs you to succeed for it to succeed so why wouldn't Domestic Angels obsess with continual improvement? It also actively encourages franchisees to question and suggest ideas for the business; you are at the coalface. It respects everyone's points of view. This gives you the ability to directly influence the overall business if you feel the need. Domestic Angels likes engagement.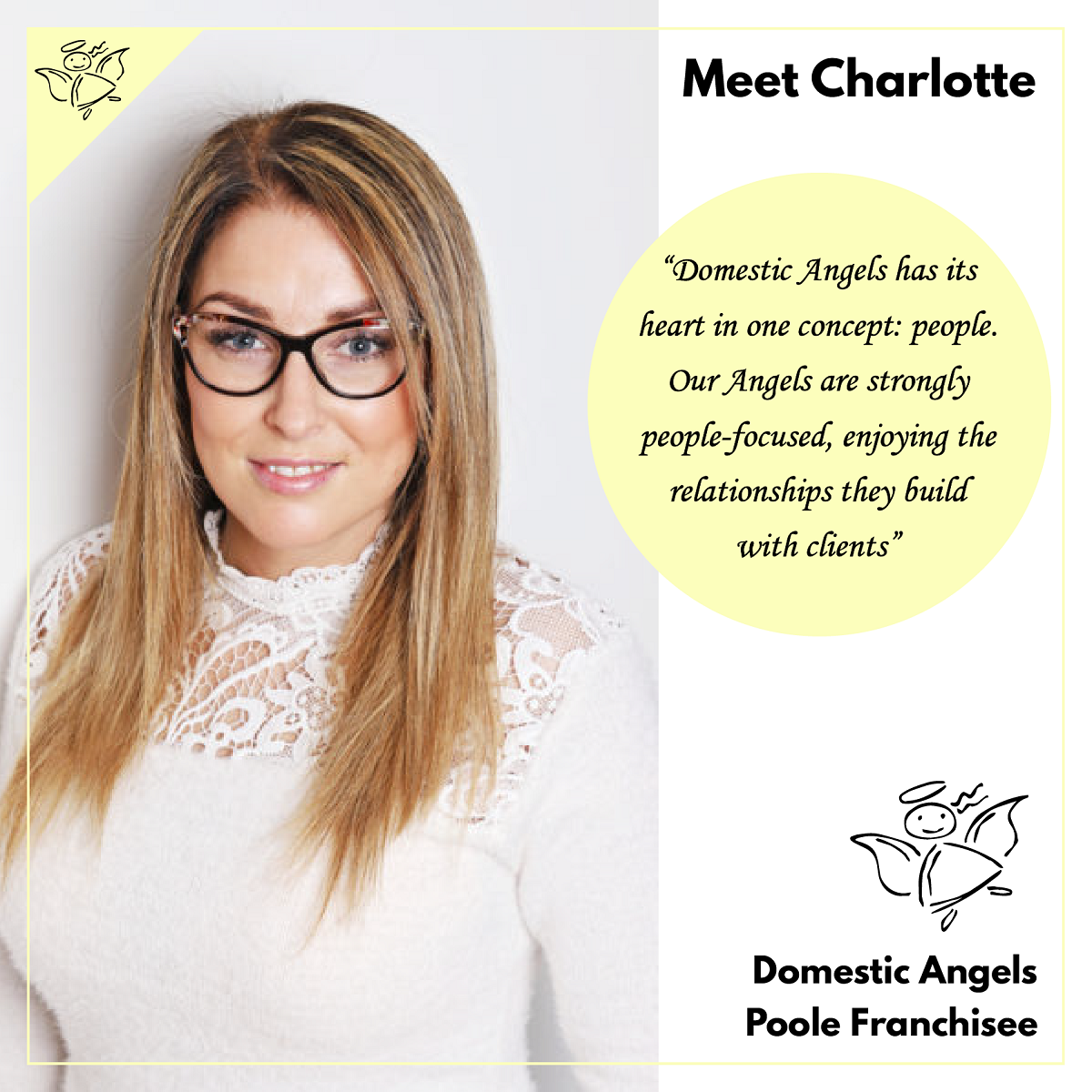 How in demand is Domestic Angels' service?
Demand for help in the home has been increasing year on year as the UK culture since the turn of the century and in particular, since 2008 when a value shift occurred triggering the change in family priorities, making time together a fact rather than fiction.
Through lockdowns, this value has been intensified and grown exponentially with so many people genuinely experiencing family time and personal time for the first time during their working lives. They have experienced the benefits of this time first-hand and how it brings balance, that we don't live to work that we work to live and people want this value to persist in life.
Elderly and vulnerable members of our society became incredibly isolated with relatives unable to visit or even help in many cases. This restriction has thrown a spotlight on the quality of life for these special people in our lives and the need for help in their homes regardless of restrictions but more importantly, the need for trustworthy relationships that give relatives peace of mind.
And finally, the staycation market is big in the UK and will remain so for a few years whilst people adjust to the post-pandemic world. In summary, demand is high and only getting higher.
How do I start setting up my own Domestic Angels franchise?
To find out more, or to request further information on franchising with Domestic Angels, complete the form below and click on the 'Request Free Information' button now.
Request Free Information
Send a free enquiry to Domestic Angels for further information!
Enquire into this franchise today