The information you submit via our enquiry form is shared only with the franchise business(es) that you have selected.
The franchise business will contact you by means of email and/ or telephone only to the email address and phone number you have provided.
By submitting the enquiry form you are consenting to send your personal information to the selected franchise business.
You also agree to receive further newsletter email marketing from What Franchise.
Close
Did you know?
Domestic Angels has outlets available across the UK

Request free information in just 60 seconds!
Take the first step in becoming your own boss!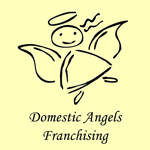 Domestic Angels
Domestic Angels is the home-based management franchise helping people in their homes. We give people control of their time and lives through our award-winning management...
Minimum Investment
£10,000
Expected Revenue After 2 Years
N/A
About Domestic Angels
My name is Samantha, I founded Domestic Angels because I wanted to have control of my time and life rather than running on the corporate hamster wheel. I also wanted to be based at home but not a lone worker, I wanted to be thinking as well as doing and I wanted to make a difference all whilst putting my personal priorities in life first. In my case that was being Mum.
Are you looking for a way forward in life which makes the most of your communication, customer service and organisational abilities? Something that you can call your own and feel really good about? A home-based opportunity that doesn't limit your potential but nurtures you to success with a comprehensive structure and processes you deserve? Your own business that genuinely challenges you to evolve into the best leader you can be?
Our very first franchise partner, Debbie, was a driving instructor with an administrative background before she met us, married with 3 young boys, work was essential, but it was restricting family time, earning potential and personal development. Domestic Angels has changed all of this "I am delighted to have become part of such a successful business. I am making my mark in the local community and building on the established excellent reputation of Domestic Angels"
Hazel, franchise partner for Bournemouth Central Parks, considers what skills are needed for success "great customer skills, be a people person, know how to be organised, be able to think outside of the box, hardworking and want to achieve, be able to ask for assistance and share own ideas with the team". Hazel had previously owned her own small business experiencing the extremes of loneliness in business. You are not alone at Domestic Angels, not only do we provide you with a comprehensive support and contact structure, engagement is not one way, we look to our franchise partners to influence the evolution of the overall business. This makes us bigger than the sum of our parts.
Did you know?
Domestic Angels has outlets available across the UK

Request free information in just 60 seconds!
Take the first step in becoming your own boss!
Jamie has been a sales representative for over 20 years and is now the franchise partner for Southbourne. He is clear that the recipe for his success at Domestic Angels is by being organised, flexible and hardworking. If you have these essential life skills and can picture yourself enjoying and being inspired by your own business achievements within the Domestic Angels family, taking control of your time and life and making a positive difference to others, contact us on 01202 267350 or franchise@domestic-angels.com
Within our first 18 months we established 5 Franchise Partners who are all achieving their goals taking home between £2k & £4k per month after costs. Take control of your time and life by making contact with Domestic Angels today, 01202 267350 or franchise@domestic-angels.com.

Request Free Information
Send a free enquiry to Domestic Angels for further information!
Enquire into this franchise today