The information you submit via our enquiry form is shared only with the franchise business(es) that you have selected.
The franchise business will contact you by means of email and/ or telephone only to the email address and phone number you have provided.
By submitting the enquiry form you are consenting to send your personal information to the selected franchise business.
You also agree to receive further newsletter email marketing from What Franchise.
Close
Did you know?
Homeclean Franchise has an expected revenue of £80,000 after 2 years!

Request free information in just 60 seconds!
Take the first step in becoming your own boss!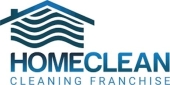 Homeclean Franchise
Homeclean is a domestic cleaning agency who provide experienced, reliable and trustworthy cleaners to households around the world
Minimum Investment
£12,000
Franchise Fees
£12,000 (+VAT)
Expected Revenue After 2 Years
£80,000
About Homeclean Franchise
Homeclean has been operating in the UK for more than 35 years. Husband and wife team Teresa and Matthew set the business up in 1984 from their one-bedroom flat in Islington, North London in 1984. Over the next 25 years the business model and business systems were continually reviewed and built on to ensure Homeclean was able to offer a better service than any other domestic cleaning company.
How does HomeClean's franchise model work?
Homeclean franchisees have their own database of tried and tested, trustworthy and reliable cleaners. All new clients are driven to the Homeclean website and submit their requirements. As a franchisee, you will arrange a "trial clean" for the new client and if the client likes the cleaner and the service then they will sign up for one of the Homeclean Service Plans. Plans are paid for upfront and the cleaner is paid directly for the hours that they work. In the brand's experience, at least 90 per cent of clients will renew once they are hooked on one of its cleaners.
What kind of person would suit being a Homeclean franchisee?
Homeclean is a very special business and the company is looking for hardworking and enthusiastic individuals who are passionate about bringing the Homeclean brand to their local area.
Homeclean franchisees come from a variety of different backgrounds and all have differing levels of previous experience. Homeclean is a management franchise and you will never need to do any of the cleaning yourself.
Many of the existing Homeclean franchisees did not have any previous experience before joining the organisation, however, you must be energetic, enthusiastic and have good communication and organisational skills.
Starting your own business alone can be difficult, but you have already taken the first step and started looking around. As long as you have the passion and drive then Homeclean will give you all of the tools that are needed to make your business a total success.
What training and support do you get in return for your investment?
As a Homeclean business owner, you will run and manage your very own local office which can easily be done from your own home with just a laptop and a mobile phone.
Homeclean offers a very comprehensive initial training package that is unhurried and offered at a time to suit you. The training can be delivered in person at one of the head office locations or remotely by video conference depending on your preference. Additional training is available if required and Homeclean has detailed operating manuals that will be provided to you, along with access to Homeclean's special custom-built CRM system which makes matching clients with cleaners incredibly simple.
Did you know?
Homeclean Franchise has an expected revenue of £80,000 after 2 years!

Request free information in just 60 seconds!
Take the first step in becoming your own boss!
Unlike many other franchises, Homeclean runs a number of territories itself, which means that the brand has its finger on the pulse and is well equipped to understand the needs of franchisees and to be able to offer appropriate support. There is a dedicated UK-based Homeclean franchise support team which you can call or email for support at any time, as well as a fantastic network of existing franchisees who are always able to help and advise you through the franchisee portal.
Where can I open a Homeclean franchise?
Homeclean is currently looking for franchisees in many areas across the UK. Current target areas include: Newcastle, Reading, Northampton, Edinburgh, Preston, Wigan, Blackpool, Southport, Norwich, Leicester, Nottingham, Cardiff, Plymouth, Exeter, Southampton, Portsmouth, Brighton.
What are the franchise terms of agreement and renewal?
A five-year term with option to renew without any further fees.
Why is a Homeclean franchise a good investment?
The UK cleaning industry is huge, contributing more than £24bn to the economy every year. The cleaning industry is incredibly resistant to recessions - in 2009 Homeclean saw its busiest year on record and its figures have grown steadily year on year ever since.
Good domestic hygiene is at the top of everyone's priority list at the moment due to the coronavirus pandemic, and Homeclean is experiencing a massively increased demand for its services in all areas of the UK.
Even in uncertain times, cleaning franchises are a much safer business venture. Cleaning businesses are set to deliver strong results for owners in the years to come and, of course, those who opt for the franchise route will have a higher likelihood of success and return higher returns much faster than going it alone.
From signing the contract you will be accepting your first payments very quickly, and the brand fully expects a new Homeclean franchise to be making revenue within the first month and because of the financial support provided from the start it means you will be profitable from the outset.

Request Free Information
Send a free enquiry to Homeclean Franchise for further information!
Enquire into this franchise today