The information you submit via our enquiry form is shared only with the franchise business(es) that you have selected.
The franchise business will contact you by means of email and/ or telephone only to the email address and phone number you have provided.
By submitting the enquiry form you are consenting to send your personal information to the selected franchise business.
You also agree to receive further newsletter email marketing from What Franchise.
Close
Did you know?
Maid2Clean has outlets available across the UK
Request free information in just 60 seconds!
Take the first step in becoming your own boss!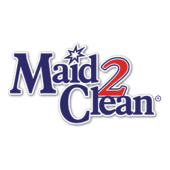 Maid2Clean
Maid2Clean offers domestic cleaning services with franchisees acting as managers, not cleaners
Minimum Investment
£9,999
Expected Revenue After 2 Years
N/A
About Maid2Clean
Maid2Clean was established in 1993 and offers clients domestic cleaning, housekeeping, and ironing services for small, medium, and large dwellings. These services are available on a one-off (for instance, a deep- or spring-clean which is called Maid2Blitz) or on a regular basis (daily, weekly, or monthly), depending on each client's requirements.
The owners of franchises interview, vet, reference check, and ensure all the cleaners that work for them. Clients interview potential cleaners and then select the individual they would like to use regularly to care for their home. This gives the client choice from the start, and he or she can build a relationship with a cleaner. A relief cleaner can also be arranged if a regular one is ill or on holiday.
Customers decide not only how often they want their cleaner but also what she or he will do in the home each time. The franchisee determines the rates and the client pays monthly in advance. The customer must also provide all the necessary cleaning materials and equipment, so the cleaners don't have to carry these things around, and the franchisee doesn't carry stock.
Maid2Clean is a member of the Quality Franchise Association (QFA) and the International Franchise Association (IFA) and Federation of Small Businesses (FSB).
How does a Maid2Clean franchise work?
As a Maid2Clean franchise owner, you will be acting purely in a managerial capacity. You recruit your cleaners and match them with your clients, manage your team, and ensure that your customers are happy with the service they receive. What you don't do is clean.
How much will a Maid2Clean franchise cost?
The fee for a Maid2Clean franchise is £9,999+VAT, which covers training and the launch of the new franchise. Running costs are outlined in the Maid2Clean prospectus that is made available to applicants as part of the franchising process.
What will franchisees get for their Maid2Clean franchise investment?
In addition to permission to use all the Maid2Clean registered branding and business products, you will receive:
• Training: The training includes an Operations Manual, comprehensive process and operational training, on-the-job training, and refresher training. In addition, cleaners have access to MaidVersity which is an online university.
• Trading area: This is exclusive to each franchisee and consists of about 100,000 households and potential customers.
• Marketing: There are various items involved: local and yellow page advertising pre-launch; a marketing plan; national advertising; first 2-month cleaner and customer acquisition program, and a personalised website.
• Software and IT: This includes the Maid2Clean automated Check-in and Check-out facility; text-sending software; access to online ordering; Client and Cleaner Database; and use on the Nationwide-Cleaners recruitment portal.
• Stationary: Letterheads, leaflets, ID badges for the cleaners, and business forms and letters including Contracts for customers and cleaners.
• Support: Access to a 24-hour Franchise Forum and Knowledge base all year-round.
Franchise owners who feel they need additional training or support will receive it.
Do franchisees need prior cleaning experience?
No, you don't need any specific experience. Maid2Clean does, however, like to award franchises to individuals or couples who are self-motivated, are customer and service orientated, have a flair for sales and marketing, are hard-working, confident, and dedicated to making their business a success. You must also be committed to working according to the company's business plan and system.
Did you know?
Maid2Clean has outlets available across the UK
Request free information in just 60 seconds!
Take the first step in becoming your own boss!
Do franchisees get to choose the area?

You would have to enquire directly with Maid2Clean. The trading territories are discussed with potential franchisees as part of the selection process. Currently, the company is appointing franchisees throughout the UK and Ireland.
Some franchise owners live locally, others run their business remotely. Given you will work from home, you could be based anywhere. You will be granted an exclusive trading area of approximately 100,000 households.
Do Maid2Clean franchisees do their own marketing?
While the company runs national marketing and advertising that results in significant brand exposure, you will need to do some marketing and sales work yourself. This is covered during training. Recommendations from satisfied customers are one of the best forms of promotion any business could have.
How much is the expected income for a Maid2Clean franchise?
More specific information is provided by Maid2Clean to potential franchisees during discussions. It should be kept in mind that earnings are boosted by the fact that you won't require a vehicle, cleaning stock, or cleaning equipment. In addition, clients pay in advance which assists in terms of cash flow. You can also make use of the Maid2Clean Call Centre.
As with any business, it is hard to quantify the exact timeline to start making money. However, what increases the chances of seeing a return on your investment and generating meaningful income sooner rather than later are the facts that your initial investment and costs, and your running costs or overheads are low. This means that your profit margins will be higher.
The Maid2Clean business model is tried and tested and by using it correctly, you should see continuous growth. The more you work to find and retain customers the more and faster your business – and bottom line – will flourish.
What will be the primary challenge to running a Maid2Clean franchise?
Many existing franchisees struggle, at least initially, with finding and recruiting the calibre of cleaners required to run a successful cleaning business. Without the right team members – who are reliable, hard-working, well-trained and/or experienced, and motivated – you will not have satisfied customers or be able to build a good reputation. Without that, your business can't survive.
Once you find good team members it's up to you to keep them by ensuring working conditions, pay, and your relationship with them are all as they should be.
Why choose a Maid2Clean franchise?
Maid2Clean believes that it offers great advantages to its franchisees in the form of high-profit margins, residual income, and flexibility. Cleaners receive employment, and customers receive a quality, affordable service that saves them valuable time.
Maid2Clean also claims that the fact that this is a management franchise rather than a cleaning one sets it apart. As a Maid2Clean franchise owner, you manage your business and team of cleaners, you are not a cleaner.
How to become a Maid2Clean franchisee?
If you are interested in acquiring a Maid2Clean franchise, simply complete and submit the form on this page for more information.

Request Free Information
Send a free enquiry to Maid2Clean for further information!
Enquire into this franchise today