The information you submit via our enquiry form is shared only with the franchise business(es) that you have selected.
The franchise business will contact you by means of email and/ or telephone only to the email address and phone number you have provided.
By submitting the enquiry form you are consenting to send your personal information to the selected franchise business.
You also agree to receive further newsletter email marketing from What Franchise.
Close
Did you know?
Total Clean has outlets available across the UK
Request free information in just 60 seconds!
Take the first step in becoming your own boss!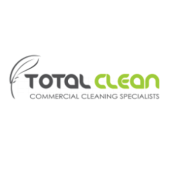 Total Clean
Total Clean offers commercial cleaning services to a wide range of businesses
Minimum Investment
£9,997
Expected Revenue After 2 Years
N/A
About Total Clean
Total Clean is a commercial cleaning company that has been operating in the sector for nearly 30 years, specialising in services for a variety of commercial clients, including retail businesses, schools and colleges, medical and healthcare facilities, and corporate offices.
With a long history of providing high-end cleaning services, the brand has a strong reputation and are well known and trusted, providing potential franchise owners the opportunity to partner with a company that enjoys a high level of customer retention and growth.
Where is the Total Clean franchise based?
The headquarters for Total Clean is located in London.
Where can you find a franchise territory for Total Clean?
There are territories available across the UK in many locations. Further information on potential franchise territories is available upon request.
A review of the Total Clean franchise costs and options
Total Clean offers a range of different franchise packages, which vary in cost depending on the size of the territory, and guaranteed level of turnover. With five different packages ranging from Bronze to Diamond, there is an accessible opportunity for all potential franchise owners, regardless of your financial background or experience level.
The Bronze package is priced at £9,997, with a guaranteed turnover of £15,000. This is the lowest package offered. The Silver package requires an investment of £19,997, while a Gold level package costs £29,997. The two highest tier packages offer a guaranteed turnover of £100,000, with a fee of £49,997 for the Platinum scale package, and £99,997 for a Diamond franchise. The Diamond package is the only exclusive territory offering.
What do you get in exchange for your franchise fee with Total Clean?
Unlike many other cleaning franchises, Total Clean offers franchise partners a guaranteed income, according to the size of the territory, along with options to run the business on a part-time or full-time basis.
While the different packages cover varying territory sizes and guaranteed turnover levels, all five packages include the essential franchise package, which includes an in-house sales service system, invoicing and credit control support, employment law advice, and a pre-launch programme. The fee also covers the cost of training and marketing support provided for all franchisees by Total Clean, and industry accreditations.
Can you get funding support with a Total Clean franchise?
It may be possible to get funding support from most major high street banks.
What experience do you need to have before starting a franchise with Total Clean?
You do not need to have any prior cleaning experience to start a franchise with Total Clean. The business is run on a management basis, as franchise owners will mainly be involved in supervising employed cleaners, and engaging with existing and potential clients, as well as managing the overall business administrative activities.
To be a successful franchisee with the brand, you should be able to demonstrate determination and commitment to succeed, and have a good employment history to show your capability in running a business. You should have a professional manner, a track record in providing excellent customer service, and be able to commit to a minimum five-year term to run the franchise.
Did you know?
Total Clean has outlets available across the UK
Request free information in just 60 seconds!
Take the first step in becoming your own boss!
What kind of training will you get with a Total Clean franchise?
Total Clean is committed to helping their franchisees start their new businesses, feeling confident and ready to launch, so it offers detailed training a development programme for their partners.
The course begins with a five-day residential training programme, held on-site at its head office in London. This covers all aspects of the business so that you are prepared, pre-launch.
Franchisees then undergo an additional three-day BICSc CPSS training, to help them gain all relevant industry accreditations, helping to add invaluable credibility to their business.
As a franchise owner, you will also undergo some essential practical training in cleaning skills, including carpet cleaning and hard floor maintenance – these are some of the most popular commercial services offered by the brand and gives franchisees a helpful understanding into customer requirements. You will also have one day of first aid training.
Once you have completed the full training course, there are also opportunities to continue business development and training, with one to one mentoring and in-territory training days held regularly.
Do you receive any marketing support for your franchise with Total Clean?
Total Clean provide all franchisees with a tailored launch programme, which includes a bespoke Total Clean website with PPC and SEO optimisation, and a personalised marketing campaign.
The brand will ensure you can hit the ground running, by securing contracts in your chosen territory prior to launch, as well as working with you to develop a tailored on-going strategy. This includes direct marketing campaigns and PR releases to help target the local market effectively. They also help to identify 1,000 leads in your local territory, providing a great foundation to get started.
What market opportunities are there with a Total Clean franchise?
The UK commercial cleaning market continues to be a recession-proof industry, and is expected to rise to a value of £500 million within the next year. Total Clean offers a fantastic opportunity to potential franchise owners keen to establish their own business, as they have an excellent reputation and large customer base already, but also offer their franchisees an extensive level of support and assistance by providing a guaranteed turnover for all franchise levels, and helping to boost their confidence by finding clients for them, from launch.
In addition, the franchise requires minimal business overheads, as even the lowest franchise package can be easily run from a home office, with the potential to earn high revenue.
How to get started
To find out more about the opportunities available with a Total Clean franchise, complete the enquiry form found on this page today.

Request Free Information
Send a free enquiry to Total Clean for further information!
Enquire into this franchise today