The information you submit via our enquiry form is shared only with the franchise business(es) that you have selected.
The franchise business will contact you by means of email and/ or telephone only to the email address and phone number you have provided.
By submitting the enquiry form you are consenting to send your personal information to the selected franchise business.
You also agree to receive further newsletter email marketing from What Franchise.
Close
Did you know?
Coffee-Bike has an expected revenue of Fixed sites can earn up to £16,000 per month with profit margins of 65% after 2 years!

Request free information in just 60 seconds!
Take the first step in becoming your own boss!
Coffee-Bike
Serves organically certified coffee, plus teas, orange juice and snacks, on the move
Minimum Investment
£3,500
Expected Revenue After 2 Years
Fixed sites can earn up to £16,000 per month with profit margins of 65%
About Coffee-Bike
Have you always runted to run your own coffee shop but never thought it could become a reality due to the high capital resources needed? Introducing Coffee-Bike! Run your own mobile coffee business with a unique design and work full-time or part-time in almost any location!
Are you ready for this lucrative opportunity in the coffee business?
• Join a network of over 200 franchise partners in 13 countries
• Benefit from a proven business model selling coffee, juices, and snacks
• Operate a bfa-approved, stylish Coffee-Bike that catches your customer's attention
• Enjoy full barista training, ongoing support and business mentoring
• Earn up to £1,500 per day operating at exclusive events
• Make up to £16,000 per month operating from a fixed site
• Contribute with a franchise fee of only 14p per coffee
Coffee-Bike is one of the fastest-growing franchise systems in Europe. Its self-sufficient bikes require no power or water connections during operation. Due to the mobility of the concept, it is closest to the customer and serves organically certified, artisan coffee in the most unconventional places.
How does the Coffee-Bike franchise model work?
This is the perfect time to join this award-winning concept.
Since the company was founded in Germany in 2010, Coffee-Bike has received multiple awards for innovation, the business model, and its products. Today, it boasts over 250 active bikes in 13 countries, with Coffee-Bike now firmly established in the UK market.
As a UK franchise partner, you profit from considerable Coffee-Bike development all over Europe, 10 years of operational experience, and a concise marketing strategy. With just 20 operational bikes in the UK, this is the perfect time for you to become the main franchisee in your area. The business has a solid foundation to provide you with ongoing support in building your Coffee-Bike business.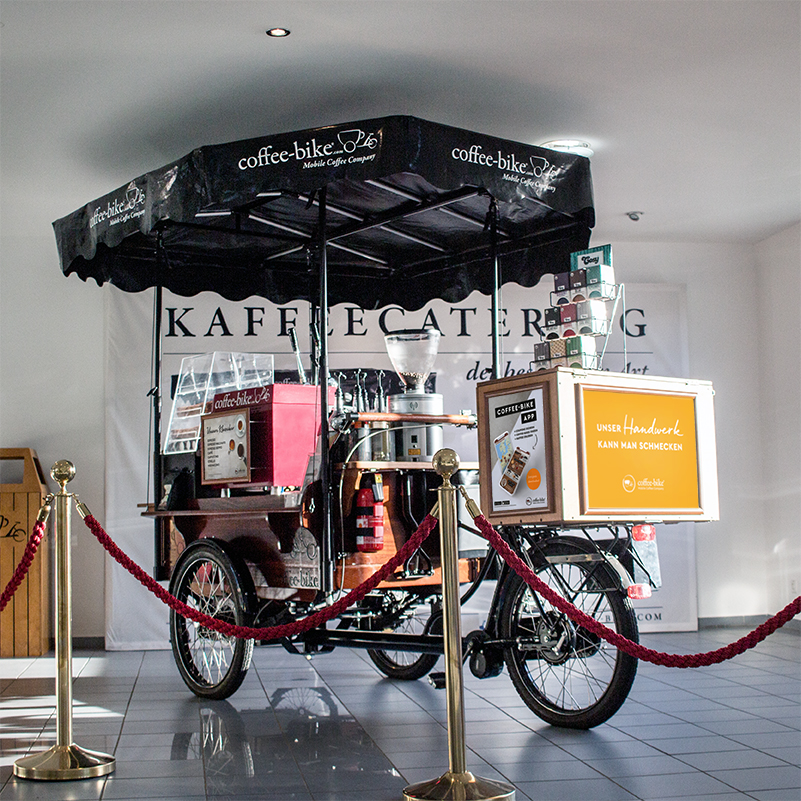 How much does a Coffee-Bike franchise cost?
Here is a breakdown of the purchase model:
• Entrance fee: £4,990
• Coffee-Bike: £12,490 (E-Coffee-Bike £15,490)
• Starter package: £2500
= £19,980 (E-Coffee-Bike £22,980)
*Franchise fee: 12p *Marketing fee: 2p
In terms of revenue generated from Coffee-Bike, it is seeing some amazing figures from franchisees both in the UK and overseas. Serving at various caterings and events, part-time franchisees are currently turning over up to £1,500 per bike, per day.
Full-time franchisees with a permanent pitch are showing turnover figures of up to £16,000 per month, per bike. With profit margins of up to 65 per cent, a Coffee-Bike puts you right at the heart of the lucrative business.
What locations or territories is the Coffee-Bike franchise looking to operate in?
Coffee-Bike has an ambitious strategy globally, with a particular focus on becoming major players in the UK market. As a signal of intent, it has just launched a new bike at London's Gatwick Airport which will be seen by up to 60,000 passengers each day. 
The mobility of the bike allows franchisees to trade within any region in the UK. It has franchisees operating in dense areas with high footfall such as Liverpool Street in London, whilst other franchisees perform equally well with loyal customers in less populated areas such as Chelmsford in Essex. Coffee-Bike knows the concept works in any region with pro-active and engaged franchisees.
Despite having Coffee-Bike stores in London and much of the UK, Scotland and Northern Ireland – no territory has reached its full potential, making this the perfect opportunity to join and become the dominant force in your region.
What are the franchise terms of agreement and renewal?
The initial four-year franchise term is available to be extended via another four-year rolling renewal without any further franchise fees.
Why is Coffee-Bike a good investment? 
Many people dream of owning their own café or small corner coffee shop. Often, however, this dream cannot be achieved due to a lack of capital. The Coffee-Bike franchise model enables you to operate your own mobile coffee shop on three wheels without fixed costs and large initial investments – the minimum investment starts at just £12,490 – far lower than other franchises.  
Many fixed coffee stores and even other mobile concepts require an initial investment of over £70,000. The advantage that Coffee-Bike offers over the traditional coffee industry is that demand can be met in unique locations, giving you entrepreneurial freedom. For example, during the COVID-19 outbreak, many fixed stores and business owners were unable to trade in locations such as office blocks. With its ability to be mobile, franchisees could make cups of coffee or hot chocolate and serve customers wherever there was demand, such as public parks to catch people on their daily walk.
Did you know?
Coffee-Bike has an expected revenue of Fixed sites can earn up to £16,000 per month with profit margins of 65% after 2 years!

Request free information in just 60 seconds!
Take the first step in becoming your own boss!
Using real case studies, several franchisees with fixed locations turnover around £10,000 a month and benefit from having a strong brand and ongoing support. In exceptional cases, Coffee-Bike has seen a turnover of up to £16,000 per month. The variety Coffee-Bike offers is truly what makes the investment smart – work in office buildings, parks, at live events such as festivals – the opportunity to be extremely profitable within a huge market is one that over 200 franchisees in 13 countries are taking advantage of.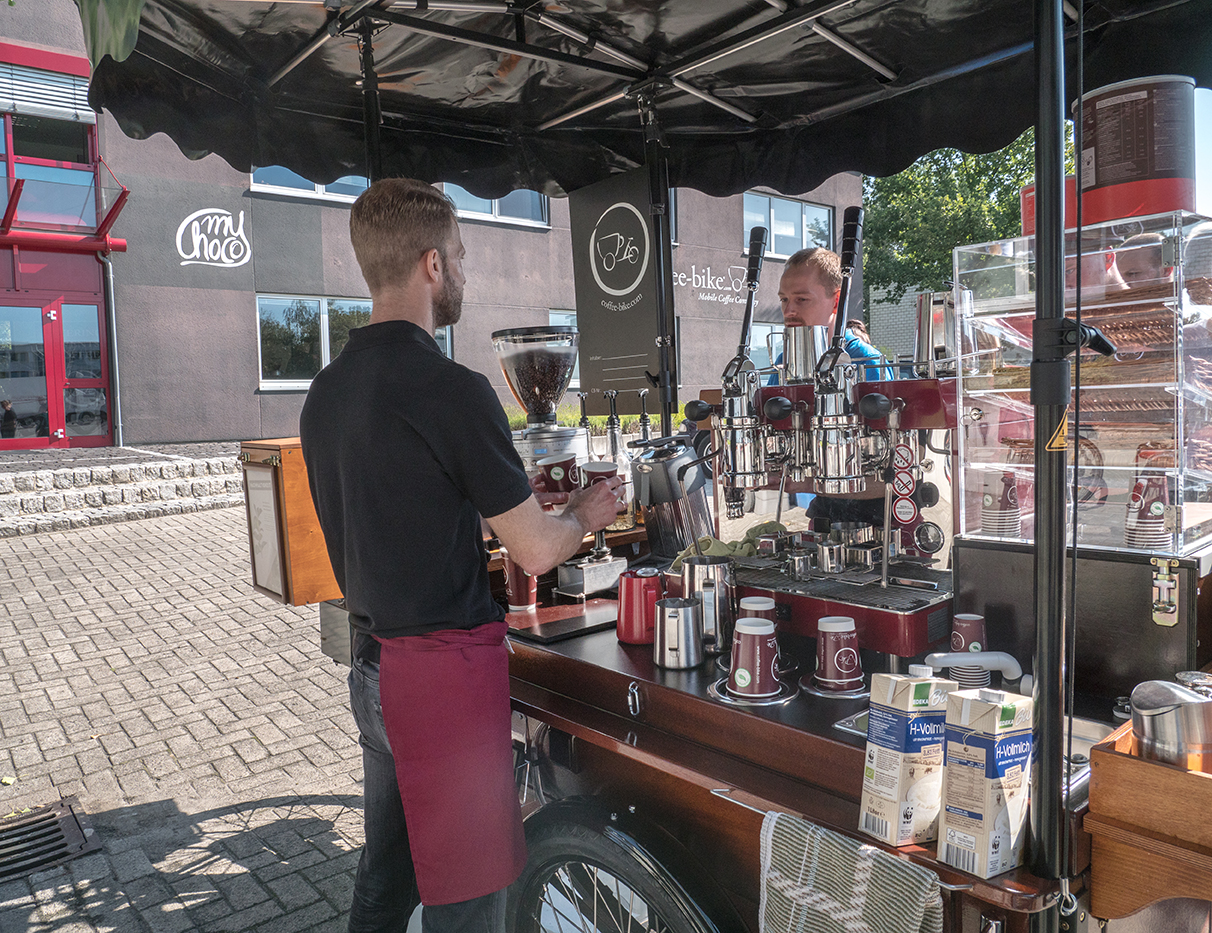 What support and training do Coffee-Bike franchisees receive? 
The Coffee-Bike Academy provides a fully comprehensive training programme that will give you all the necessary skills to operate a Coffee-Bike store at an expert level. Once a franchisee joins Coffee-Bike, training begins with a home-based interactive online course. You will gain the basic know-how regarding how Coffee-Bike operates, the technical background as well as guidance on how to set up your own profitable business. This home-based programme sets you up perfectly for an extensive barista training course in either Osnabrück, Germany or White City, London.
This training includes guidance on technical barista skills to make the perfect cup of coffee be it for the standard product range, speciality coffees or even perfecting latte art and much more. Furthermore, you will also receive face-to-face guidance regarding the critical factors to be successful with the Coffee-Bike business plan (e.g. acquisition, business development and marketing). 
You will sit down with the marketing manager to cover all the best practices when running social platforms, point of sale marketing and gaining access to offline materials such as loyalty cards.
You will also have the chance to sit down with your personal business development consultant, who will guide you through setting up your bike for your first trading day.
There will be training and guidance for you to reach personal goals such as becoming a multi-unit owner or building a part-time events business.
There will also be expert guidance provided on acquiring trading sites, events, and opportunities for revenue. This will all be tailored to your personal goals and what you want to achieve from Coffee-Bike.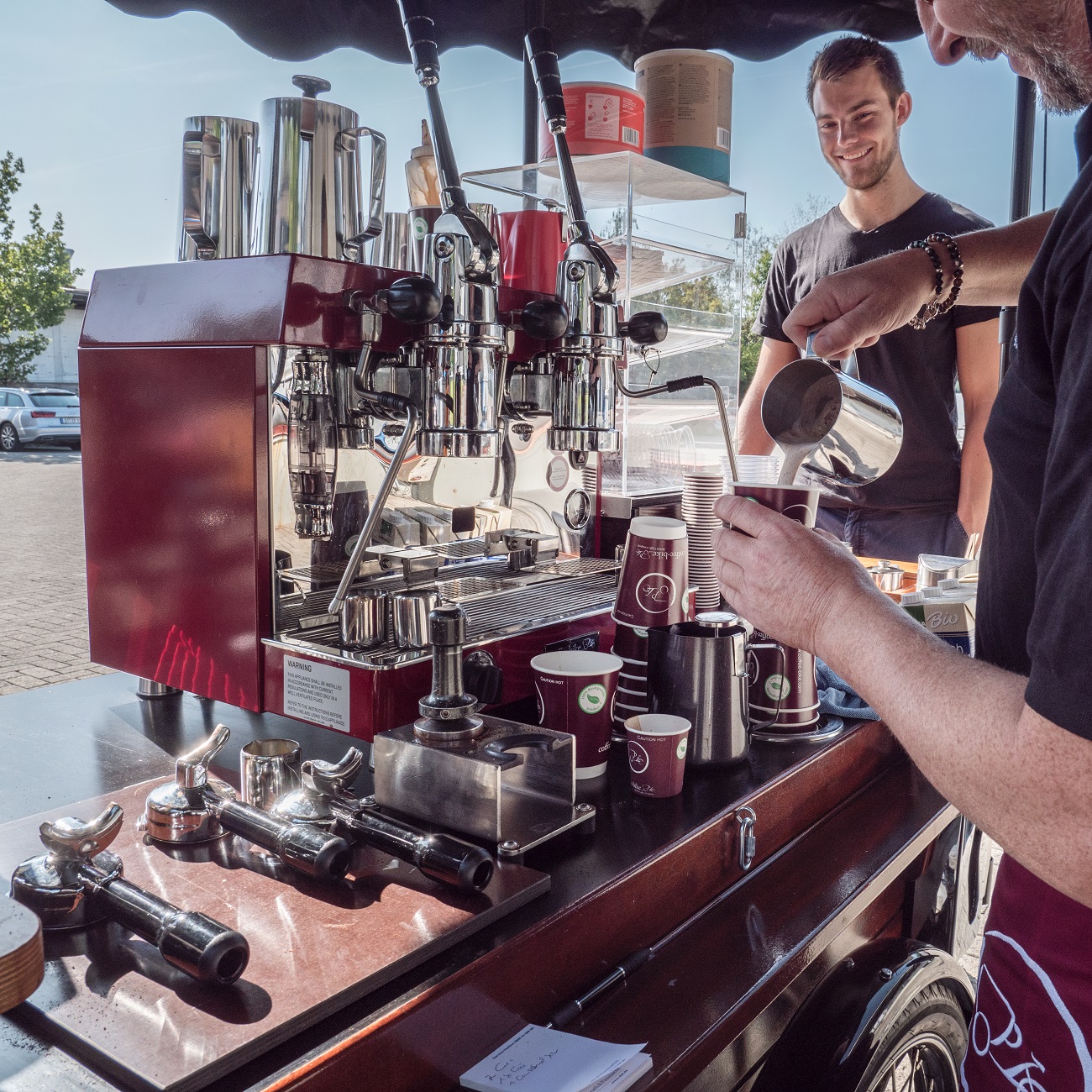 What is Coffee-Bike looking for in its franchisees?
If you're worried that you have no barista experience or have little knowledge of the coffee market, fear not, all is uncovered in the brand's extensive training programme. Coffee-Bike has successful franchisees from all different backgrounds with ranging levels of business experience. For some context, it has seen franchisees join straight out of school, whilst other successful entrepreneurs have joined the franchise with years of business experience.
If you are outgoing, energetic, ambitious and have a passion for high-quality coffee, the franchise team would love to speak to you. Whether you are looking to bring passion to the daily interaction with fellow coffee lovers or are planning on building a large multi-unit business, Coffee-Bike is there for you every step of the way.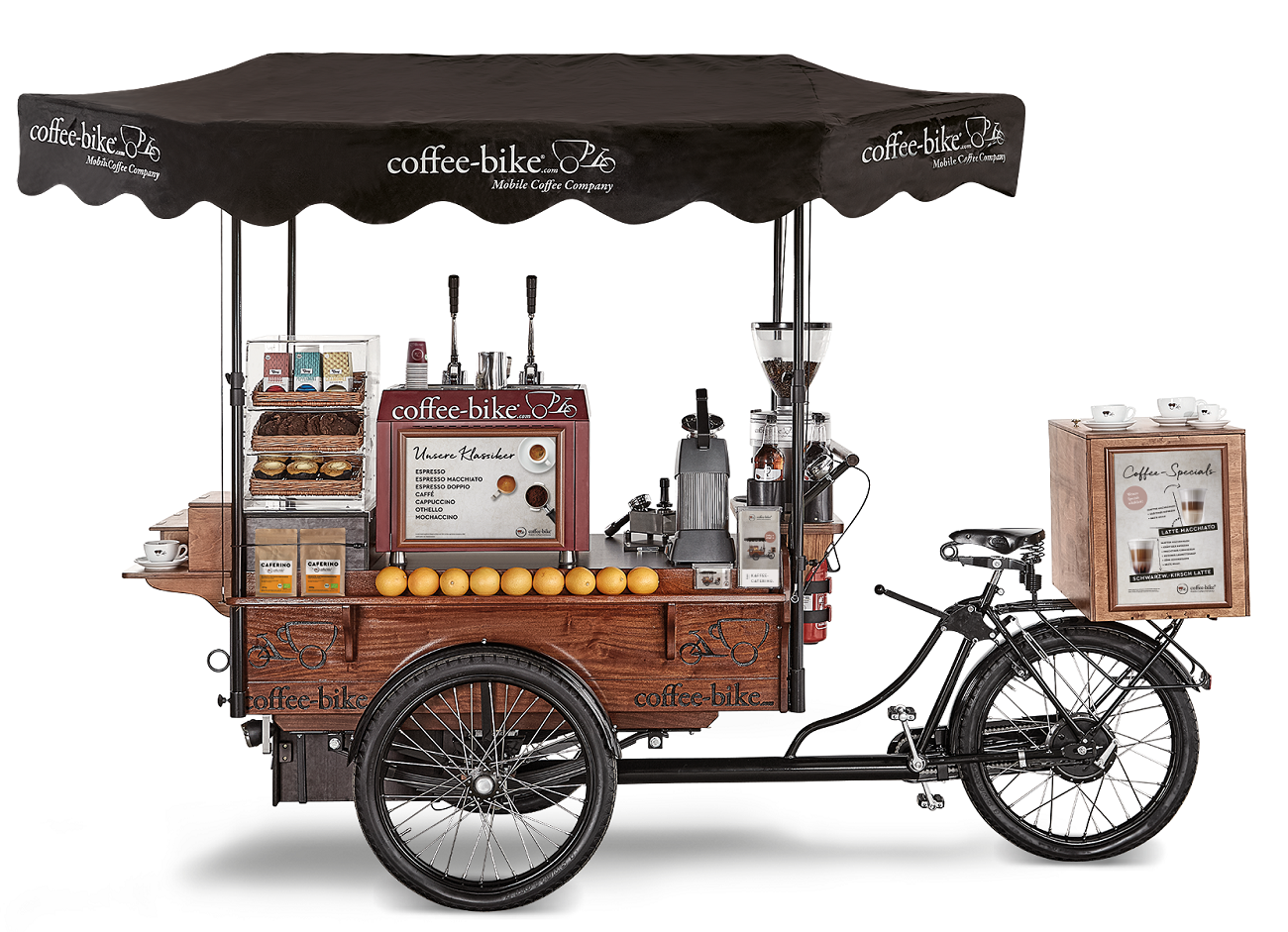 How in demand are mobile coffee services right now?
The UK's ongoing love for coffee and its daily caffeine fix results in the coffee market being worth £15bn. There will always be demand for coffee, and Coffee-Bike allows you to meet that demand with supply in unique locations.
In recent years, the demand for artisan coffee has increased exponentially, which Coffee-Bike is in a prime position to take advantage of with its quality-first model.
How can I get started on setting up my own Coffee-Bike business?
Speak to sales manager, Rossana Da Silva, in one of its weekly live webinars. Spots are limited, so secure yours now by filling in the enquiry form on this page.
Request Free Information
Send a free enquiry to Coffee-Bike for further information!
Enquire into this franchise today