The information you submit via our enquiry form is shared only with the franchise business(es) that you have selected.
The franchise business will contact you by means of email and/ or telephone only to the email address and phone number you have provided.
By submitting the enquiry form you are consenting to send your personal information to the selected franchise business.
You also agree to receive further newsletter email marketing from What Franchise.
Close
Did you know?
CREAMS British Luxury has outlets available across the UK

Request free information in just 60 seconds!
Take the first step in becoming your own boss!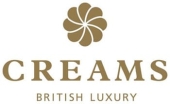 CREAMS British Luxury
Elegant, exclusive and sophisticated British tearooms on the high street
Minimum Investment
£75,000
Expected Revenue After 2 Years
N/A
About CREAMS British Luxury
Creams was founded in 2012 by Tayeb and Unzar Aleem, two brothers from Huddersfield in Yorkshire who spotted an opportunity for luxury tearooms on the high street.
Their vision was for Creams to represent elegance, exclusivity and sophistication, drawing in discerning customers. The brothers' stated hope was to do for the traditional afternoon tea what Starbucks had done for coffee.
To turn their idea into reality, Tayeb and Unzar recruited former Cash Converters CEO and franchising expert Mark Lemmon as a consultant and together they developed the franchise concept.
Customers are greeted with the nostalgia and elegance of a 1900s tearoom featuring marble floors and crystal chandeliers, where they can enjoy a variety of teas and food, including cakes, patisserie items and, in some branches of CREAMS British Luxury, breakfast and evening meals.
In 2015, after investing £350,000 into refurbishing the Leeds-based CREAMS British Luxury outlet, the brothers decided to franchise the business. Their aim is to build a network of 100 CREAMS British Luxury tearooms over the next five years.
How does the CREAMS British Luxury franchise model work?
 
CREAMS British Luxury offers two different franchise options, so the total investment required depends on which option is chosen, as well as the location, size and work required to transform premises into a CREAMS British Luxury tearoom.
How much does a CREAMS British Luxury franchise cost?
The 'complete' investment option means an individual becomes the sole franchisee in their location. This is for people who wish to own their own business in the luxury food sector. The minimum investment is £100,000.
The 'Syndicate' option enables franchisees to be part of a group of other franchisees, meaning you can be a joint owner of a CREAMS British Luxury store with a group of other franchisee investors and can choose the amount you invest - the minimum amount being £20,000.
The more you invest, the more of the business you own and the more you can earn.
What locations or territories is CREAMS British Luxury looking to operate in?
CREAMS British Luxury welcomes enquiries from individuals or groups who wish to invest in a franchise both internationally and in the UK.
Why is a CREAMS British Luxury franchise a good investment?
CREAMS British Luxury appeals to a variety of people who like fine dining and the civilised ritual of afternoon tea.
The brand has given the tradition of afternoon tea a contemporary twist with an innovative menu and digital technology. In the flagship store in Leeds, an iPad on every table makes ordering easy, a service that may be rolled out in other stores soon.
CREAMS British Luxury draws its influences from the internet and social media, as well as from British history. Freshly cut sandwiches, scones and cakes are accompanied by a
choice of finely blended teas on a three-tier platter.
What sets CREAMS British Luxury tearooms apart from other high street outlets is its combination of innovative design aesthetics and high quality food and beverage offerings.
In the words of Tayeb Aleem: "This is not just a luxury shop, it's a fashion statement… customers don't just come for the food, they come to be part of the lifestyle."
Did you know?
CREAMS British Luxury has outlets available across the UK

Request free information in just 60 seconds!
Take the first step in becoming your own boss!
In addition, CREAMS British Luxury is a tech-savvy franchise that uses social media as a guideline for all the latest trends, adapting its menu in order to cater for emerging tastes.
All its French macaroons, chocolates, patisserie items and traditional English cakes are handmade by artisan bakers and delivered fresh to stores, so that CREAMS British Luxury franchisees can maintain control over the quality of their food offering.
What support and training do CREAMS British Luxury franchisees receive?
CREAMS British Luxury provides franchisees with a comprehensive training and support package, which includes:
• Finding the best location for a CREAMS British Luxury tearoom and negotiating the best price.
• Assistance with supplier negotiations.
• An operations manual and promotional calendar.
• Help with staff recruitment.
• Access to nominated shop fit out specialists and a design team that assist with the sourcing and tendering of shop fitting requirements and equipment acquisition.
Once a franchisee is open for business, a local CREAMS British Luxury representative and coordinator is on hand to provide ongoing operational evaluation, while the company's chefs, baking specialists, staff trainers and product development team strive to make excellent services and food.
The marketing package includes menus, leaflets, business cards, posters and signage.
Where in the UK is the CREAMS British Luxury franchise based?
CREAMS British Luxury head office is in Leeds.
How in demand are tea rooms right now?
Everyone knows that British people love a cup of tea and can take it very seriously. It's Britain's national drink and more than 165 million cups are consumed every day
on average.
Although it can't be denied that more and more coffee shops are appearing on the high street, tea houses are also becoming increasingly popular as an alternative to coffee shops.
As well as the dine in tearoom, CREAMS British Luxury also has a retail side that taps into the lucrative gifts market. All its cakes, macaroons, chocolates and occasion cakes are available to take away in a selection of gift boxes. CREAMS British Luxury also sells loose leaf teas, coffee, teddies and picnic hampers.
Tayeb Aleem, operations director for the brand, believes there is a gap in the high street market for a high quality, high class tea room: "aimed at the thousands of aspirational millennials seeking to replicate the sophisticated lifestyles of the celebrities they see on TV and online and follow on social media."
CREAMS British Luxury's quintessential British afternoon tea is better when enjoyed in opulent surroundings, the company believe, as it makes it an experience to be savoured,
remembered and repeated.
 
How can I get started on setting up my own business?
Complete the short enquiry form on this page and your details will be sent direct to CREAMS British Luxury. A member of its franchise recruitment team will them make contact.
Request Free Information
Send a free enquiry to CREAMS British Luxury for further information!
Enquire into this franchise today