The information you submit via our enquiry form is shared only with the franchise business(es) that you have selected.
The franchise business will contact you by means of email and/ or telephone only to the email address and phone number you have provided.
By submitting the enquiry form you are consenting to send your personal information to the selected franchise business.
You also agree to receive further newsletter email marketing from What Franchise.
Close
Did you know?
World Options has outlets available across the UK

Request free information in just 60 seconds!
Take the first step in becoming your own boss!
World Options
Offers an easy to use, web-based courier and shipping service for businesses of all sizes
Minimum Investment
£35,000
Business Type
Delivery Haulage
Total Investment
£35,000 (plus VAT)
Franchise Fees
£35,000 (plus VAT)
Expected Revenue After 2 Years
N/A
In Brief
Low start-up costs and overheads – start your business with just a computer, internet access and phone. No experience necessary as full training and support is provided. Huge unrestricted earning potential – non-exclusive, non-geographic franchise model maximises potential clients for increased profits. Regular revenue from high levels of repeat business - monthly charge reduces as profit margins increase.
About World Options
Established in 2003, World Options was created to help small businesses find the best shipping rates. Back then, SMEs had to ship their goods by manually making phone calls directly to the carriers and manually completing paperwork. World Options now provides businesses with access to its technologically advanced portal, allowing them to simply book shipments with the world's leading carriers that they wouldn't otherwise be able to use from the couriers directly.
In 2012, World Options started to expand its vision through franchising, offering motivated and driven individuals the opportunity to buy a World Options franchise.
World Options saw franchise revenue increase 35 per cent year-on-year with a 70 per cent increase in shipping customers. If you're looking for a franchise opportunity that provides work-life balance, is non-geographical and provides the opportunity for real residual income, then a World Options franchise might be what you're looking for.
World Options offers customers exclusive business rates from leading carriers with just one click, thanks to its industry-leading shipping platform. Acquire and retain SME businesses that ship domestically and internationally, through the World Options platform.
Acquire and retain SME businesses that ship domestically and internationally, through the World Options platform.
World Options is a full member of the British Franchise Association
This guarantees a particular standard of member franchises. The foundation is for franchisees to embrace the franchise model and run their business efficiently and independently. All bfa-approved franchisors must comply with the European code of ethics, demonstrating ethical principles across advertising, recruiting, selecting, and interacting with franchisees.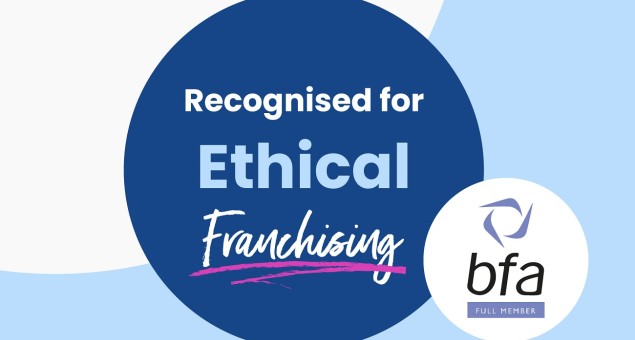 How does the World Options franchise business model work?
The main role of the franchise business owner is relationship building with prospective and current clients, demonstrating the delivery services offered by World Options and explaining the cost savings that can be made by using the company.
Not only has the company founder and CEO, Stewart Butler, streamlined the courier and shipping business for thousands of companies around the world with his proven online system, but he has also managed to rationalise the company's franchise model using the latest cutting-edge technology and business techniques.
The World Options shipping platform for your customers
After Brexit, many small- and medium-sized businesses have suffered from the sudden rise in shipping costs and uncertainty about shipping rates and services. Whether your customer's business is looking to send parcels internationally or domestically, World Options can provide them with a range of services based on competitive prices, services and availability.
World Options' shipping platform provides access to leading courier services such as UPS, DHL, FedEx, TNT, Evri and DPD. It also provides freight rates from leading carriers such as Kuehne+Nagel, DVS, Pallex, Exfreight, Palletways and many more.
It provides access to real-time tracking, providing a service that your customers wouldn't always have access to directly with carriers. Giving businesses access to its mobile app enables them to integrate with their e-commerce platforms and marketplaces, such as Shopify, BigCommerce and eBay.
The World Options shipping platform for you
As a franchise owner, you have a handy, central customer management system that includes:
· All your sales, prospects and customers are visible with one click.
· Quick and easy access to essential data such as margin, shipping volumes and invoice payments.
· Access to top shipping rates from top shipping services whenever you need them.
· The ability to contact World Options' customer service support directly through a portal intern ticket service.
Whether the customer wants to make their choice based on personal preference, speed, price or availability, the World Options portal has a solution while giving you all the tools to run your business efficiently.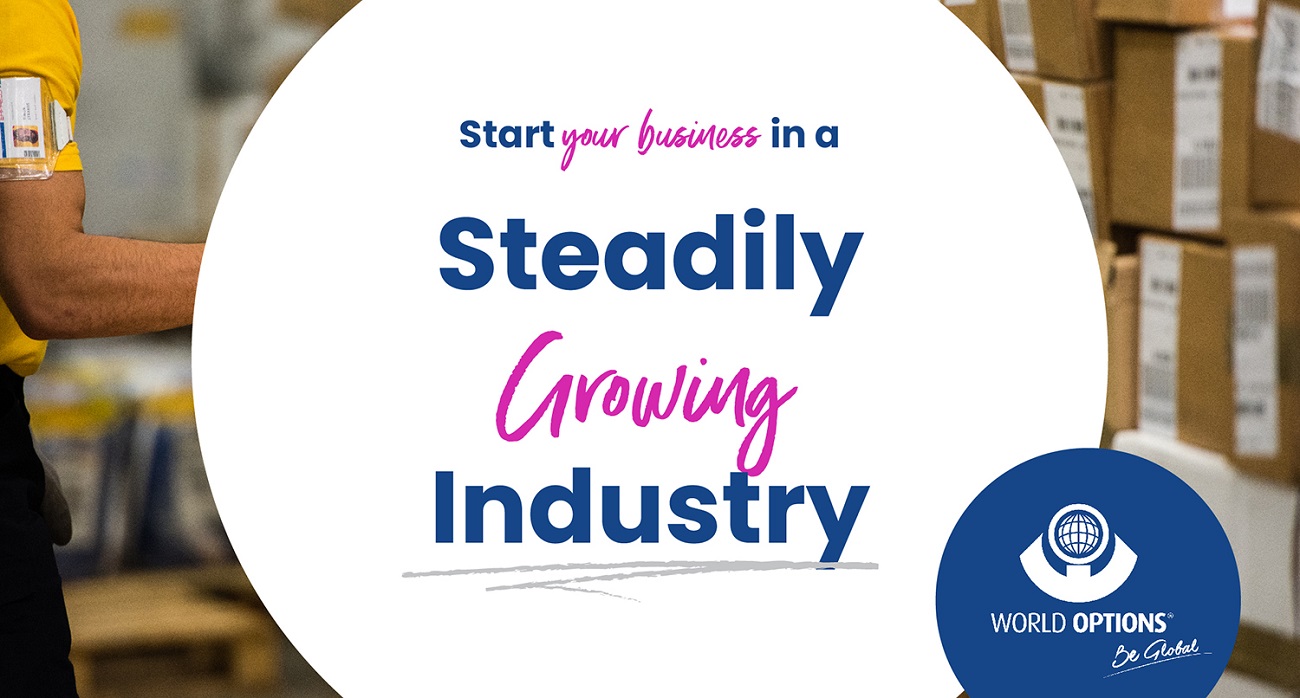 Why is a World Options business opportunity a good investment?
World Options is a non-exclusive franchise. This allows you to look for your customers without any geographical restrictions in the UK. You don't need business premises, as long as you have a computer, a phone, a table and a chair, you are ready to become a World Options franchise owner and acquire new customers.
In 2020, there were estimated to be 6 million UK private sector businesses. London (1.1 million) and the South East (932,000) had the most private sector businesses, accounting for 35 per cent of the UK business population. It's, therefore, a significant advantage that you can target businesses regardless of their location.
Did you know?
World Options has outlets available across the UK

Request free information in just 60 seconds!
Take the first step in becoming your own boss!
With World Options' non-exclusive franchise opportunity, it's you running your business instead of your business running you. You decide where you want to work and when.
Other benefits include:
• Instead of renting a large office, you can work from home using the tools you probably already own.
• A training and support system helps you with whatever you need to start your franchise successfully, no matter how much experience you have.
• Customer service is available for you and ready to help with all other questions your customers might have.
• Scheduling your own timetable, deciding your own hours of work.
Some franchisees might have other responsibilities such as family or health issues that hold them back from working a nine-to-five job. With a World Options franchise, you decide each day individually what you want to prioritise that day. The same goes the other way around, if you have more time and motivation to work more, you can and it will show in a rise in margin. The success of your franchise is entirely in your hands.
On top of this, the nature of the franchise and the services it offers results in potentially high levels of repeat business for successful franchisees.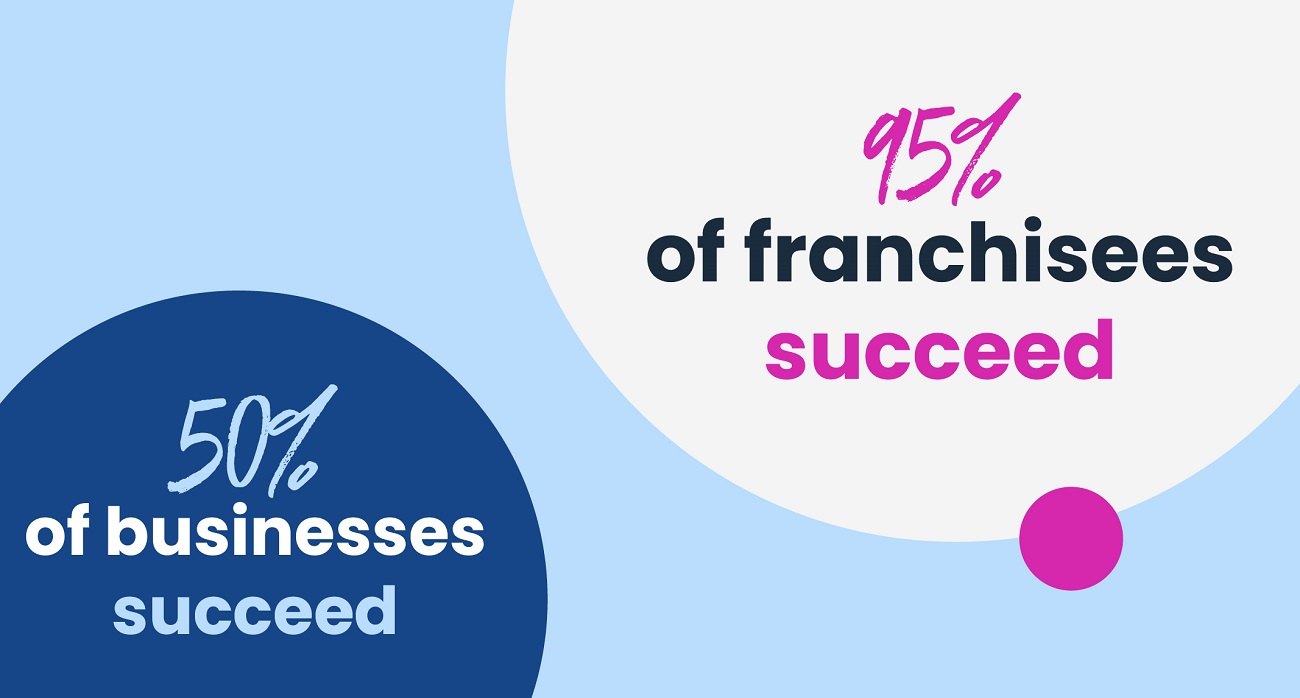 What is World Options looking for in a franchisee?
The company is looking to recruit prospective franchisees who are professional, self-motivated, good communicators and possess basic computer skills to join its growing network. Sales or courier industry experience is beneficial, but not necessary, as full initial and ongoing training and support are provided by the franchisor.
What training and support do World Options franchisees receive?
Not only the job itself but also the training is non-geographical. It can be online as well as initial classroom training, depending on your preferences and abilities. The training can be split into three major parts.
• Five days of online or classroom training: It is accessible for all, no matter how much experience you might have. The professional training instructor doesn't only know the industry inside out, but also is a franchise owner himself and can answer all your queries.
• 12-month sales mentoring: Especially at the beginning, when some questions might come up that you didn't think of during the training, your mentor is always available for you and ready to help.
• A motivated customer service team: The support doesn't just end after the sales mentoring. For shipping-related queries, World Options has a dedicated, UK-based customer service team that is reachable with the portal intern ticket system and always happy to help.
This three-step system ensures that the training is profitable for all, whether 15 years in the industry or first time working with shipping services.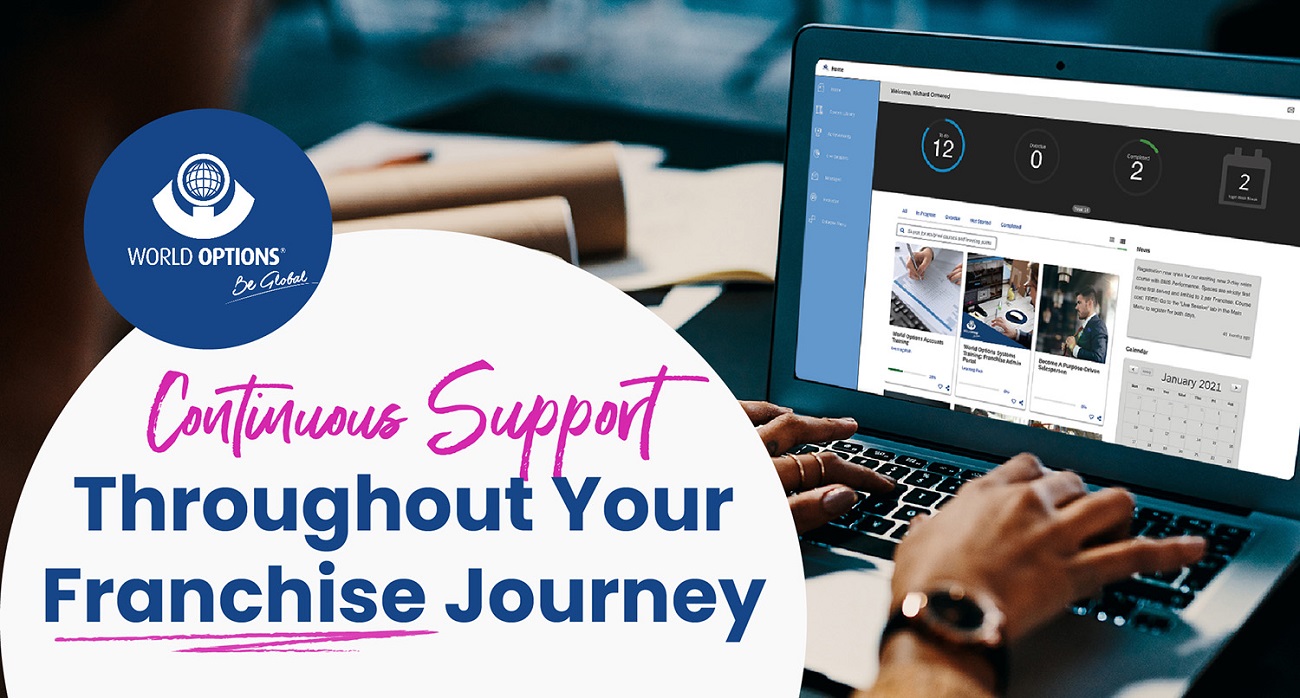 What is World Options' franchise terms of agreement and renewal?
The World Options franchise agreement lasts for five years. After this initial time period, the agreement is renewable every five years thereafter, subject to terms and conditions being met.
What locations or territories is World Options looking to operate in?
World Options is a non-geographic franchise opportunity. This means you can acquire customers from all over the UK while working from anywhere you want.
A computer, a phone, a table and a chair are all you need to get started.
Where in the UK is World Options based?
World Options UK headquarters are in Clayton-le-Moors, Lancashire.
How can I get started on setting up my own World Options business?
The easiest way to begin your research into a World Options franchise opportunity is to fill out your details using the short enquiry form on this page.
A member of the World Options franchise team will then make contact and provide you with information about the business and the franchisee recruitment process.
Prospective franchisees are advised not to make any type of commitment or invest any money into a franchise business before they have completed a comprehensive process of due diligence and are satisfied they can work in partnership with the franchisor and recoup the return on investment they require.
The earnings potential of a World Options franchise varies considerably and is based on factors such as a franchisee's ability to run the business using the franchisor's proven systems and the time they invest in making it a success.
Request Free Information
Send a free enquiry to World Options for further information!
Enquire into this franchise today