The information you submit via our enquiry form is shared only with the franchise business(es) that you have selected.
The franchise business will contact you by means of email and/ or telephone only to the email address and phone number you have provided.
By submitting the enquiry form you are consenting to send your personal information to the selected franchise business.
You also agree to receive further newsletter email marketing from What Franchise.
Close
Did you know?
Subway ® is eligible for funding support!
Request free information in just 60 seconds!
Take the first step in becoming your own boss!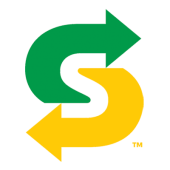 Subway ®
The world's largest submarine sandwich chain, operating in 110 countries around the world
Minimum Investment
£85,570
Funding Support
Third party
Total Investment
£85,570 - £221,240
Expected Revenue After 2 Years
N/A
About Subway ®
Since its inception in 1965, Subway has raced to the top of the fast food industry. The company was started by a 17-year-old business novice, Fred DeLuca, who opened a submarine sandwich shop in Connecticut, USA. By 1974, the pioneer and his investor – Dr Peter Buck – had already opened 16 outlets in the region, beginning a tide of success that continues to this day.
Today, the company represents more than 43,000 Subway sandwich shops, making it the world's largest submarine sandwich chain, operating franchise agreements in 110 countries around the world as a result of aggressive franchise development.
Along with its strong franchise business model and franchise relations, Subway is an incredibly forward-thinking brand in terms of health, environment and animal welfare. It has ensured its menu is sourced from ethical suppliers, that its plastic bowls and products are made from 95 per cent recycled bottles, and follows health guidelines such as salt and sugar reduction and calorie labelling to help its customers get a well-balanced meal.
What is a Subway franchise?
Already there are 2,500 Subway sandwich shops in the UK and Ireland, and the company is looking to expand this group, offering new opportunities to ambitious entrepreneurs who want to become part of the food business. Subway is a global brand and among the top food franchises that champions community focus and regional management, so it welcomes energetic individuals to become a franchise owner and continue its drive for success.
Becoming a food business franchise owner with Subway, therefore, means owning your own franchise operation and being your own boss, while working inside an existing company framework that is established and well-known to the public and in the franchise industry.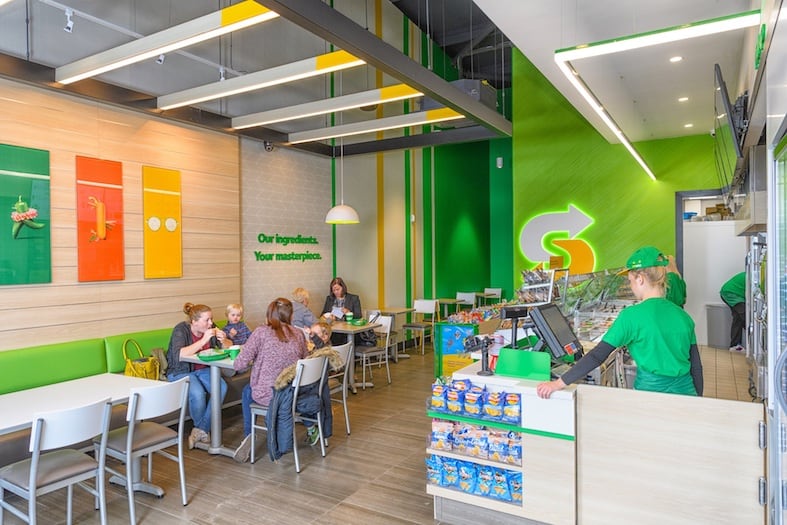 Becoming a Subway franchisee also allows you direct access to the formulas for the chain's products and operational systems, and informative publications provided by the company. In addition, you'll receive ongoing support from the corporate team, including regular evaluations and performance analysis.
How can I become a Subway business owner?
If you choose to start a Subway franchise, the process of setting up really couldn't be easier. The company is flexible with regard to location and choice of establishment, you can even convert an existing store into a Subway! You will submit real estate for consideration; the brand is looking to expand into many different areas, including shopping centres, hospitals, theme parks, universities, large and small urban areas, petrol stations and transport terminals. With such a range of options, it's up to you to find one that fits your business plan as well as the company's vision.
Unlike other fast food chains, there is also potential for your franchise to expand to multiple different outlets. This is certainly something to bear in mind if you're considering a long career in the food industry.
Becoming a multi-unit franchisee will potentially enable you to benefit from economies of scale, which will further increase income and boost profits.
Setting up shop is a challenging process, and you'll receive help from the Subway Business Development Team. Introduced in 2017, the 'Fresh Forward' store design is an exciting new vision for restaurant outlets, which in pilot stores has attracted many new customers, and made service more efficient and profitable. Innovation and technology have been employed in this new design to create a customer-focused, ever fresher experience with food.
The company will try to make the process of setting up a franchise as easy as possible, through its impressive support network. You'll have help and advice from experienced owners every step of the way. This begins with a two-week training course at the Subway Support Centre in Cambridge, from which you have to achieve an 80 per cent mark in the final assessment.
Did you know?
Subway ® is eligible for funding support!
Request free information in just 60 seconds!
Take the first step in becoming your own boss!
The initial training will prepare you for the job, but following this, the company's own education facility – called The University of Subway – offers over 400 online training courses for franchise owners and staff. Along the journey, you will also be offered advice from a group of 20 experienced regional Business Development Agents who know all the details of setting up a franchise. At the Subway Support Centre in Cambridge, or at your local development office, franchise owners are always offered support and mentoring.
Subway owns an organisation specifically to facilitate the purchase of supplies and equipment for franchise owners. The Independent Purchasing Company Europe is a non-profit that will ensure you have all the necessary tools to run a shop that meets the high standards set by the company.
How much is a Subway franchise?
Compared to other fast food brands of this size, the initial franchise fee for a Subway franchise is fairly modest. Though the total cost of setting up a store will vary depending on the size and necessary renovations, the estimated complete investment is around £85,570 to £221,240.
This figure includes the franchise fee of £8,500 (this is a one-off payment that allows you to represent the company and use all its trademarks and branding). The total investment covers property acquisition and conversion, equipment, insurance, supplies, training expenses for staff, and the opening advertisement. The estimate allows for £10,000 to £25,000 in additional funds that is recommended you reserve for the first three months of expenditure on wages, rent and training.
In addition, after the initial startup costs, you will continue to pay a royalty of 8 per cent of gross sales (after sales tax). And, finally, the Franchising Advertising Fund will be responsible for marketing your outlet, for which you have to pay an annual contribution of 4.5 per cent advertising fee.
I don't want to open a new outlet, is there an alternative?
There is another option to buy a franchise by purchasing a resale store. This is an existing shop owned by a franchise owner, so you are able to escape the set up costs.
The benefits of buying an already established Subway franchise is that the business already has a high profile in the local area in which it operates, which means it will have a significant number of regular customers.
It will also have a number of experienced employees on the books, who know all aspects of how the business is run - a valuable asset to any aspiring entrepreneur in the fast food sector.
A franchise resale, while sometimes more expensive than a greenfield franchise site, will also enable you to earn a potentially substantial income from day one.
Where do I sign up?
Simply fill out your details and click on the handy 'enquire now' button below. You will then be contacted by your local development office who will guide you through the application process and franchise agreements. Through this group, you can also get in contact with experienced Subway franchise owners who can help you discover if joining the Subway team is the right career choice for you and your circumstances.
They'll also be able to provide you with experiences of franchise owners and the company brochure. These are individuals just like you who began as ambitious entrepreneurs and through franchising with Subway have encountered great success.
It is highly recommended that prospective franchisees complete in-depth due diligence before investing any money into buying a franchise. This includes conducting their own independent research into the business opportunity on offer, enlisting the services of a lawyer who is familiar with the concept of franchising and franchise agreements and a suitably qualified accountant, who will be able to review the financial information provided to you by the franchisor.

Request Free Information
Send a free enquiry to Subway ® for further information!
Enquire into this franchise today