The information you submit via our enquiry form is shared only with the franchise business(es) that you have selected.
The franchise business will contact you by means of email and/ or telephone only to the email address and phone number you have provided.
By submitting the enquiry form you are consenting to send your personal information to the selected franchise business.
You also agree to receive further newsletter email marketing from What Franchise.
Close
Did you know?
Cashbrokers has outlets available across the UK

Request free information in just 60 seconds!
Take the first step in becoming your own boss!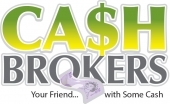 Cashbrokers
A modern day pawnbrokers, providing cash for those needing to raise short term finance
Minimum Investment
£100,000
Business Type
Financial Services
Expected Revenue After 2 Years
N/A
About Cashbrokers
Cashbrokers is a modern-day pawnbroker franchise. A family-run business, it offers a variety of essential services to people from all walks of life, providing cash for those needing to raise short-term finance as well as buying and selling quality jewellery and electrical items.
Cashbrokers also offers competitive rates on travel money and is an agent for Western Union and Logbook Money.
Customers can bring in any item for a valuation, which is based on the resale value of the items offered for security against a loan. If a customer accepts the offer, they will be expected to register with the store and bring with them at least two forms of I.D. A contract is then issued and the customer can then redeem the items at any time during the next six months (the term of the contract) by paying the original loan and any interest owed. Part-payments can also be made during the period of the loan in order to reduce the interest owed.
It is possible to extend a six-month contract for another six months, but this is not recommended. Cashbrokers is a member of the National Pawnbrokers Association.
Who is behind the Cashbrokers franchise?
Cashbrokers was founded as a family business in 2005 by Paul Smit, who still runs the company along with his sons, Robert and Alan. The Cashbrokers headquarters are based in Grantham, Lincolnshire.
When their pawnbroking business proved successful and having ironed out any potential problems, the family began franchising Cashbrokers in 2009 - the first franchisee, Larry Kohen, opening his business in November that year. He has subsequently gone on to open two more Cashbrokers stores in Truro and Penzance, and has been the star on the Channel 4 series, Posh Pawn, where he proved such a hit on the first series that he was approached by producers to appear in more shows.
Paul Smit was elected as the President of the National Pawnbrokers Association in 2014.
How does the Cashbrokers franchise model work?
It is a myth that pawnbrokers make all their money from selling goods. The modern pawnbroker is nothing like the cluttered shops seen in old movies. It is more like a local bank or building society and the ideal transaction is where goods are redeemed, since, for the most part, a pawnbroker makes its money from interest on loans. 88 per cent of goods borrowed against at pawnbrokers are redeemed.
Towns where franchisees hope to open a Cashbrokers store require a minimum population of 20,000.
Investment levels will vary depending on the type of premises the franchisee selects, but it is expected that £50,000 will need to be invested in initial start-up costs, covering the franchise fee and the cost of fitting out and equipping the shop. Franchisees will also need another £50,000 in working capital to be able to finance loans to customers and buy jewellery stock.
The level of investment for a larger store can be up to £150,000.
Is financial aid available for a Cashbrokers franchise?
Assistance with funding is available from most banks, who often look more favourably on a franchise as they generally have a better chance of succeeding as a business. Banks are often willing to lend up to 70 per cent of a franchisee's costs, depending on their financial history, with many banks having a local franchise manager or a specialist franchising unit.
What support and training does Cashbrokers offer franchisees?
Cashbrokers offers support at every stage of a franchise operation. The company spends time in choosing the best location convenient to the franchisee that works for the franchise model. Shops are a minimum of 250 sq. ft. with 600-700 sq ft of storage.
The Cashbrokers franchise team provides a detailed project plan for the shop fitting and will introduce franchisees to the correct suppliers to fit out and equip the shop, show franchisees how to obtain the necessary licences to trade, and provide the shop with a sophisticated computer system.
Cashbrokers helps develop a detailed business plan for the franchisee before training begins, first in the classroom and then with the experienced staff in a Cashbrokers shop.
Cashbrokers believes that one-to-one training is the best way to ensure that its franchisees are totally prepared and confident when they start their business. It works closely with its franchisees and an experienced member of the team will be with the franchisee when their own shop first opens.
They also offer meticulously documented operating manuals that give step-by-step guidance on all procedures to ensure everything runs as it should.
Did you know?
Cashbrokers has outlets available across the UK

Request free information in just 60 seconds!
Take the first step in becoming your own boss!
Support continues throughout the term of the franchise, ranging from telephone and online support to the development of new income streams to make sure a franchise is profitable.
What is Cashbrokers looking for in its franchisees?
Experience in pawnbroking is not a necessity, and Cashbrokers' franchisees have come from all backgrounds. Potential franchisees need to be accurate, honest and reliable to meet Cashbrokers' high reputational standards. They should be willing to go that bit further to make the best of an opportunity.
What are the potential rewards and profits to be made from a Cashbrokers franchise?
The Financial Conduct Authority published figures in 2018 that revealed that the pawnbroking industry accounted for £300 million in annual lending with pawnbrokers revenue amounting to £125 million. The average pawnbroker loan was £300 and the 5,400 transactions per year resulted in a profit of £100,000. To improve their revenue, franchisees can run multiple outlets.
What are the chief services that a Cashbrokers franchise offers?
Pawnbroking is a way of raising cash on the short term — up to six months — secured against an item of value. The customer retains ownership of the goods that are left as security and the goods are returned once the loan and interest have been repaid. Rates are very competitive and discounts are available for large value loans.
The most popular items that loans are secured against include jewellery, scrap gold, coins, watches and collectables, but it could be anything from a diamond ring to a speedboat. Everything will be considered and it costs nothing for a valuation.
Cashbrokers also offers a buy-back option in which it will buy an item from you based on its second-hand resale value. The customer then has the option to buy back the item within 28 days. This is a popular option for people with mobile phones, games consoles, tablets, laptops and TVs.
Cashbrokers offers competitive exchange rates on all worldwide currencies, aiming to offer the best rates in town. It also buys back currency, no matter how big or small the amount. Most stores can provide major currencies immediately, but large amounts or unusual currencies may require 24 hours to order and deliver.
A cheque made payable to a registered customer or to their business trading name (if it is not a limited company) can be exchanged for instant cash, subject to terms and conditions. It is a good way to obtain cash quickly to pay a bill or obtain materials for a job. Cashbrokers can cash most cheques, including Giro's, HMRC, wages, solicitors, compensation claims, and more.
Cashbrokers also buys and sells goods and will offer the best possible prices on scrap gold, diamonds, gemstones and antique jewellery. Popular goods bought and sold include mobile phones, tablets and games consoles.
Where can Cashbrokers' franchises be found in the UK?
Cashbrokers has stores in England and Northern Ireland, including Brighouse, Buxton, Chester, Chesterfield, Chippenham, Eastbourne, Frome, Falmouth, Grantham, Halesowen, Kingston, Leamington Spa, Letchworth, Newport, Penzance, Shrewsbury, Truro, Welwyn Garden City, and Ballymena, NI.
Are existing Cashbrokers franchises available for sale?
Cashbrokers recognises that franchisees of its business are investing in order to grow a successful business and that their business is an asset that they may want to sell on in the future. Cashbrokers say that resales are acceptable, subject to the terms of the franchise agreement.
Are Cashbrokers franchises in demand right now?
The use of pawnbrokers grew during the credit boom in the 1980s and they have been busy ever since, with customers often preferring the speed and convenience of pawning goods for small cash sums over turning to other high street lenders.
Cashbrokers put its franchise operation on hold in 2015 when the Financial Conduct Authority introduced new regulations that made its franchise model uncertain. This situation was resolved when the FCA recognised franchisees and offered authorisation and regulation of pawnbroking services.
How can I start setting up my own Cashbrokers franchise?
To find out more, or to request further information on franchising with Cashbrokers, click on the 'Send Enquiry' button now.

Request Free Information
Send a free enquiry to Cashbrokers for further information!
Enquire into this franchise today