The information you submit via our enquiry form is shared only with the franchise business(es) that you have selected.
The franchise business will contact you by means of email and/ or telephone only to the email address and phone number you have provided.
By submitting the enquiry form you are consenting to send your personal information to the selected franchise business.
You also agree to receive further newsletter email marketing from What Franchise.
Close
Did you know?
Gravity Trampoline Parks has outlets available across the UK

Request free information in just 60 seconds!
Take the first step in becoming your own boss!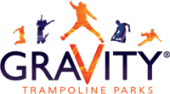 Gravity Trampoline Parks
The premium trampoline park operator from the UK is now seeking franchisees across Europe, Scandinavia, Russia, The Middle East and Asia!
Minimum Investment
£1,200,000 - £ 1,800,000
Expected Revenue After 2 Years
N/A
About Gravity Trampoline Parks
GRAVITY currently operates across eight prime retail sites in the UK. Incorporated in 2014 the first GRAVITY trampoline park opened in February 2015 within Castleford Xscape.
Founded and developed by Directors and best friends Michael Harrison and Harvey Jenkinson they strive daily to improve and expand the brand from the Head Office in Yorkshire Every new GRAVITY park franchise is fully supported by our dedicated franchise team headed by Harvey and Michael; guaranteeing a smooth delivery through sharing accumulated knowledge and best practices.
Following the opening of Xscape, Yorkshire, GRAVITY has successfully opened parks within high footfall leisure and retail destinations right across the UK, including the UK's premium shopping destination Bluewater, Kent.
Fitness That Is Fun
Naturally the family market is our core demographic. However footfall is maximised by all GRAVITY parks opening seven days a week to accommodate and attract the entire range of bouncers.
Open Jump sessions permit bouncers the freedom to use all of the connected trampoline areas providing a huge area and scope of bounceable fun that can include angled trampolines, jump platforms, tumble tracks, air bags, basketball lanes, a battle beam, dodgeball courts, sky rails, GRAVITY Rocks climbing and much, much more.
Activity timetables cater for both groups and individual bouncers to carefully plan for maximum rates of use.
Health is at the core of the GRAVITY agenda. Our TrampoLEAN High intensity interval training (HIIT) classes are run to improve cardiac and oxygen levels through strength and muscle toning sessions. These attract group bookings, fitness classes and provide competitive team sports. We also specialise in parent and toddler sessions which strategically run during off peak periods to maximise income streams and minimise quieter sessions.
10% of all revenue is attained through parties - GRAVITY has established associations with an enviable number of the UK's eminent branded restaurants who provide the food for every GRAVITY bounce or climb party.
Did you know?
Gravity Trampoline Parks has outlets available across the UK

Request free information in just 60 seconds!
Take the first step in becoming your own boss!
Over 16s especially enjoy Friday evening live DJ 'after dark' sessions between 19.00 and 22.00.
An industry first - GRAVITY partners local authorities to schedule specific programmes for schools and colleges to combine science, health and fun linked to the National Curriculum.
We run similar initiatives with charities and local government partners that include disability sessions for special needs weekly in our parks.
The Gravity Concept
GRAVITY has rapidly evolved way beyond a simple trampoline park where people just bounce for an hour! Fun, fitness and the desire for repeat visits, come from a GRAVITY park offering so much more:
Huge open bounce areas
Volleyball courts
Freestyle areas
Dodgeball courts
Dunk zones
Obstacle courses
Virtual reality climbing experiences and GRAVITY Rocks urban climbing.
As each new park opens we continue to develop and stay ahead of the competition. In larger units GRAVITY can provide diverse and separate offerings such as adventure golf, sky rails and family entertainment. Areas which ensure maximum utilisation of your unit. Ultimately maximising profits for franchisees and keeping us both at the forefront of the leisure industry.
Our Future
Established as the UK's "landlords' park of choice" GRAVITY is currently securing multiple schemes with retail landlords across the world. GRAVITY is actively expanding its operation by seeking franchisees in Europe, Scandinavia, Russia, the Middle East and Asia.
Having created and fine-tuned the perfect leisure operation in the UK, franchising gives us the perfect platform to successfully partner with individuals or companies experienced within the entertainment, leisure industries or with strong customer service backgrounds.

Request Free Information
Send a free enquiry to Gravity Trampoline Parks for further information!
Enquire into this franchise today