The information you submit via our enquiry form is shared only with the franchise business(es) that you have selected.
The franchise business will contact you by means of email and/ or telephone only to the email address and phone number you have provided.
By submitting the enquiry form you are consenting to send your personal information to the selected franchise business.
You also agree to receive further newsletter email marketing from What Franchise.
Close
Did you know?
Snap Fitness is eligible for funding support!

Request free information in just 60 seconds!
Take the first step in becoming your own boss!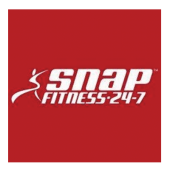 Snap Fitness
Offers customers an affordable, convenient way to obtain a results-focused, high-intensity workout in a 'boutique' gym environment
Minimum Investment
£125,000 - £ 600,000
Funding Support
Third party
Total Investment
£500,000 in invested capital and £150,000 in liquid assets
Expected Revenue After 2 Years
N/A
About Snap Fitness
The Snap Fitness® brand was founded in 2003 in Minnesota, USA to offer customers an affordable, convenient way to obtain a results-focused, high-intensity workout in a 'boutique' gym environment.
Each Snap Fitness location offers 24/7 intensity training, including functional, cardio, strength and group and personal training options. Each Snap Fitness location uses advanced industry technologies and high-quality fitness equipment, allowing members to work out to their own schedule.
The Snap Fitness brand is part of the Lift Brands group of companies, which currently includes the following fitness businesses: 9Round, Insurgence, Steele Fitness and Fitness On Demand.
Lift Brands has approximately 2,000 clubs open or under a development schedule in 26 countries and over one million members globally. It currently has 60 clubs operating in the UK.
How does the Snap Fitness franchise model work?
Lift Brands prides itself on keeping ahead of the curve when it comes to the latest fitness trends, thus offering franchisees a unique selling proposition in a competitive market.
Lift Brands recently launched 'MYFIT' - signature 18-minute daily intensity workouts that are available to members any time, 24/7. Heart rate training and a member app are also key components of the Snap Fitness brand.
Each club features a boutique-like club design. Snap Fitness clubs are located in high visibility, high foot traffic locations with 400 to 1,000 square metres of space and spaces for car parking.
Prospective franchisees must have business experience, be entrepreneurial, self-motivated and good with people. Prospective franchisees require £500,000 in invested capital, £150,000 in liquid assets and a net worth of £250,000.
Multi-unit development opportunities are available.
How much does a Snap Fitness franchise cost?
The estimated initial investment for a single Snap Fitness club in the UK ranges from £450,000-£600,000.
What Snap Fitness franchises are currently for sale in the UK?
Lift Brands has Snap Fitness franchise opportunities available throughout the UK.
Is a Snap Fitness franchise a good investment?
Health and wellbeing is big business, with the fitness industry alone worth $83bn dollars globally. The UK fitness market was valued at £4.9bn in the 2018 State of the UK Fitness Industry Report, which estimated that there are now over 7,000 gyms operating in the UK for the first time. In addition, one in every seven people in the UK has a gym membership, according to the study.
Did you know?
Snap Fitness is eligible for funding support!

Request free information in just 60 seconds!
Take the first step in becoming your own boss!
Forecasters predict the fitness sector will continue to grow in the UK, with David Minton, director of LeisureDB, which produces the State of the UK Fitness Industry Report, saying: "The period up to 2020 remains the time for fitness to continue to break all barriers."
Where in the UK is the Snap Fitness franchise based?
Lift Brands UK is headquartered in London.
What support and training do Snap Fitness franchisees receive?
All franchisees are required to attend an initial training programme - 'Snap University' - which is held at Lift Brands' London headquarters.
Snap University is a comprehensive four-day initial training programme where franchisees learn about business operations, sales, marketing and training on how to use Lift Brands' proprietary business tools and platforms. Franchisees also learn about the latest fitness technology on the market and methods for training their own staff.
Ongoing training is provided as part of the franchise package, which includes virtual training sessions and webinars.
Lift Brands conducts local market research on a franchisee's prospective trading area and assists with site selection and equipment financing for the club. A custom fit-out is completed that is specific to the individual franchisee and the territory they operate in.
Franchisees have access to an online manual and a franchisee portal that contain tools, tips and training resources. Promotional support and marketing materials are also provided.
In order to promote interaction among franchisees and the chance to share best practice, Lift Brands organises an annual convention and regular franchisee events.
What are the Snap Fitness franchise's terms of agreement and renewal?
The initial term of the franchise agreement is five years. After this time, franchisees can renew the agreement for additional five-year periods.
How can I get started on setting up my own Snap Fitness business?
To get the ball rolling, prospective franchisees must provide Lift Brands with some brief personal and contact information via its website, along with details regarding the prospect's territories of interest.
A Lift Brands representative will then contact the prospect and provide him or her with further information about the Snap Fitness franchise opportunity and work through the franchise sales process.
To find out more or to request further information on franchising with Snap Fitness, click the 'Request Free Information' button now.

Request Free Information
Send a free enquiry to Snap Fitness for further information!
Enquire into this franchise today