The information you submit via our enquiry form is shared only with the franchise business(es) that you have selected.
The franchise business will contact you by means of email and/ or telephone only to the email address and phone number you have provided.
By submitting the enquiry form you are consenting to send your personal information to the selected franchise business.
You also agree to receive further newsletter email marketing from What Franchise.
Close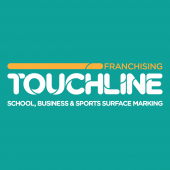 Touchline Marking
Supplying, installing and maintaining thermoplastic surface markings for schools and sports facilities as well as commercial, industrial and retail premises
Minimum Investment
£25,000
Funding Support
Third party
Expected Revenue After 2 Years
Discussed at interview stage
About Touchline Marking
The Touchline business model is based on supplying, installing and maintaining thermoplastic surface markings for schools and sports facilities as well as commercial, industrial and retail premises. Typically the work consists of:
Schools: Laying designs on a school playground, ranging from giant snakes n ladders boards to a school's logo
Sports facilities: Anything from simply relining a football or hockey pitch through to installing and lining a full multi-use games area
Industrial: All floor-based designs internally or externally, such as parking restrictions and H & S instructions
Retail: Fully branded parking bays for national brands such as Greggs and Toolstation.
Touchline's work contributes to the enjoyment of children and adults, keeps people safe and promotes increased retail sales via strong visible branding. The business is unique within the franchise sector with no 'like for like' competitors offering you the opportunity to own your own surface marking business.
How does the Touchline Marking franchise model work?
The Touchline franchise model is van-based and is designed to be run from a home office, thus, keeping your overheads as a franchisee to a minimum while maximising your opportunities to make profits. You will need space at your property to park the vehicle and secure storage space, such as a garage, for storing the coatings, paints and products used in the processes.
A full launch package is provided which will get you up and running and most importantly, generating income. The business can be run as an operator franchise which is advised in the beginning and is scalable to become a management franchise should that be your ambition.

How much does a Touchline Marking franchise cost?
The minimum investment to open a franchise is approximately £25,000, including the £10,000 franchise fee. You will also need a working capital of £15,000.
What is Touchline Marking looking for in its franchisees?
As a Touchline franchisee, you need to be the kind of person who is willing and capable of doing reasonably physical work outdoors. The business is, to a certain extent, weather dependent so you can be assured that you won't be working outside in the rain, hail and snow. During those periods you can schedule interior work.
In addition to doing the lining, there is the business development aspect to be taken care of. You need to, therefore, be comfortable talking to anyone from an individual householder who wants a tennis court relined; a panel of head teachers who are deciding on playground marking through to company directors who want a quote for H & S markings in a factory.
As a Touchline franchisee, you plan your workload so you have the opportunity of achieving the desirable work-life balance that lots of people crave.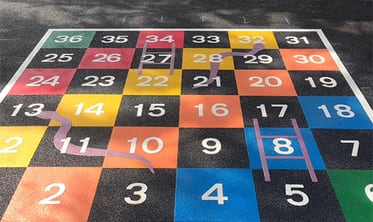 What training and support does Touchline Marking provide its franchisees?
Franchisees are given a comprehensive launch package with everything that they need to start the business. The laser-guided lining machine can be purchased outright as part of the launch package or acquired on a leased basis, thus, reducing the initial fee. The highly liveried van is available on a lease or if you have a suitable vehicle Touchline will consider branding it.
Training is a mixture of practical, where you will accompany the owner and learn the practical skills required of the role and theoretical, where the administration system, processes and procedures and sales and marketing are covered. Ongoing the franchisor will assist franchisees by developing relationships with schools within their territory as well as having the franchisee benefit from national agreements (Greggs and Toolstation are just two examples).
Does Touchline Marking host discovery days?
Discovery days are on a 1:1 basis. You will be able to see Touchline Marking's existing operation at work.
What locations or territories is Touchline Marking looking to operate in?
Opportunities are available in the UK and Ireland.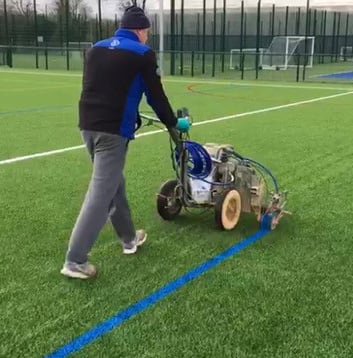 What are the franchise terms of agreement and renewal?
The initial agreement is for five years with two automatic renewal rights for two further five-year terms.
Why is Touchline Marking a good investment?
Whilst there are competitors in the market offering the same service, nobody has a franchise offering.
There is a national demand across a broad potential client base – schools, sports facilities, industrial premises, and wholesale and retail outlets
Not only is it 'recession resilient', but it has also proved to be 'COVID resistant', still operating safely during the crisis
The business owner is active on a daily basis and you will have access to a wealth of knowledge and experience
Touchline Marking will support you from the outset, from setting up your franchise to realising your investment
The launch package and training will equip you to start trading and generating income as soon as possible
As a business it is both fulfilling whilst producing excellent profit margins
The franchise model is scalable, allowing you to build a substantial business with an attractive future resale value
How do I start setting up my own Touchline Marking franchise?
To find out more, or to request further information on franchising with Touchline Marking, complete the form below and click on the 'Request Free Information' button now.

Request Free Information
Send a free enquiry to Touchline Marking for further information!
Enquire into this franchise today