The information you submit via our enquiry form is shared only with the franchise business(es) that you have selected.
The franchise business will contact you by means of email and/ or telephone only to the email address and phone number you have provided.
By submitting the enquiry form you are consenting to send your personal information to the selected franchise business.
You also agree to receive further newsletter email marketing from What Franchise.
Close
Did you know?
Greensleeves is eligible for funding support!
Request free information in just 60 seconds!
Take the first step in becoming your own boss!
Greensleeves
Provides a range of all-year-round lawn treatment services to the domestic market
Minimum Investment
£9,000
Business Type
Homecare & Property Maintenance
Funding Support
Third party
Expected Revenue After 2 Years
N/A
About Greensleeves
The Greensleeves franchise provides a range of all-year-round lawn treatment services to the domestic market throughout the UK.
Founded in 1998, its over 100 franchises look after a customer base of 70,000 by assessing, treating and maintaining their lawns via a tailored seasonal programme. Annual treatments include scarification, aeration and overseeding, plus, the application of lawn feed, moss control products and fertiliser. The company's specialist treatments include lawn renovation, spiking, hydration, weed control, hard surface cleaning and the application of fungicide and insecticide. Greensleeves Lawn Care's own 'feed and weed' products are safe for children, pets and plants and incorporate a 'no scorch' technology, which means they don't need to be watered in.
Among the leading gardening franchises in the UK, the company claims its expert service can work out more cost-effective than if customers treated their lawns themselves. It also says customers can see an improvement in their lawns between 12-16 days after Greensleeves Lawn Care's first treatment.
Greensleeves Lawn Care first piloted its franchise business model in 2000 and is a full member of the British Franchise Association.

In 2021, Greensleeves became the first franchise company in the lawn and garden sector to ever achieve the 5-Star Franchisee Satisfaction Award and in 2022, it has done it again!
Greensleeves is also highly rated on Trustpilot.
One of its first franchisees was David Truby, who today is the company's managing director.
When you join the network, you join business owners who are highly-trained experts. Based on its extensive knowledge and understanding of lawns, you will be trained to the highest standards to run your own multi-van management franchise.
How does the Greensleeves Lawn Care franchise model work?
Initially, the business model allows this franchise to run from home or a van. In the early days, a Greensleeves franchisee's role is split between advising their client base about the treatments their lawns require and treating them accordingly and marketing/administrating the business, which is done using the company's bespoke software system.
Customers sign up to a programme of treatment that requires a Greensleeves Lawn Care franchisee to visit their homes five times a year. The exclusive postcode territories in which franchisees operate have fantastic potential and the scope to build a business incorporating multiple vans.
Greensleeves resale franchises are also available. Resales are already established businesses, which are up for sale because the franchisee may wish to retire or pursue other interests.
Greensleeves Lawn Care says franchisees must be able to deliver first-class customer service at all times, as the gardening business relies on repeat business and referrals to grow.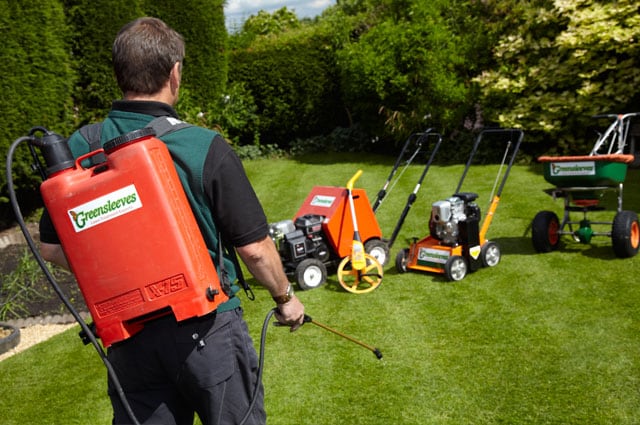 What locations or territories is Greensleeves Lawn Care looking to operate in?
This company has franchise opportunities available throughout the UK.
Why is a Greensleeves Lawn Care franchise a good investment?
Most franchises offer a tried-and-tested business concept that has been piloted and replicated throughout the UK. Greensleeves Lawn Care is no different, meaning some of the risks associated with starting your own gardening business are already mitigated. In addition, the market potential is significant, according to Greensleeves Lawn Care, which states that its year-round treatment programme could improve the look of 60 per cent of the 20m lawns in the UK.
The size of a business owner's trading territory means there's plenty of room for growth as well, resulting in larger profits and a greater resale value if franchisees aspire to take on more of a management role, rather than be exclusively hands-on in the business.
The last two years have been a rollercoaster ride for most businesses and whilst many were hit hard by the pandemic, Greensleeves' franchisees are riding the wave of a booming market with a huge increase in their revenue over the last 12 months.
Did you know?
Greensleeves is eligible for funding support!
Request free information in just 60 seconds!
Take the first step in becoming your own boss!
In January 2021, already a record-breaking year, it took £500,000 across the network. This January, it was £800,000 – an incredible growth in revenue of 62 per cent year-on-year.
Greensleeves has forecast a further 12.7 per cent growth in 2022, with a further huge uptake of new customers by the end of the year.
So, why not make 2022 the year you get in on the action and transform your life for the better with a brand that is always ahead of the game?
What is the profit potential of a Greensleeves Lawn Care franchise?
Greensleeves Lawn Care provides the following example of the earnings potential of a franchise that makes sales to 350 customers annually:
• Year one sales: £37,810. Net profit: £23,133.
• Year two sales: £82,440. Net profit: £34,240.
• Year three sales: £130,548. Net profit: £49,015.
• Year four sales: £180,041. Net profit: £55,558.
• Year five sales: £229,650. Net profit: £70,490.
These figures are for guidance only. Actual franchisee earnings will depend on the make up of the trading territory and the amount of time and effort invested in the business, coupled with a franchisee's ability to build a successful franchise using the franchisor's operating methods and procedures.
Does Greensleeves Lawn Care charge franchisees any ongoing fees?
Greensleeves Lawn Care charges an ongoing franchise fee of seven per cent of a franchisee's monthly turnover, plus a fee of two per cent of turnover that goes towards the marketing activity undertaken by the franchisor on behalf of the franchisee network to raise and maintain brand awareness.
Where in the UK is the Greensleeves Lawn Care franchise based?
The company's head office is in Skelmanthorpe, Huddersfield.
What training and support do Greensleeves Lawn Care franchisees receive?
Initial training lasts for 14 days and teaches franchisees about all Greensleeves Lawn Care's services and treatments, goes in-depth on the systems required to run the franchise successfully, provides an inside track on the suite of software used exclusively by the company's franchise network and ensures franchisees are health and safety compliant.
The health and safety aspect of the training means all franchisees gain the PA1/PA6a safe use of pesticides qualification.
Ongoing support from Greensleeves Lawn Care's head office team starts from day one of opening for business.
The franchisor's proven marketing plan results in franchisees receiving a significant number of sales leads during the start-up phase of the business. £7,000 of the franchise fee is allocated to this activity, which includes the organisation of a leaflet drop in a franchisee's territory.
On top of this, franchisees are provided with business and financial planning support, as well as assistance with invoicing, credit control and chasing late payments.
In-territory meetings and seminars are arranged on a regular basis to ensure franchisees are progressing in line with their business plans and to share industry updates and best practices across the network.
Also part of the franchise package is machinery, the deposit for a vehicle, signage, stationery, initial stock and a search engine-optimised website.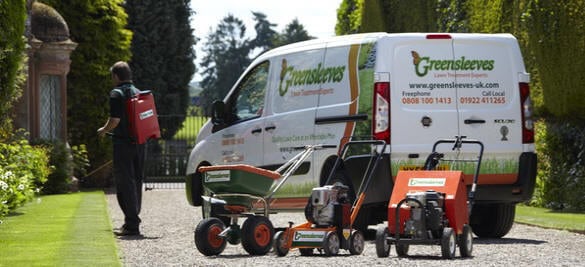 What are the Greensleeves Lawn Care franchise's terms of agreement and renewal?
The initial franchise agreement lasts for five years, which is renewable subject to certain criteria being met by the franchisee and in agreement with the franchisor.
How can I get started on setting up my own Greensleeves Lawn Care business?
You can enquire about a Greensleeves Lawn Care franchise today by providing your name and email address on this page. A member of the company's franchise recruitment team will then make contact to discuss the opportunity with you.
As part of the recruitment process, Greensleeves Lawn Care invites all prospective franchisees to spend a day at the company's head office to see firsthand how the business works, meet some of the team behind the brand and determine whether they possess the attributes necessary to join the network.
Request Free Information
Send a free enquiry to Greensleeves for further information!
Enquire into this franchise today