The information you submit via our enquiry form is shared only with the franchise business that you have selected.
The franchise business will contact you by means of email and/ or telephone only to the email address and phone number you have provided.
By submitting the enquiry form you are consenting to send your personal information to the selected franchise business.
You also agree to receive further newsletter email marketing from What Franchise.
Close
TruGreen
The TruGreen franchise delivers professional lawn care to both residential customers and small commercial properties
Minimum Investment
£8,400
Business Type
Homecare & Property Maintenance
Total Investment
£28,000 +VAT
Expected Revenue After 2 Years
N/A
In Brief
Keep start-up costs low - UK banks offer 70% initial finance and TruGreen provides an overdraft facility to pay VAT. No accountant needed – receive accountancy training and the business start-up package includes all tools, equipment, and uniform. Additional revenue streams include commercial lawn care for hotels, bowling greens and cricket squares - achieve a year two revenue of up to £75,000. Additional territories available - huge scope for expansion.
About TruGreen
The TruGreen franchise began in Michigan, USA in 1973 and is now owned by ServiceMaster, which took over the company in 1990.
TruGreen was established in the UK in 2003 and has since gone from strength to strength. The franchise provides professional lawn care to residential clients and small commercial properties. This involves addressing a wide range of lawn problems to transform them into excellent, well- maintained green spaces.
The TruGreen franchise aims to deliver bespoke lawn care solutions to its clients in a given area. This might entail aerating, sacrifying, weeding and feeding, or it could involve clearing moss/algae from patios and driveways, as well as general clearing and tidying up.
Some franchises manage an entire fleet of up to 10 company vehicles. Customers will usually opt for a full year's service that will consist of four-to-six treatments. Some customers will require one-off jobs, but even by servicing as little as 4 per cent of the homes in the given area, there is potential for a highly profitable business.
How does the TruGreen franchise model work?
A TruGreen franchise will usually begin as one-man operation in a given territory. You will have to invest a lot of time and hard work into your business. The priority will be the provision of lawn care treatments; you will meet the clients, examine and analyse their lawns and then decide whether you need to deal with moss control or the application of fertilisers, weed control or pest disease control.
The focus will always be on the individual requirements of the customer. The running of a TruGreen franchise will also involve a range of other tasks, such as the marketing of your business, meeting with clients and recruiting and training staff to deliver the service.
A TruGreen franchise gives the individual the opportunity to expand their own franchise and even consider buying a second territory. The most ambitious individuals have achieved this expansion with impressive results.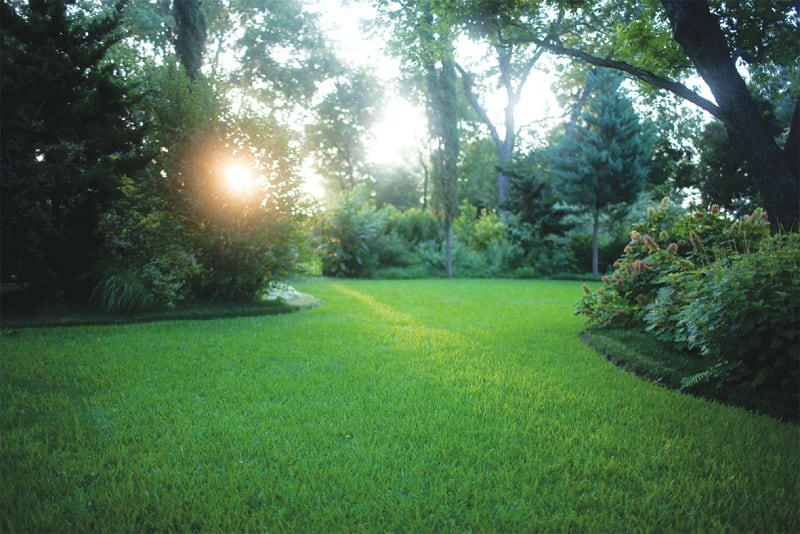 Why do customers choose the TruGreen franchise over of its competitors?
TruGreen's experience and long-established reputation in the lawncare industry makes it stand out in a competitive market. Additionally, it distinguishes itself from the competition through its bespoke service that avoids the one-size-fits-all approach of other gardening businesses.
It offers a strong support team based in Leicester of more than 60 staff, including a TruGreen Network Manager who has worked in the industry for more than 30 years and has a deep knowledge of the practical aspects of the business. All franchises enjoy the support of a world-leading franchisor with more than 50 years' franchising experience.
The TruGreen franchise includes an attractive business start-up package with all the tools, equipment, uniform and branded stationery to get your business going. The franchisee will only have to provide their own working van and computer.
What kind of the franchisee is TruGreen looking for?
TruGreen is looking for new franchisees who are self-motivated, committed, energetic and prepared to follow the company's tried-and-tested system. Experience of lawn care will certainly be useful but is not necessary because the training programme will cover everything that you need to know to make your franchise successful. But TruGreen seeks those who love the outdoors and have an interest in horticulture.
Can franchisees expect initial financial support?
Yes, TruGreen will provide you with advice on how to fund your new venture. TruGreen has an established relationship with all major UK banks and can offer 70 per cent of the required initial finance. TruGreen may also be able to provide you with an overdraft facility to pay for the VAT. TruGreen will work with you to create your business plan that will convince the banks that your business will be successful.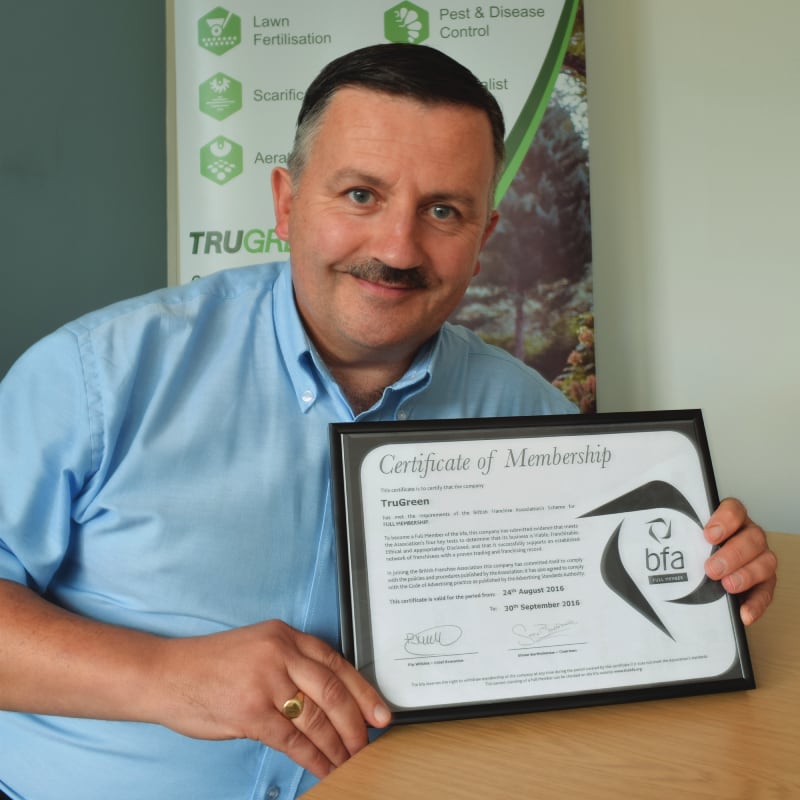 How much does a TruGreen franchise cost?
TruGreen franchise requires a minimum personal investment of £8,400 + VAT, which constitutes 30 per cent of the total franchise fee. This will cover your franchise licence, allowing you to trade under the TruGreen brand name. It also pays for the initial training and certifications, early marketing and all the aforementioned equipment. In terms of typical overall start-up cost, new franchisees can expect to pay £28,000.
How can you enquire about becoming a TruGreen franchisee?
By filling in the online form on this page a member of the TruGreen franchise team will get in touch.
If I enquire, do I have to buy that franchise?
No, there is no obligation at all.
How many times will they get in touch?
TruGreen will not press or harass you. The team will set up an initial meeting to consider whether the franchise will be right for you and vice versa and they discuss other matters, including your proposed business territory. In fact, the company encourages potential franchisees to do their research and meet up with existing franchisees.
Can I change my mind?
If, having done the research, you decide not to proceed then you are free to act as you wish.
Do I need an accountant?
You will be given accountancy training as part of your initial course.
What training and support does TruGreen franchisees receive?
TruGreen holds a two-week training course for its new franchisees, which deals with, sales, customer service, marketing and health and safety. You will be shown how to use the company's business management system, which will help you to develop structure and direction for your business. You will also be expected to obtain a professional qualification on the correct application of pesticides.
Training is continuous through company support online, over the phone and one-to-one. TruGreen ensures that its franchisees can tap into expert information, advice, "how to" guides, business and marketing plan templates and the company operations manual, among other tools. There will also be a series of refresher courses, seminars and training from parent company experts during routine site visits, so that you will always have complete support.
When might I return a profit?
It is not unrealistic to expect a good income in your first year and by year two you could make between £50,000 to £75,000.
Are there any TruGreen franchises currently for sale?
TruGreen offers some franchises for resale and will always be open to proposals in terms of new territories. Fill in the form on this page today to find out more.
Request free information
TruGreen
The TruGreen franchise delivers professional lawn care to both residential customers...
£8,400
Minimum Investment
Enquire into this franchise today