The information you submit via our enquiry form is shared only with the franchise business(es) that you have selected.
The franchise business will contact you by means of email and/ or telephone only to the email address and phone number you have provided.
By submitting the enquiry form you are consenting to send your personal information to the selected franchise business.
You also agree to receive further newsletter email marketing from What Franchise.
Close
Did you know?
Trophy Pet Foods has outlets available across the UK
Request free information in just 60 seconds!
Take the first step in becoming your own boss!
Trophy Pet Foods
The UK's first and largest mobile pet food franchise delivering British-made premium pet food
Minimum Investment
£13,995
Expected Revenue After 2 Years
N/A
About Trophy Pet Foods
Established in 1990, Trophy Pet Foods delivers high-quality pet foods direct to a customer's door, along with a wide range of pet accessories and friendly, knowledgeable advice.
Producing pet foods in their own British manufacturing plant each week, the advanced formulations are created by a qualified pet nutritionist, using high-quality natural ingredients that pets will love. Stocking four naturally hypoallergenic cat foods, the nutritionally balanced dog foods are spread over four ranges: Premium, Holistic, Lifestyle, and Standard – giving customers a choice of options based on their pet's age, lifestyle and preferences.
Each Trophy Pet Foods franchise owner is fully trained with a recognised nutritional qualification, allowing them to give knowledgeable advice to help owners make the right choices to match their pet's dietary requirements.
The first one-stop mobile pet shop in the UK, Trophy Pet Foods also offers a 'try before you buy' scheme, providing free samples or taste tests of the different food options available, and all products come with a 100 per cent satisfaction guarantee. Along with nutritious, balanced and palatable premium foods, Trophy Pet Foods franchises offer microchipping, dog weighing, pet treats, tools and grooming accessories, all conveniently delivered to the customer's home, completely free of charge.
How does a Trophy Pet Foods franchise work?
A Trophy Pet Foods franchise is a van-based business, and franchisees must supply their own medium-sized van. The franchisor will provide the livery and display modules required to turn the van into a mobile pet shop, along with an initial starter pack of stock. Weighing scales for both the pet food and the pets themselves are also included.
Along with these day-to-day essentials, the franchisee will receive comprehensive operating manuals that clearly outline the proven business model and systems. Starter packs of stationery and tools, a uniform and all promotional literature are provided, along with access to Trophy Pet Foods accounts software and customer relationship management system. Each franchisee will receive training and ongoing backup from head office, and franchise support manager as a direct contact.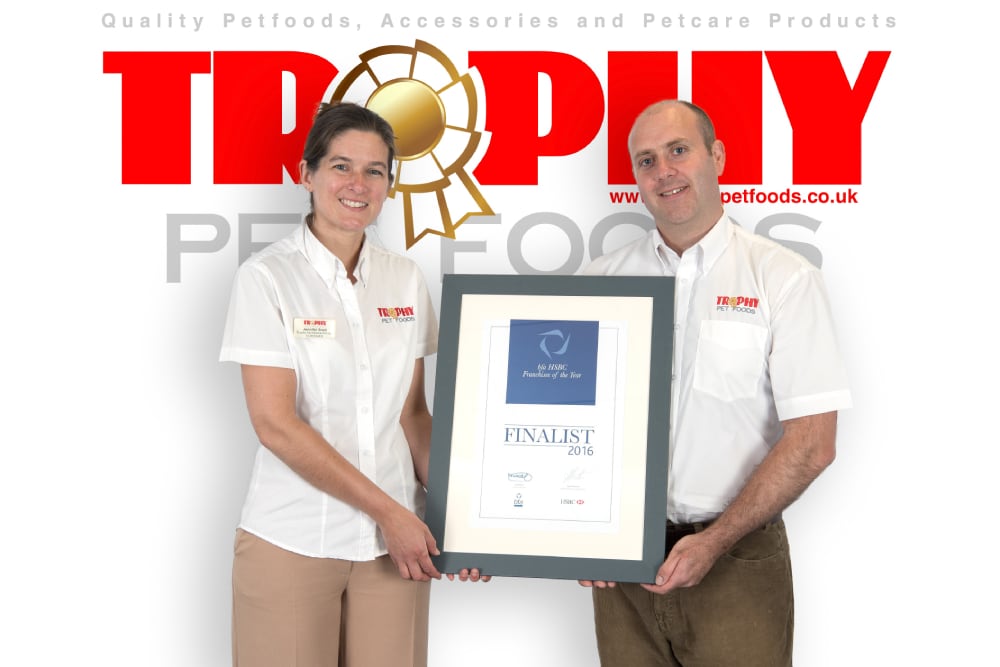 What marketing support does a Trophy Pet Foods franchisee receive?
Each franchisee receives support creating local advertising and marketing, with a particular focus on an effective launch programme and PR campaign when they first start their new business, designed to develop a large customer base within the first three months of trading.
As part of their marketing, Trophy Pet Foods franchise owners take part in a social media masterclass, before being provided with a tablet along with branded video visual aids and social media commercials as part of their managed social media package for the first six months of trading.
Another crucial promotional tool for Trophy Pet Foods franchise owners is a presence at local shows and events, with as many as 40 per cent of a franchisee's customers being found that way. As part of the franchise fee, show equipment such as pop-ups etc are included to ensure a successful show strategy, and an experienced franchisee will attend the first show alongside the new business owner to share ideas and knowledge, ensuring the potential exposure is maximised.
What training will I receive?
Each Trophy Pet Foods franchisee receives comprehensive training when they launch their business, with a nine-day initial training programme. This comprises four days of in-house training, followed by four days training in the field putting the business theory into practice, supported by their franchise support manager. After this on the job training, a full-day workshop takes place to review and discuss initial progress and to put together a plan for the business moving forwards.
As well as this valuable business training, each Trophy Pet Foods franchise owner will be supported through a distance learning course to achieve a professional development qualification in pet nutrition and UK pet food legislation. This CPD certified qualification's comprehensive training allows franchisees to provide nutritional advice to customers, allowing them to make the right choices of food for their pets.
Did you know?
Trophy Pet Foods has outlets available across the UK
Request free information in just 60 seconds!
Take the first step in becoming your own boss!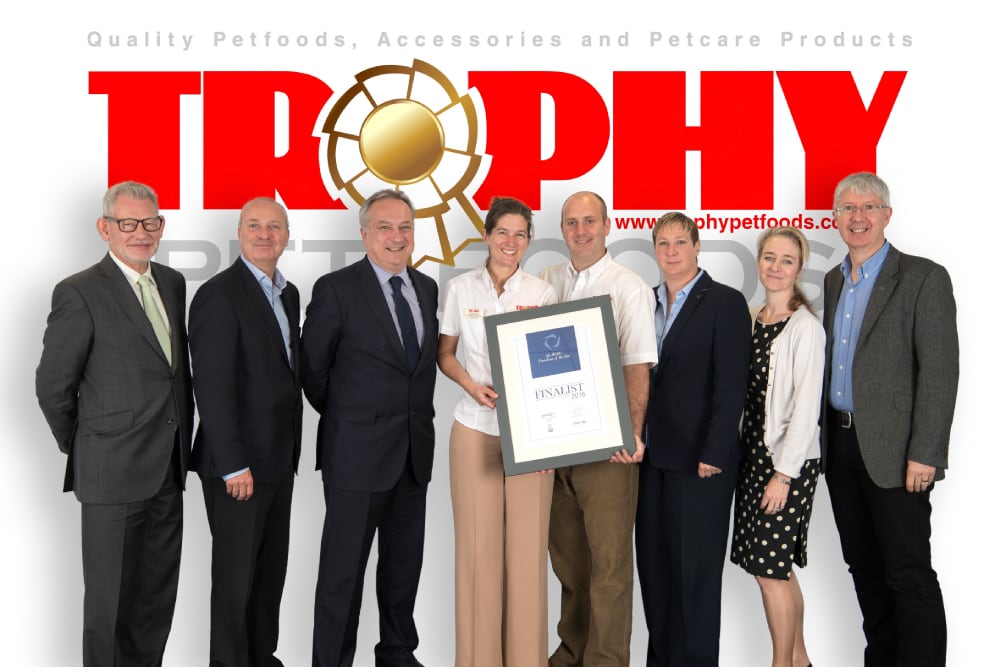 Do I have my own exclusive territory?
Yes. Each Trophy Pet Foods franchise owner is given their own exclusive territory based on postcode and often situated around or close to their home address. The size of the area provided allows for future growth and expansion and aims to hold the 400-500 customers required to generate a main income from the business.
Do I need to have sales experience?
No previous sales experience is necessary. Applicants should be focused and motivated and have the drive and determination required to build up their own local business. A passion for pets, great communication skills and genuine enjoyment of talking to people are important in order to build up the large and loyal customer base needed for a successful Trophy Pet Foods franchise.
Do I need to work full time?
Trophy Pet Foods franchising offers the flexibility of working your own hours, making it ideal for anyone looking to fit a new business around their personal life. Working from and in the area around your home address, some franchisees choose to work part-time, while others wish to receive their main income from their Trophy Pet Foods franchise, which requires longer hours.
What ongoing support is available?
Trophy Pet Foods operates brand-building programmes, a professional customer referral scheme, local and national digital marketing, free promotional materials and a seasonal newsletter for all customers, all of which help to build a customer base. Franchisees receive motivational and business support from the Trophy Pet Foods head office, a franchise support manager and the franchisee network.
Will I meet other Trophy Pet Foods franchisees?
Yes. As well as regional meetings and a franchisee council where knowledge and ideas are often pooled, franchise owners have a chance to network at the Trophy Pet Foods Annual Conference.
How much does a Trophy Pet Foods franchise cost?
As well as the Trophy Pet Foods franchise fee of £13,995 + VAT, applicants should be prepared to make a minimum personal investment of £8,000 in working capital and have a medium-sized van. In some instances, the franchisor can introduce suitable potential franchisees to banks that may offer to lend 50-70 per cent of the investment cost.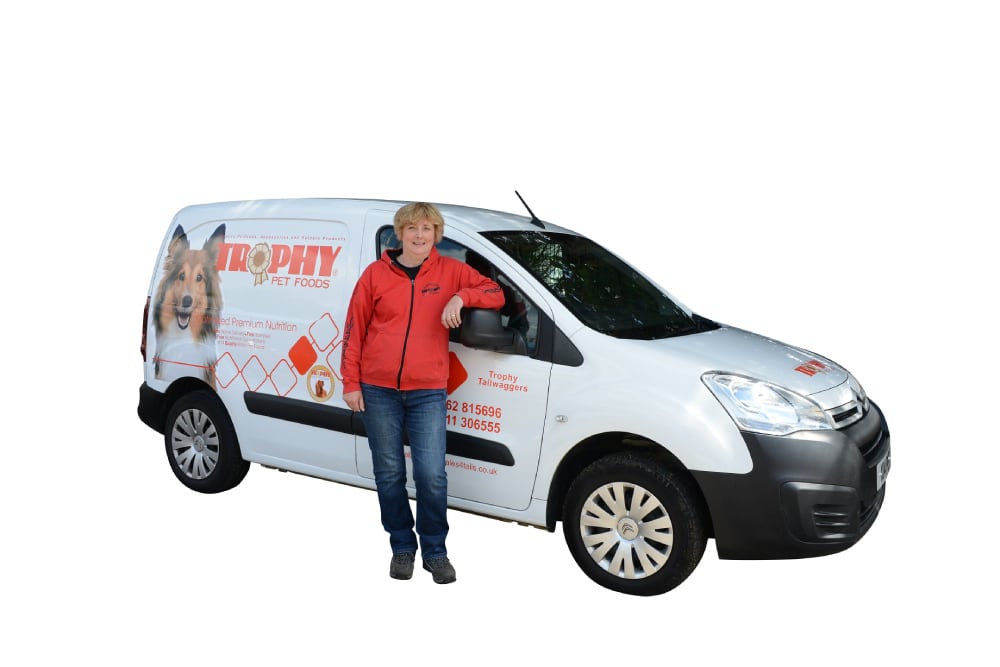 Are there any Trophy Pet Foods franchises for sale?
Yes, as well as new territories, there are established Trophy Pet Foods franchise resale opportunities available.
Why choose a Trophy Pet Foods franchise?
Premium pet foods are a thriving marketplace, and Trophy Pet Foods customers tend to remain extremely loyal, with a retention rate of around 90 per cent. The brand has a well respected corporate image, and the products have high, sustainable margins, making it easier to run a profitable small business. Many Trophy Pet Foods franchise owners report high job satisfaction, as the franchise not only offers flexibility of working hours, but the role of customer advisor is a sociable one, with like-minded, pet-loving clients often becoming friends.
How can I apply for a Trophy Pet Foods franchise?
The first step towards becoming a Trophy Pet Foods franchise owner is to request a free franchise information pack, which can be done by completing the enquiry form found on this page.

Request Free Information
Send a free enquiry to Trophy Pet Foods for further information!
Enquire into this franchise today