From loving pets to craving to work in the great outdoors, there are many reasons to want to invest in a pet franchise. Here, we tempt you away from the confines of the office with a selection of profitable and exciting animal-focused business opportunities
1. Barking Mad
Delighting dog lovers since 2000, Barking Mad provides professional home dog boarding services.
The business - part of the Franchise Brands group - is searching for dog lovers and new branch owners who want to grow their own businesses. The Barking Mad system is highly profitable and has regular, repeat custom with flexible working hours.
A full member of the British Franchise Association, Barking Mad has won accolades including bfa Franchisee of the Year, Franchisor of the Year, an Amazon Growing Business Award and a Best Franchise 5 Star Satisfaction Award.
The franchise's cash flow positive trading position means customers pay in advance. Franchisees also enjoy a healthy home/work-life balance.
What you need to know
Investiment level
£14,957 (plus VAT).
What you get:
comprehensive training programme; bespoke business software; online operations manual; Pet Services Association membership for year one; exclusive territory.
Information
2. Longcroft Luxury Cat Hotel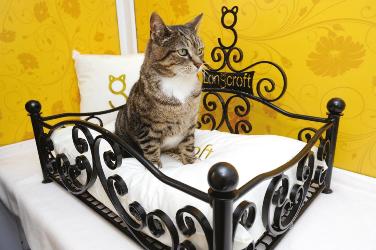 Multi award winning, Longcroft Luxury Cat Hotel franchisees provide five star, spacious, cats-only accommodation for feline guests while their owners are away.
Each of the spacious suites come with their own thermostatically controlled bedroom areas, wrought iron beds and semi-outdoor play areas.
Longcroft's successful track record and high standards have resulted in an accessible model for people wanting to run a profitable business in a flexible, home-based working environment.
The company recently celebrated the launch of its 15th hotel in south London.
Abi Purser, founder and owner of Longcroft Welwyn, says: "Our talented team is experienced, innovative and forward thinking. Our training is bespoke and at the highest level to ensure consistency across all our beautiful locations.
"Having founded Longcroft after struggling to find a suitable place to leave my own cat and successfully running the founding Longcroft hotel for seven years, I can honestly say this is my dream job."
What you need to know
Investiment level
£50,000-plus (plus VAT).
What you get:
full training; bespoke, ongoing marketing assistance.
Information
3. My Best Friend
Starting a new business can be tough and while becoming a My Best Friend dog care franchisee will be hard work, it's also rewarding.
The company offers a proven and profitable business model with an industry leading level of support to give you every opportunity to succeed. Services include home boarding, doggy day care, dog walking, pet sitting and pet transportation.
The pet care market is growing at a rate of four per cent, with The Pet Food Manufacturer's Association estimating that 24 per cent of UK households now have at least one dog.
Throughout 2017 My Best Friend is offering a 10 per cent reduction on its initial fee. The franchise system gives you everything you need to start and run a successful and profitable operation in your own exclusive territory and you'll have the security of ongoing help and support from the My Best Friend team.
The company is looking for people who share its passion to provide the best dog care and want to help My Best Friend grow into a nationally recognised brand.
What you need to know
Investiment level
Initial fee £14,995 (plus VAT).
What you get:
full training; ongoing help and support; exclusive territory.
Information
www.mybestfrienddogcare.co.uk.
4. Husse
Husse (pronounced hoo-say) is a global brand established in 1987 in Sweden.
One of the fastest growing pet food franchises in the UK and the only one with international success operating in over 50 countries, Husse produces and sells a wide range of affordable premium pet foods, accessories, health and hygiene products for dog, cats and horses.
Franchisees benefit from high profit margins across a 350-product range. Husse products are produced from independently verified human grade natural ingredients, with a 100 per cent honest and sincere label policy providing customers with complete confidence and reassurance.
Husse UK currently has a 95 per cent customer retention rate, along with a moneyback taste guarantee, and has ambitious plans to grow its franchise network further in the UK.
What you need to know
Investiment level
between £4,900 and £13,900. Husse is currently offering new franchisees £7,000 start-up support on its platinum package and £4,000 start-up support on its gold package.
What you get:
full training; initial and ongoing support; micro website; social media set-up; access to business development manager; marketing support; customer relationship manager software.
Information
5. Dogknows
A Dogknows franchisee spends their day with all ages and breeds of dogs, delivering knowledge-led, skill-based support for their dog owning customers - clients who trust, rely and have complete peace of mind as a result of their professionalism.
Franchisees work with a highly qualified UK dog trainer to develop the necessary training techniques and dog behaviour know-how. This support is ongoing and unlimited and includes weekly coaching, a dog advice helpline, one-to-one on-site training days and off-site group training workshops.
This provides a pathway to becoming an accredited dog trainer, should this be an ambition.
What you need to know
Investiment level
£9,000 (plus VAT).
What you get:
10-day initial training; unlimited ongoing support; customer lead generation; marketing support and advertising materials; social media profile and web page set-up; first year insurance and accountancy package; online access to franchise manuals and business template resource; dog advice helpline.
Information
6. Oscar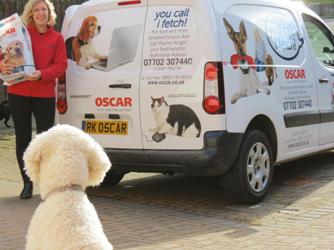 OSCAR is dedicated to providing a home delivery service that enables customers to enjoy the benefits of a range of nutritious pet foods, toys, treats, accessories and health care products, as well as advice from experts. While OSCAR keeps a firm focus on pet food manufacturing, it also devotes time to a rapidly growing network of franchisees, both new and existing.
On offer is a franchise package that's tailored to suit individual backgrounds and life skills. Research has helped OSCAR establish a franchise that's flexible, meaning there's an option to choose a level of investment that matches your personal capabilities.
The core package provides all the necessary elements to launch a new business, plus a range of additional services to help develop your business to suit your needs.
Essential stock options and optional business extras can put the finishing touches to your personal package, which include innovative training, a formal nutritional qualification, full colour livery, a professionally branded corporate marquee, clothing and equipment and a selection of branded marketing materials.
What you need to know
Investiment level
£8,995 (plus VAT).
What you get:
comprehensive training; online marketing tools and PR system; bespoke customer relationship and accounts system; franchise manual.
Information
7. Trophy pet foods
Established since the early 1990s, Trophy was the first mobile pet food franchise in the UK.
Convenience, quality and rigorous standards are what define Trophy. Its quality, British made pet foods, free home delivery service, free samples, competitive pricing and free expert nutritional advice combine to provide a winning combination.
The brand has the right skills, experience and know-how necessary to make every new Trophy delivery business succeed, with a head office team to train, support and guide new franchisees.
Trophy's tried and tested formula combined with a superb launch programme and support package is designed to ensure every new franchisee can grow and develop an exceptional local pet food business with the strength of a large organisation behind them.
What you need to know
Investiment level
£13,995.
What you get:
comprehensive 10-day training programme; ongoing support; exclusive territory; local advertising and marketing; accounts software; corporate identity; launch programme and PR campaign.
Information
8. Petpals
A British Franchise Association member since 2001, Petpals is the largest multi-service pet care franchise in the UK.
The business began in the 1990s and sold its first franchise in 2001. Now there are more than 50 franchisees operating in territories from Aberdeen to Bournemouth.
Petpals franchisees offer customers a variety of pet care services, including dog boarding, dog walking, cat visits and small animal boarding or visits.
Although cats, dogs, rabbits, etc make up the majority of a Petpals' business, franchisees have also been known to look after peacocks, lambs and goats.
A love of animals is the number one requisite for any Petpals franchisee, who on joining the company spend three days at head office receiving business, operational and technical training, which is followed by three days of on-site support during their launch week. They also receive additional specialist, off-site training.
They receive support from a professional digital and PR agency, who use video and social media to promote the business and a modern website with regular fresh content.
Franchisees come from a wide variety of careers - from policemen to interior designers - and have a desire to regain control of their lives working with animals in a profitable and ethical business.
What you need to know
Investiment level
£12,500 (plus VAT). A further £5,000 should be budgeted for working capital, to include a deposit for the purchase of a branded vehicle.
What you get:
initial training; launch training and support; pre-launch marketing campaign; operations and technical manuals.
Information
9. Wagging Tails
A family run business that's been operating for over 10 years, Wagging Tails is a dog boarding company that offers exclusive holiday homes to dogs while their owners are away.
The company's success has been built on a love of dogs and an understanding that dogs are loyal family members who deserve their own holiday when the rest of the family goes away.
Four-legged guests enjoy their own exclusive holiday, staying in the family home of specially selected licensed and insured dog carers.
Running a Wagging Tails franchise is a home-based opportunity that's suited to dog lovers with great communication and management skills.
Franchisees receive full ongoing training and business support, guidance on the legal and ethical requirements of operating in the pet care sector, award winning marketing support and training in dog behaviour and first aid.
Wagging Tails offers large, exclusive territories, allowing franchisees scope to develop successful local businesses. The company is looking for hardworking, ambitious, disciplined and outgoing people who are motivated by the idea of building their own business with their dog by their side.
What you need to know
Investiment level
£12,995 (plus VAT).
What you get:
Three-day head office training course; training day with an existing franchisee; canine first aid course; ongoing business support and training; marketing support; exclusive trading territory; designated territory pages on Wagging Tails' website; media launch fund; car decal; corporate apparel; branded commercial gazebo and blizzard boards; custom made content management system.
Information
10. We Love Pets
This company's network of franchisees offers dog walking and pet sitting services to thousands of happy customers.
WLP training encompasses pet behaviour and hands-on instruction with different pet species in an animal training centre. It was also the first to offer the City & Guilds dog walking and pet sitting qualification.
Plus with a vet, pet experts, marketing specialists and business mentors on the WLP team, WLP says its franchisee support is second to none. A free solicitor phone support service is also provided.
A recent survey by an independent company revealed WLP franchisees are happy being part of a successful brand and enjoy a good work-life balance. Many franchisees are exceeding their financial targets.
WLP is so sure you'll be happy, it guarantees to return the franchise fee if new recruits don't receive sufficient customer enquiries, subject to performance targets being met.
What you need to know
Investiment level
£9,999.
What you get:
full training; ongoing support; exclusive territory; website; social media support; marketing materials; dog walking and pet sitting qualification; uniform.
Information