The information you submit via our enquiry form is shared only with the franchise business(es) that you have selected.
The franchise business will contact you by means of email and/ or telephone only to the email address and phone number you have provided.
By submitting the enquiry form you are consenting to send your personal information to the selected franchise business.
You also agree to receive further newsletter email marketing from What Franchise.
Close
Did you know?
Papa John's is eligible for funding support!

Request free information in just 60 seconds!
Take the first step in becoming your own boss!
Papa John's
Franchising with Papa John's is an opportunity to get involved with a well-tested franchise model based on decades of experience, with support from the global team...
Minimum Investment
£100,000
Total Investment
£200,000
Expected Revenue After 2 Years
N/A
In Brief
Affordable turnkey access to a lucrative sector - franchise fees are low for the QSR market and incentive packages are available for many UK locations. Global support team has decades of experience and a 100% success rate for achieving up to 70% franchise funding. Easy growth and expansion opportunities include multi-store operations. Build a valued asset for future resale – no experience required.
About Papa John's
Papa John's pizza began in a broom closet at the back of a US tavern in 1984 and has grown into one of the biggest pizza delivery companies in the world. With a motto of 'Better Ingredients, Better Pizza', the global brand creates the highest quality traditional pizzas in over 5000 stores across 40 international markets, and thanks to extensive TV and radio advertising and sponsorship, its branding is now instantly recognisable worldwide.
Passionate about using only the finest ingredients, every Papa John's franchise creates a choice of thin crust or original pizzas use 100% fresh dough which is hand-tossed and finished with extra virgin olive oil. The pizzas are then loaded with premium toppings including a signature sauce made with fresh, vine-ripened tomatoes, which are packed within six hours of being harvested. Along with freshly baked pizzas, Papa John's franchises also supply a range of hot side dishes, cold drinks and tempting ice creams and desserts.
Allowing customers to place their order by phone, website or smartphone app for collection or delivery from over 350 stores in the UK, Papa John's is constantly developing new pizzas, and regularly runs specialist promotions including a 'Papa Rewards' point scheme to keep customers coming back from more.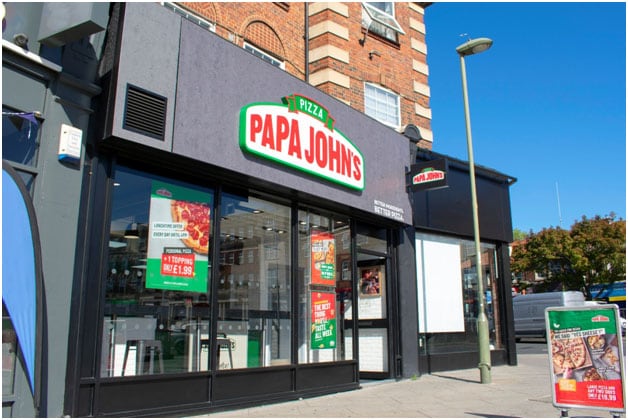 How does a Papa John's franchise work?
Papa John's awarded its first franchise in 1984, making it a truly established business model with tried and tested practices. A Papa John's franchise is a turnkey solution to opening your own pizza delivery store, as the chain offers a comprehensive start up package which includes everything from extensive training to project management of acquiring, fitting, marketing and launching your store. The initial franchise agreement is normally for 10 years, and can usually be renewed for free.
A Papa John's franchise agreement includes a variety of training programmes, including both hands-on experience and theory in an intensive six-week management course. Once the store is open and operating, franchisees are allocated a Franchise Business Manager (FBM) to offer ongoing consultation, support and advice on business growth and expansion.
Unusually, Papa John's is heavily invested in multi-store operations, with even the initial application form actively encouraging franchisees to invest in more than 1 store to benefit from economies of scale, whether immediately or in the future. Additional stores are usually located in bordering zones and these extended territories are covered by an Area Development Agreement, while franchisees are offered Multi-Unit Management Training.
How much does a Papa John's franchise cost?
A Papa John's franchise requires an investment level ranging from £185,000 to £225,000 excluding VAT and freehold, of which £100,000 should be in liquid funds. This investment varies depending on store size and covers typical construction costs which start at £73,000+ including signage and shop fixtures and fitting, equipment costs of £58,000+ and fees of £53,000+, including estate agent's fees, legal fees and the Papa John's franchise fee of £18,500 + VAT.
These Papa John's pizza franchise costs are 'all-inclusive', which includes project management of the construction and store fitting, along with the right to use Papa John's trademarks, and a wide range of proprietary information including specifications for food preparation and marketing.
Along with the initial Papa John's franchise price, franchisees pay 5 per cent of net sales annually as a royalty fee, and the same again as a national marketing contribution. Building rent, rates and utility costs are not covered and must be calculated and paid by the franchisee.
Average Papa John's franchise profit figures vary (and are not published), though applicants are encouraged to meet other local franchisees for transparent discussions before any financial commitment takes place.
How can I find the funding to cover the Papa John's franchising cost?
Papa John's franchising team are pro-active in their support for franchisees seeking funding and work closely with the franchise departments of a number of high street banks, who usually lend up to 70 per cent of the total investment required.
Did you know?
Papa John's is eligible for funding support!

Request free information in just 60 seconds!
Take the first step in becoming your own boss!
Offering the comprehensive information, facts and figures required to create a business plan that successfully achieves investment, Papa John's managers will even meet with the banks' local relationship managers to help with the process, which is why they have a 100 per cent success rate of achieving funding for the franchisees they work with.
Do Papa John's franchisees need fast food experience?
No. Most Papa John's franchisees do not have any prior experience in the Quick Service Restaurant (QSR) market. Instead, Papa John's are looking for commitment, drive, personality and business sense, and dynamic franchisees who can deliver their 'FASPAC' values: Focus, Accountability, Superiority, P.A.P.A (People Are Priority Always), Attitude and Constant Improvement. Franchisees are not permitted to have other business interests and must commit to operating the standard core opening hours, including a 23:00 closing time.
Where are the next territories that Papa John's is looking to open new franchise locations?


The Papa John's website features a searchable map which details the current franchise opportunities in each area. While there are no current opportunities for new Papa John's franchises in the South East of England, other territories are available, with attractive incentives included for franchisees opening a store in Scotland, the Midlands, and the North East and North West England and Wales.
Incentive packages for these areas include a complimentary high spec pizza oven, additional funding for local marketing to support the store launch and a reduced management fee for the first 15 months of business.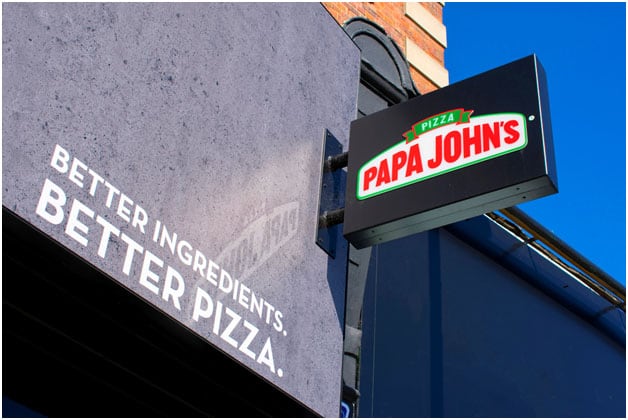 What kind of building should I look out for?
Papa John's provides hands-on help and guidance with site selection for new franchises, and project manages the site acquisition and construction, allowing the franchisee to focus on training and hiring personnel. During the planning stage, the acquisitions team also liaise with the local authority to ensure there is adequate access and parking to prevent future issues. If you already have a business premise with A5 consent, Papa John's will assess it for a possible re-fit.
What Papa John's pizza franchises are currently for sale?
Instead of starting from scratch, franchisees may wish to take over a business that is already up and running to avoid finding a location and initial set up costs. To find a Papa John's franchise for sale in your area, contact Papa John's franchise resale team for up to date opportunities.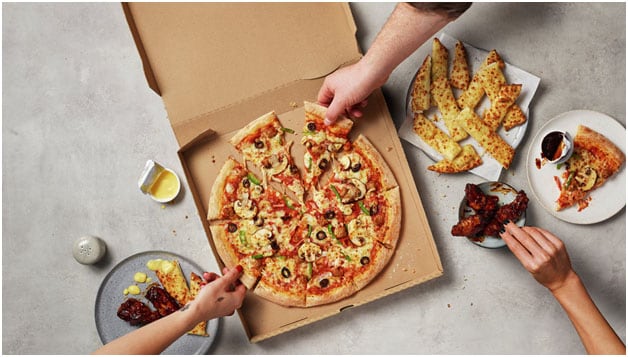 Why choose a Papa John's franchise?
The QSR market is a lucrative sector, but usually extremely expensive to enter as a franchisee. Papa John's franchise fees are a great deal lower than other QSR chains which can charge several hundred thousand pounds more. A Papa John's franchise is, therefore, a comparatively cost-effective way to enter this marketplace. In addition, their world-class training programme and ongoing support enable individuals with little or no fast food experience to become successful and profitable franchisees.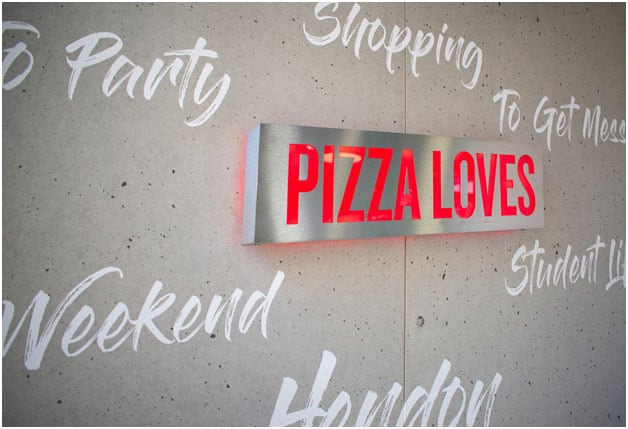 How can I apply for a Papa John's franchise?
Papa John's has a multi-stage recruitment process. After completing an application and undertaking credit checks, the potential franchisee has a one-to-one discovery meeting with the Business Development Manager and an instore experience day making pizza at a local store. After this, a business plan is presented at interview and if the application is approved a £3,000 deposit is paid to reserve a territory.
Next comes site acquisition, signing the franchise agreement, paying the initial franchise fee and a Management Training Programme, before staff recruitment and the store launch. Papa John's operations staff then remain on site for two weeks to provide additional support and guidance. The process from discovery meeting to approval takes roughly six weeks.
To begin the application process, click here to make an enquiry and receive an application form.

Request Free Information
Send a free enquiry to Papa John's for further information!
Enquire into this franchise today