The information you submit via our enquiry form is shared only with the franchise business(es) that you have selected.
The franchise business will contact you by means of email and/ or telephone only to the email address and phone number you have provided.
By submitting the enquiry form you are consenting to send your personal information to the selected franchise business.
You also agree to receive further newsletter email marketing from What Franchise.
Close
Did you know?
CNA International has outlets available across the UK

Request free information in just 60 seconds!
Take the first step in becoming your own boss!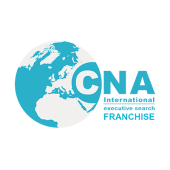 CNA International
Our partners earned an average of £100K in gross profits over the last financial year despite the economic doom and gloom, and as full BFA members we are torch bearers...
Minimum Investment
£30,000
Business Type
Recruitment
Expected Revenue After 2 Years
N/A
About CNA International
Set up in 1993, CNA International provides executive search and human resources consultancy services to clients such as Lloyds Bank, Mercedes and Enterprise Rent-A-Car.
The company's consultants and partners work in many sectors, including manufacturing, financial services, supply chain and logistics, e-commerce and digital marketing and
management consulting.
CNA International has 50 offices in Europe, six offices in the CEE (Central and Eastern Europe) and CIS (Commonwealth of Independent States) regions and operates in 20
countries.
It's a member of The Recruitment & Employment Confederation and The Association of Professional Staffing Companies.
In 2008, CNA International joined the Pertemps Network Group, a recruitment specialist that was founded in 1961 that today has a turnover of around £800m.
How does the CNA International franchise model work?
The CNA International franchise can be run from home and there are no territory restrictions, meaning franchisees are able to trade worldwide. CNA International recommends franchisees work from office premises when their businesses have grown sufficiently to support such a move.
Because of the comprehensive nature of the franchise package provided by the company, all franchisees require is a computer, phone and internet access.
You don't need any recruitment experience to become a CNA International franchisee, although the company says the opportunity would suit people with experience in the
recruitment sector and already established recruitment businesses.
Franchisees can operate using three brands:
• CNA Executive Search. Working for clients on either a retained or project by project basis
• CNA Recruitment. Usually working within the £15,000-£100,000 salary range
• CNA Consulting. Assisting small and medium-sized businesses and corporate clients
All franchisees utilise CNA International's 'Candidate Aspiration Based Search' methodology, which was devised by company founder, Albert Wilde. CABS means franchisees are able to provide clients with an effective recruitment system and candidates with a rewarding career path.
Franchisees also have access to the company's customer relationship management system.
As well as individual franchises, CNA International currently has master partnership opportunities available in various countries in Europe, Australasia, the Middle East, China, South America and North America.
What locations or territories is CNA International looking to operate in?
The company has franchise opportunities available throughout the UK and globally.
Why is the CNA International franchise a good investment?
Franchising is often described as 'self-employment with support', which is definitely the case with a CNA International franchise.
The company's tried-and-tested business systems and methodology allow franchisees to find clients the best candidates for a range of jobs in a variety of industries, giving them a competitive advantage over rival recruitment firms.
Other factors that make this franchise a potentially good investment include:
• Low overheads. Franchisees can work from home in the early stages of their business
• Positive cash flow. Invoicing and credit control is taken care of by the franchisor, which factors every invoice raised
• As franchisees are part of a global network, they can work with fellow franchisees and partners to find the best candidates and share fees
• If a franchisee has a large recruitment project to administer, they can partner with other CNA International franchisees to share the workload and financial rewards
• Once the time has come for a franchisee to sell their business, CNA International runs a partnership buy-out scheme that simplifies the process
Did you know?
CNA International has outlets available across the UK

Request free information in just 60 seconds!
Take the first step in becoming your own boss!
What's the earnings and profit potential of a CNA International franchise?
The potential gross profit margin for an established home-based CNA International franchise is around 65 per cent. This figure goes down to approximately 35 per cent as a franchisee grows their business and costs such as salaries are taken into account.
Does CNA International charge franchisees any ongoing fees?
Yes. The company charges franchisees a royalty of 12.5 per cent of their sales.
Is finance available to fund a CNA International franchise?
It is. CNA International has relationships with a number of UK banks, which can provide funding to prospective franchisees, subject to status.
Where in the UK is the CNA International franchise based?
The company's head office is in Edgbaston, Birmingham.
What training and support do CNA International franchisees receive?
Full initial training, which lasts for one week, in every aspect of the CNA International business is provided and each programme is tailored to suit the experience and requirements of each franchisee. The induction course includes instruction on how to win and retain clients.
Training takes place on an ongoing basis at the company's head office.
Support is provided by CNA International head office staff as and when required. They assist with invoicing, credit control, IT issues, marketing and growing your business and developing a team.
One-to-one mentoring sessions with company managing director Nick Sprang are offered to franchisees, while regular masterclasses, meetings, conferences and webinars are arranged for the benefit of the network. Online newsletters are also available via the company's intranet.
What are the CNA International franchise's terms of agreement and renewal?
The initial franchise agreement lasts for five years and can be renewed for a further five-year term.
How can I get started on setting up my own CNA International business?
CNA International describes its franchisee recruitment process as "very selective". After requesting information from the company using the enquiry form on this page, you will be invited to a face-to-face meeting to discuss the opportunity further and the skills required to become a successful franchisee.
Would-be franchisees can also talk to established franchise partners in order to get a good understanding of the business.
Like all franchises, a franchisee is required to sign a franchise agreement contract before training takes place and trading using the CNA International branding and systems commences.
In the case of this company, this contract can be terminated by the franchisee, who must provide the franchisor with six months' notice in writing. Once the contract has been terminated, an individual cannot trade in the executive recruitment sector for three months.
To find out more or to request further information on franchising with CNA International, click the 'Send Enquiry' button now.

Request Free Information
Send a free enquiry to CNA International for further information!
Enquire into this franchise today