The information you submit via our enquiry form is shared only with the franchise business(es) that you have selected.
The franchise business will contact you by means of email and/ or telephone only to the email address and phone number you have provided.
By submitting the enquiry form you are consenting to send your personal information to the selected franchise business.
You also agree to receive further newsletter email marketing from What Franchise.
Close
Did you know?
easyStorage has an expected revenue of Net profits rising from 7% to 40% on maturity after 2 years!
Request free information in just 60 seconds!
Take the first step in becoming your own boss!
Minimum Investment
£55,000
Funding Support
Third party
Total Investment
£120,000 - £140,000
Franchise Fees
£23,500 for a 10-year term
Expected Revenue After 2 Years
Net profits rising from 7% to 40% on maturity
About easyStorage
easyStorage is quickly becoming the go-to storage services company in the UK. It has two key advantages over traditional self-storage – firstly, it collects furniture and belongings from customers and secondly, it costs far less too.
The price saving is down to incredible space efficiency in the easyStorage secure warehouses. Items are collected from customers and packed straight into wooden easyPods which sit on specially built vans for maximum efficiency. These are taken back to a storage facility where the storage units are unloaded with a forklift and stacked three, four or even five high. This way, easyStorage makes full use of the warehouse's capacity and passes this efficiency on to customers with low pricing. easyStorage customers typically pay half the price of other self-storage solution competitors.
Customers are delighted with the collection, and they love the low prices and the peace of mind even more! Factor in great service and the proposition is compelling. easyStorage is rated 'Excellent' by customers on Trustpilot for its affordable self-storage solution. Since launching in 2018, the storage provider has never looked back, offering a wide range of business storage and personal storage options. The network has grown to 22 franchises in the UK and will soon expand to Europe.
There are still a number of franchise opportunities available in the UK.
Being part of an iconic brand
The easy brand was created by Sir Stelios and made famous by easyJet in 1995. The name and the distinct orange branding is instantly recognisable and trusted for value. This gives franchisees an advantage over competitors. Trust is a key factor when customers look for storage for their personal belongings.
The easyStorage business model continues to perform well. Through COVID-19, income generated through storage remained unaffected and easyStorage continues to set new sales records through 2021.
Steven Gill and his son Richard, of easyStorage Hertfordshire say: "We hit the road running in March 2021 and the business has been busy ever since. We enjoy the management aspect and the interaction with our customers."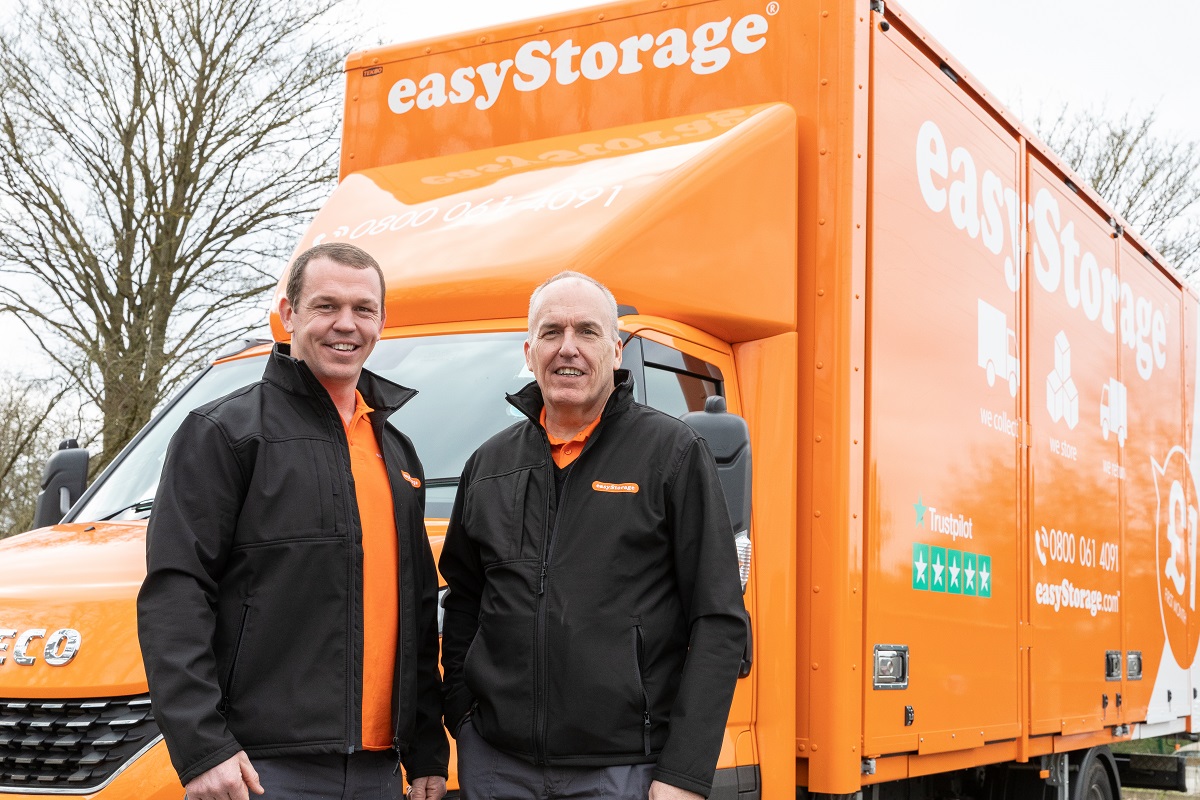 Storage – a high-growth sector
Storage is a high-growth sector with enormous potential. A Cushman and Wakefield report predicts that the global self-storage market will grow from £27bn in 2018 to £35.5bn in 2024. The UK is the best performing market in Europe and the much lower prices offered by easyStorage are opening up the market further.
Digital expertise and sales
Digital marketing expertise is provided centrally by an in-house team of experts. easyStorage has invested in a strong digital marketing team that consists of leaders in their fields. Franchisees are fed key data via a live-feed dashboard so they can monitor progress against their business plan. A successful partnership initiative is thriving and provides an additional stream of leads. A central sales team helps customers add packing materials, insurance and complete their booking. Franchisees are able to focus on running their business and building brand awareness at a local level.
State of the art technology
easyStorage has developed VAULT, a bespoke platform for franchisees to manage collections, deliveries and storage. Payments for storage are collected automatically each month. As the number of easyPods in storage grows, so does the size of the recurring revenue. This is an attractive reward for the work that franchisees put in and allows them to build value.
Being an easyStorage franchisee
easyStorage franchisees come from all types of career backgrounds. They include business-minded individuals, father and son teams, and husband and wife collaborations. No storage experience is needed as full training is provided.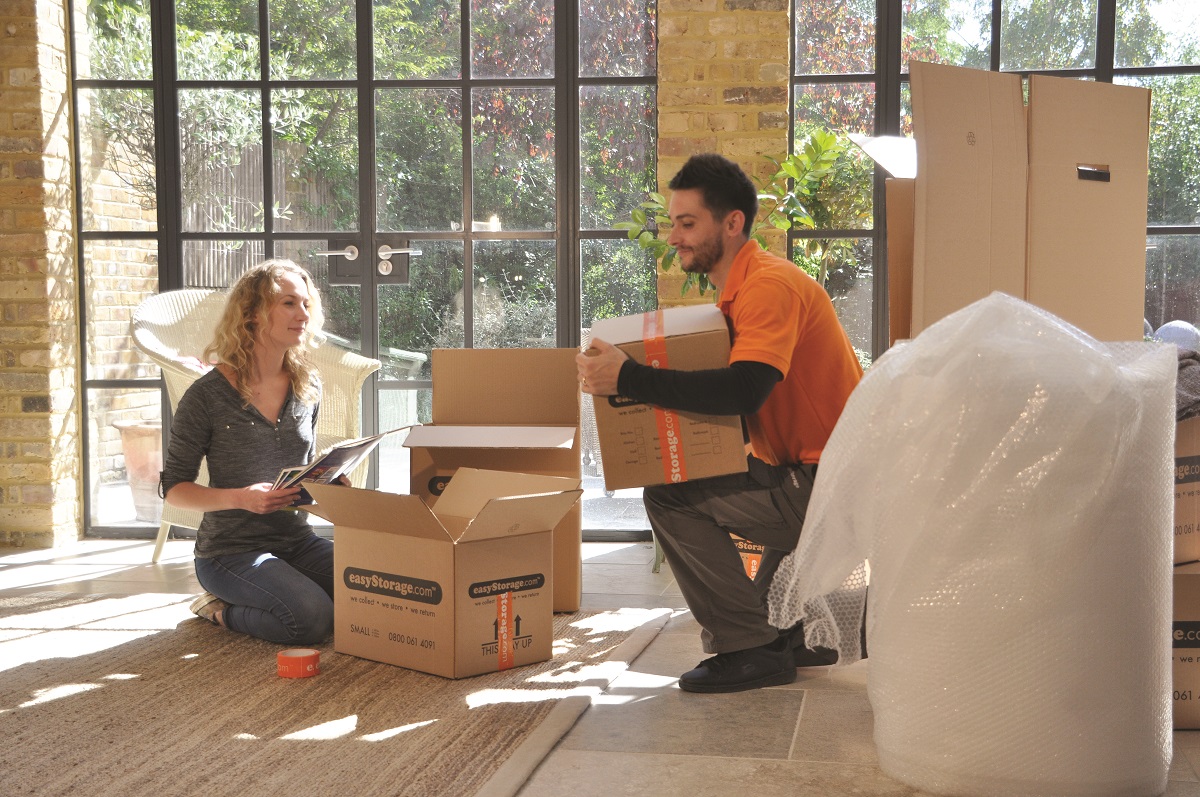 How does the easyStorage franchise model work?

easyStorage franchisees are awarded specific territories with a minimum of 600,000 dwellings which ensures generous market opportunity.
Initially, franchisees do not need to take on their own real estate. easyStorage has a network of storage partners willing to store easyPods at preferential rates. As the number of easyPods in storage builds, franchisees aim to move into their own warehouse to benefit from significant efficiencies and a bigger margin.
They manage their own businesses with easyStorage's technology, support and procedures, ensuring a consistent experience for the customer. The key is business management – although it would be easy to assume that this is a man-with-van type franchise, it's far from it. Whilst some franchisees really enjoy getting hands-on, the franchise is based on good management skills and a focus on business development.
To organise themselves well, franchisees need to manage staff and manage the back-office functions like accounts and ultimately property management.
What does easyStorage look for in a franchisee?
easyStorage has taken out a lot of the risk for storage operations with the support and processes it offers, so for someone ambitious, this represents a fabulous opportunity. It is looking for business savvy franchisees: commercially aware, but who recognise the added value of the easy brand and way of working.
This is a youngish franchise, but with the easy group expertise, brand and people behind them - successful, easy, well-established ways of working. People joining the franchise now will help shape the easyStorage of the future. There will always be constant innovation and investment in technology that helps all franchisees, and the ideal franchisee is someone who'd love to be part of that.
Did you know?
easyStorage has an expected revenue of Net profits rising from 7% to 40% on maturity after 2 years!
Request free information in just 60 seconds!
Take the first step in becoming your own boss!
easyStorage franchisees vary hugely in their background.
easyStorage Manchester, for example, was started by Graham Howard. Committed, experienced and professional, Graham has vast experience of the self-storage market and saw the lower-cost entry into the market as appealing, as well as seeing the advantages to customers of mobile storage. He believes that once people wake up to the advantages of mobile storage rather than self-storage, there will be no looking back.
By contrast, Gavin Duke started up easyStorage Croydon. His background is in marketing. The appeal of easyStorage to him was the variety of work involved in the franchise and being out of the office a lot. The appeal of Gavin to easyStorage is his creativity in marketing and understanding of the brand.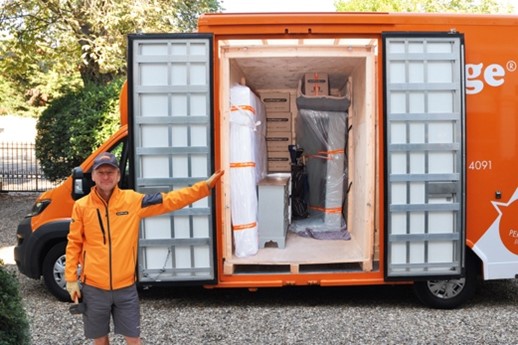 "It is a brilliant brand to be associated with," says Gavin Duke, easyStorage Croydon. "As a franchisee for a key area of London, I understand the importance of building a reputation. My crew take pride in loading a customer's belongings carefully and efficiently. Receiving 5-star reviews feels great. We love the recommendations. The number of easyPods in storage has grown, I am now looking to take on my own warehouse and reap the rewards of a bigger margin. I am a member of the Franchisee Council and value the regular sessions and network calls which have resulted in all sorts of positive developments."
Both franchisees have a good understanding of business. They understand the need to follow the easyStorage processes and guidelines in order to succeed, whilst having freedom within those parameters to build the businesses they want.
It's easy, therefore, to see that there is more than one way to join easyStorage. The company is evolving and adaptable, and the essence is that franchise and franchisee add value to each other.
The start point for this is a one-to-one chat. From there, financial disclosures are made, and a solid business plan is developed by the franchisee in conjunction with a specialist franchise partner. This is then presented to the easyStorage team.
What training and support does easyStorage provide franchisees?

To see whether the marriage of franchise and franchisee is a good one, potential franchisees are invited to a Discovery Day, where the inner workings of the franchise and investments are discussed, along with both sides' expectations.
No previous storage or transport experience is required. Full training is provided at the easyStorage Academy in Uxbridge together with a full onboarding programme.
Once franchisees are on board, training is free and can be repeated. It's open to both the franchisee and their team members. Top up training is organised as required and telephone support is available.
The training covers everything from set up and resourcing to customer service, sales and marketing. Operations and accounts are an essential part of the business, and vehicle management and practical skills are also offered.
If you feel you have what it takes to build success with an iconic brand, then your starting point is to reserve a place on an easyStorage Discovery Day. You will receive a detailed look at what the business involves, the type of return you may expect and meet the people managing the business and their vision. You will need £60,000 in capital to raise the required finance.
Why is an easyStorage franchise a good investment?
With a looming recession, and people downsizing or combining households for numerous reasons, there is every reason to believe that the UK self-storage market will continue to grow. easyStorage's storage plans provide customers with a cost-effective alternative to renting their own self-storage unit as it only charges for the storage space they need, making it cheaper.
According to a Cushman & Wakefield report in May 2020, the self-storage sector is proving more resilient than many other industries in dealing with the fallout of the COVID-19 pandemic. The reasons for this vary but notably include movements in the housing market as people downsize or undertake home improvement projects rather than move. Around 45 per cent of people use self-storage simply because they lack space.
The annual turnover for the UK industry increased to £766m in 2019. With the saturated US self-storage market remaining buoyant, it is clear that the UK, which accounts for around 41 per cent of European self-storage income, still has traction - the concept of self-storage is an established one.
Mobile storage like easyStorage is an exciting market development, a relatively new concept. Its simplicity and pricing will take self-storage to a new market looking for more affordable options.
Previous economic downturns have presented opportunities for the sector. There is every reason to believe that this will continue. As the concepts of both mobile storage and end-to-end online booking gather popularity with consumers, along with the additional price benefit attraction, and topped off with a brand that they trust, there is every reason to believe that easyStorage will make a huge dent in the traditional storage market, and help bring it to a wider audience.
How do I start setting up my own easyStorage franchise?
To find out more, or to request further information on franchising with easyStorage, complete the form below and click on the 'Request Free Information' button now.
Request Free Information
Send a free enquiry to easyStorage for further information!
Enquire into this franchise today