The information you submit via our enquiry form is shared only with the franchise business(es) that you have selected.
The franchise business will contact you by means of email and/ or telephone only to the email address and phone number you have provided.
By submitting the enquiry form you are consenting to send your personal information to the selected franchise business.
You also agree to receive further newsletter email marketing from What Franchise.
Close
Did you know?
Snap-on Tools is eligible for funding support!

Request free information in just 60 seconds!
Take the first step in becoming your own boss!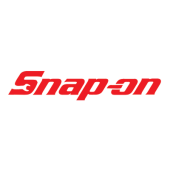 Snap-on Tools
Manufactures and sells tools for automotive repairs that consist of a range of sockets that 'snap on' to interchangeable wrench handles
Minimum Investment
£15,000
Funding Support
In house and high street banks
Expected Revenue After 2 Years
N/A
About Snap-on Tools
Snap-on is the world's number one professional tool brand. It is the leading global manufacturer and distributor of quality tools for automotive, marine, railroad and engineering technicians. Franchisees sell a wide range of the most sought-after tools in the industry and deliver outstanding customer service to technicians from their very own, iconic showroom on wheels.
Founded in the US in 1920, the brand has over 100 years of experience in the tool trade. What's more, its proven business model has been refined in the UK for over 55 years. The manufacturer and distributor of professional tools launched in the UK in 1965 with its first office in Kettering, Northamptonshire. Snap-on is proud to be known as the 'best in the business'. Today, it has over 400 franchisees operating territories in the UK and Ireland and, globally, the franchise network is made up of more than 4,300 franchisees. Snap-on is a full member of the British Franchise Association (bfa), the regulatory body promoting ethical franchising in the UK.
How does the Snap-on Tools franchise model work?
A Snap-on franchisee owns and runs their own iconic showroom on wheels. No two days are the same, and that's something that Snap-on franchisees say they love!
Daily activities include:
• Planning your day: Using the dedicated point of sale system, you can easily prepare your bespoke sales pitch for every customer
• Merchandising: Snap-on will provide you with plenty of sales promotions, but you get to dress your store your way to entice customers to buy more
• Delivering exceptional service to your customers, identifying their wants and needs and offering them a solution
• Back of house admin like banking, stock checks and ordering.
At Snap-on, it is all about working smart so the brand has developed state-of-the-art software that can auto-route your working weeks, Monday to Friday. That's why, on average, franchisees' mileage is less than 10,000 per year.
Some franchisees have run their business for over 30 years – even bringing their family on board to support them. Others have branched out and expanded their customer base to manage multi-unit territories of two, three, four – and even more – vans, with assistants managing the extra routes. Committed to providing the highest level of service to customers, whatever your vision, Snap-on is passionate about helping you to achieve it.
"I love being a Snap-on man. It suits me down to the ground because it combines all of the separate skills I've picked up over my 35-year career. I'll never take it for granted that I've had the opportunity to join the most well-known tool brand in the world. I'm able to build a comfortable living for me and my wife, Diane, and finally, have the time to enjoy life too. It's wonderful to have a second chance at my dream career.
"It's a full-on day, from start to finish, but I wouldn't change it for the world. If someone were to ask me if I'd do this all over again, I would do it in a heartbeat. I'm very proud of the success I've experienced with Snap-on but, for me, it's more about the positive change in my lifestyle. I live life by my own watch, have more time to spend with family – I see my sisters down in Bromsgrove more now than I did when I lived in the area – and have a great career to see me through to retirement. What more could I want?"
– Snap-on franchisee Paul Bevington, Northumberland
How to invest in the Snap-on Tools franchise opportunity
If you are interested in becoming a Snap-on Tools franchisee, or you want more information, fill in the form on this page. Snap-on's dedicated recruitment manager, Gemma Good, will then contact you to have an initial discussion and answer your questions.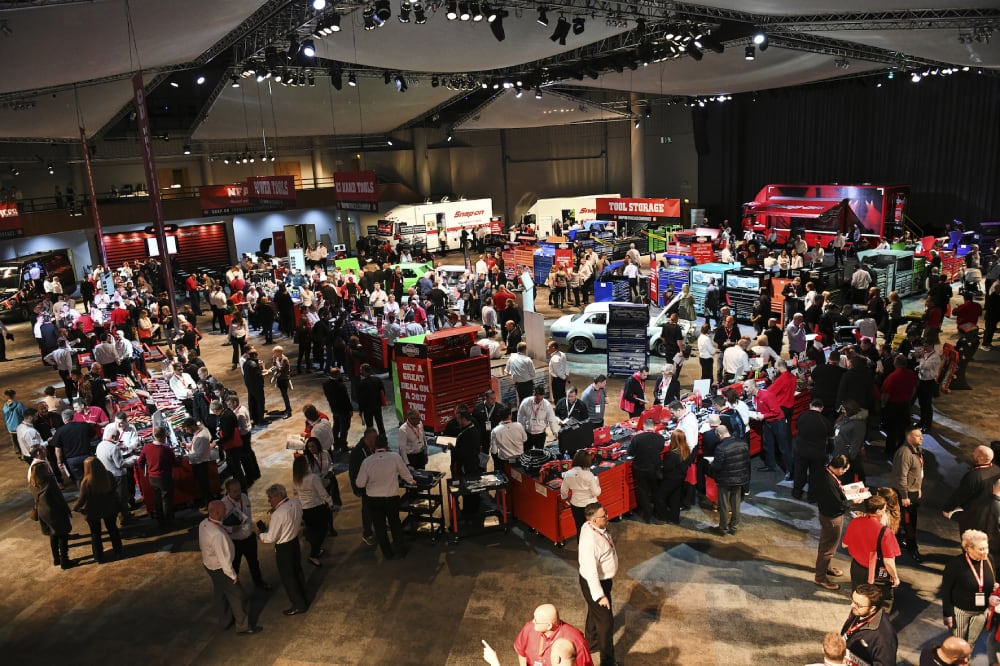 How much does a Snap-on Tools UK franchise cost?
To start your very own Snap-on franchise, you need £15,000 and then, Snap-on will fund the remaining investment on a 10-year interest-bearing loan (subject to personal circumstances).
Snap-on Finance is the brand's in-house bank that offers business loans to fund the purchase of your franchise. This means there's no need to go through the high street banks.
Fixed, regular payments mean you can manage your cash flow and always know exactly where you are with your finances. Snap-on even offers you a payment break for your first three months in order for you to get your business up and running.
"I'd been a Snap-on customer for years and had always been interested in the Snap-on franchise opportunity, but it was the promotional price that encouraged me to finally decide to just go for it. I think it's an incredible opportunity for people like me, who might be on the fence about investing in a franchise. It's also a chance for younger people, or those without the necessary savings, to achieve their dream of being their own boss. For me, personally, it enticed me to pick up the phone. I know that the investment would have still been worth it, but I feel really lucky to have been in the right place at the right time so that I could take advantage of the offer."
– Franchisee Alex McNellan, Wolverhampton
What will I get from Snap-on for my investment?
Snap-on has helped over 400 people, just like you, to achieve the dream of being your own boss. Here's what you get:
• All starter stock
• Initial training week at a brand-new, purpose-built UK training centre
• UK head office and field-based training
• 10-week starter programme for maximum sales impact
• Six-month intensive onboarding programme
• 165-strong UK support team specialising in marketing, sales, IT, finance, product and more
• Exclusive, protected territory
• Operations manuals
• Advanced sales and stock IT system
• Continuous training and support including monthly franchisee forums, annual conferences and workshops
• National Franchisee Advisory Council - have your say in business strategy.
Did you know?
Snap-on Tools is eligible for funding support!

Request free information in just 60 seconds!
Take the first step in becoming your own boss!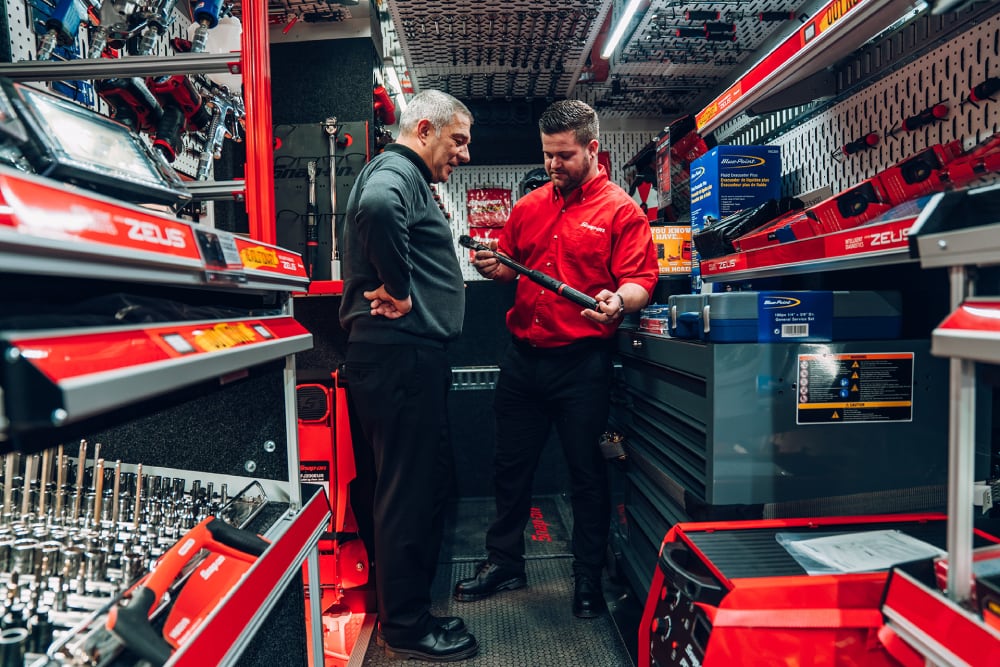 Do I need automotive experience to run a Snap-on Tools franchise?
No, many franchisees join Snap-on with little to no experience of the tool trade, and most have never run a business before. It's all about attitude. Snap-on looks for someone who has great people skills and the ability to really build relationships with potential customers. You need to be dedicated and willing to put some serious effort but so long as you have a great attitude and the motivation, Snap-on can teach you all you need to build a profitable, rewarding business.
"One of the best things about being a Snap-on franchise owner is the support you get. They map out my routes, meaning I can concentrate on fulfilling orders and marketing the franchise. I'm constantly encouraged to be the best that I can be and my sales developer has been particularly instrumental in getting me to where I am today. I don't come from an automotive background so my background in sales is my trump card. Saying that though, you really don't need to be a mechanic to get ahead at Snap-on. When it comes to the tools, I've got no idea what I'm doing half the time, but the banter I have with my happy customers keeps the sales coming in and Snap-on supports me with everything else. They even helped fund some of the start-up costs. So you see, there really is no excuse for not starting a franchise!
"My plans for the future are simple really – put in the hours and reap the rewards. Next year, I want to take on a second van which I'll hire an assistant to run. I love working hard, for an honest wage, and making my kids proud of their old man in the process. Starting a Snap-on franchise was just the change in career that I needed. This is me now until I retire. And I couldn't be happier."
– Franchisee Scott Jarvie, West Lothian, Scotland
Are there any monthly fees I'll need to pay?
There are no advertising fees or royalties to pay to the franchisor and you retain all your profits. However, you will have several overheads including loan/financing repayments, stock, insurance for your van and contents, professional indemnity cover, the lease fee for your van, fuel, vehicle maintenance, and other day-to-day costs of running a business.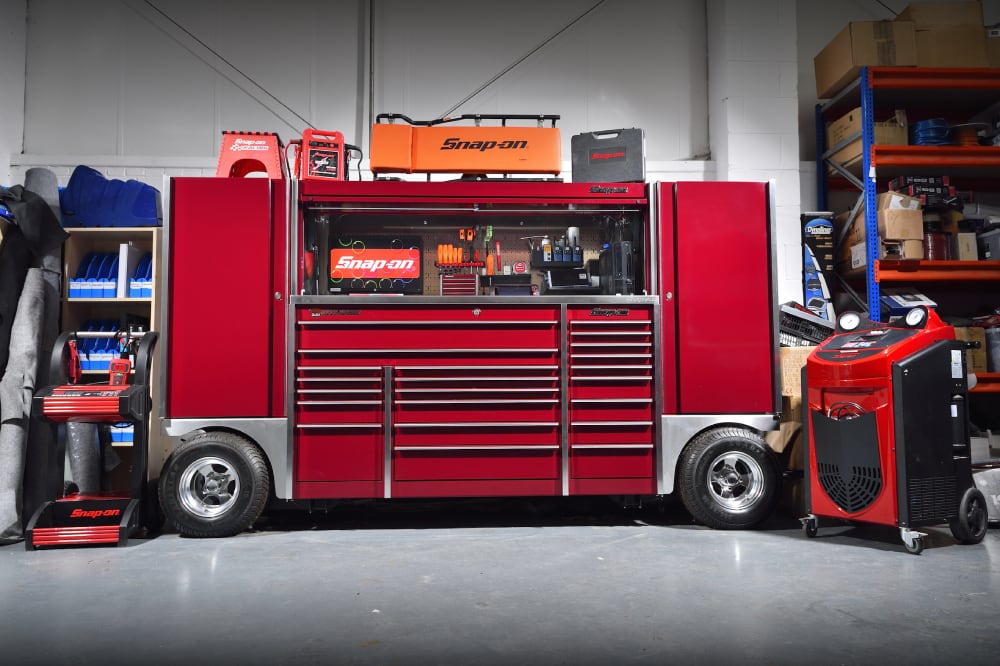 Will I be able to get an area of my choice?
Snap-on has both vacant and resale territories available. Please contact the franchisor to find out more about the area you're interested in.
What are the average earnings and profits to expect from a Snap-on Tools franchise?
Franchisees average weekly sales in 2021 were in excess of £7,000 per week. As with all franchise businesses, your results are directly related to the level of time and effort that you as the franchisee dedicate to your business.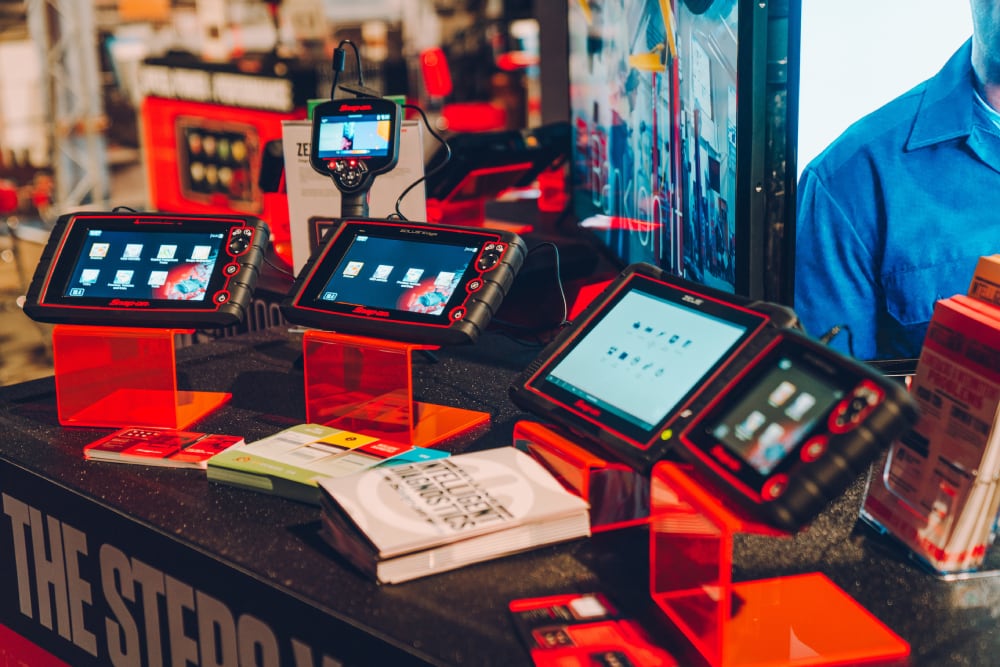 Is income guaranteed?
As with any franchise, income is never guaranteed and depends on several factors, including the amount and quality of work done by the franchisee.
"In my previous roles, I felt as though I was constantly treading water and working frantically just to keep my family afloat. Within 10 months of taking on the franchise, I'd paid back my loan and not long after that, put a deposit down on a dream family home. Plus, I finally had that sense of career satisfaction that I'd always strived for. I couldn't quite believe the transformation my life had gone through. My first van was so successful that I invested in a second in January 2019, run by my assistant Dylan, to keep up with demand. I've even been able to bring my wife on-board officially, as company secretary. I'm proud to have built such a profitable empire and pension plan for my future.
– Franchisee Paul Macisaac, Bury St Edmunds
What sets the Snap-on Tools franchise apart from its competitors?
Snap-on is a multi-award-winning franchisor. In both 2021 and 2022, the brand was awarded the HSBC Elite Franchise Exceptional Performance Award and has been the voted the number one automotive franchise in the Elite Franchise Top 100 list for the last five consecutive years.
Franchisee, Craig Bishop, who runs his franchise in North Dorset, was named the bfa HSBC Young Male Franchisee of the Year in 2019. In the same year, Snap-on also won two highly coveted Queen's Awards for Enterprise - amongst the most prestigious business honours in the UK. Its one-of-a-kind diagnostic system won the Innovation Award and, for its contribution to the economy and growth, in both the tool and franchise industries, the brand received a second award for International Trade.
Snap-on has been a finalist in the Franchise Marketing Awards for the last five years and won Best Franchisee Marketing Support in 2017 for going above and beyond to help franchisees market their business.
How do I start setting up my own Snap-on Tools franchise?
To find out more, or to request further information about this business opportunity with Snap-on Tools, complete the form below and click on the 'Request Free Information' button now.
Request Free Information
Send a free enquiry to Snap-on Tools for further information!
Enquire into this franchise today