Munminder Gill and Sanal Sundaresan have recently completed training at the company's Gloucestershire wine warehouse and head office
Newly launched franchise, Broadway Wine Company, has awarded its first two franchises who will be supplying premium wines to shops, pubs, cafes, bars and restaurants across Oxfordshire and The Black Country.
Broadway Wine Company entered into a strategic partnership with franchising experts Taylor Made Franchising in January 2022. With the support of their experienced head office team, owners Doug Brown and James Kemp have now franchised their business and awarded their first two franchises.
Both new franchisees will run their franchises alongside their current employment until successful enough to support themselves and their families.
Accountant Munminder Gill, 50, has been awarded the Black Country territory, including Wolverhampton and Dudley.
Munminder said: "I have been in corporate finance my entire career and I wanted a change; I decided I wanted a franchise that I could start small and build up alongside my accountancy work. I did some Googling, found the Taylor Made Franchising site and from there, Broadway Wine Company. The company and the proposition were very attractive to me. Being one of the first franchisees is great news for me. The world is really my oyster and I'm excited about the possibility of expansion in the future."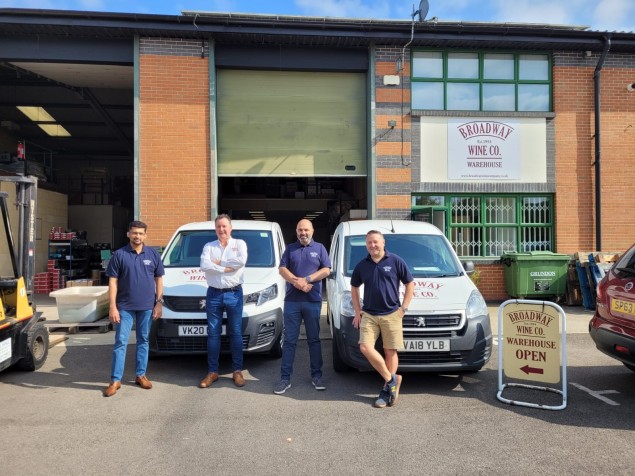 Sanal Sundaresan, 41, will be running the Oxfordshire territory alongside his wife Sreerekha, 38.
Sanal has an MBA in hospitality, with experience working in hotels in Switzerland, Dubai and the UK. He has also worked in car sales and mortgage advising.
He said: "By buying a Broadway Wine Company franchise I am combining my love of wine with my background in hospitality and of course the chance to run my own business. My wife Sreerekha will be working with me in our new family business. I needed a franchise that I could run alongside my current job, until I was ready to commit to it full-time. I needed something I could start small and build up gradually and something where I didn't need to employ staff immediately; Broadway Wine Company ticked all those boxes for me."
The new franchisees are both self-confessed wine lovers; Sanal enjoys an Argentinian Malbec whilst Munminder prefers a Merlot and they are both already in talks with potential new clients including an off-license, a restaurant and a local shop.
Doug said: "Things have gone tremendously well. We've had great support from Alan and David at Taylor Made Franchising, helping us to franchise the business and now here we are, training our first two franchisees. Munminder and Sanal are superb; training went very well and now they have returned to their territories, full of excitement and enthusiasm about launching their businesses.
"We wish them the very best of luck and will of course be with them every step of the way offering advice and support."