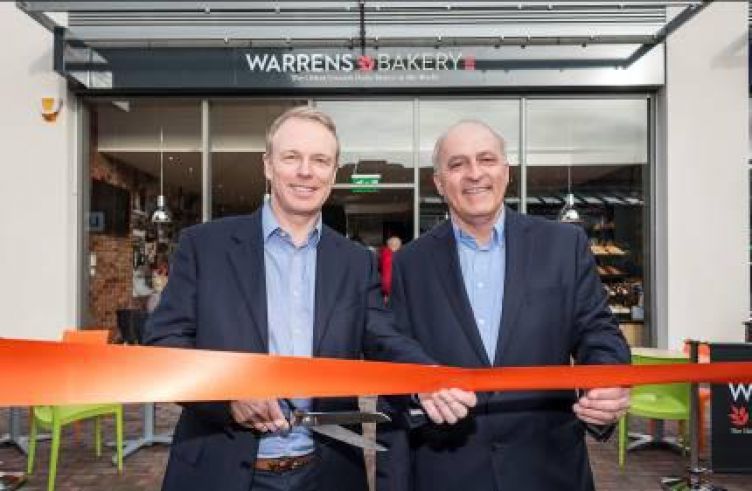 The first ever Warrens Bakery outside of the West Country opened its doors and showcased the artisan bakery's range in Mere Green. Established in 1860 and the oldest bakery in Cornwall, Warrens Bakery has teamed up with George Abuaita to open the new store.
Locals had been expressing their excitement at having their favourite Cornish pasty, which is often enjoyed on holidays in the South West, closer to home, with press interest and support on social media sites generated in the lead up to the opening. Fans can expect more surprises in the weeks after the official opening, with exclusive promotions planned for the store.
Warrens Bakery has undergone an extensive rebrand across its 51 stores over the past year and has had a hugely successful trading period. The Birmingham store is just the first of the bakery's wider plans to expand, with further sites currently under negotiation around the UK.
Commenting on the new bakery, chairman of Warrens Bakery, Mark Sullivan says: "This is an extremely momentous occasion for all the team at Warrens Bakery. Last year we unveiled our first store in Bristol and we're now set to open our first one outside of the West Country. We are delighted to be expanding our portfolio across the country and this marks a tremendously exciting time for the business."
Mark continues: "We are delighted with the progress as we continue our expansion strategy. Our turnover has grown significantly in the past three years and we expect this to continue as we drive towards £20m/annum through organic developments and acquisitions. Over the next 12 months we plan to expand our production facility in St Just, where it all began, and continue to diversify geographically. However, this will not come at the expense of the quality and provenance, which Warrens Bakery's products are renowned for. We will continue to produce the best craft products as well as constantly innovating. We take great pride that when people purchase our goods they are receiving a handcrafted item made with passion and over 150 years of experience."
George Abuaita, who is working in partnership with Warrens Bakery adds: "I really felt there was a gap in the area for a good quality bakery such as Warrens Bakery. I'm positive the new bakery will fill this gap and we already have hopes to expand the number of bakeries across the West Midlands over the next few years." George adds: "Not only will the new store be fantastic for customers but also the local community too as we've already recruited seven local staff."
With over 150 years of baking experience, Warrens Bakery's hard work and dedication has seen them receive a long list of accolades for their artisan sweet bakes and pasties. In the last two years, they've been recognised in the prestigious Craft Business Award in the Baking Industry Awards and have won a haul of awards at The British Pie Awards and the World Pasty Championships in 2016.
They attribute their success not only to the provenance of their ingredients but also to their dedicated team. All of their baked goods are crafted with an enormous amount of care and attention to detail and using the finest ingredients. Many of their products are also produced to traditional recipes including their Cornish pasty, they are after all the oldest Cornish pasty maker in the world.
Visit www.warrensbakery.co.uk for further information. To hear the latest news from Warrens Bakery follow them on Twitter (@WarrensBakery) or link up with them on Facebook www.facebook.com/warrensbakery.
Article continued below
Our Guide to Getting Started in Franchising
Grow yourself from a franchising no to a franchising pro!