If you have a passion for cars, motoring franchises could be a way for you to start a business aligned with your interests
Motoring services are growing and show no signs of stopping. In the UK alone, the car industry generates £82bn in turnover. With this huge industry comes opportunities and with over 38 million vehicles on the road, motoring services are always in need to keep cars and vans up to code.
1. Autovaletdirect
Operating from distinctively liveried, fully equipped vehicles, Autovaletdirect's national network of franchise owners provides professional valeting services to private and corporate customers in the automotive and leisure sectors.
With access to a diverse service portfolio, such as vehicle graphics removal and automotive paint and fabric protection, that supplement locally generated contracts, franchise owners have a resilient business base, geared for growth through the generation of regular, repeat and referred customers and can earn upwards of £1,000 a week.
The British Franchise Association accredited company offers hardworking franchisees who love cars the opportunity to enter a large market with a unique system and an established and proven concept. The franchise welcomes applications from self-motivated people determined to build a successful business.
Autovaletdirect franchisees come from a variety of backgrounds. Because of this, the company provides different start-up packages based on individual circumstances, experience and personal needs.
In addition, Autovaletdirect Franchising has relationships with certain banks and financial options can be discussed at an initial meeting.
WHAT YOU NEED TO KNOW
Investment level: £16,950.
What you get: fitted, liveried vehicle; equipment; chemicals; tools; stationery; corporate clothing; search engine optimised website; initial advertising; call handling service; insurance.
2. Mac Tools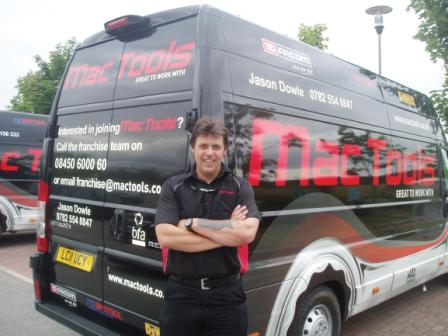 After 12 years in the army, electrical and mechanical engineer Jay Belam (pictured) was looking for a new challenge. He set up Revive! Guildford in 2011 and the business is now one of the top-performing territories in the company's network, repairing scuffs and scrapes to vehicle bodywork and alloy wheels for car dealerships and members of the public.
Jay says: "I knew I didn't want to work for anyone else and had always fancied being my own boss, but didn't have the knowledge or experience to set up on my own from scratch, so it made sense to follow a proven franchise business model."
He now runs five vans and a busy workshop and recently signed another five-year franchise agreement with Revive!
"Head office guided me step by step through the process of financing a new van and recruiting my first employee," Jay says. "Their support and confidence in me gave me the impetus I needed to take such a big step."
Revive! franchises are designed to help owners build a business, with generous territory sizes and several owners turning over more than £500,000 a year. The franchise has its own Institute of the Motor Industry training academy and provides a high level of ongoing business support to owners.
WHAT YOU NEED TO KNOW
Investment level: from £23,500 (plus VAT).
What you get: Full IMI training; business support; launch marketing promotion; personalised website; online marketing campaign.
4. etyres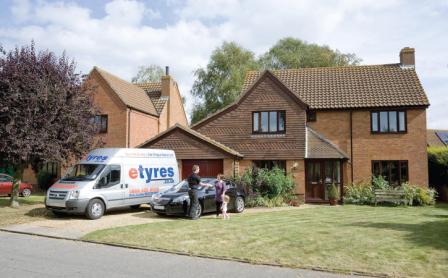 Established in 1992, etyres has set the standard for selling tyres online. All work is carried out from a fully equipped van, allowing the company to provide a nationwide mobile tyre-fitting service at a time and place convenient to the customer.
Currently, there are a number of territories still available across the UK and etyres are looking for hardworking, proactive and practical franchise owners to take them on.
It offers a number of flexible finance options and has developed relationships with a number of high street banks, which tend to look favourably on the franchise business model.
etyres operates a just-in-time purchasing model, preventing money from being tied up in stock. Franchisees can expect to achieve gross profit margins in the region of 25 per cent and its most successful branch turns over in excess of £1 million a year.
The company's marketing team helps franchise owners promote their businesses and ensures customers experience a consistently high level of service. This commitment to developing the business has helped secure etyres' position as one of the UK's leading online tyre retailers.
WHAT YOU NEED TO KNOW
Investment level: £34,000.
What you get: exclusive territory; full training; ongoing support from head office; marketing collateral.
5. Autosmart
According to Autosmart franchisee Andy Jones, the company's system is foolproof and you don't need to be the best salesperson in the world to succeed.
He adds: "Investing in an Autosmart van franchise gives a low-risk route into becoming self-employed. You are your own boss, yet have the benefit of being part of one of the best franchises in the UK, which helps you build your business quickly and profitably."
The van franchise concept means franchisees take the shop directly to their customers, selling a range of over 200 market-leading vehicle cleaning products to the trade. All products are developed and manufactured at the company's head office in Lichfield and used by a variety of customers across diverse industries, including car dealerships, haulage companies, plant hire, car rental and valeters. The company distributes its products exclusively through its network of franchisees in a marketplace that's worth £3 billion. Autosmart says 70 per cent of its franchisees have been with the company for more than five years and half of these again for over 10 years.
WHAT YOU NEED TO KNOW
Investment: from £12,000.
What you get: full training; ongoing support.
6. Red Driving School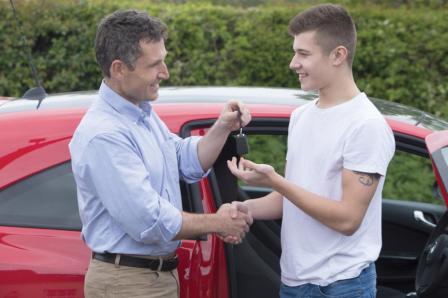 This franchise guarantees a minimum of 20 new prepaid pupils per year, with each one coming with a money-back guarantee worth £50 per pupil.
Because RED collects the lesson fees on behalf of instructors, they don't have to worry about not getting paid, haggling over prices or no shows. The business operates a sophisticated online diary system to enable instructors and the contact centre to manage bookings, while advertising on Google and other leading search engines means the business has a strong a social media presence on Facebook, Twitter and Instagram, making it easier to attract new business.
RED offers both full franchise and brand franchise options. The full offer includes a fully insured, taxed and maintained branded tuition vehicle, normally replaced every 52 weeks. For instructors who already have a suitable training car, the brand franchise option starts from £52.16 per week including VAT. The company was voted the nation's favourite driving school franchise in 2014.
WHAT YOU NEED TO KNOW
Investment level: price on application.
What you get: full training and support; leaflets, posters and business cards.
7. Snap-on Tools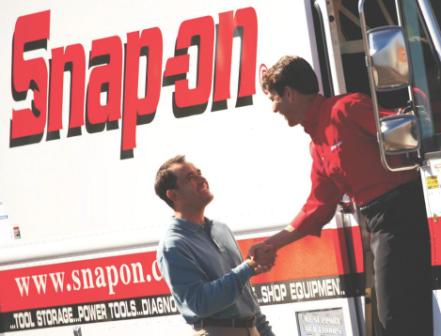 "Snap-on have the best products, the best programmes, the best mobile showrooms, the best back-up and with one head office support personnel to every two franchisees, you are never on your own."
So says Snap-on franchisee Clive Stedman, who's based in north Shropshire. Founded in 1920, Snap-on's business model has been refined over several decades. It's arguably the world's number one professional tool brand and the leading global manufacturer and distributor of tools for the professional technician.
Franchisees deliver premium products to technicians up and down the country, a process that offers the opportunity for business-minded individuals to be their own boss while being supported by a team of industry specialists.
In the UK, Snap-on has been trading since 1965. With a global franchise network of more than 4,700 franchisees selling over 22,000 products, franchisees can be confident they are partnering with the best.
Franchisee Nick Allen says: "The Snap-on franchise has changed my life considerably. I feel like I'm in charge of my own destiny, rather than working for somebody doing the same thing Monday to Friday.
"I am driving my business forward and able to create my own goals and achievements."
WHAT YOU NEED TO KNOW
Investment level: £16,380 of a total of £72,655.
What you get: Full training; all starter stock; dedicated support team; operations manual; exclusive, protected territory; sales and stock IT system.
8. The Wheel Specialist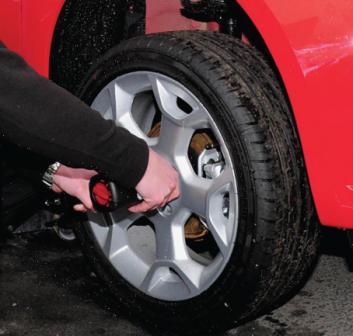 The Wheel Specialist is an alloy wheel repair, refurbishment and customisation specialist providing a professional service that transforms the look of any car.
Franchisees offer a range of professional services, including wheel refurbishment and diamond cutting, wheel repair, colour changes, customisation and replacement tyres, plus specialist products including valves and wheel wax.
As they operate from fixed premises, franchisees are able to offer a full same-day powder coating wheel refurbishment service, as well as cosmetic touch-ups and repairs. Demand for quality alloy wheel refurbishment remains high. The network gets thousands of pounds worth of quotes a month and the franchise opportunity gives entrepreneurs the chance to own a business capable of hitting the ground running from day one.
Previous automobile experience is not needed. All that's expected is hard work and commitment.
WHAT YOU NEED TO KNOW
Investment level: £44,997 (plus VAT) franchise fee, plus approximately £100,000.
What you get: bespoke training; lead generating website; sales and marketing support; large, exclusive territory and manuals.
9. ChipsAway International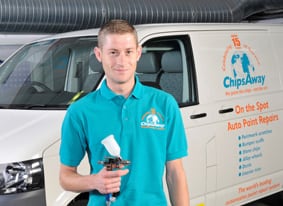 ChipsAway is the original, market-leading automotive paintwork repair brand in the UK, providing an unrivalled training and support package that makes dreams of building a successful and profitable business a reality.
The company says its turnkey business opportunity equips franchisees well from the outset, providing a strong foundation for the growth of a successful business.
With guaranteed funding available to candidates deemed suitable and approved by ChipsAway, the single entry fee of £29,995 represents a package that combines all the key ingredients to successfully launch and build a business.
Franchisees undergo an initial training course at a bespoke IMI accredited facility, including an intensive sales and marketing module, acquiring the skills necessary to provide professional quality automotive repairs to damage such as bumper scuffs and paintwork scratches.
Further advanced training takes place during the first six months, with unlimited ongoing technical support available.
A full member of the British Franchise Association, ChipsAway supports new franchise owners every step of the way as they launch and develop their businesses.
The franchise package not only includes business mentoring from an experienced franchisee and ongoing franchise development from a dedicated team, but also full marketing and advertising support, including substantial integrated online and TV campaigns.
WHAT YOU NEED TO KNOW
Investment level: £29,995 (plus VAT), of which a minimum personal investment of £15,000 is required.
What you get: full training; mentoring; ongoing franchise development; marketing and advertising support.
10. Driver Hire

Transport and logistics recruitment franchise Driver Hire set a new trading record at the end of 2015. During one week in December turnover soared to £2.35 million, the highest in the company's 30-year history.
Already this year 15 of the company's franchised offices have passed the £1 million turnover mark, with two franchises - Aberdeen and Enfield - hitting £2 million.
Chris Chidley, Driver Hire's CEO, says: "Investing in a Driver Hire franchise allows people to control their work-life balance in a way that suits financial and family needs
"Our franchisees' reputation for quality and compliance continues to put us ahead of the rest, as transport operators and businesses of all types want to work with a recruitment partner they know they can rely on."
The franchise is a 24/7 business that needs to be run from a dedicated office space. Each franchisee has their own fleet of vehicles that range from international hauliers and major retailers to builders' merchants, local authorities and parcel delivery companies.
Franchisees don't necessarily need any previous experience in recruitment or the transport sector, as the two-week foundation training and ongoing franchise support programme takes care of everything.
WHAT YOU NEED TO KNOW
Investment level: £20,000-£50,000.
What you get: head office support provided by a team of over 70 members of staff; two-week foundation training; ongoing franchisee support programme; postcode defined territory; marketing and promotional material; integrated computer software package.