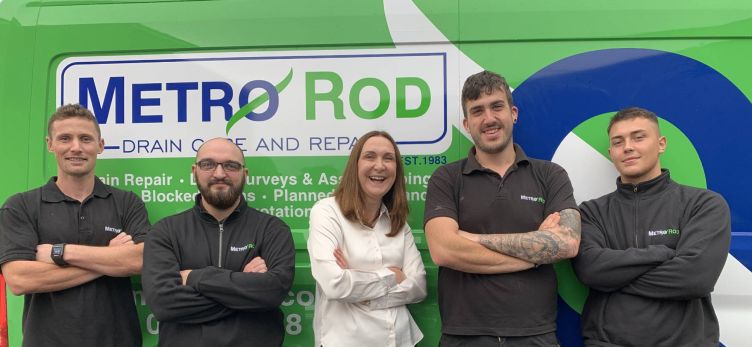 WF: What interested you in investing in a Metro Rod franchise?
I started looking for a business with my husband at the time and we were impressed with the setup of Metro Rod, feeling that it was a recession-proof business as drains will always need unblocking. We also had two young children and it stuck out to me as a business that I could manage whilst still being there for the kids. Full training was provided by the franchisor, as well as support to set up the business, ensuring I had the opportunity to become a very successful business owner.
Keep up to date with the latest What Franchise News sent straight to your inbox. Sign up here.
WF: Statistically speaking, drainage is a very male-dominated industry. Has this been your impression? And if so, have you had to face any challenges?
I am often asked about how it feels to be a woman working in a man's world. I deal predominantly with engineers, facilities managers, construction site managers, buyers and many others and the majority of these are men. So how do I make myself heard? In the same as I would if I was dealing with a woman - by communicating in a professional, respectful and equal manner. Strangely enough, it works every single time! This has also allowed me to establish strong relationships with both the Metro Rod network of franchisees and the franchisor. There have been some occasions when a man has asked to speak to my manager but I just politely tell them that I am the business owner.
WF: What advice would you have for other females looking to own their own property maintenance, drainage or plumbing business?
I would suggest that a woman should not be frightened to look at anything. I run a business and I run it well. I don't actually clean drains and don't need to know how to do that in intricate detail, but I employ people who do. I pay them well and ensure that they feel valued. The most important things to consider are whether you have the skills to run the business, the funds to start and maintain the business, and the skills to manage people.
WF: What have been the most rewarding aspects of running a Metro Rod franchise?
I love what I do and the fact that I offer guaranteed permanent employment to people enables them to get a mortgage, have a car and go on holiday. I get great satisfaction from sorting out a customer's problem and I get pleasure from seeing my colleagues grow and their confidence increase. From a personal point of view, a particularly rewarding moment was being named Female Franchisee of the Year by the British Franchise Association in 2016 which helped to demonstrate that my hard work is recognised. I enjoy my time at work and I enjoy the time I have off. Managing a Metro Rod franchise allowed me to dedicate time to my children whilst successfully running the business. I also have a very full social life: I like to travel and I have recently taken up golf - what's not to like?
WF: How has the franchise supported you to achieve your targets or goals?
The support that I get from the franchisor is second to none. I have an incredible team backing me up whenever I need support and I know without any doubt that they want the same result as me. Any success I have is of mutual benefit and the relationship works perfectly.
Also read
How women are making waves in male-dominated sectors
Keep up to date with the latest What Franchise News sent straight to your inbox. Sign up here.
Our Guide to Getting Started in Franchising
Grow yourself from a franchising no to a franchising pro!