The information you submit via our enquiry form is shared only with the franchise business(es) that you have selected.
The franchise business will contact you by means of email and/ or telephone only to the email address and phone number you have provided.
By submitting the enquiry form you are consenting to send your personal information to the selected franchise business.
You also agree to receive further newsletter email marketing from What Franchise.
Close
Did you know?
Poppies is eligible for funding support!
Request free information in just 60 seconds!
Take the first step in becoming your own boss!
Minimum Investment
£18,999
Total Investment
£18,999 +VAT
Expected Revenue After 2 Years
N/A
About Poppies
Some say Poppies is a pioneer due to the brand being the first cleaning franchise in the UK. Currently, 89% of franchisees have been with the company for more than 10 years, demonstrating the longevity of its successful model.
Poppies provides franchisees with an affordable way to build a lucrative domestic cleaning management franchise requiring a low capital outlay with a high potential upside.
The company has been at the forefront of the UK's quality domestic cleaning industry for more than 40 years, but you won't find anything old-fashioned about the business model.
Poppies' technology, systems, and processes make this a business that's simple to operate and control. Its bespoke business management system minimises admin and lets franchisees focus on what's important: stellar service and growth.
The brand is a serial franchisor, recognised as one of the top 100 franchises by Elite Franchises.
Poppies' unique selling point aims to help franchisees stand out, compete, and most importantly, win business against other cleaning companies in the area.
High quality service guaranteed Professional cleaning Tailored service to meet the client needs.
How does your franchise model work?
The primary role of a Poppies franchisee is to build and maintain great relationships with customers and staff. The ability to get on with people and enjoy providing help to others are two of the core values that Poppies is looking for in their franchisees.
As a franchisee, you'll employ cleaners who your customers can rely on to be honest, efficient, and discreet. Poppies will share with you their extensive inside knowledge about recruitment in the industry, which has been built up over many decades. From cleaners to managers and administrative staff, rest assured they'll guide you through the very best practices to recruit and retain a dream team who will ensure your franchise flourishes.
Freedom, flexibility, and the opportunity for phenomenal financial rewards are what you can expect as a Poppies business owner.
Once established, you'll have the potential to build a lucrative cleaning business which can generate:
• Annual sales of £500k+
• Annual earnings of £100k+
• Asset value of £400k+ when you're ready to sell
The company says that within 10 years it's possible to grow and sell your business while making over £1m in profit during that time. Full insight into the financials of the franchise is shared with serious potential franchisees as part of their research into the business opportunity.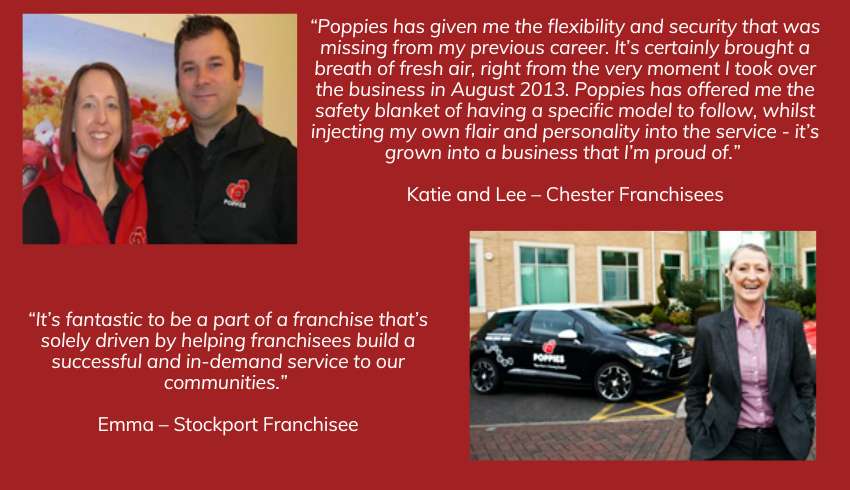 What kind of franchisees is Poppies looking for?
Buying a Poppies franchise is a low-risk way of sharing the success of an established brand, backed by the people who know it best and made it all possible. The company 100% back your success with a zero-risk guarantee.
Poppies will let you into trade secrets, provide support in generating clients, marketing and operations, as well as mentoring you to become a confident franchisee.
Did you know?
Poppies is eligible for funding support!
Request free information in just 60 seconds!
Take the first step in becoming your own boss!
Franchisees don't need to have owned a business before, nor have any experience cleaning (because you won't be doing it. You'll employ the cleaners), but you do need to be:
1. A great communicator
2. Business-minded
3. Methodical and motivated
4. Proud and personable
5. Willing to reinvest to grow your business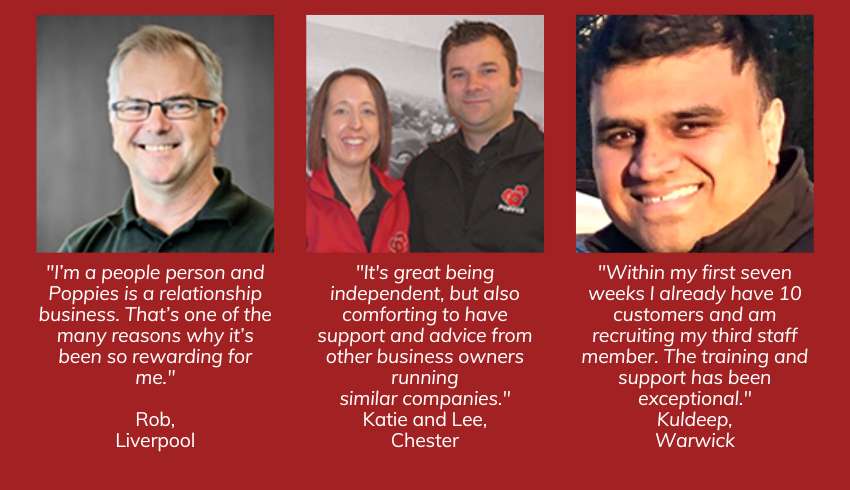 Training and support
Poppies' franchisee induction training consists of:
- 10-hour remote training which commences while business foundations are being set up.
- One day classroom training
- Four-day practical training within an established branch
- On-site launch day support
- Three months of mentoring sessions
Ongoing support and training:
- Monthly business review meetings
- The support and camaraderie of the Poppies franchise network, benefiting from cleaning industry knowledge totalling
several hundred years
- Ongoing support and additional training from head office team
Financial information
You can have your own Poppies Domestic Cleaning franchise by setting up in a new territory or by buying an established branch. Either way, the Poppies team will mentor and guide you through the proven business model.
If you're starting from scratch in a new territory, these are the typical steps:
The full investment is £23,000 and includes the cost of the Poppies franchise fee, starter package and training, launch marketing budget and working capital. For this, you'll receive your own exclusive territory and the opportunity to build your own highly rewarding profitable business.
Poppies still has several key territories available. Just fill in the enquiry form below for more information.
What are the franchise terms of agreement and renewal?
Poppies offers a five-year franchise agreement with option for renewal and no further fees incurred.
Why is Poppies a good investment?
Poppies invests heavily in its network and the launch of new businesses, which includes a £6k launch marketing package.
In the UK alone, the domestic cleaning market is estimated to be worth a massive £4.2 billion and forecasted for rapid and sustained growth.
A big 90 per cent of Poppies franchise owners are committed to renewing and growing their business and 89% have operated a Poppies franchise for more than 10 years.
Franchisees that join Poppies are promised to be surrounded by experienced people, many having spent several decades in the domestic cleaning franchise and have already implemented the business model.
How in-demand are Poppies' services?
Since COVID-19, Poppies branches have experienced higher demand than ever before, with most branches having customer waiting lists.

Request Free Information
Send a free enquiry to Poppies for further information!
Enquire into this franchise today