Eye catching
Posted: 04 Nov 2019
Estimated Read Time:
in 8 minutes
Just Cuts' latest product launch sparks further interest in its franchise opportunity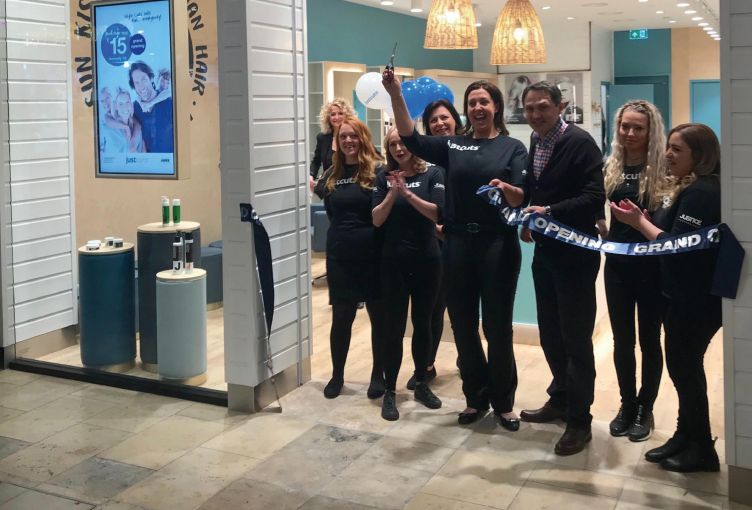 Australian founded hair salon brand Just Cuts has been in the UK for just two years, with its first franchisee owned salon opening earlier this year. But it's the company's recent UK launch of product range JUSTICE Professional that has caught the eye of those looking to partner with a forward thinking franchise brand. Amber Manning, CEO of Just Cuts UK, took the decision to launch a UK dedicated product website due to demand.
Popular products
She explains: "It's amazing how popular our products have been in the UK. So many people have used our salons and products while travelling in Australia and New Zealand, but I didn't realise how quickly they would switch to buying our JUSTICE Professional range when we tested sales on Amazon in the UK."
Selling up to 100 products a day on Amazon, orders are fulfilled from a south London warehouse.
"Sales of our justice
Professional range across the UK are just another confirmation of how our Just Cuts salons need to be rolled out," Amber says. "We expect to have five salons in and around London by the end of the year, but we know other locations are primed for our arrival with our product sales data."
With the increase in demand for the JUSTICE Professional range, demand for the in-salon services associated with the products is rapidly increasing.
No experience necessary
Prospective franchise owners looking to invest in a Just Cuts franchise come from a variety of backgrounds. Many have never worked in the industry before. In fact, experience of the trade isn't necessary, as franchise owners manage a team of qualified stylists to service the business - meaning they can work on the business at a time that suits them. One such entrepreneur who has capitalised on the UK's booming £4.1 billion hair and beauty industry - and making the most of time with her family - is franchise owner and mum of two, Magda Deaconescu.
Having recently opened her second Just Cuts salon in just under six months, Magda is revelling in the opportunity to be part of an internationally recognised salon brand. She plans to open multiple salons in the towns surrounding her home in Putney, south west London in the not too distant future.
Magda says: "The Just Cuts business model provides the security and structure for anything I could ever need. I think the best thing about running your own business is the sense of independence and empowerment.
"I wake up knowing there's something that needs doing. I enjoy being busy and going to the salon gives me that feeling of fulfilment. It's also important that I feel I'm doing something that's beneficial for my family. I can still take the girls to school every day and it's given me confidence my business can work without me while I do that."
At a glance Just Cuts
Established: 1989 in Australia. 2018 in UK
Number of franchised outlets: 2 in UK
Location of units: UK wide
Investment range: £90,000-£120,000
Minimum required capital: £75,000
Contact: 07577 700 397. justcuts.co.uk
Our Guide to Getting Started in Franchising
Grow yourself from a franchising no to a franchising pro!
Ones to watch
Franchisors provide an insight into how they've built their businesses.
This month's
best opportunities
You have pending
Here's just
five reasons

why you should join our

FREE

newsletter!
New articles added every week

Hand picked franchise opportunities just for you

First class help and advice for franchising and business

We have the industries best contributors on board

Inspiring and insightful franchise case studies