The information you submit via our enquiry form is shared only with the franchise business(es) that you have selected.
The franchise business will contact you by means of email and/ or telephone only to the email address and phone number you have provided.
By submitting the enquiry form you are consenting to send your personal information to the selected franchise business.
You also agree to receive further newsletter email marketing from What Franchise.
Close
Did you know?
PGH Beegone has an expected revenue of £134,000-£210,000+ after 2 years!

Request free information in just 60 seconds!
Take the first step in becoming your own boss!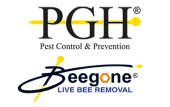 PGH Beegone
Provides environmentally-friendly pest control and live bee removal services
Minimum Investment
£15,000
Business Type
Pest Control
Expected Revenue After 2 Years
£134,000-£210,000+
About PGH Beegone
The PGH Beegone franchise is an amalgamation of two already established brands: PGH Pest Control & Prevention and Beegone Live Bee Removal.
The multi-award-winning companies were formed in 2008 by Peter Higgs with the support of the Prince's Trust and Peter was delighted when they hit the million-pound turnover milestone in 2019.
PGH Pest Control & Prevention is an expert in its field - serving homes and commercial properties. The company's mission is to identify, control and exclude pests and customer service is at the heart of everything it does.
A holistic approach is employed, so problems are dealt with and resolved while incorporating preventative work for a long-term solution, which ensures client value for money.
The company tackles a wide range of pests, including rodents, insects, large animals and birds, and is passionate about reducing pesticide use.
Beegone Live Bee Removal is a pioneer in the live bee removal field, with an established client base across the UK, from private clients to blue chip companies and even international and local pest control firms, which sub-contract out to the business.
The safe process removes honeybees and combs from chimneys, walls, roofs and trees without using insecticides. Beegone Live Bee Removal extracts bees alive and relocates them, before bee proofing the structure to prevent more returning. The company carries out all aspects of the work in-house and provides unrivalled benefits to clients.
The PGH Beegone vision is to become the leading national provider of environmentally-friendly pest control and live bee removal services.
It will achieve this by providing second-to-none support to franchisees, allowing them to flourish and prosper in their local areas. Some of PGH Beegone's values include honesty, teamwork, excellence and commitment.
How does the franchise model work?
There are two PGH Beegone franchise business options: Owner Operator or Management Owner.
If you are an Owner Operator, you will work alone, managing your business and serving your customers. If you are a Management Owner, you will run your business and have staff working for you carrying out the jobs.
Both formats are available at a low initial investment. Whichever option you choose, you will be provided with free business coaching for your first year. PGH Beegone will also work with you to put your business plan together and to stick to it!
What type of franchisee is PGH Beegone looking to recruit?
PGH Beegone wants its franchisees to succeed and, on that basis, is very selective. Having said that, you do not need any previous pest control/live bee removal experience!
A PGH Beegone franchise could be right for you if you enjoy working outdoors "on the road", are passionate about wildlife conservation and relish the thought of making a difference.
PGH Beegone franchisees should have excellent customer focus and the ability to sell. You will also have the drive and appetite to succeed, thrive on hard work and be business-minded.
You will be able to absorb procedures and systems with ease, be disciplined and have a positive outlook. Above all, PGH Beegone look for happy and pleasant individuals with a passion for delivering high standards. Last but not least, to own a PGH Beegone franchise you should be ready for success and all that it brings!
What training and support is provided?

PGH Beegone is committed to providing you with the best possible start to running your own profitable business, including one-to-one mentoring and regular visits from Founder, Peter Higgs.
The company will give you all the tools you need to manage your business in the easiest, most efficient way and will be on the end of the phone whenever you need help. It will maintain a mutually beneficial relationship throughout your contract term. After all, your success is PGH Beegone's success.
Your initial training will take place over two weeks and will draw on the best of PGH Beegone's 14 years' industry experience to cover all elements of the business, as well as workshops led by external sources to ensure the content is as varied and interesting as possible.
Did you know?
PGH Beegone has an expected revenue of £134,000-£210,000+ after 2 years!

Request free information in just 60 seconds!
Take the first step in becoming your own boss!
But PGH Beegone's involvement doesn't stop there, as the company will assist you with ISO 9001 and British Pest Control Association (BPCA) certification (amongst other qualifications) and provide ongoing training to ensure you're always at the forefront of industry legislation and technological developments.
The company's dedicated Support Centre, with friendly, proficient staff, will be ready to assist you whenever you require.
When you start, you will receive an extensive guide to running your own PGH Beegone business, a 24/7 call answering system so you never miss a lead, access to the company's interactive online training portal, membership of a Health & Safety advisory service, operational handbooks, modern IT equipment and a market-leading software package, as well as a comprehensive, high-quality tool kit.
In addition to that, you will benefit from PGH Beegone's first-class marketing approach, which led the company to generate a £1 million turnover in 2019, across 8,400 customer accounts.
Your initial fees include a launch marketing pack and full marketing cover from the Support Centre for your first six months to help you with customer acquisition in your local area.
What's the earnings potential of the franchise?
The PGH Beegone franchise is a unique proposition that brings with it huge earning potential due to the fact that live bee removal is included, which brings with it untapped market potential and the opportunity for high margins, along with the sheer scope of services PGH Beegone offers (over 80 different types), which allows unlimited opportunities to cross-sell and up-sell while on site.
You can start earning as soon as you are set up in business and have completed all necessary training, as the Support Centre will provide you with local leads.
There is also a national contract programme, which further adds to the excellent return on your investment.
What locations or territories is PGH Beegone looking to operate in?

The company wants to recruit franchisees across the UK.
What are the franchise terms of agreement and renewal?

The initial franchise agreement lasts for five years, with the option to renew over and over for another five years at a time.
Why is the PGH Beegone franchise a good investment?
In addition to the benefits already mentioned, you will receive an exclusive territory and will own a business that is truly rewarding - you'll be helping to save the environment, learning new skills and enjoying a huge variety of work.
On top of that, you'll be part of the PGH Beegone family and be set up with a software package that includes one of the world's most renowned customer relationship management systems (all software costs are covered for the first year in your initial outlay).
How in demand are the services provided by PGH Beegone?

The pest control and live bee removal industries have proved themselves to be both recession-proof and Covid-proof. What's more, during the Covid-19 pandemic pests have actually become more rife as humans have stayed at home and pests have had free rein.
The pest control industry is growing at an annual rate of 12.1 per cent (IBIS World, UK Market Research Report, July 2020) and currently generates revenues of £572 million. The market is expected to expand over the next five years, as household finances improve and the number of food-related businesses grows.
How do I start setting up my own PGH Beegone franchise?
To find out more, or to request further information on franchising with PGH Beegone, complete the form below and click on the 'Request Free Information' button now.

Request Free Information
Send a free enquiry to PGH Beegone for further information!
Enquire into this franchise today