Are you wondering about the best fitness or beauty franchises the UK has to offer? We highlight some of the brands making their mark on this sector and the enticing reasons to consider them
This company is the second-largest private gym operator in the UK.
With more than 140 clubs across the UK, Anytime Fitness has over 4,000 clubs globally and has been ranked number one global franchise (2014-2016) and number one fitness franchise for eight consecutive years (Entrepreneur Magazine Franchise 500).
Anytime Fitness' clubs span 30 countries, with over four million members. Clubs are typically 5,000 sq ft in size - large enough to provide top of the range equipment, yet small enough to be positioned in locations that offer convenience to members.
During the company's 20-year history, franchisees have had a 96 per cent success rate and Anytime Fitness projects a 100 per cent return on investment within 19 months.
In the UK, Anytime Fitness clubs are typically cash positive by month seven and 60 per cent of its UK franchisees own multiple clubs. Upon signing the franchise agreement, a franchisee is assigned a dedicated franchise performance coach to support and guide them.
In addition, the senior management team is made up of recognised industry leaders and is positioned to work with ambitious franchisees and entrepreneurial club owners.
What you need to know
Investment level:
from £170,000 liquid capital (30 per cent of total investment).
What you get:
full staff training; head office support; marketing assistance; trading territory; networking opportunities; personal franchise performance coach.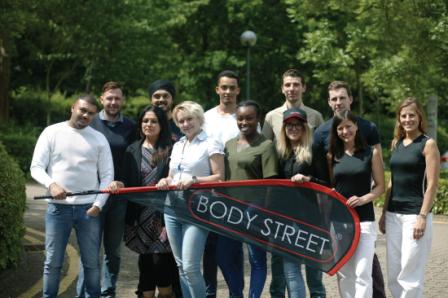 The Bodystreet fitness concept combines electro-muscle stimulation (EMS) with easy access boutique studios and is backed by a robust system that's enjoyed more than 10 years' success in Germany.
EMS is perfect for people without the time or motivation to spend hours in a gym, as well as providing a solution to the rapidly growing problem of obesity. A proven method of full-body workout that supercharges the effects of exercise, just one 20-minute EMS session per week is enough to keep you fit.
Bodystreet has one of the most developed operating systems for a franchise, meaning you'll not need leisure or fitness industry experience to become a studio owner. And because the investment level is low compared to traditional gyms, multi-studio ownership is common within the franchise network.
The company's support package is the key to success with its franchisees. Each step of opening a gym is clearly documented and includes support in identifying the right premises, plus help with lease negotiations, writing business plans and helping you gain access to funding.
What you need to know
Investment level:
from £12,500.
What you get:
tried and tested structure for finding, fitting out and launching your studio; three-week initial training course; ongoing support from an area development manager; help with finding personal trainers; marketing assistance.
4. Eco Gym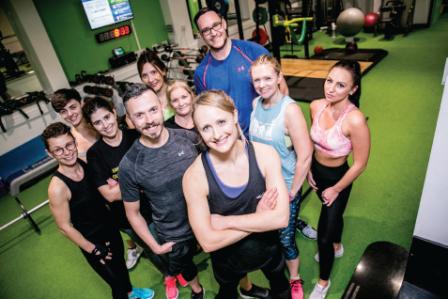 The UK's only sustainable gym group and the first gym in the world to achieve Green Circle accreditation for its energy-saving concept, Eco Gym has spearheaded the move to sustainable.
The brand harnesses human energy via the equipment on-site and projects members' collective energy output via a screen in the gym. Eco Gym also offers sustainable solutions from design through to service delivery, attempting to reduce waste and maximise efficiency. Having launched the franchise concept at The Franchise Show in London in February 2018, co-directors Paul Crane and Andy Little are looking for franchisees across the UK.
Paul has 25 years' experience within the health and fitness industry both in the UK and abroad and was previously general manager for Virgin Active, while Andy has a wealth of operational experience and a background in contract management.
What you need to know
Investment level:
£100,000 (franchise fee and working capital). Minimum of your own money needed: £50,000. Franchise fee: £30,000 (plus VAT).
What you get:
full training and support in setting up, recruiting staff and marketing for members; arrangement of all gym equipment finance agreements; gym floor design; support with installation; territory mapping.
As the health and fitness industry continues to grow, more people than ever are seeking targeted fitness regimes that fit into their daily lives.
easyGym franchisees own their own facility according to what size they can afford and can use the brand's proven formula to create substantial scalable returns. The business is currently seeking ambitious entrepreneurs to invest in its high tech franchised model, both domestically and globally.
The brand has 98 per cent consumer recognition and provides a proven product with good returns, a fully centralised system and access to 24/7 support.
easyGym first opened for business in 2010 and has already grown to well over 100,000 members. The business prides itself on having a team of engaged, talented, high performing people at the top of their game who are developing the brand globally.
What you need to know
Investment level:
'small box' from £160,000. 'Big box' from £360,000.
What you get:
full training; ongoing support; help with finding suitable location; design and fit-out assistance; marketing support.
Short for Functional 45, F45 is an Australian fitness franchise with UK sites in London's Tottenham Court Road, Liverpool Street, Camden, Islington and Stratford. An additional 35 new sites are set to open in the UK by the end of 2018.
Founded by former equities trader Rob Deutsch a little over three years ago, F45 has become the fastest growing franchise in Australian history, surpassing SUBWAY and McDonald's. To date, F45 spans 35 countries and has over 150,000 members, with plans to have an anticipated 1,500 franchises by the end of 2018.
The global success of F45 as a franchise network has encouraged many athletes, personal trainers and entrepreneurs to become part of this innovative fitness movement due to its relatively low start-up and running costs, turnkey set up and generous return on investment.
Rob says: "F45 offers an opportunity that's driven by quality reputation and convenience. It sets itself apart from competitors with pioneering training systems and a success-proven model for franchisees."
What you need to know
Investment level:
£200,000-£250,000. Minimum required capital: £125,000.
What you get:
access to premium quality indoor fitness equipment at competitive rates; global support network of coaching professionals; national PR; accounting, management and payment systems.
Thousands of people who previously didn't have access to a regular massage, now visit The Massage Company each month for a great massage at a great price.
A management franchise, The Massage Company focuses on a narrow segment of a market, which means an exceptional service can be offered by well-trained staff all delivered to the customer at a great price.
No experience in the sector is necessary, as training is provided in every aspect of the business, including how to find a property and attract customers.
The Massage Company is looking for potential franchisees with commitment, an eye for detail and the ability to lead a team. In 2018 two new franchise locations will be opening.
The franchise requires high street premises, with each location having between 10 to 20 treatment rooms supported by 20 to 30 staff and offering significant returns to the franchisee.
What you need to know
Investment level:
between £300,000 to £500,000.
What you get:
full training; extensive support package; assistance with business plan; help with finding and securing premises.
Established for over 50 years in the UK, Guinot remains a pioneering skincare brand.
Franchising with Guinot allows anyone with a passion for health and beauty to manage their own high street beauty salon, with the guidance and support of an established brand.
Franchisees are provided with new exclusive promotions every six weeks designed to elevate sales, retention and acquisition, along with comprehensive support throughout the entire process using a proven method to accelerate business growth.
Proven marketing tools and tailored training is provided to all franchisees to equip them with the professional skills and knowledge required, as well as the confidence to run their own business successfully.
The company is looking for franchisees who are driven, passionate and hardworking with a willingness to follow a system. Beauty experience is not essential.
What you need to know
Investment level:
start-up cost for a new salon business is £90,000- £130,000. Start-up cost for an existing salon looking to convert to a Guinot franchise is from £32,000.
What you get:
tailored training; ongoing support; marketing assistance.
YourZone45 is a boutique fitness studio that delivers highly motivating 45-minute workouts focused around heart rate technology. The workouts are designed to burn calories fast, rev up metabolisms and increase fitness levels.
YourZone45 combines the energy and community culture of a group exercise class with the attention and guidance of a personal training session to create a highly effective fitness and weight loss experience.
The company is currently expanding its franchise network across the UK and bank funding is readily available for those interested in opening their own studio. A supportive and accessible UK-based head office team with vast experience of the UK health and fitness market can assist with site selection and provide a turnkey fit-out package.
There is significant evidence of significant consumer demand for the YourZone45 product. And it's a good bet for franchisees, with break-even expected within the first four months of trading and an excellent return on capital invested.
What you need to know
Investment level:
£60,000.
What you get:
comprehensive training; initial and ongoing support; assistance with studio fit-out.
A boutique fitness concept founded by former Olympic 400m athlete Tim Benjamin, who identified a lack of training and support guidance for the masses seeking to achieve their fitness goals, Fitness Space offers a supportive, service-oriented environment for members.
Every member has a dedicated fitness coach, monthly personal training sessions, a customised app and online programme. They also benefit from a digitally integrated fitness experience in state of the art studios and can track their results and communicate with their coach 24/7 through the Fitness Space app.
Fitness Space is a top 20 UK fitness operator and has experienced the fastest growth of any operator outside the top 10, with 23 studios open across the UK and a further 12 opening in 2018.
The model offers multiple revenue streams through secondary spend products and services in addition to membership options.
Exclusive partnerships with the likes of Technogym allows Fitness Space to offer franchise owners an unrivalled business investment opportunity, with comprehensive support and guidance provided to franchise owners from day one.
What you need to know
Investment level:
from £29,950.
What you get:
comprehensive training and support; assistance with site selection, lease negotiations and studio design; operations manual; marketing strategy and collateral.