A successful launch strategy is key to driving brand engagement from the get-go. Here's how to ensure your business opens without a hitch
For any ambitious franchisor to maximise their brand potential, the importance of a strong launch can never be understated. Ultimately, a solid launch that captures the imagination of consumers and potential franchisees can be the difference when attempting to stand out and break a sometimes seemingly saturated market. Striking the right chord with customers from the very first instance can, therefore, build the foundations of brand loyalty that can stand the test of time.
Keep up to date with the latest What Franchise News sent straight to your inbox. Sign up here.
Announcing your arrival
A brand launch is your opportunity to announce your arrival. This is your first impression – your chance to make your mark. At German Doner Kebab (GDK), we believe in our successful store launch programme, which has seen over 50 stores across the globe benefit while also providing the basis for a rapid expansion that has confirmed the chain's arrival in several countries.
German Doner Kebab has 34 sites in the UK alone, with plans to open a further 14 sites by the end of 2019, creating roughly 200 jobs – but all that wouldn't have been possible without the backing of the brand from day one.
It has always been said that first impressions are vital, not only in business but in life. The brand launch is you setting your stall out. This is your opportunity to detail what you have to offer and could set you on whatever trajectory that your business is destined for.
It is important to create a buzz about your product from the very start and to be creative in how you want people to view your franchise business.
Sell your vision
A launch is the best opportunity to sell an idea and vision to customers, brand ambassadors, influencers, and current and potential investors.
For example, from GDK's point of view, it is in its best interests to help its franchisees plan for a strong launch. The franchise model allows the opportunity for rapid expansion, but you can't neglect a franchisee after they buy-in because guidance prior to and on the day of a respective launch date can have a huge bearing on their success.
On the flip side, it is vital that franchisors develop a strong store and territory launch plan which should be followed by all new franchisees in order to maximise the impact they make in their communities. The higher the brand awareness in each local community, the faster fans and profits are created.
Honesty is the best policy
Clarity and transparency between franchisor and franchisee are also key – especially when it comes to setting out the financial requirements of a launch. Franchisees are liable to pay for the launch – which is the industry norm. Thus, they need to be made aware of how much additional working capital they should set aside for this, crucially over and above the investment required to cover the initial franchise fee and other start-up costs such as fit-out and equipment (if premises-based franchises), vehicles (if van- or delivery-based), stock (if product-based), as well as the additional working capital to cover business overheads for the first 12 months of trading.
If this hasn't been outlined from the very beginning then difficulty in raising the capital required for a successful launch may arise and negatively impact the standard of the launch.
The devil is in the details
Every launch may differ, but they should all follow a stringent set of guidelines if they are to help the business prosper within its target market. It might sound straightforward and somewhat obvious, but one of the most important factors of any launch is that it is thoroughly prepared and planned in plenty of time.
At GDK, we want our launches to be prepared months in advance, using the time spent in between starting to tell people about our business and creating hype within the market and with our consumers.
By the time launch day hits, everything should be geared towards making a splash. The time to be working towards an official launch date shouldn't be just before you open the doors.
Logistically it isn't enough time to have everything in place and ready to go. Launch materials need time to be perfected and created and ideally, this would be done far in advance to ensure that they are produced to the highest possible standard. It is these little things that can make a world of difference when it comes to presenting the product to the wider public.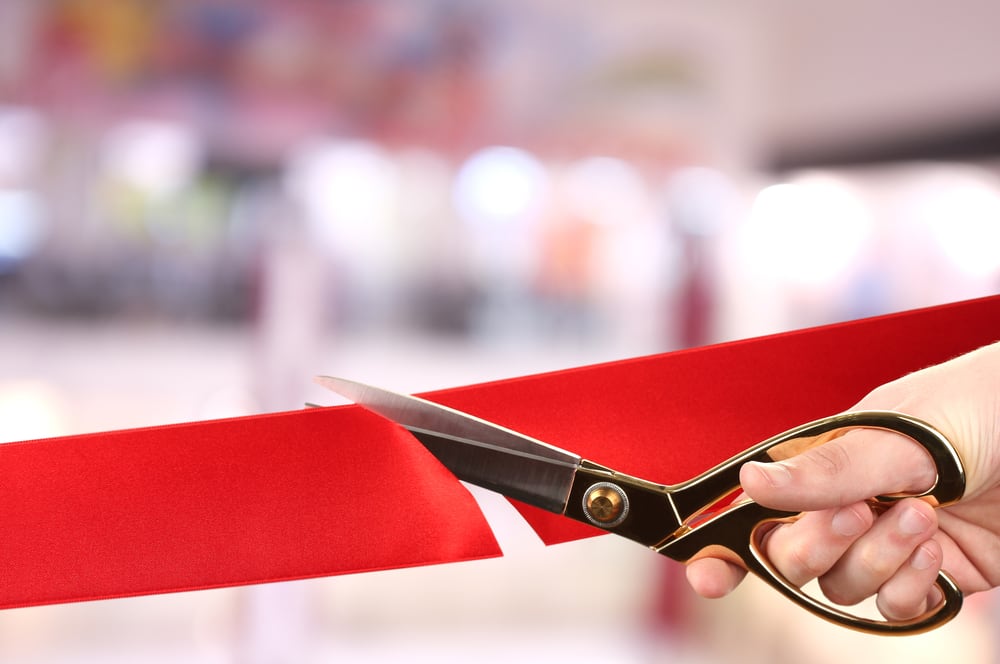 The 'wow' factor
Heading into the launch, all focus should be on attracting the franchise's target market. The first goal is identifying the target market, which should be set out by the franchisor if it is not already evident. It is then all about presenting the opening to the audience in a unique and interesting way in order to give the event the 'wow' factor that will garner attention and put the site on the map.
That 'wow' factor is vital as it is important to create as much hype as possible on the day. It can come in many forms, traditionally in the shape of a celebrity grand opening, such as inviting a TV personality or actor to 'cut the ribbon'. But to create community engagement, GDK always strives to have a local hook for those that we do invite to our launches.
For example, GDK's opening in Swansea saw Swansea City Football Club captain Leon Britton welcomed as the guest of honour on the day. It is this sort of launch programme which results in all our stores hitting the ground running from day one.
But hooks to make launches a success can also come in other forms, such as incentives for getting footfall through the door. Another successful method that GDK has benefited from is free giveaways on the day of opening. For example, as well as having a local celebrity in attendance at our Milton Keynes launch, we also gave away free kebabs between 1pm and 3pm in a bid to attract customers to the store.
Call in the pros
A little help along the way never goes amiss and franchisors should consider taking on a professional public relations and events company to aide with the planning, promotion and delivery of such events. Both franchisor and franchisee benefit from having this expertise on hand in a range of ways.
Having a PR team behind who can help drive your hype and interest prior to, during, and after your launch day, will open doors to both local and national publications, industry magazines and newsletters. This all plays a part in helping to build your brand, getting it out there and keeping it out there.
Events companies, meanwhile, can help with adding that 'wow factor' mentioned earlier as they may have a wealth of contacts to fall back on, as well as out of the box ideas that have proven successful elsewhere that might not immediately spring to mind.
A dummy run
Once all plans have been put in place, preparations can be perfected with a soft launch for family and friends, designed as a dummy run. This can help identify, and subsequently, iron out any creases in a launch plan. Asking for constructive criticism would also open avenues to improving the schedule and layout of the actual launch.
Separate launches aimed specifically at business influencers and bloggers have also proven successful in the past, as have launching for local business and consumer communities.
Having a captive audience that you know inside out can be beneficial when it comes to tailoring your launch to suit their needs and interests, allowing you to provide all the relevant information they may require. A successful tailored launch can create hype within the industry itself.
Such is the importance of a launch. I believe that it is paramount to never cut corners and undervalue the power that a first impression can make.
The author
Suzie McCafferty is director of brand on-boarding at Hero Brands, whose portfolio includes fast-casual restaurants German Doner Kebab and Choppaluna.
Keep up to date with the latest What Franchise News sent straight to your inbox. Sign up here.