Are you ready to get your tech on? Discover the opportunities for UK IT franchises with What Franchise
Are you a technology wizard? Are you looking for a successful business opportunity before the androids inevitably take over? If so, IT franchises could be ideal for you. If you want to repair people's devices and help solve technology woes, keep reading.
Technology geniuses everywhere, your country needs you! When devices are on the fritz and need repairs, technicians are essential to sort out the issues. If you are looking for technological business opportunities, an IT franchise could satisfy your ambitions. Whether you want to repair people's PCs, help tune up their mobile phones or fix and refurbish technology, you'll find your ideal franchise opportunity here at What Franchise. Keep reading to find out which technology franchise could be right for you.
Computer Troubleshooters could be the opportunity for you
The world's largest computer and IT services franchise network offers support to both home offices and small businesses. If you want to help smaller entrepreneurs with their technology woes, then Computer Troubleshooters could be the right place for you. You'll help businesses with security, data storage, software installation and much more for up to fifty devices. Your basic franchise fee will be £9,950 plus VAT, while an enhanced package which includes a larger area will cost £12,950 plus VAT. You'll start with a two-day on-site training course which provides you with all of the business knowledge, tools, and resources that you need to start this new franchise.
Jump on the Gamewagon and create videogame parties
If you're a fan of videogames, Gamewagon could be perfect for you. This mobile video game company was started in 2012 by John Lilley to provide a fun and varied children's birthday parties. The Gamewagon is a vehicle that takes up two parking spots. As well as entertaining kids, Gamewagon helps to teach children computer skills and to this end has created Junior Game Creators, an educational after-school club. The club inspires kids to explore the world of computer science — supporting the national curriculum at the same time.
Spruce up commercial tech equipment with Techclean services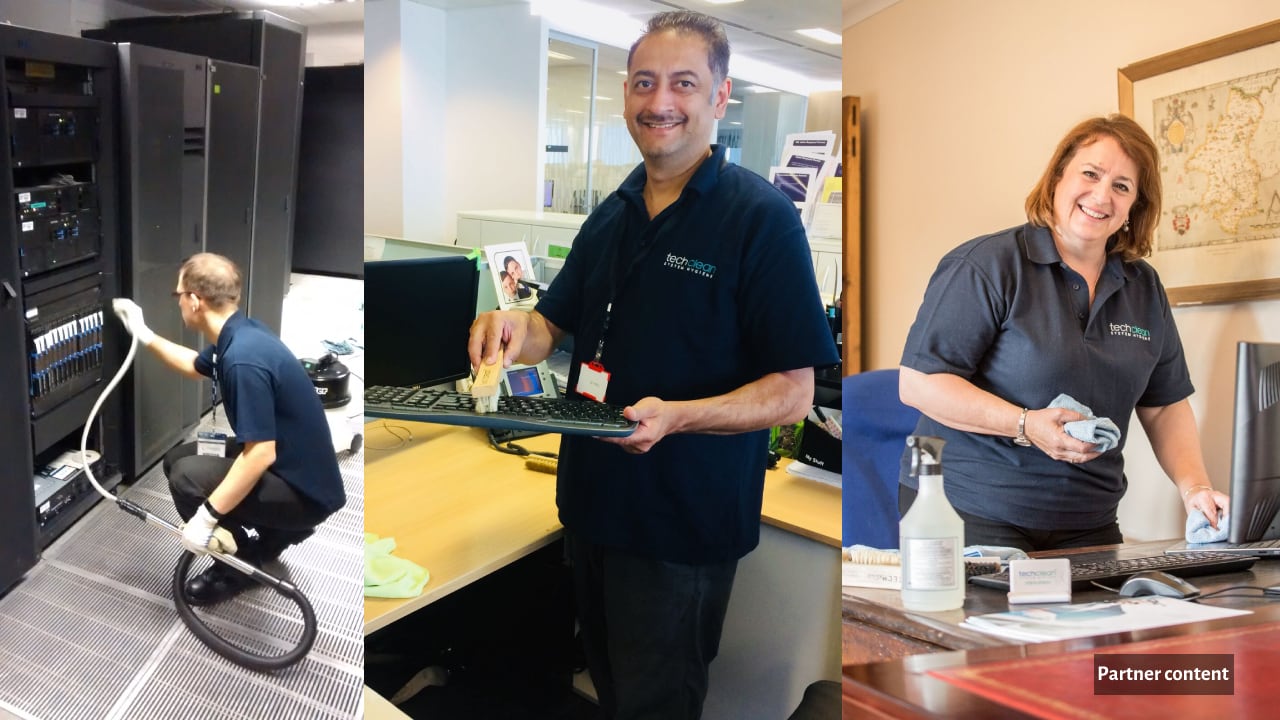 There has never been a greater demand for a Techclean franchise's offering to provide a regular, hygienic, cleaning service for office computer and communications equipment that comes into regular contact with human hands. The franchise works within an ISO environment and is safe-contractor accredited, giving customers immediate confidence in Techclean's credibility.
"We go into an office and in just a few hours we make such a big difference to their working environment"

You can expect to achieve a net profit margin of over 50 per cent within the first year of trading from generous territories, including at least 10,000 business. No premises are needed, making it the perfect business to run from a home office with minimal outlay.
"With Techclean, no two days are the same," says Susan Davies, Techclean South Wales franchisee. "It is great working with a variety of people in different environments although the virus has, of course, meant that during the lockdown we have had very little contact with staff to comply with social distancing regulations. I enjoy travelling to client businesses as I would hate to be stuck behind a desk working in an office every day.
"I get a huge amount of satisfaction from my job. We go into an office and in just a few hours we make such a big difference to their working environment. I call the women I work with my 'dream team' and clients are always genuinely delighted with the results."
A Techclean franchise can slot in at any stage of your working life or provide a second income stream alongside an existing business.
Need to know
Investment level:
£19,500
What you get:
Licence to trade; full training; marketing launch package; additional marketing and business tools, including website, brochures, leaflets, business stationery, collateral; centralised email marketing campaign; comprehensive start-up supply and equipment package; contact management system, appointment generation system, annual network meeting, regular and on-going communication (best practice, new product development, business planning) to network and integrated support service to all franchisees.
Take tech to the next generation with ComputerXplorers
You can teach children as young as three the computing skills they will need to get ahead in education and life when you join ComputerXplorers. The company was set up in the United States over twenty-five years ago and has since expanded to the United Arab Emirates, Malaysia, China, and the United Kingdom. With more than three million classes taught worldwide, ComputerXplorers continues to grow. The company makes sure it is aligned with British curriculum guidelines and includes programming, coding, essential internet safety, animation in both 2D and 3D, web design, film making, and TV production. £29,500 will get you started with your ComputerXplorers franchise.
Sell BT Products to your clients with this franchise
Are you interested in partnering with a much bigger business to achieve your entrepreneurial goals? With BT Local Business, you can start a franchise and sell BT products and services to clients in your exclusive territory. You'll need £150,000 to get started with this franchise opportunity, but with the power of British Telecom behind you, your franchise is set to do well. You will receive your own exclusive territory, which could include up to 25,000 people and access to finance to help you secure up to 70% of the funding you need to get started.
Get tablets in tiptop condition at Experimax
Experimax began as a Florida technology provider in 2012. The brand now offers a number of products and services for its customers to meet all of their PC and tablet needs. As a franchisee, you will provide repairs for computers and other electrical equipment, sell refurbished, pre-owned and new equipment — and provide upgrades and other services. Experimax specialises in Apple products, so you can take advantage of the global popularity of this brand to drive your business forward. You'll need a hefty £200,000 to get started though.