The information you submit via our enquiry form is shared only with the franchise business(es) that you have selected.
The franchise business will contact you by means of email and/ or telephone only to the email address and phone number you have provided.
By submitting the enquiry form you are consenting to send your personal information to the selected franchise business.
You also agree to receive further newsletter email marketing from What Franchise.
Close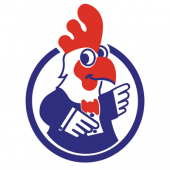 Favorite Fried Chicken Limited
Favorite Fried Chicken is a QSR franchise offering chicken-based foods and other products
Minimum Investment
£100,000 - £ 180,000
Expected Revenue After 2 Years
N/A
About Favorite Fried Chicken Limited
Favorite Fried Chicken is one of Britain's largest fried chicken franchises, and has been in the industry for over 30 years.
As a quick-service restaurant, Favorite Fried Chicken specialises in providing American-style fried chicken and other related foods, which are popular with diners of all ages.
Favorite Fried Chicken is a well-known brand among diners, with outlets located all over the country, and as an already thriving and successful franchise, can be a great opportunity for anyone looking to start a business in the food industry.
Where is the Favorite Fried Chicken franchise located?
The headquarters for Favorite Fried Chicken are located in Clacton-on-Sea in Essex.
Where can you find franchise territories for Favorite Fried Chicken and are there any available near me?
There are potential territories available across the UK for Favorite Fried Chicken franchises. Franchisees receive an exclusive market territory, and can establish multiple stores, as well as expand their territories, once they have established a successful store to begin with.
How much does a Favorite Fried Chicken franchise cost?
The investment required to start a franchise with Favorite Fried Chicken can vary depending on the size of the store and market territory chosen, but on average, franchise owners will invest between £120,000 - £180,000 to start a store. You will also need to pay Favorite Fried Chicken a fixed monthly service fee, which increases in increments over the course of the franchise agreement.
The cost of the franchise is broken into two main parts – interested franchisees must first pay an option fee to secure an agreed territory, once the preliminary agreement is completed. This allows franchise owners time to identify and establish a shop location. Once this is done, the remaining amount of the fee is payable, and the license is valid for a ten-year term, before being subject to renewal.
Can you get funding to start a franchise with Favorite Fried Chicken?
Yes, as Favorite Fried Chicken is a full BFA member, it is known to banks and it may be possible to get funding from most major high street banks or other financial services, depending on your credit status. Potential franchisees should have at least 30 per cent of the capital available to hand as liquid cash, and be able to provide evidence of this.
What background or experience do you need to run your own Favorite Fried Chicken franchise?
A franchise with Favorite Fried Chicken would normally be run as a management business, and franchise owners would not expect to carry out practical tasks, but employ others to do so. This means that a background in business management or retail experience can be very helpful to have. While you do not need need prior experience in the food industry itself, some understanding of it from a business perspective can also be useful.
Most importantly, franchisees should be committed to working towards a successful business, enthusiastic and professional, with the ability to motivate, communicate with others, and lead a team of other people well.
What training and marketing support is available to Favorite Fried Chicken franchisees?
Favorite Fried Chicken provides a detailed training and support package for franchise owners, which covers all aspects of starting and running a store with them.
Prior to opening, the brand helps you identify an appropriate store location, as well as assists you with designing and developing the store.
Favorite Fried Chicken works with an approved list of architects and shopfitters who understand the requirements of the store layout, and will manage your store according to the brand's specified criteria. Favorite Fried Chicken also has a list of approved builders, who are available to submit tenders for your store construction, once the franchise store gets to that stage of the process. To allow time for you to find the most suitable site for a store, Favorite Fried Chicken allows a 12-month period of exclusivity on a territory.
Once you have a store set up, you will also receive training for yourself and employees. This is provided both in an existing Favorite Fried Chicken franchise store, to give you a first-hand overview of how the business operates, as well as territory-specific training on location.
After your franchise is established, you will also continue to receive support from the Favorite Fried Chicken franchise head office team, with all aspects of marketing, product development and business development. They are also on hand to help you grow your business, if you are ready to expand it into additional stores or territories.
In addition to marketing support, Favorite Fried Chicken also provides franchisees with promotional materials for local advertising across different channels, and invests in marketing and advertising through all common digital and traditional platforms across the country, to increase awareness of the brand.
Favorite Fried Chicken is one of the biggest and most well established chicken fast food franchise chains in the UK, having been in operation for over 30 years.
As a well known brand, Favorite Fried Chicken has earned a reputation for quality and consistency in its products, and have a high level of trust in the them by its customers due to favourable reviews.
The fried chicken market also continues to grow in the UK, with the market valued at £2.2bn in 2017, and is expected to grow even further in the coming years.
As well as offering popular fast food choices, Favorite Fried Chicken also offers a continually changing menu with a variety of options to cater to other dietary preferences, including fish and vegetarian choices, children's menus and snack items, making the brand a popular choice for a broader and more diverse market.
Starting a franchise with Favorite Fried Chicken can be a great opportunity for entrepreneurs and businesspeople, as you already have a strong market advantage from the outset because of the brand's positive standing.
How can I get started on owning a Favorite Fried Chicken or buying a store near me?
To find out more about starting a franchise with Favorite Fried Chicken, click the enquiry button on this page to receive further information.

Request Free Information
Send a free enquiry to Favorite Fried Chicken Limited for further information!
Enquire into this franchise today