The information you submit via our enquiry form is shared only with the franchise business(es) that you have selected.
The franchise business will contact you by means of email and/ or telephone only to the email address and phone number you have provided.
By submitting the enquiry form you are consenting to send your personal information to the selected franchise business.
You also agree to receive further newsletter email marketing from What Franchise.
Close
Did you know?
Miss Millie's has outlets available across the UK

Request free information in just 60 seconds!
Take the first step in becoming your own boss!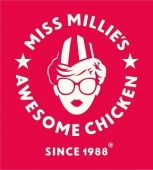 Miss Millie's
Chain of company owned and franchisee operated quick service food restaurants
Minimum Investment
£175,000 - £ 450,000
Total Investment
£450,000
Expected Revenue After 2 Years
N/A
About Miss Millie's
What is Miss Millie's and what services does it provide?
Miss Millie's is a chain of company-owned and franchisee-operated quick-service food restaurants. It currently has nine outlets in the southwest of England and Wales.
Harry Latham set the business up in 1988. Harry introduced KFC to the UK with his business partner Ray Allen, opening the global brand's first store on these shores in Preston in 1965.
He became managing director of KFC in the UK during the 1970s, before leaving the company to establish the Miss Millie's brand. Miss Millie's is named after Colonel Sanders' daughter Mildred.
Miss Millie's became an early adopter of home delivery when it launched its own service to customers in 2011.
The business continued to be owned by the Latham family until 2019, when it was bought by a company already operating in the restaurant sector for an undisclosed sum. Miss Millie's current managing director is Carl Traill, a former director of operations at Burger King UK.
What food does Miss Millie's serve?
A range of chicken, plus gourmet burgers, wraps, sides such as loaded fries, coleslaw, corn on the cob, coleslaw and barbeque beans, desserts like apple pie and ice cream, plus canned and bottle non-alcoholic drinks.
Miss Millie's has a reputation for serving good value, fast food at competitive prices.
The company uses Grade A farm-assured chicken. All its chicken is coated in the company's secret recipe seasoning (created by Colonel Sanders' grandson) before it is cooked and served.
How does the Miss Millie's franchise model work?
This is a management franchise that gives investors the opportunity to run a multi-unit business.
For their investment, franchisees receive everything they need to make this business a success, including full training, assistance with site selection and store fit out and support from an experienced head office team during the start-up stages of the business and once it has been established.
Franchisees also benefit from an established supply chain and the economies of scale that are a result of the bulk buying power of the franchisor.
What type of franchisee is Miss Millie's looking to recruit?
Ideally, prospective franchisees should have recent experience in the fast-food sector. They must also have sufficient funds to be able to potentially open a number of Miss Millie's franchises.
In addition, candidates must be ambitious, resilient, self-starters who are able to follow a tried and tested franchise model.
What training and support do Miss Millie's franchisees receive?
Comprehensive initial and ongoing support and training is provided to all franchisees. Training covers every aspect of running a business in the quick-service restaurant sector, while franchisees also receive assistance with marketing, operations and business development.
How big is the fast-food restaurant market in the UK?
It was estimated to be worth just under £15 billion in 2018. As a comparison, the total UK franchise industry was valued at £17.2 billion in the same year.
When it comes to chicken and burgers specifically, around £7.5 billion worth was consumed in the UK in 2019, while in 2018 it was reported that there had been a 40 per cent jump in the number of people visiting chicken takeaways and restaurants.
Did you know?
Miss Millie's has outlets available across the UK

Request free information in just 60 seconds!
Take the first step in becoming your own boss!
Why is Miss Millie's a good investment?
Traditionally, the fast-food industry performs well irrespective of the state of the economy, so it is fair to say the Miss Millie's franchise is recession resilient.
With a franchise such as Miss Millie's, you're essentially getting a 'business in a box', which contains everything you need to be your own boss in the fast-food sector, including branding, training, support and the systems and supply chain necessary to run a franchise of this nature.
There is also the chance to open multiple units once your initial business is up and running, potentially increasing the profitability of the venture.
Multi-unit franchising is becoming increasingly popular in the UK and the model works well in the fast-food sector. 36 per cent of franchisees own multiple units, according to the 2018 British Franchise Association NatWest survey, up from 25 per cent in 2013.
If you need third party funding to finance your franchise, you are more likely to secure it than if you were considering setting up on your own.
Because of the success of franchising in the UK (in 2018, 93 per cent of franchisees said there businesses were profitable), banks tend to look more favourably on loan applications from franchisees than from independent entrepreneurs with no business background.
As a result, banks such as Lloyds, NatWest and HSBC are willing to loan franchisees up to 70 per cent of the start up costs of their franchise, subject to status. This figure is closer to 50 per cent for less well established brands.
What locations or territories is Miss Millie's looking to operate in?
The company has franchise opportunities available throughout the UK.
Where in the UK is the Miss Millie's franchise based?
The company's headquarters are in Camden, London.
How can I get started on setting up my own Miss Millie's business?
Complete the enquiry form on this page and a member of the Miss Millie's franchisee recruitment team will contact you.
The time it takes to open a Miss Millie's franchise after the franchise agreement is signed depends on a number of factors, including the availability of funding and the time it takes to secure suitable commercial premises and fit out the store to the franchisor's specifications.
Before investing in a franchise, you must carry out independent research into the opportunity before making a commitment. A suitably qualified lawyer and an accountant who is familiar with the concept of franchising will be able to advise on any legal and financial information provided by the franchisor during the recruitment process.
The signing of a confidentiality agreement is usually required before a franchisee candidate is able to have sight of the franchise agreement or receive detailed financial information about the franchise, earnings potential, etc.

Request Free Information
Send a free enquiry to Miss Millie's for further information!
Enquire into this franchise today