"We are where we are through hard work, the right people and a passion for great service, we keep our promises," says Chris Rocker, founder of Just Shutters
Chris Rocker is the founder and director of Just Shutters, a thriving shutter franchise serving over 150 towns and cities across the UK.
With a background in home furnishings, Chris founded Just Shutters from his spare room in Bournemouth in 2006 on the simple premise of providing the best shutters, advice and installation in the country. Delivering on this promise, Just Shutters' reputation for quality and service soon preceded itself allowing Chris to capitalise on his success and develop the business into an established and responsible franchise system.
Chris says: "I took the brave, or some would say foolish move, to start a new company with two young children and a big mortgage, but I always knew what I wanted to achieve, and I haven't looked back.
"The Just Shutters journey has been an extraordinary one and when I look at how far we've come I feel a great sense of pride and achievement. We are where we are through hard work, the right people and a passion for great service, we keep our promises. We may have grown a great deal, but our foundations have remained, and I am pleased to say we have earned true brand affection."
Honing your skill
Prior to setting up the company, Chris honed his sales technique and his business foundations as the National Sales Director for an AIM-listed kitchen company in Oxfordshire.
"In this role, I learnt that attention to detail is crucial. Fundamentally, it's about staying on track and true to your vision without cutting any corners or becoming sloppy in any way," explains Chris. "I understood that creating a brand was critical and if you honour the brand and work hard for your customers, and always provide the same standard, then you have a solid foundation with which to move forward. This has been the underlying thread which has enabled Just Shutters to grow. We never forget that it is our customers who pay our wages."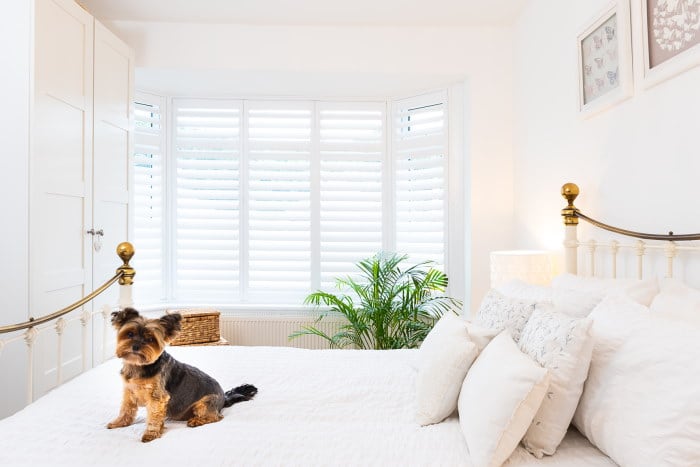 Not a natural progression
Despite his success as a business owner and director, Chris says this was not a natural progression from his formative years. Having left school at 15 with few formal qualifications and his parents' advice to 'go out and make a living' ringing in his ear, Chris found himself working as a retail assistant at Halfords. A business Chris says taught him little else other than the fact he was not suited to a corporate environment.
After two years at the firm, an accident would change the course of Chris's life dramatically. He explains: "In the early summer of '74 I was involved in a very bad car accident and was incredibly lucky to survive. It forced me to take some months off work and really question what I wanted to do and where I wanted to go."
It was then that Chris joined the Royal Air Force for what he calls his 'university experience' and credits the air force with teaching him the importance of responsibility.
After serving for six years, Chris moved to Bristol where he began doing handy work for the landlord of the bedsit he rented.
"Having always been practically minded, I was happy to help out with odd jobs. This soon grew into plumbing and electrical work as I started to take on more responsibility. Before I knew it, we were converting some of the big Bristol houses into nine, 10 even 11 bedsits," he says.
Before long, Chris was buying and restoring old properties such as toll cottages, barns and schoolhouses into beautiful homes which over time grew into a lucrative business.
"While I was relatively successful, at this point I still felt as though I hadn't found my natural skill set or what it was that I wanted to do."
Consequences of the recession
The recession of the late 1980s would change the course of Chris's career and life once and for all. As mortgage rates spiked and property developers and business owners struggled against a stagnating economy, Chris was forced to sell most of his property portfolio.
For the next step, Chris responded to a newspaper advert looking for in-store demonstrations for kitchen concessions. He says: "I went along to the interview thinking it would pay enough money to keep me ticking over. When I got there, the manager worked out what it had taken me 35 years to work out; that I might actually be a good salesman."
Quickly working his way through the ranks as a kitchen salesman, Chris went to his employers with a proposition to help them save money while in return offering the concession sellers commission.
"I thought if the team were incentivised, there would be more passion and more sales as a result. Using this model of motivating and managing sales, I started looking after four showrooms, then five, then 19 and eventually 56 across the country," he says.
Today, Chris's company vision and sales experience have culminated into a successful network of 17 franchisees nationwide. He says: "I knew from my experience working across different showrooms that employing people across the country loses that sense of responsibility and accountability which I believe is fundamental in running a successful business and that was not how I wanted to grow.
"Just Shutters has taken slow and at times difficult steps to build a network of franchisees, helping them through the years and supporting them to become the successful business they are today."
For Chris, the customer experience will always be better if customers are dealing with people with passion and an ethical responsibility to the company.
"To have a Checkatrade rating of 9.9 out of 10 when you are the size we are with the number of clients we have is a great testimony to what the people out in the field are doing and that level of responsibility everyone feels," he says.
Over the last 14 years, Chris has built a business he is passionate about and created a launchpad from which he hopes to grow to 30 franchisees over the next three years.