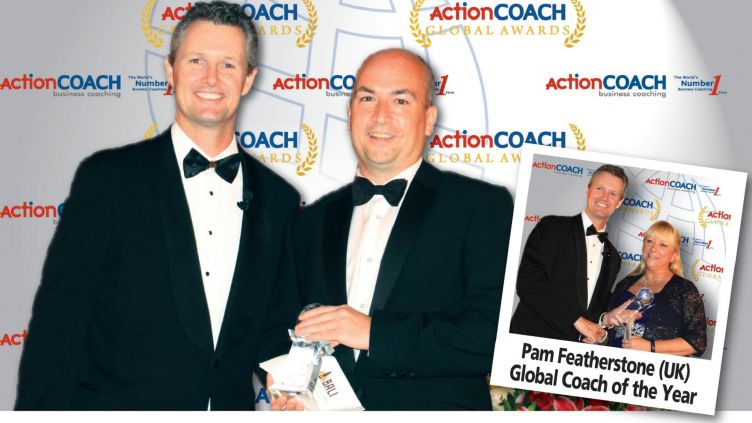 The ActionCOACH Global Conference is an exciting annual event and, in true ActionCOACH fashion, celebrates the achievements of the world's number one business coaching team, while also sharing best practice in the spirit of creating abundance in business.
At 2009's Global Conference in Sydney, the UK co-founders of ActionCOACH, Ian Christelow and Julie Wagstaff, were awarded Global Area Developer of the Year. It was the first time the trophy had made its way to the UK in what was, back then, a closely contested competition, with points scored for net growth of the team of franchise partners and average bankings per franchise partner.
INCREDIBLE RESULTS
The decision was then taken to shelve the award and focus all the attention of the company's annual black-tie awards night on its franchise partners, who deliver incredible results for business owners in over 50 countries worldwide.
However, ActionCOACH Chairman and founder of the business coaching profession, Brad Sugars, surprised the ActionCOACH community by reintroducing the award at the 2015 Global Conference in Bali. Nobody was more surprised than Ian Christelow, who was called to the stage to collect the last trophy presented that night. He happily accepted it on behalf of Julie Wagstaff, the rest of the UK Support Team and the fantastic team of franchise partners they had recruited since ActionCOACH started in the UK back in 2001.
Why did Brad Sugars bring back the award? Quite simply, the UK team is achieving more than anyone could have dreamed. The ActionCOACH franchise started in Australia eight years before it came to the UK and its UK co-founders have created such a successful team that the eight-year gap has disappeared.
They haven't just acted on the vision of what is possible through business re-education, they've expanded upon it. The UK network of franchise partners has benefited from:
A quarter of a million pounds of investment in an exclusive client generation centre.

An influx into the support team of coaching and training talent, like James Vincent, who has coached three GB badminton players to top five rankings in the world.
MILLIONAIRE FRANCHISE PARTNERS
This year it also celebrated several individual award wins by franchise partners. Pam Featherstone, from Hull, took home Global Coach of the Year after becoming the first UK coach to break the £83,334 per month barrier in personal client income.
Why was Pam recognised at the awards for her client income? It wasn't just that this amounted to a staggering one million pounds a year in gross income, but because she reached this in October 2014, just two and a half years after training to become an ActionCOACH business coach.
Pam isn't alone in the network with this superb business growth. Shweta Jhajharia from London smashed the same goal only a month later and UK franchise partners now account for one third of the global top 100 coaches out of 1,000 action coaches around the world in 59 countries and occupy all the top three places.
TEAMWORK
Mark Jennings, a franchise partner in Leicestershire, took home one of the coveted Global Action Men dolls, the Oscar alternative at ActionCOACH. His trophy was given for the great work he's done to help three new local ActionCOACH franchise partners start up successfully this year.
Abundance and teamwork are major ingredients in why ActionCOACH UK has gone on to be recognised as the best mid-priced franchise in The Best Franchise Awards 2014 & 2015 and also attributed to why it received Smith & Henderson's prestigious Five Star Franchisee Satisfaction status and the record score for a franchise with more than 40 franchise partners.
MOTIVATING FACTORS
The biggest winners by far, of course, are the ActionCOACH clients. If you think you'd like to become an ActionCOACH franchise partner, the success of your clients must be one of your major motivating factors to join the network.
Peter Boolkah, a franchise partner from Chelmsford with almost a decade's experience, was at the conference to learn more, have some fun with his teammates from around the world and celebrate too. His clients have continued investing in his coaching services for an average of over 53 months and counting because they get great value and returns from them.
SPREADING THE WORD
Ian and Julie have recognised that they need to get better at sharing more of the incredible client success stories they have, so this year they hired two talented full-time videographers.
With £36,000-worth of equipment and a van to tour the UK filming clients, Alex Hewitt and James Ashlin from the UK Support Team created the winning entry for the best video testimonial. Their five-minute case study about franchise partner John Cottrell, his exceedingly happy clients and all of them achieving their business and personal dreams won the $10,000 prize from out of over 200 entrants from around the world.
FUN ALONG THE WAY
And if four awards weren't enough, the conference delegates like to enjoy sporting competitions too - and Bali was no exception. On three of the mornings most people set their alarms for 6am to be on the beach to play volleyball or cheer their team on. The UK got their hands on that trophy as well with a spectacular 21-3 thrashing of the Aussies in the final - with a little help from some good friends co-opted from ActionCOACH Caribbean.
It's part of the all-important ActionCOACH culture and you can read more about the company's 14 points of culture, including 'co-opetition' and fun, at http://culture.actioncoach.co.uk.
It's no surprise ActionCOACH has recruited more new franchise partners this year than in any previous year in its history. Here's why:
More support and world class learning opportunities than ever.

Existing franchise partners going out of their way to help new franchise partners.

Clients becoming ActionCOACH franchise partners.

Existing UK franchise partners loving what they're doing and referring more of their friends and family than ever to be considered for the award of an ActionCOACH franchise.
WHAT NEXT?
ActionCOACH franchise partners come from all walks of life, including the army, teaching and beekeeping. As an ActionCOACH business coach, you will work with business owners, helping them in areas including how to increase their profits, develop powerful systems and building a strong team.
ActionCOACH franchise partners told us that the results are not only a more profitable and sustainable business, but also a dramatically improved life for their clients, making it a rewarding and fulfilling experience for anyone who invests in the ActionCOACH franchise.
To join this rapidly growing team of over 140 business coaches in the UK, you'll need to raise a personal contribution to your investment of at least £10,000 (banks can lend up to £30,000 unsecured) and impress the ActionCOACH directors with your past successes, desire to help others and appetite for learning and growth.
The basic entry level investment for an ActionCOACH franchise is £21,000 and some of the UK coaches have already achieved revenues in excess of half a million pounds a year.
JAMES CIRCUS GOT SO MUCH AS A CLIENT, HE BOUGHT THE FRANCHISE TO HELP OTHER LOCAL BUSINESS OWNERS ACHIEVE THEIR GOALS & DREAMS
For James Circus, it was his first global conference. James embodies what ActionCOACH is all about. In 2012 he found himself making less from his business than he could in a corporate job.
At his desk at midnight, he Googled 'Business help'. ActionCOACH appeared on page one of the search results and the rest is history.
As a client of ActionCOACH, his profits have grown by approximately 1,000 per cent and, crucially, he now only has to work in his business 20 hours a week. How did James decide to fill some of his spare time? By buying the ActionCOACH franchise to help other local business owners enjoy the kind of success he had experienced, of course!
And that success isn't just measured in the millions of additional annual revenues and hundreds of thousands of additional profits in his UK industry award-winning logistics company, which is still coached by ActionCOACH franchise partner Lucas Vigilante.
James is wise enough to know that his kids spell 'love' as t.i.m.e. and through the mentoring programme, James has regained the time to enjoy his increased personal wealth with his wife and kids.
Article continued below
Our Guide to Getting Started in Franchising
Grow yourself from a franchising no to a franchising pro!