The information you submit via our enquiry form is shared only with the franchise business that you have selected.
The franchise business will contact you by means of email and/ or telephone only to the email address and phone number you have provided.
By submitting the enquiry form you are consenting to send your personal information to the selected franchise business.
You also agree to receive further newsletter email marketing from What Franchise.
Close
10 Exciting Children's Franchises
Posted: 20 Apr 2018
Estimated Read Time:
in 31 minutes
For further information on any of the businesses featured, visit www.what-franchise.com and search the online directory by industry sector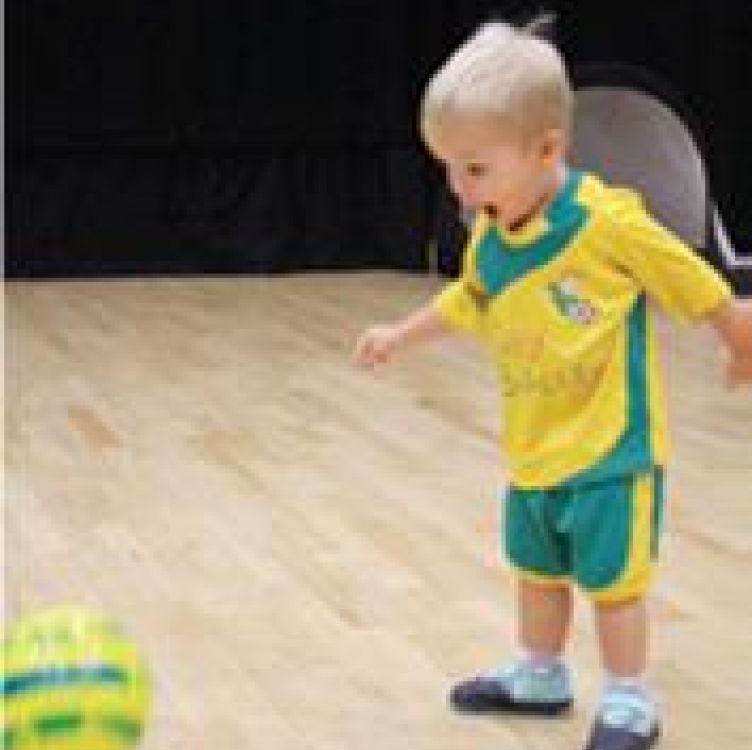 1. Babyballers Academy
This franchise allows young children to experience their first steps in football.
Starting its journey with the first ever session at South Woodham Ferrers, BabyBallers Academy soon grew into a franchise model that has seen growth of over 750 per cent since 2015.
It's now a recognised brand in and around Essex, having over 17 locations, supporting local charities such as Little Havens Hospice and hosting community events.
As a BabyBallers franchisee, you can expect constant support, ongoing development and continued success. You could even run your classes from home.
The company's ethos of 'Learning Through Play' means every class is a fantastic, well trusted experience.
BabyBallers franchisee Brandon Martin says: "I met with Rich at BabyBallers and he showed me what I could be expecting to turn over if done correctly.
"The process was simple and helpful. It's fantastic to see all my happy BabyBallers enjoying the service week in and week out."
What you need to know
Investment Level:
£6,625-Ј7,525.
What you get:
marketing material; help recruiting staff; dedicated support manager; help setting up the business; exclusive territory.
Information:
2. Busylizzy Family Club
The root of the company's success lies in the way Busylizzy has transformed the concept of attending classes. Families sign up to a club on a monthly membership basis, giving them credits to access 20-plus classes a week, bookable via an app.
Credits can be used for any class, as and when it fits the family diary. Parents can cancel via the app up to two hours ahead of the class and any credits not used are rolled over to next month.
Parents love the value for money and flexibility membership represents, reflected in record numbers of new client and franchise enquiries in 2018.
Busylizzy is a management franchise that provides an excellent worklife balance. As a franchise owner, you'll spend your time managing your business from home, promoting it to young families in the area, while the franchisor will give you the tools, training, support and know-how to build your own successful club.
What you need to know
I
Investment Level:
£18,500 (VAT) plus working capital of Ј10,000.
What you get:
five-year franchise licence; exclusive territory; full training and ongoing operational support; professional sales, marketing, PR, website, social media and design support; website and smartphone app; access to portfolio of professional images and marketing material; monthly business analysis and reviews.
Information:
3. Boogie Beat Music & Movement
Established by school friends Nicky Attwood and Lisa Langford in May 2000, Boogie Beat Music & Movement offers energetic and fun music and dance classes for babies to seven-yearolds.
Its classes and workshops in nurseries and schools and at parties and special events are active and lively and incorporate dance themes based on traditional fairy tales and nursery rhymes, using beautiful illustrations and specially composed music.
Nicky explains: "Beautiful puppets are used from our toy box to sing songs, both traditional and new, and various large visual props are introduced throughout the session to engage the children and enhance their imagination.
"We are thrilled with the success of Boogie Beat Music & Movement. Having started with one class almost 18 years ago, due to popularity and demand we now have franchises throughout the UK."
What you need to know
Investment Level:
£5,995.
What you get:
comprehensive ongoing training and support; exclusive area; manual containing lesson plans with dance themes and business set-up; all props and instruments; Boogie Beat music and illustrations; website with own web page; intranet package; marketing materials start-up pack.
Information:
4. ComputerXplorers
ComputerXplorers is a leading provider of computing, coding and programming education for children from the ages of 3 to 13.
The clubs and classes are linked to the national curriculum throughout the UK and with over 200 pieces of curriculum, lesson plans and parent updates the range is comprehensive and breadth of offering substantial.
The business has a number of income streams, including after school clubs, pre-school and nurseries, summer camps and in-curriculum time classes.
Each territory has some 300 primary schools and 300 pre-schools/nurseries, ensuring every franchisee has a sizeable market opportunity.
Stephen Hall, ComputerXplorers Birmingham North franchisee, says: "ComputerXplorers do exactly what they promise they will do and it helps that they are such a nice team of people to work with."
ComputerXplorers is run by The Bardon Group, which operates a stable of four franchise companies and has combined experience of over 70 years in franchising.
What you need to know
Investment Level:
£29,500 (plus VAT).
What you get:
full training; software/licences; 12-18-month marketing launch activity; appointment generating programme; website; laptop; marketing material; operating manuals; comprehensive ongoing support from head office; regular conference calls; at least one annual network meeting.
Information:
5. Debutots
Being the person who inspires and empowers children is a highly rewarding experience. Combining that with a flexible business where you have control of your timetable is a dream come true for many.
Debutots is a drama-in-education company for the early years, running classes expertly created to support national curricula in educational settings, as well as the community.
Using story, drama and play, Debutots classes develop a child's cognitive skills, promote skilful communication and help to grow a positive sense of themselves and others.
The company came to life over a decade ago in a day nursery in West London. From there, the franchise has grown significantly, and has proved popular with children, parents, nurseries and schools alike.
The Debutots curriculum now includes Baby Story Play, for babies and toddlers from six months to three years; Early Years Drama, which takes children from two and a half to seven years; and Family Story Play, which is aimed at under five-year-olds and their families or carers.
Debutots also offers one-off workshops and parties for under sevenyear- olds.
Charlotte Salter, Debutots founder, says: "We created Debutots because we felt passionate about learning through story and drama in the early years.
"Debutots' popularity soared with nurseries, schools and parents and franchising then provided the ideal platform for other dedicated people to share in our work and business success.
"Each Debutots franchise is an individual business in which we wholeheartedly invest our time, knowledge and enthusiasm."
What you need to know
Investment Level:
£7,920 (plus VAT).
What you get:
training; mentoring and ongoing support; equipment; the three-year rolling Debutots curriculum; party plans; exclusive territory.
Information:
6. Monkey Music
Since it was created in 1993, Monkey Music's weekly classes have become synonymous with the delivery of high quality musical education across the UK and brought music into the lives of more than 250,000 families with children aged between three months and five years.
The driving force behind Monkey Music is creator, CEO and mother of five, Angie Coates. Franchisees are motivated by the company's high standards and musical integrity and the fact they earn an excellent return on their own time and personal financial investment.
Monkey Music's top franchisees have sales that exceed Ј200,000 and some franchisees report a net profit before tax in excess of 50 per cent of turnover. The average turnover per franchise has increased by 50 per cent over the last five years.
What you need to know
Investment Level:
£12,975 (plus VAT).
What you get:
comprehensive launch kit; full teacher training and assessment; intensive business training; ongoing support from the Monkey Music head office team.
Information:
7. Kumon Educational
The largest educational franchise in the UK and Ireland, with over 650 study centres offering its English and maths programmes, Kumon Educational was established in Japan over 60 years ago. There are currently over four million Kumon students worldwide.
Sharon Carlin, instructor of the Kumon Urmston Study Centre, says: "Kumon is a professional company with high standards and expectations for its franchisees and offers the support and training to achieve those standards.
"It's so rewarding seeing children progressing and achieving, their joy at their success and belief in themselves and seeing their confidence grow. I love being part of nurturing each child to become a confident, well rounded, successful individual.
"The initial training was excellent and structured, so we had training right through our first six months of being an instructor. They also hold monthly training meetings on relevant topics, which I find very useful and you learn all the time."
Sharon says her area manager is always at the end of the phone: "She gave advice about marketing, carrying out enrolments and running the class itself, plus observations, feedback and, in particular, setting work for students to ensure they're studying at the right level."
Sharon adds: "Changing career is a risk, whether you are a franchisee or not, but I have no regrets. I love that my job is varied and I'm meeting new families all the time.
"Being a franchisee is so rewarding, as you're responsible for the growth of the centre."
What you need to know
Investment Level:
upfront fee of £3,000, plus working capital.
What you get:
full induction training; ongoing training and development; dedicated area manager, who offers business support and advice; marketing support.
Information:
8. Toddler Sense
Toddler Sense is a multi-sensory adventure aimed at children from 13 months to five years. Its classes are packed with activities designed to enhance early years learning and development through exploratory sensory play.
Sessions are safe, fun and exciting, helping toddlers to burn off excess energy and develop vital physical, communication, social and intellectual skills, all of which form the foundation for future learning.
Each week, Toddler Sense classes introduce a new theme - from climbing aboard a space rocket and steering a yellow submarine, to helping others as a firefighter.
For its franchisees, self-confidence and enthusiasm are a must, as is an interest in working with young children. All lesson plans come with easy introductions and extra background information for the teacher.
What you need to know
Investment Level:
£8,500 (plus VAT).
What you get:
comprehensive training; all equipment, music, lessons and books; ongoing support.
Information:
9. Raring2go!
Raring2go! is a magazine and website guide filled with educational, fun things to do in the local area and is read by people who have, or are looking after, children.
Franchisees don't need a background in magazines or publishing to become a successful franchise owner with Raring2go! They simply need to be hardworking, committed and capable of following a proven business system and building a business from the ground up.
Franchise owners cultivate relationships with local business owners, visitor attractions, leisure centres, schools and holiday parks, which provide content and advertising.
Mother of two Vicky Norman says she chose Raring2go! because she wanted a more child friendly career.
"I wanted to work hard, but be more in charge of my time so I could be there for my kids," she explains. "I was worried I didn't have the right experience, especially sales experience, but the support, guidance and hands-on help is amazing.
"I love what I do, I see my kids more and I make excellent money for the time I chose to put in."
Training and support are provided by an experienced franchise team and the franchise is fully accredited by the British Franchise Association. The business is flexible in terms of the hours worked, while overheads are low.
What you need to know
Investment Level:
£15,995 (plus VAT).
What you get:
full training; ongoing support; exclusive territory; comprehensive operating manual; bespoke magazine management system and client relationship management system; stationery pack; branded merchandise.
Information:
10. Water Babies
As an expanding business and one that has won numerous awards, Water Babies has a unique approach to franchising, Paul Thompson, CEO and co-founder of the business, says.
"As a company, we've expanded into the Netherlands, Canada, New Zealand and China, increasing our franchisee network to 58 worldwide," he explains.
"Each franchisee receives a five-year license, with the option to renew at no additional cost, and within this we provide a comprehensive start-up kit, including pool equipment, leaflets, teachers' tops and an unrivalled level of support.
"We have a head office staff of 40 to support a network of 58 franchisees, who we train in all aspects of running their own business and all our internal systems.
"Currently we are restructuring our UK support services to provide an even better, more tailored service to our existing franchisee, as well as implementing bespoke systems that assist the network with their business decisions."
All Water Babies franchisees must train as swimming teachers before taking the Water Babies in-house training course and its swimming teachers are the only ones who can obtain a nationally recognised Level 3 Diploma with Swim England.
Thompson adds: "We want franchisees with a passion for what we offer and a desire to help parents and children learn skills that will set them up for life. Business systems and training can be built around you."
In the UK, there are no unsold territories, but resales of territories do occur.
What you need to know
Investment Level:
depends on size of the territory. Prices available on application.
What you get:
full training and support; comprehensive start-up kit; professionally mapped territory; operations manual; client management system; marketing support.
Information:
Our Guide to Getting Started in Franchising
Grow yourself from a franchising no to a franchising pro!
Ones to watch
Franchisors provide an insight into how they've built their businesses.
This month's
best opportunities
You have pending
Here's just
five reasons

why you should join our

FREE

newsletter!
New articles added every week

Hand picked franchise opportunities just for you

First class help and advice for franchising and business

We have the industries best contributors on board

Inspiring and insightful franchise case studies