The information you submit via our enquiry form is shared only with the franchise business(es) that you have selected.
The franchise business will contact you by means of email and/ or telephone only to the email address and phone number you have provided.
By submitting the enquiry form you are consenting to send your personal information to the selected franchise business.
You also agree to receive further newsletter email marketing from What Franchise.
Close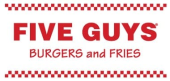 Five Guys
Five Guys is an American gourmet burger company, specialising in serving high quality classic fast food
Minimum Investment
£300,000
Expected Revenue After 2 Years
N/A
About Five Guys
Five Guys was founded in Arlington, Virginia in the US in 1986, initially as a family business. The brand has since grown into an international phenomenon, gaining its reputation as a high quality American-style fast food restaurant, by focusing on a limited number of offerings on their menu.
Unlike many other competing restaurants in that sector, Five Guys' brand identity is built around the fact that it only uses fresh ingredients and does not keep anything pre-
prepared or stored in freezers. Their burgers are prepared daily, on-site, with fresh meat, and fries are likewise cut and cooked from fresh potatoes.
While this means the brand has a much smaller selection of items on its menu, it has also helped Five Guys earn a reputation for serving a higher quality product, that justifies the higher cost for customers, and the brand has the confidence that by only serving what it does best, it can compete more successfully against other brands.
When the brand first launched in the UK in 2013, the reputation preceding the restaurant resulted in overwhelming popularity with a British audience, and it has since continued to grow rapidly across the country.
Where is the Five Guys UK franchise based?
While the franchise was originally founded in the US, the UK headquarters of Five Guys are located in London.
Where can you currently find a Five Guys franchise in the UK?
Five Guys originally launched in London, and the city currently has the highest volume of outlets in the country. There are also a growing number of Five Guys stores in operation across all parts of the UK, in most major cities in England, Wales, Scotland and Northern Ireland.
Where can you find a franchise territory for Five Guys currently for sale?
Five Guys is continuing to expand across the country and territories are available all across the UK. To find out about a potential territory, contact the brand using the enquiry form found on this page.
What how much does a UK-based Five Guys franchise cost?
To start a franchise with Five Guys, you will need to invest an approximate total cost of £300,000. This includes a franchise fee of £20,000, and you will need to be able to demonstrate liquid assets of approximately £115,000. The investment required may vary according to the size and location of the chosen territory.
You will also pay a monthly royalty fee of 6 per cent of your gross monthly takings, and you may also need to pay additional advertising fees.
What funding support can you get to start a franchise with Five Guys?
You may be able to get funding from the franchise department of most major high street banks, depending on your personal financial history. You will also need to have evidence of liquid cash available, to secure the bulk of the funding.
What background should you have before starting a Five Guys franchise?
To start a Five Gus franchise, you should have an existing passion for the food industry, and high-quality food products. Five Guys has a distinctive quality assessment procedure for its products and franchise owners should be committed to meeting the high standards set out by the brand.
You should also be able to thrive in a competitive and fast-paced environment, with the ability to motivate and lead others and bring a high level of energy to the team.
Having previous management and leadership experience in a similar environment or industry can be a huge advantage in the application process.
What training and marketing support is available with a Five Guys franchise?
Five Guys has a dedicated team of trainers who are on hand through the entire training and support process for new and established franchisees. Some trainers are flown out from the US to train their international franchisees directly, and you may also have support from regional teams.
The initial training programme lasts for two weeks, and this is followed by ongoing support to cover setting up and opening the store in your chosen local area, managing security and other key aspects. Later on, if you are looking to recruit new staff into your store, you can also get further training for them, but this will have an additional charge added on.
Five Guys can also provide support with marketing and advertising activities, and recommends that for ongoing marketing efforts, franchisees allocate a minimum of 2 per cent of their gross monthly sales for a marketing budget.
What profit and market potential is there with a Five Guys franchise?
The UK's burger industry is worth £3.3 billion, and continues to grow every year, with a recent trend shifting towards more premium burger products, rather than the lower priced offerings that were typically found in lower-end fast food restaurants.
This has given Five Guys an enormous boost in the UK and helped them to expand rapidly, as customers have strongly favoured the philosophy of prioritising high-quality ingredients and preparation process, and have happily paid a premium for their food. The chain has repeatedly won coveted awards from consumers, and continues to cement its strong reputation for a premium product.
With a total revenue of £90 million across the whole UK group in the past year and an increase of 43 per cent from the previous year, the brand looks set to grow in popularity as it expands further across the country. It has also announced the possibility of smaller, "express" outlets, which may offer a more accessible, option for potential owners restricted by the high investment cost of a larger franchise. For ambitious and energetic franchisees looking for an exciting opportunity in the food industry, a Five Guys franchise has great potential.
How to get started on owning your own Five Guys franchise
To find out more about opening your own Five Guys store, you can contact the franchise team directly by completing the enquiry form found on this page.