The information you submit via our enquiry form is shared only with the franchise business(es) that you have selected.
The franchise business will contact you by means of email and/ or telephone only to the email address and phone number you have provided.
By submitting the enquiry form you are consenting to send your personal information to the selected franchise business.
You also agree to receive further newsletter email marketing from What Franchise.
Close
Did you know?
Quiznos has outlets available across the UK
Request free information in just 60 seconds!
Take the first step in becoming your own boss!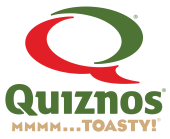 Quiznos
The primary product is toasted subs, but the restaurants also serve salads, pizzas, and salads
Minimum Investment
£152,000 - £ 188,000
Expected Revenue After 2 Years
N/A
About Quiznos
Quiznos was established in 1978 in the United States of America under the name Sandwich World. In 1981 the name was changed to Quiznos and franchising began; the brand spread very rapidly across America.
Spurred on by this success, franchises began to open in Canada in the 1980's. It was the Canadian division of the company, not the parent company in the US, that launched franchising in the United Kingdom in 2002.
The stated pillars of the company are: taste, toasting for flavour, and high-quality ingredients. The franchise believes that it is the fact that all their subs are toasted that boosts the flavour. The toasting is always what sets a Quiznos sub apart from other subs available in the UK.
In terms of ingredients, the cheeses are not processed, meats are high quality, the bread is artisan, and the sauces are Quiznos' own signature ones. Subs are available to order so that customer's can select ingredients and sauces to suit their tastes and needs.
The outlets also sell soups, salads, and pizzas for those who don't want a sub. The Quiznos franchise attempts to innovate in terms of both existing and new products.
The company cites becoming the franchisor and employer of choice as its primary goal, and values the diversity of its franchisees, customers, affiliates, etc. The organisation also places great store in workplace respect and compassion and respecting those from varied backgrounds, beliefs, and values. Quiznos promotes this outlook and attitude with its franchisees.
What products and services does Quiznos offer?
Quiznos franchises / outlets primarily offer their range of trademark toasted subs. However, the franchise is always looking at developing new products and variations. In addition to the subs, customers can buy a range of freshly made pizzas, soups, or salads.
How does a Quiznos franchise work?
The franchisor offers a low investment cost and incentive plans for qualified buyers. You will receive information in this regard during your initial discussions with Quiznos, after you have lodged your application.
How can I become a Quiznos franchisee?
Applying for a franchise can be done one of two ways. You can either download the franchise forms from the Quiznos website on fill in the application online. You will then be contacted so that discussions can begin. You and the franchisor need to know you are right for each other.
How much does a Quiznos store cost?
The Quiznos franchise fee is £12,500 + VAT. Over and above this you will need some capital. The franchisor gives a figure of £50,000 including the franchise fee. However, if you factor in other expenses your set-up and start-up expenses will be in the region of £152,000 to £188,000.
These costs vary depending on outlet size, rent, and location, and include the franchise fee, estate agent and solicitor's fees, design and construction costs, signage, a point-of-sale system, and advertising for the launch of your outlet.
What will I get from Quiznos for my investment?
The franchisor undertakes to assist franchisees from the time the application is lodged, to launch, and to offer ongoing support:
• You will be assisted with finding a suitable location for your outlet / restaurant
• The franchisor will provide access to approved lenders if you require financial assistance
• Plans for your outlet will be drawn up by an architect appointed by the franchisor
• Planning permissions will be obtained on your behalf by the architect / contractor
• Your shop will be fitted out
• Signage and equipment will be delivered and installed
• You will be provided with extensive training: step-by-step training on building your Quiznos building, in-store operations training over three weeks, and managerial training over four days. Some of the training is provided through the Quiznos University.
Did you know?
Quiznos has outlets available across the UK
Request free information in just 60 seconds!
Take the first step in becoming your own boss!
Finally, you can access whatever guidance you may require from a designated franchise manager as you prepare to open, during the launch, and after your store opens its doors.
Do I need experience to run my own Quiznos business?
Quiznos does look for certain experience, focus, skills, and attributes in franchisees. The COO places great emphasis on service excellence and the commitment to provide it daily and consistently. The UK Master Franchisee speaks of drive to succeed, commitment, team work, passion, and hard work.
In addition, restaurant management or management experience is valued in Quiznos franchisees.
You need to have a desire to learn the ropes of the business, an ambition to grow your business and perhaps extend to multiple outlets, a sense of responsibility, leadership skills, and access to the necessary financial resources.
What monthly fees must I pay Quiznos in order to be a franchisee?
Quiznos franchisees will be required to pay 4 per cent of their gross sales less tax towards advertising fees and 7 per cent for royalties. The balance is yours to use to cover overheads such as rent, utilities, salaries, and so forth. If your business is going well, you will of course be able to draw a salary and plan for your future.
Where are Quiznos stores currently located in the UK?
There are currently six locations in England: Bromley, Hounslow, two in Luton, Maidstone, and Stratford in London. Outlets must be in areas with high-footfall such as high streets or shopping centres.
Will I be able to run a Quiznos branch in an area of my choice?
You would have to enquire directly with Quiznos in this regard, but the franchisor does wish to expand throughout the UK.
Is income guaranteed when running a Quiznos store?
Income is not guaranteed as it depends on several factors including the amount and quality of work done by the franchisee. Your success and income levels are up to you.
How soon will I start making money when running a Quiznos?
The franchisor claims that you can have your restaurant up and running, and generating income, in as little as six months.
Do I need to do my own marketing?
Although you are supported by national advertising and a recognised brand, you must carry out local marketing, especially pre-launch and when you first open. Effective marketing will raise awareness, build loyalty to the Quiznos brand, and generate those all-important sales.
In addition to the training you receive, you will also be given a local store 'toolkit' and assisted with planning a 'grand opening'.
What sets the Quiznos franchise apart from other food and beverage franchises in the UK?
There are other sub and sandwich franchises in the UK. However, it is the fact that the Quiznos sub is toasted that sets it apart. The franchise gives four reasons why this is a good franchise to invest in: "national brand recognition, chef-inspired food, low investment entry point, and great financial incentive programs".
Request Free Information
Send a free enquiry to Quiznos for further information!
Enquire into this franchise today