The information you submit via our enquiry form is shared only with the franchise business(es) that you have selected.
The franchise business will contact you by means of email and/ or telephone only to the email address and phone number you have provided.
By submitting the enquiry form you are consenting to send your personal information to the selected franchise business.
You also agree to receive further newsletter email marketing from What Franchise.
Close
Did you know?
Extrawurst – Authentic German Bratwurst has an expected revenue of From 12-15% to 50% EBITDA, subject to the format and operating model after 2 years!
Request free information in just 60 seconds!
Take the first step in becoming your own boss!
Extrawurst – Authentic German Bratwurst
An award-wining business crafting authentic German food since 1981
Minimum Investment
£30,000
Franchise Fees
£20,000 + VAT
Expected Revenue After 2 Years
From 12-15% to 50% EBITDA, subject to the format and operating model
About Extrawurst – Authentic German Bratwurst
If you are interested in achieving personal and professional success through a family-run company that has been committed to the craft of premium authentic German snack food since 1981, you have come to the right place.
Extrawurst is an award-winning business and all about honest, delicious authentic German Bratwurst. The popular Bratwurst in a bun and Currywurst are tasty cultural assets in Germany and the love for these amazing timeless classics has global and mass market appeal.
Extrawurst's straightforward culture enables franchisees to achieve a robust German street food franchise opportunity with a choice of investment models that will work to fit the size of their ambition.
How does the Extrawurst franchise model work?
Relationships and partnerships are both important to Extrawurst. The brand prides itself on having an open, honest, personable and down-to-earth approach when discussing its business opportunity with franchisees. Whilst Extrawurst has set models within its system, the highly motivated team, made up of specialists and experts, can also work with you to develop tailor-made solutions for your success.
Extrawurst can work almost anywhere and is a "premises-based" franchise. The brand has three formats that you can choose from:
• Macro – a full bricks and mortar store/shop
• Midi – a range of relocatable small format container or trailer options
• Micro – an agile, rideable bike system that can simply "pop up" at a number of events or venues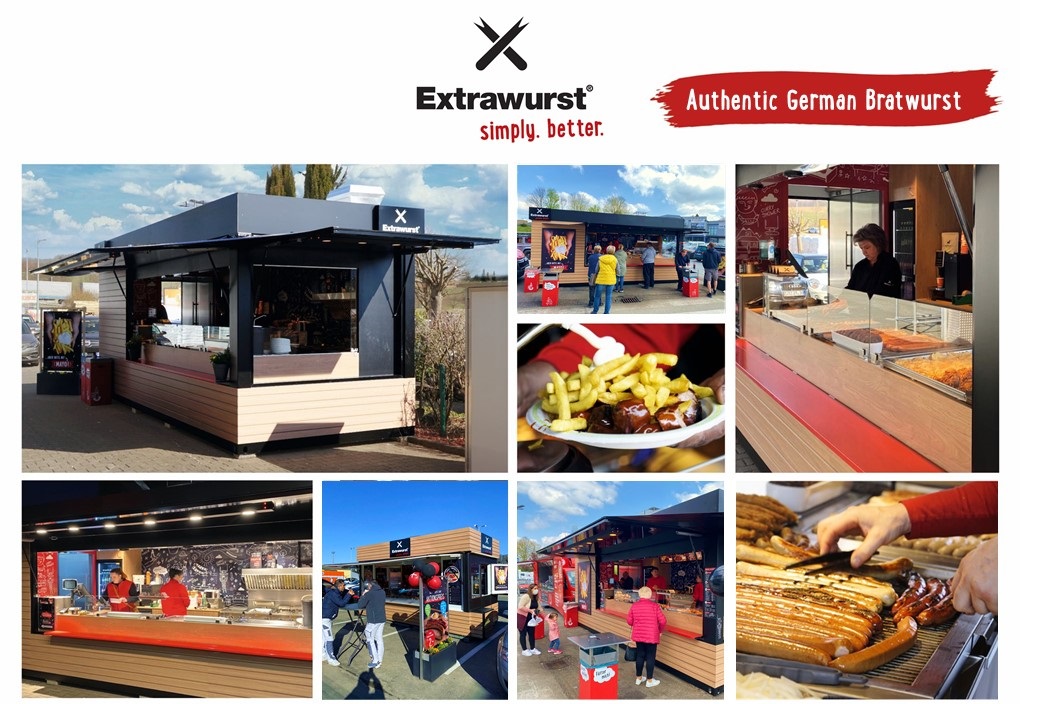 What qualities will make the perfect Extrawurst franchisee?
People make any business and the type of franchise partners Extrawurst is looking for are:
• Self-motivated and can motivate others
• Organised
• With commercial knowledge(this is advantageous, but not essential)
• With appreciation and interest in an operational food business
• Fans of the brand
• Eager to work with people and customer-focused
• Existing franchisees or having suitable F&B operational experience (this is advantageous, but not essential)
• Demonstrating they have the financial resources required
What training and support can Extrawurst franchise partners benefit from?
Training is as important for you as a franchise partner as much as it will be for your team. Your training will be a combination of in-store practical hands-on training as well as online learning. You will also have access to Extrawurst's know-how on its Hyperspace system. This training and know-how will be market specific.
The brand will support you through the setup phase with a time plan, guidance and regular structured meetings. Once you are ready to open, Extrawurst can be onsite to support and train your team ready for your grand opening.
It's important to get as good a start as you possibly can and prior to opening, the brand can help you plan and coach, as well as guide and support you with:
• Training (operational and administratively)
• Setup with all our supply chain partners
• Procurement and purchase of standard Extrawurst brand requirements (equipment, POS/till system, media screens)
• Opening plan to launch in your territory
• Onsite opening support pre and post opening
Extrawurst can also offer additional (chargeable) support services such as:
• Project and construction management (including any local authority permissions)
• Food safety guidance, EHO registration and specific legal training
• Introduction to preferred shop fit contractors
• Enhanced PR and social activity to support your go live
How much does it cost to become an Extrawurst franchisee?
Extrawurst can work almost anywhere and to allow this to happen, the brand has created different solutions for different locations and applications. Investment starts at £30,000-plus VAT, including the setup fee for the smallest pop-up micro bike format, going through to circa £180,000-plus VAT, including the setup fee for a more traditional micro shop-style unit.
The combined royalty and marketing fee is 8 per cent. This is a 7 per cent royalty and 1 per cent contribution to a central marketing pot that will be used to build and promote the brand nationally and regionally.
Did you know?
Extrawurst – Authentic German Bratwurst has an expected revenue of From 12-15% to 50% EBITDA, subject to the format and operating model after 2 years!
Request free information in just 60 seconds!
Take the first step in becoming your own boss!
The fixed setup for access to the Extrawurst franchise system is £20,000-plus VAT. This includes:
• Use of brand name IP
• Contribution towards franchisee recruitment
• Access to systems and know-how
• Access to the exclusive genuine authentic German product
• Exclusivity/protection to a territory for a specified initial term, protected/segregated by postcode sector, not radius
• Initial training of the sub-franchisee in the master franchisee unit (time not accommodation or travel)
• Project plan to include on-boarding and critical path to the grand opening
• Dedicated in-country preferred partner supply chain.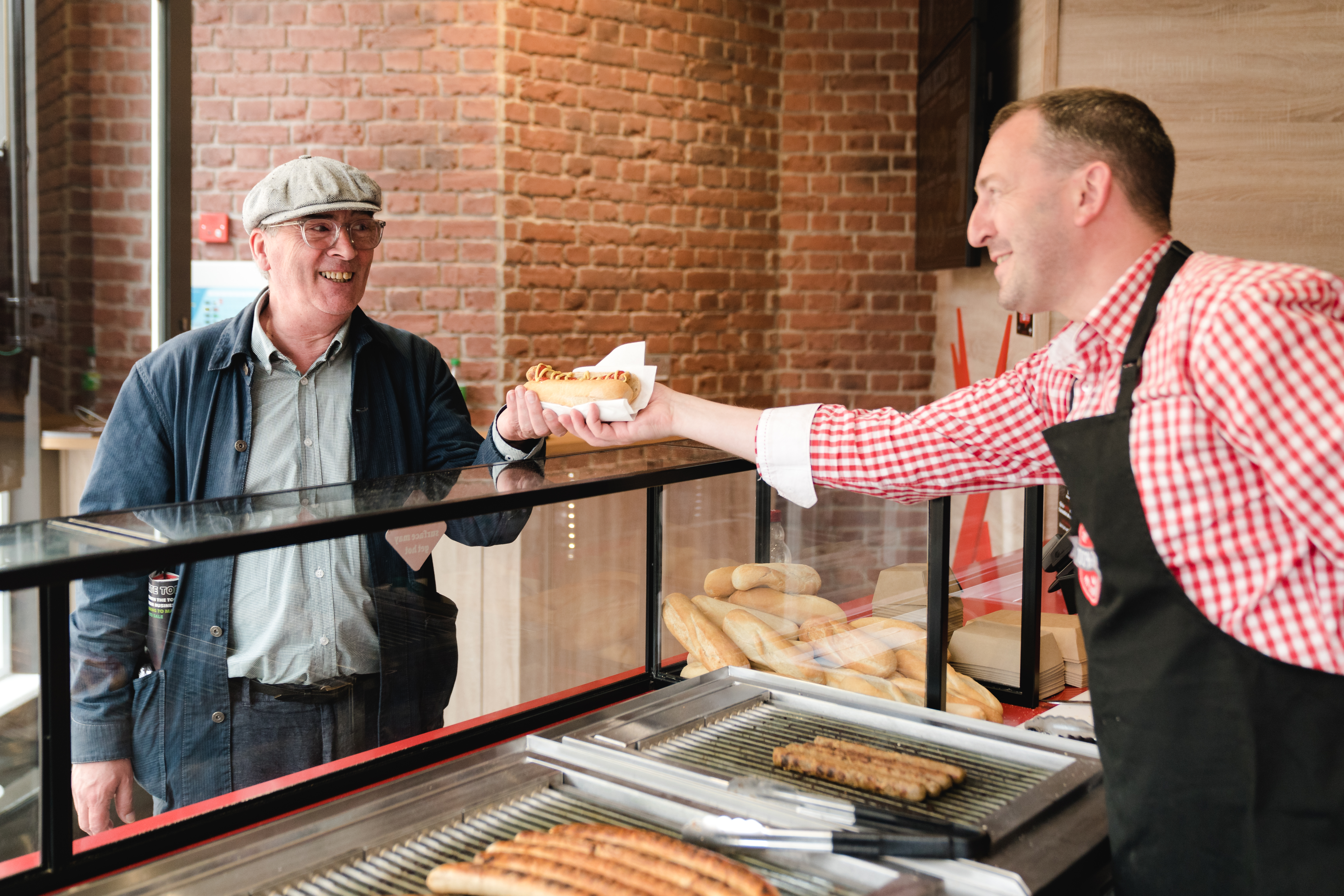 What locations or territories is Extrawurst looking to operate in?
The brand has identified 352 market opportunities in the UK. Each of these markets could be an individual territory or could be broken down further into smaller territories. Extrawurst has worked with Atlas Mapping to identify the Extrawurst markets based on financial modelling and demographic mix and where Extrawurst will have the best chance of succeeding, and also the best format option or a mix of options for those markets.
The brand initially started its journey in the West Midlands. The initial plan is to broaden that to the wider Midlands area and then push out from there across the UK from 2023 onwards. Since launching in the autumn/winter of 2021, Extrawurst has had lots of interest from landlords and agents all across the UK.
The brand is unique in the sense it is not just about bricks and mortar shops – it also has re-locatable container style units as well as towable smaller trailer formats. This allows you as a franchise to have a base unit and the ability to satellite from there in your territory to support local temporary opportunities to drive revenue and brand awareness.
What are Extrawurst's franchise terms of agreement and renewal?
The initial term is five years with the right to renew at five years if you achieve the KPIs set out in your franchise agreement. If your investment is larger and a macro bricks-and-mortar format Extrawurst, then the brand will increase the initial term to seven-plus years.
Why is an Extrawurst franchise a good investment?
Extrawurst is a genuine alternative for the food and beverage market in the UK and customers absolutely love the product once they have tasted it. The brand's secret recipe Bratwurst is second to none and customers keep coming back for more. Extrawurst has multiple franchise partners all demonstrating good returns as well as the stores the brand operates itself. It's a simple business, with simple ingredients, executed well and affordable for both customers and franchisees.
Extrawurst offers multiple format options that will all sell the top-selling core menu items, including its famous authentic German "Bratwurst in a bun" or the "Currywurst". The Bratwurst product is the brand's own unique 100-year-old recipe and is exclusive to Extrawurst franchisees.
Extrawurst's system is simple, robust and easy to follow. The franchisor cares about its partners as it cares about its products. So, if you want a piece of the authentic German Bratwurst money maker, then click the enquire button today.
How in demand are Extrawurst's products?
Extrawurst is current, exciting and stands up against all the competition that is out there. UK high street customers are looking for quality, but also honest, delicious, affordable and customisable food options and Extrawurst delivers on all of those points. The brand sits in between the QSR and food-to-go sectors, both of which have faired well post-pandemic, are returning to 2019 LFL sales levels and are set for growth in 2023 onwards. These two areas account for industry sales of circa £23bn.
How do I start setting up my own Extrawurst franchise?
To find out more, or to request further information from Extrawurst, complete the form below and click on the 'Request Free Information' button now.

Request Free Information
Send a free enquiry to Extrawurst – Authentic German Bratwurst for further information!
Enquire into this franchise today