The information you submit via our enquiry form is shared only with the franchise business(es) that you have selected.
The franchise business will contact you by means of email and/ or telephone only to the email address and phone number you have provided.
By submitting the enquiry form you are consenting to send your personal information to the selected franchise business.
You also agree to receive further newsletter email marketing from What Franchise.
Close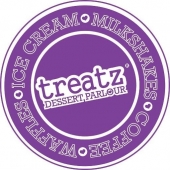 Treatz Dessert Parlour
A dessert-only restaurant chain offering a variety of dessert and ice cream dishes
Business Type
Food & Beverage
Expected Revenue After 2 Years
N/A
About Treatz Dessert Parlour
What is Treatz Dessert Parlour and what services does it provide?
Treatz Dessert Parlour is a dessert-based restaurant chain providing a variety of sweet dishes, including ice cream, baked treats, shakes and more. The brand has grown across the country and is especially popular with young people and families wanting to relax and enjoy a delicious meal.
For anyone looking to start a franchise in the food industry in an enjoyable and lively environment, this may be an ideal opportunity.
Where can you find a Treatz Dessert Parlour franchise territory?
There are opportunities to start a Treatz Dessert Parlour franchise across the country. For information on specific locations and regions, contact the brand's recruitment team directly.
Where is the head office for the Treatz Dessert Parlour franchise located?
Slough, Berkshire.
How much does a franchise with Treatz Dessert Parlour cost?
To start a franchise business with Treatz Dessert Parlour, you will need to invest approximately £255,000 in total. This includes the initial franchise fee and additional costs for the fit out, design and legal fees associated with starting up a restaurant premise. A five per cent management service fee is also applicable.
Costs can vary depending on territory and location and additional costs may be incurred.
What kind of financial support can you get with a Treatz Dessert Parlour franchise?
It may be possible to get financial support from most major banks to invest in a franchise with Treatz Dessert Parlour. However, you will need minimum liquid capital of £75,000.
What sort of experience or background should you have before starting a franchise with Treatz Dessert Parlour?
To start a franchise with Treatz Dessert Parlour, you do not need to have prior experience in the dessert sector, but it can be helpful to have a background in the food or retail industry.
As this is a management franchise, you should have excellent leadership and communication skills, with the ability to run a dynamic and positive team. Franchise owners should be self starters, determined and self motivated.
Does Treatz Dessert Parlour provide training with the franchise package?
Treatz Dessert Parlour has an extensive training programme for all new franchise owners, which is divided into four main stages.
The first stage involves training at the company's head office, which provides an overview of how to use its online learning platform, before working through a variety of online learning modules covering topics such as health and safety, food and hygiene. All franchisees will receive a certificate upon completion of each module.
After the initial stage, franchisees then undergo at least two weeks of training at an established franchise branch to provide first hand experience of the environment, brand and the products offered. Franchisees are also given an overview of management control procedures from Treatz Dessert Parlour's head office team.
Following the main training stages and store fit out process, franchisees and their store staff are led through a final training module with the brand's training team to help prepare them for opening.
Will there be support available with a franchise with Treatz Dessert Parlour?
Treatz Dessert Parlour provides franchisees with support at every stage of the franchise development process.
Prior to opening, the Treatz Dessert Parlour franchise team will help select an appropriate location, guided by market research into specific territories and areas. The brand will also help new franchisees with all steps involved in acquiring and negotiating the lease for a site.
Once a site has been chosen, Treatz Dessert Parlour will support franchise owners with the architecture and design of a new store, with guidance and advice on how to create a space in line with the brand's style and values. Treatz Dessert Parlour offers a complete turnkey fit out solution, if preferred.
To help set up a store ready for opening, Treatz Dessert Parlour will help source machinery and equipment, and advise franchise owners on recruitment, supply chain set up and logistics. Before launch, the brand will provide a grand opening marketing campaign, as well as long term marketing guidance to help promote the store most effectively.
After opening, Treatz Dessert Parlour continue to support their franchisees with a 24 hour support line and operational advice on hand, whenever required. The brand's franchise team also provides quarterly store and compliance visits, to review performance and advise on new product launches. Franchise owners and their staff are also provided annual refresher training, to help everyone retain the skills required to meet the needs of the store.
What are the market opportunities for Treatz Dessert Parlour franchise businesses?
The UK's restaurant market is worth in the region of £38 billion and while there is a surfeit of fast food and casual dining outlets customers are increasingly looking for more niche options. The demand for dessert-only restaurants has grown in recent years, as they provide an enjoyable and affordable place to both socialise and eat out for a broader demographic.
As an established and growing national brand, Treatz Dessert Parlour offers investors an attractive franchise opportunity. The franchise is an effective way to start a business in the industry and compete in a highly competitive market, as the brand is already trusted and well liked by customers.
How to get started
To find out more about starting a franchise with Treatz Dessert Parlour, contact the company online or via email to find out more information and arrange a call back.

Request Free Information
Send a free enquiry to Treatz Dessert Parlour for further information!
Enquire into this franchise today