By investing in a food or drink franchise, you can get involved in this sometimes-expensive sector at a much lower rate
1. Cafe2U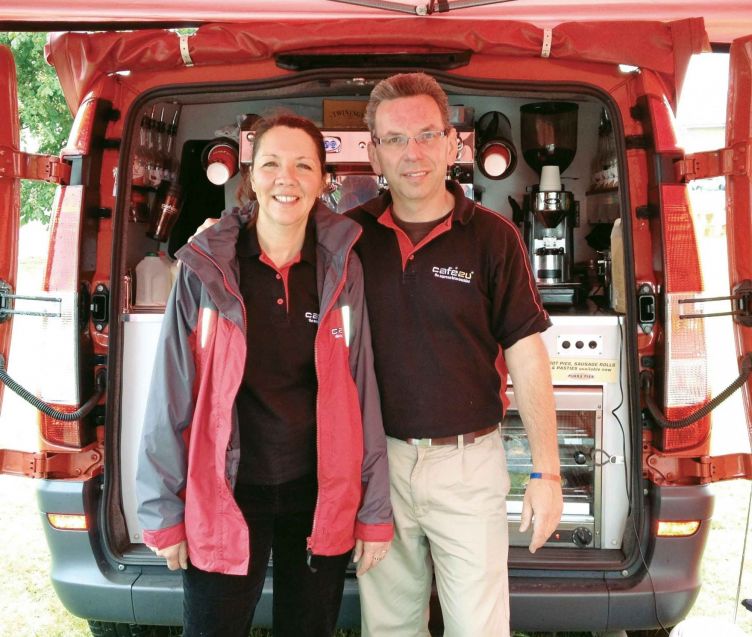 The UK has become a nation of coffee drinkers, with coffee shop visitors purchasing an estimated 2.3 billion cups of coffee per year.
The branded coffee shop market is already worth more than £3.8 billion and coffee is the world's second-largest consumer commodity after oil, so it's hardly surprising that coffee is a lucrative market.
In fact, after 18 years of continued growth, the coffee shop market is one of the most successful in the UK.
Cafe2U is the world's largest mobile coffee franchise system, delivering fresh espresso coffee and food to businesses, events and functions across the UK and Ireland. The company's business model provides a good return on investment within a relatively short period of time.
What's more, it's a low-cost business to run and with a fixed management fee you won't be required to pay increasing royalties as your business expands. Event income usually generates around £500 per day and may take the form of fetes, sports matches, club rallies and a range of outdoor occasions.
Franchisees can work flexible hours, so you can accommodate your business around your personal circumstances or other commitments.
Cafe2U is an associate member of the British Franchise Association.
What you need to know
Investment Level:
initial franchise fee is £20,950 (plus VAT).
What you get:
extensive marketing package; full acceleration training and launch package; the fully equipped Cafe2U van is usually purchased using a leasing package, details of which can be discussed on application.
2. Casual Dining Group
Casual Dining Group is a leading UK-based mid-market restaurant company that operates the Bella Italia, Café Rouge and Las Iguanas businesses, as well as La Tasca, Belgo, Huxleys and Oriel Grande Brasserie.
One of the UK's largest restaurant groups and employing more than 10,000 people, it operates almost 300 restaurant sites in a variety of locations, including leisure parks, shopping centres, airports and high streets, from the north to the south of the UK.
Recently, CDG signed a franchise deal for its Las Iguanas and Bella Italia brands in southern Ireland, further building momentum for its growing overseas franchise portfolio.
Development agreements and existing operations are in place in eight countries around the world, including the UK, South Africa, India and the wider Middle East.
The company is keen to hear from like-minded national and international partners who share a passion for the restaurant business and fine dining.
The ideal franchise partner would be well funded with good local connections, a strong track record in food and beverage and long-term ambitions to grow a successful business.
What you need to know
Investment Level:
dependent on venue/price on application.
What you get:
pre and post-opening training and support; site selection assistance and restaurant design; marketing support; restaurant visits and business reviews.
3. Creams
The Creams story began in 2008 when the first restaurant opened after the founding partners had researched and sourced special ingredients, such as the authentic Italian gelato that was their inspiration.
Since then, the brand has grown from strength to strength, with 55 restaurants currently trading across the UK and a further 50 in development.
The franchise is growing fast, but there are still plenty of territories available for investors, including in the northwest, north east, Wales and southwest areas.
Flexibility in the investor model allows Creams' franchisees to either invest only (if they have other business ventures) or to have hands-on responsibility for the day to day running of the restaurant.
The beauty of the Creams concept is that it appeals to all ages and cultures. Teenagers love it as a cool place to meet their friends and hang out and parents with young children can relax and treat their families and kids to its entertaining – a place they want to return to for their favourite desserts.
What you need to know
Investment Level:
£275,950.
What you get:
restaurant design; equipment; signage; fit out; business planning; property legals; full training on-site before opening; ongoing support; dedicated regional business managers; centralised supply chain.
4. Leonidas
This chocolate maker was established in 1913 and sells over 100 different Belgium chocolates at more than 1,400 outlets across five continents. The company opened its first franchise in 1975.
According to the company, opening a Leonidas shop provides the perfect balance between independence and membership in an international brand.
Franchisees draw on tried and tested trade secrets, while the Leonidas franchise team help with every step of the start-up process - from finding a suitable location and decorating your shop, to advice on the purchase of products.
If you enjoy working in a dynamic environment, where you can access top-notch knowledge and expertise, have a background in business or retail and have a passion for quality and outstanding service, Leonidas would like to hear from you.
What you need to know
Investment Level:
price on application.
What you get:
initial and ongoing training; comprehensive support programmes; assistance with site selection; advice on packaging, marketing and seasonal promotions; access to superior Belgian suppliers.
5. Esquires Coffee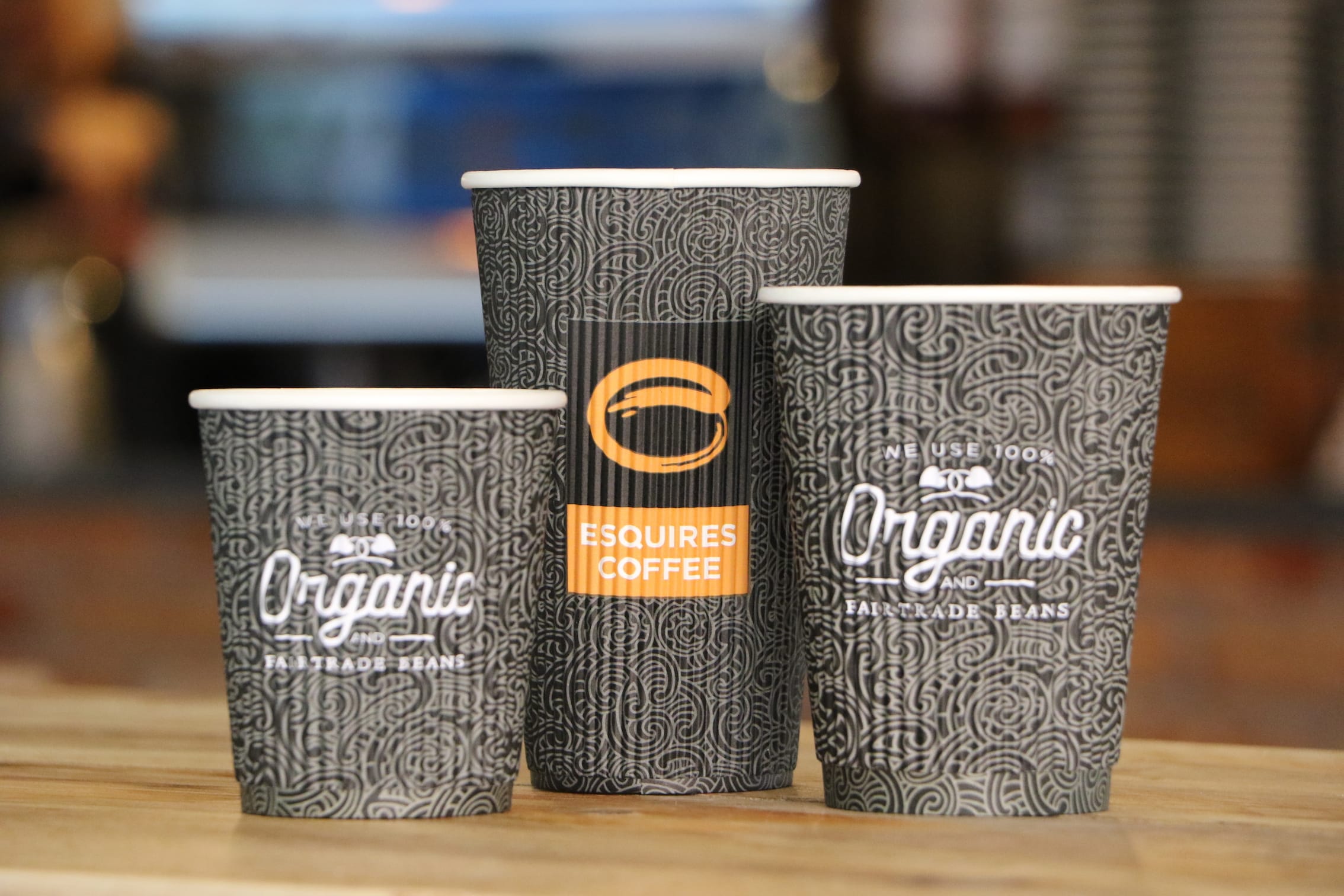 Visit one of Esquires Coffee's 47 stores in the UK and Ireland and you'll discover why the franchise is rapidly expanding in the UK.
The experience begins with a quirky environment, filled with communal tables, comfortable seating and work-friendly tables. Next, Esquires Coffee tantalises your taste buds with exceptional products - from delicious coffee, smoothies, fresh juices and frappes, to mouth-watering breakfast, brunch and lunch items.
Esquires is a coffee franchise that embraces individuality, community and sustainability - the company's outlets look, think and act more like an independent than a large chain.
These things cost a little more, but customers are more than willing to support a place that doesn't force a global standard.
What you need to know
Investment Level:
£85,000-£270,000.
What you get:
site selection; store design; shop fit out costs; furniture; equipment; corporate training for owner/operator and team; ongoing support.
6. Papa John's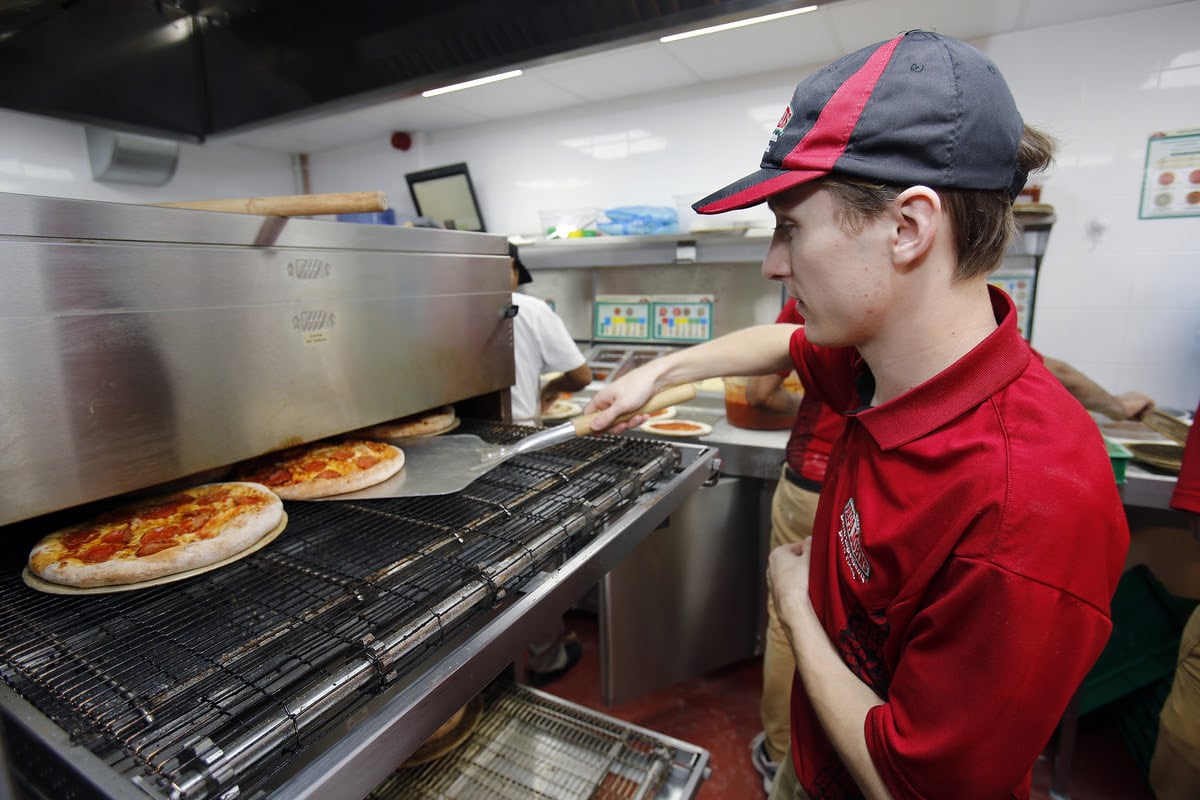 John Schnatter, the founder of Papa John's, sold his prized car to buy enough second-hand restaurant equipment to make and sell pizzas in his father's restaurant. Customers liked the pizza so much, that he went on to found Papa John's in the USA in 1984.
The company is now one of the largest pizza companies in the world, with nearly 4,800 stores worldwide. The business has more than 300 outlets in the UK, with many operators running multi-site businesses.
Individual earnings are dependent on many factors, such as overheads and operating costs of individual stores, but the streamlined operating system and support given to franchisees means the model has excellent profit potential.
Many franchisees do not have previous catering or retailing experience - the most successful franchisees are entrepreneurial owner-operators who have excellent people skills.
John says: "There's a lot of opportunity left for growth, even though we're a global chain. There are a lot of choice markets that need potential Papa John's franchisees."
What you need to know
Investment Level:
franchise fee is £18,500 (plus VAT) per franchise unit. The minimum liquid capital required is £100,000.
What you get:
initial and ongoing training; assistance with location selection and shop fit out; marketing support.
7. Really Awesome Coffee
Really Awesome Coffee is a mobile cafe franchise serving fresh gourmet coffee, hot drinks and food to people at businesses and events nationwide.
The company is a British Franchise Association member and currently has over 25 franchise partners in the UK.
Franchisees enjoy a healthy work-life balance working a Monday to Friday coffee round, which is built around their lifestyle, with weekend events bringing optional additional income.
All franchisees complete the company's fast-track training and launch programme, which includes professional barista training. Really Awesome Coffee also helps identify your customers and assists in launching the business.
There is no need to have any experience in catering or running your own business, as training covers everything you need to be able to run a successful mobile coffee franchise.
What you need to know
Investment Level:
£9,300 (depending on personal circumstances).
What you get:
exclusive territory; fast-track training and launch programme; launch pack worth over £5,000. The fully equipped Mercedes Vito van is usually purchased using a hire purchase over a five-year term.
8. Riverford Organic
With Riverford Organic, you can grow a profitable and ethical business with first-class support and training, delivering award-winning food to your customer base.
The company wants to recruit people who are hardworking and well organised, with the confidence and willingness to sell and develop their business in partnership with an established brand. Enthusiasm for food and interest in how it's produced will help to sustain you.
You should be independent and self-motivated, but also able to appreciate the benefits and compromises that come with being part of a larger organisation.
Riverford Organic's 50-plus franchisees sell an ever-expanding range of organic produce, from meat, milk and eggs to baked goods, juice and wine, as well as recipe boxes.
The company has four farms across the country and a number of distribution hubs. Riverford Organics is enjoying sustained sales growth, largely down to the passion and commitment of its franchisees.
What you need to know
Investment Level:
Start-up cost is around £40,000.
What you get:
full training and support; branded clothing and personalised stationery; accounting package; marketing materials.
9. Warrens Bakery
Warrens Bakery, the world's oldest pasty maker, opened the first of its stores in London at the end of 2017. At the same time, chairman Mark Sullivan revealed major plans for the company to grow further.
With a target of 1,000 stores throughout the UK over the next few years, Warrens Bakery is responding to the demand for all things baking.
The brand's partnership with Great British Bake Off star Martha Collison sees her working with the Warrens Bakery team to highlight the importance of craft baking in contemporary Britain.
First established in 1860, over the past year Warrens Bakery has opened stores in Altrincham, Eastleigh, Southampton, Winchester, Birmingham and Southend.
With around 60 bakeries in Cornwall, Devon, Somerset, Bristol, Manchester, Birmingham, Essex and Hampshire, the new London stores will provide a launchpad for expansion throughout the capital, with more openings in the pipeline.
Warrens Bakery says its model provides franchisees with a national supply, economies of scale and operational staff training. The company is seeking like-minded individuals to roll out its premium bakery brand nationally.
What you need to know
Minimum Level:
£50,000
What you get:
initial training and support; food safety and health and safety courses; operations manuals; site design and project management; opening POS and marketing material; £5,000 of launch marketing & PR support.
10. Il Gusto
Founded in 2000 by businessman Richard Mosconi, ILG Ltd is the parent company of Il Gusto, an established retailer selling an array of quality oils, exclusive spirits and gifts.
With seven UK-based company owned Il Gusto shops, the business has now expanded to Germany, with Middle Eastern and more European outlets planned from February 2018.
The concept was opened to franchise development options in 2005 and currently operates three successful franchisee sites.
ILG Ltd researches and secures prime locations across the UK for franchisees to select from. Leases are then signed directly with ILG Ltd and full training is provided for each team, streamlining the process for franchisees.
With nearly 50 per cent of business undertaken during Q4, it's created a seasonal approach to the model, focusing on pop-up shops in high traffic malls and department stores pre-Christmas, which require a limited time commitment. This gives franchisees the ability to maximise profits while minimising costs.
The concept endeavours to provide further economies of scale through reduced logistic costs, staff optimisation costs, improved rent and cross-selling, all of which should result in increased turnover and profit.
This mirrors the modern demand for flexible working styles, giving franchisees the freedom to work part-time across the year. The ambition is to extend to 25 pop-up kiosks in 2018, with the new kiosks all to be run on a franchise basis.
What you need to know
Investment Level:
permanent shop entry fee £10,000 (plus VAT). An investment of £45,000 (plus VAT) includes shopfitting and equipment and the first delivery of stock. For a kiosk seasonal three-month package, there's no entry fee and no royalty to pay. Total investment is £30,000 (plus VAT).
What you get:
help to find and secure premises; operational and logistic support; management and sales training; marketing and PR support; help with obtaining funding; personalised website; intranet sites.