The information you submit via our enquiry form is shared only with the franchise business(es) that you have selected.
The franchise business will contact you by means of email and/ or telephone only to the email address and phone number you have provided.
By submitting the enquiry form you are consenting to send your personal information to the selected franchise business.
You also agree to receive further newsletter email marketing from What Franchise.
Close
Did you know?
Ableworld is eligible for funding support!
Request free information in just 60 seconds!
Take the first step in becoming your own boss!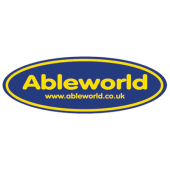 Ableworld
Ableworld is the largest mobility retailer in the UK providing products and services to the ever-growing elderly and disabled market
Minimum Investment
£25,000
Business Type
Care & Elderly Services
Funding Support
Third party
Expected Revenue After 2 Years
N/A
About Ableworld
Ableworld is the UK's largest mobility retailer and homecare equipment retailer, providing quality products, mobility aids and specialist support services for the elderly and disabled.
It is the only British Franchise Association-registered supplier in its industry and the market leading brand in the sector. Ableworld was listed in the Elite Franchise Top 50 in 2020.
The mobility retailer's business encompasses two main parts: providing equipment and services to cover a wide variety of needs and the fitting and maintenance of in-home stairlifts.
Ableworld franchise partners can choose to invest in one or both parts of the business, depending on business objectives and goals.
The business is entirely a B2C-based brand, providing services only to consumers, and operating mostly during normal retail hours. As stairlift installations are carried out onsite at customers' premises, this can sometimes involve more variable times and days but can be managed by individual franchisees according to their own preferences.
Where is the Ableworld franchise based?
Ableworld head office is located in Cheshire.
What territories are available for an Ableworld franchise opportunity?
Territories are available around the country.
How much does it cost to become an Ableworld franchisee?
To start an Ableworld mobility franchise, you'll need to invest a minimum of £25,000, with additional investment into the retail business to set up stock, equipment and premises.
Depending on the territory and whether or not you decide to invest in both parts of the franchise (equipment and services and the stairlift business), it may require up to £75,000.
What funding is available for an Ableworld franchise?
As Ableworld is a BFA member, potential franchisees may be able to secure funding support from most major high street banks, for up to 70 per cent of the total investment figure.
What kind of experience do you need to start a franchise with Ableworld?
Existing franchisees come from a wide variety of backgrounds, before starting a franchise with Ableworld. While there are no specific requirements for potential franchise owners, it can often be helpful to have some experience in the retail industry, or in the healthcare or mobility sector.
The most important qualities to have is a good sense of determination to succeed, a strong desire to make a positive contribution to people's lives, and the ability to communicate well with others.
What will running an Ableworld franchise involve?
The franchise network operates primarily as a retail business, and franchisees can expect to run the business as any other retail operation. You'll need to manage other staff, build relationships with customers and ensure that high levels of customer service are provided at all times.
For franchisees involved with the stairlift aspect of the Ableworld franchise, you will need to provide additional support, including providing quotations, and installing and repairing the equipment on-site for customers.
It may be helpful to have some previous experience in light engineering if you plan on carrying out these services yourself, or alternatively, franchisees have the option to hire specialist staff to provide this service instead.
Did you know?
Ableworld is eligible for funding support!
Request free information in just 60 seconds!
Take the first step in becoming your own boss!
What training will you receive with an Ableworld franchise?
As part of the franchise model, franchisees are provided with a seven-week training programme to help you familiarise yourself with all aspects of the business. Before launching your mobility superstore, franchisees first undergo comprehensive training at the brand's head office, covering all of Ableworld's products and services, and reviewing their business model. You will also spend time with the company's key suppliers, to understand their specialist products and the customer requirements in greater depth.
This is followed by in-depth time in store, at existing Ableworld franchise branches. You'll spend time with experienced trainers while observing day-to-day franchise operations.
Once a new franchise store is established, Ableworld's franchise operation team will also help provide training on-site, with tailored support and advice relating to the specific store and territory.
Ableworld can also provide guidance and advice on all aspects of establishing a retail premise, from helping you find an appropriate property and location, organising the store to ensure the best experience for their typical clientele, and leading you through your first stock order.
Once your Ableworld franchise is established, the head office team is still on hand to provide ongoing advice and support with any issues, with industry mentorship available.
A franchise support manager will continue to visit new franchises on-site until they are comfortably running, and ongoing training is available at all stages of the franchise.
Is there any marketing support available with an Ableworld franchise?
Ableworld provides all of its franchisees with extensive marketing support to help launch their businesses successfully. You'll have access to a £10,000 marketing budget, a marketing launch pack, and management coaching from the company's own business management team.
You will also have access to the company's own marketing materials, such as newsletters, leaflets and Ableworld catalogue products, as well as head office support to answer any marketing queries that may arise.
What kind of reviews does an Ableworld franchise get?
Ableworld is established as one of the leading brands in the mobility industry, and the sector itself is continuing to grow at a rapid rate in the UK, with high levels of demand from the elderly and disabled population.
With over 15m people aged over 60, and a high level of people of all ages requiring specialist support equipment such as walking canes, wheelchairs, stairlifts and other supports and aids, the products and services provided by the company are highly popular.
Many franchisees have found that the Ableworld business model is a successful and reliable one, with regular training accessible to help them grow their business continually. With an extensive marketing budget to support them from the outset, Ableworld has been able to establish its franchisees successfully and continued to grow, once they have been ready to do so.
How can I get started on running my own Ableworld franchise?
To find out more about starting your own Ableworld franchise business, get in touch with the company by clicking on the enquiry button found on this page.

Request Free Information
Send a free enquiry to Ableworld for further information!
Enquire into this franchise today