The information you submit via our enquiry form is shared only with the franchise business(es) that you have selected.
The franchise business will contact you by means of email and/ or telephone only to the email address and phone number you have provided.
By submitting the enquiry form you are consenting to send your personal information to the selected franchise business.
You also agree to receive further newsletter email marketing from What Franchise.
Close
Did you know?
Ovenu is eligible for funding support!
Request free information in just 60 seconds!
Take the first step in becoming your own boss!
Minimum Investment
£9,950
Expected Revenue After 2 Years
N/A
About Ovenu
This franchise offers the most practical, professional and profitable way to succeed in the oven cleaning sector.
It has everything you need to be a success and at a much lower cost than you'd imagine for a brand with its pedigree.
The managing director is the founder of the business and has the relatively unique benefits of being the franchisor and brand owner, having worked in and on the business for over 25 years.
Ovenu's 25 years of knowledge and experience gives you the best chance at success. The company will teach you how to transform cooking appliances back to their sparkling best and they'll show you how to run a profitable business.
From day one you're given ISO standard training. From then on you'll get ongoing dedicated support to help and guide you. Ovenu will be there every step of the way to help you achieve your goals.
The Ovenu brand has continually evolved since 1994 into the world's largest network of locally-based, franchised oven cleaning and valeting experts. The company has an unrivalled understanding of its industry sector and all the necessary skills to pass its knowledge onto franchisees so that they can also share in Ovenu's success.
You'll find the Ovenu approach is personable, practical and professional. It knows exactly what it takes to help you run a profitable business in your local area. By working with Ovenu, you get to run your own diary and manage your own work-life balance.
Once you're plugged into Ovenu's tried and tested systems, you'll start to see those all-important sales leads coming directly to you – generating turnover and profits quicker than you might think.

How does the Ovenu franchise model work?
If you're looking to see a rapid return on your investment in a business with over 25 years' experience, you've probably found the answer.
Having expanded from a 'one man and a van' operation in 1994, Ovenu has grown and evolved the brand into the world's largest and most profitable franchised network of oven cleaning and valeting experts.
There are many options to start your business in a brand new area. The Ovenu Foundation Franchise starts at a modest £9,950-plus VAT and the territory will comprise in the region of a manageable 30,000 homes.
Larger territories can be made available for an extra investment by negotiation.

What type of franchisee is Ovenu looking for?
Ovenu has a few exclusive territories still available. The company would like to hear from you if:
• You fancy the idea of working for yourself, but with the support of an established, proven business.
• Like the prospect of having the ultimate back-up and support from a global brand.
• You want to benefit from a more flexible lifestyle.
• You like working hard and reaping significant rewards. Does over £1,000 a week sound good?
You don't even need any similar experience to become a franchisee. What the most successful franchisees have in common is 'attitude' to their work ethic and customer service, along with pride in the brand they consistently promote in their territory. They listen, learn and implement their advice.
There is a wide acknowledgement that Ovenu knows what it's doing, as the company has been exclusively involved in this vibrant sector for a long time.
Ovenu is looking to work with people who understand and appreciate that owning an Ovenu franchise has two distinct components. The first being a job of work – out and about every day delivering supreme quality workmanship directly to consumers. Part two is learning and understanding how to run a profitable oven valeting business; not merely generating turnover, but actually making a profit.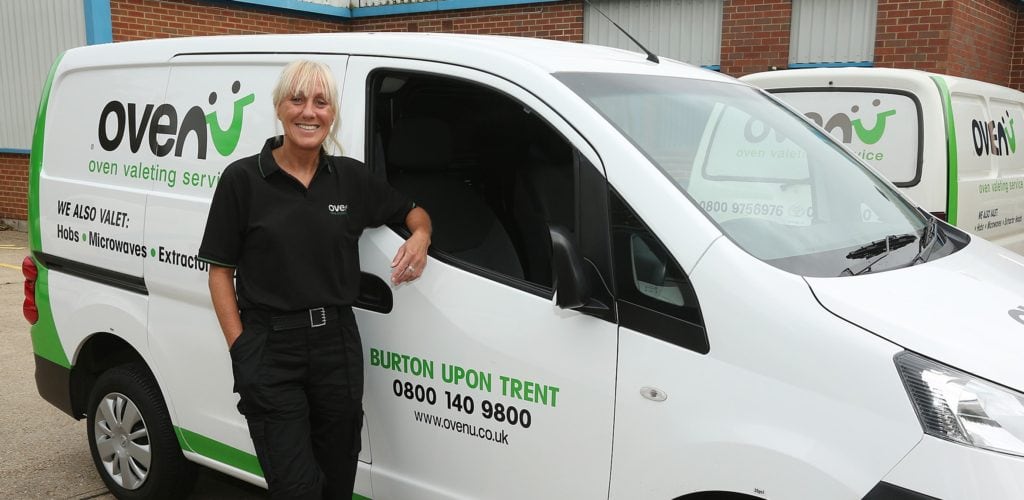 What training and support does Ovenu provide franchisees?
Ovenu believes its franchise package is the most comprehensive in its sector. You won't need to attend a discovery day to find out what the company provides, as it's all provided to you upon request of additional information.
Did you know?
Ovenu is eligible for funding support!
Request free information in just 60 seconds!
Take the first step in becoming your own boss!
Included in the start-up package:
• Induction training to an ISO Standard. You'll initially attend a five-day, accredited induction training course, which includes accommodation at a local hotel or B&B. You will immediately benefit from Ovenu's 25-plus years of knowledge and experience provided by the entire support team.
• Your van and livery. Ovenu leaves your choice of van to you. Let's face it, we are all individuals and come in different shapes and sizes. Luckily, so do vans. Ovenu will not tie you down to just one make and model or a compulsory lease/rental agreement.
• Products and consumables. You will initially be supplied with sufficient bespoke products and quality consumables for your first three months of trading.
• The tools of the trade. As part of the start-up package, you'll get all the tools you'll need to work with. These will include a couple of 'secret weapons' that Ovenu will be happy to chat about when they meet with the company.
• Quality branded workwear. Cool cotton for the warmer months, heavier weight polo shirts for when the weather is a bit cooler, warm sweatshirts for the frosty mornings and waterproof, fleece-lined jackets in case of rain.
• High visibility internet presence and national marketing. Getting you seen locally, nationally and internationally.
• Brochures and cards. Another integral part of your start-up package is a good supply of quality, lead-generating generic brochures and personalised drop cards.
Ovenu will also show you how the company allocates its franchise territories, giving you a flavour of what the earning potential is and provide you with some more detailed background information about the franchise.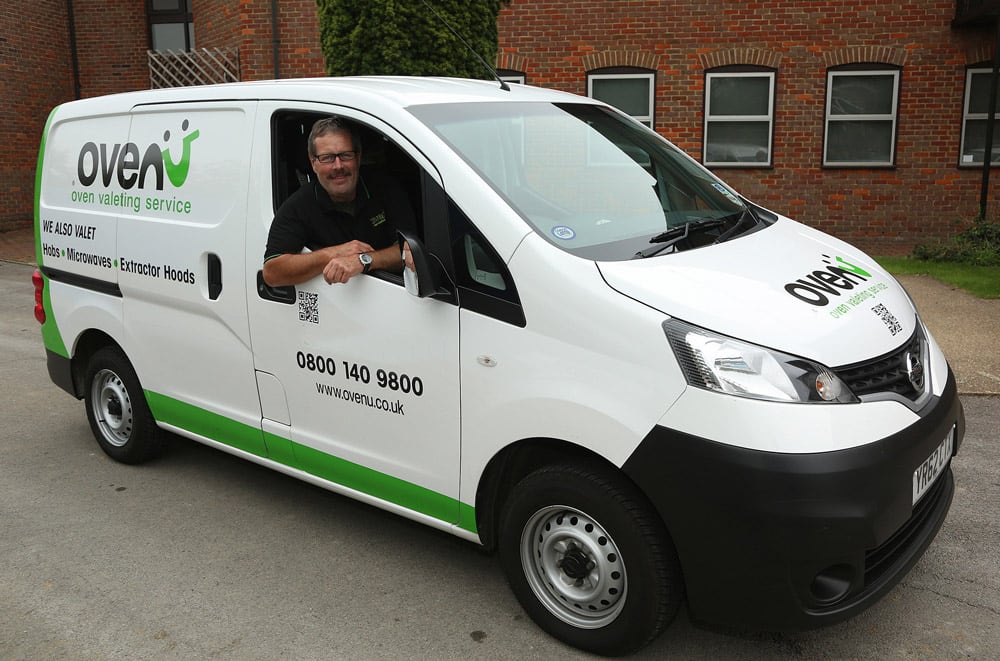 Does Ovenu charge franchisees any ongoing fees?
A fixed monthly fee (from £180) is payable to the franchisor in exchange for ongoing help, guidance, support and updates.
The management software and bespoke customer relationship management system used to manage the business, customer data, etc are included in the above fee.
In addition, a national marketing levy (from £60) is payable. This fund is an autonomous account that's used solely for marketing and advertising, therefore benefiting franchisees by helping to build the Ovenu brand.
Does Ovenu host discovery days?

Yes, but these are held at a later stage of the recruitment process, as all initial information, along with profit and loss forecasts, are provided very early on.
The Ovenu 'guest day' is designed to allow prospects to see what is actually and genuinely involved on a day-to-day basis.
What locations or territories is Ovenu looking to operate in?
Throughout the entire UK. Currently, there are resale opportunities in Sheffield South (Chesterfield, Dronfield and surrounds) and South Oxfordshire.
What are the Ovenu franchise's terms of agreement and renewal?

The Ovenu franchise agreement has a five-year term, with a renewal option of a further five years. This may be negotiable with the right applicants.
Over 75 per cent of franchisees renew their agreement for a second, third, fourth or even fifth term.
How in demand are the services provided by Ovenu?

The demand for specialist oven cleaning services is extremely high and Ovenu anticipates this trend to continue way into the future. Post-lockdown has been very buoyant indeed.
It's also worth noting that Ovenu's original pilot scheme was started just after a recession in 1993 and its existing franchisee network has traded profitably since the financial crash of 2008.
How do I get started on setting up an Ovenu franchise?
Enter your email address below to request free information.
Request Free Information
Send a free enquiry to Ovenu for further information!
Enquire into this franchise today