The information you submit via our enquiry form is shared only with the franchise business(es) that you have selected.
The franchise business will contact you by means of email and/ or telephone only to the email address and phone number you have provided.
By submitting the enquiry form you are consenting to send your personal information to the selected franchise business.
You also agree to receive further newsletter email marketing from What Franchise.
Close
Did you know?
Pieminister is eligible for funding support!
Request free information in just 60 seconds!
Take the first step in becoming your own boss!
Minimum Investment
£70,000 - £ 180,000
Funding Support
Yes, via high street banks
Total Investment
£130,000 – 180,000+VAT
Franchise Fees
£17,500+VAT per location
Expected Revenue After 2 Years
N/A
About Pieminister
Inspired by the pie shops frequented while travelling in Australia, Jon Simon and Tristan Hogg decided they wanted to revive the once-great British pie on their return home.
So in 2003, the two friends opened a small pie shop and kitchen on Stokes Croft in Bristol serving delicious food and Pieminister was born. They soon gained a great reputation for making delicious pies and helped revolutionise a flagging pie industry with exciting recipes, responsibly sourced finest ingredients, great branding and a knack for making exceptionally good pastry.
Pieminister has been making pies in Bristol ever since. A local family business (Jon and Tristan are now brothers-in-law and both their sisters work for the business too), their ingredients are selected for their sustainability credentials as well as taste.
Every pie in Pieminister's Classic range is a Great Taste Award winner and includes household names including Moo (British beef steak and craft ale), Free Ranger (free-range British chicken and ham with thyme) and Heidi (Somerset goats cheese, sweet potato, spinach and red onion).
There are more than a dozen classic pies on the Pieminister menu, including a growing number of plant-based or vegan recipes, which are registered with the Vegan Society and carry the trusted Vegan trademark.
Pieminister gluten-free pies are certified as gluten-free by Coeliac UK, they triumphed in the Great Taste and British Pie Awards, with judges remarking that Pieminister's GF pastry was the best they'd ever tasted.
In 2019, Pieminister launched a range of patties - pocket-sized pastry snacks designed to be eaten on the go by customers with a busy lifestyle. Encased in a golden saffron pastry, the original range of four includes two plant-based recipes.
As well as running pie restaurants, cafes or pie pubs across the UK, Pieminister also sells its wares through many of the UK's finest food retailers and at farmers' markets including a pie stall at London's world-famous Borough Market.
In 2020, Pieminister drew up a series of ambitious goals to hit by 2025.
The goals cover three key areas: animal and ecological welfare; climate change and waste: and human welfare and well-being. They have been aligned with the Sustainable Development Goals, the UN's blueprint to achieve a better and more sustainable future for all.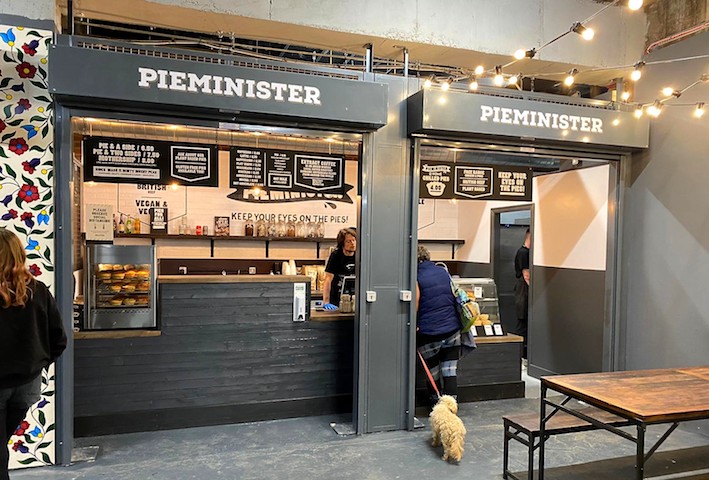 How does the Pieminister franchise model work?
Pieminister pies are made centrally in its 30,000 sq ft Grade A BRC accredited Bristol production site and then dispatched across the UK to franchise and managed stores.
Centralised production ensures the product is safe and consistent and allows franchise partners to operate with lower labour costs and without the need for expensive extraction.
Franchisees of this food franchise can operate in a wide range of locations, from market stalls and kiosks as small as 300 sq ft or cafés as small as 800 sq ft to full-service restaurants of up to 2,000 sq ft, to seize multiple location opportunities in their territory. This allows the opportunity to be scaled with the support of the experienced Pieminister head office management team.
Thanks to its affordable price points, Pieminister appeals to a core demographic of young professionals, students and young families who require quality food that is affordably priced and compatible with their dietary requirements and personal values.
A Pieminister shop is so versatile that it can equally cater for quick lunchtime 'fuelling' visits and more social brunches, weekend lunches or dinners with drinks.
Pieminister is also ideal for pick-up and delivery, as its product travels well, which contributed to record sales during the recent lockdowns.
Thanks to its dynamic branding and nationwide marketing and PR activity throughout the year, since its inception Pieminister, has ensured it is at the forefront of consumer and food trends, both in terms of its quality products and as a business.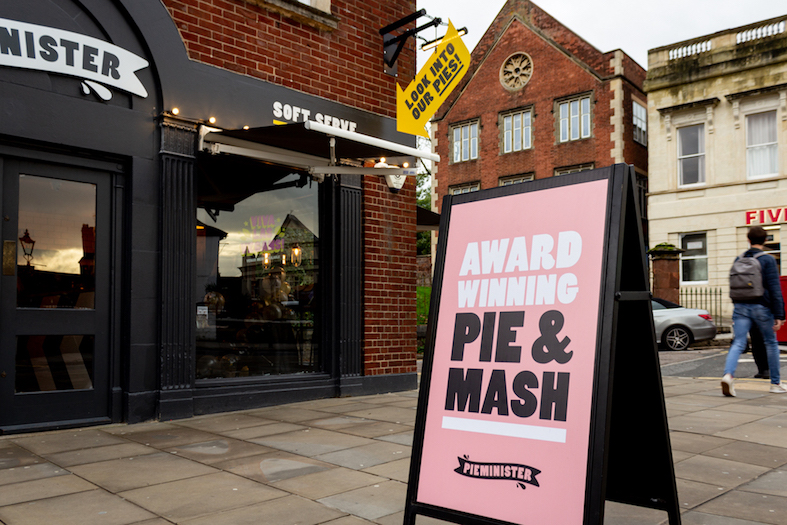 What type of franchisee is Pieminister looking to recruit?
As a key component of its expansion strategy, this pie shop franchise is looking for motivated partners who have the experience and resources to build the franchise business across the UK.
With the proven Pieminister business model, the company is set up for all types of aspiring business owners and entrepreneurs, either an individual owner-operator or a territorial franchisee.
A successful Pieminister franchise partner is someone who:
• Is passionate about and keen to be involved with the Pieminister brand and products and shares the love of Pieminister values.
• Is both an entrepreneur and an investor who is keen to represent the Pieminister brand.
• Is a natural, highly motivated leader who has experience in putting together and managing successful teams.
• Has solid operating experience (at least 5-10 years) in the food and beverage industry, preferably in food franchising.
• Has had demonstrated success in business and local experience in the area where he/she wishes to open franchise stores.
• Has liquid assets of at least £100,000 and can secure their own financing.
Did you know?
Pieminister is eligible for funding support!
Request free information in just 60 seconds!
Take the first step in becoming your own boss!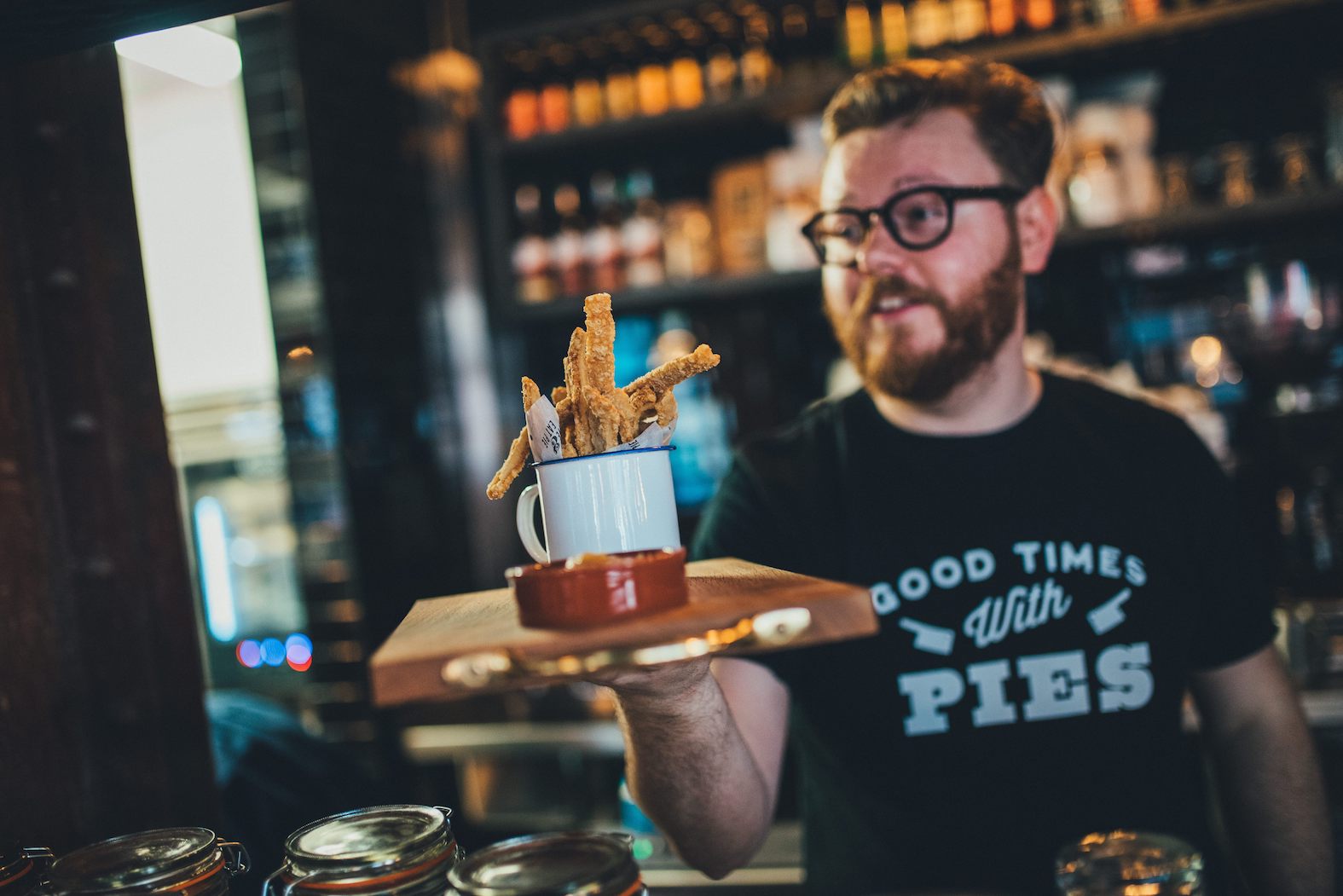 What training and support does Pieminister offer franchisees?

Pieminister will assist prospective franchisees with its property contacts and experience in location selection and lease acquisition.
The company will also assist franchisees with a business plan template and act as a sounding board to ensure the plan is as accurate as possible, based on its experience.
The Pieminister franchise is accredited with high street banks, ensuring franchisee applications have a higher success rate and a faster turnaround.
Pieminister will design and project manage each franchise location internally, reducing reliance and extra costs in connection with external suppliers.
Its initial support extends to the 11-day initial training at Pieminister's training stores and five-days on-the-job assistance at the franchisee's location.
Franchisees will also receive all business manuals and uniforms, as well as free pies to help in their start-up phase.
Once the franchise store has commenced trading, Pieminister will visit regularly to ensure the business is operated to the highest standard and to retrain if necessary.
The menu is rotated on a quarterly basis, with constant research and innovation in the form of new pie and non-pie recipes and products.
Pieminister's role will be to manage all the supply chain and supplier accounts to drive prices down for both product and services.
The company will also drive all national PR activity and manage social media accounts and the website pieminister.com, all while providing support to any marketing and PR activity undertaken by franchisees at a local level during the franchise term.
What is the minimum investment required for a Pieminister franchise?
Setting up a Pieminister shop will require anything from £130,000 to £180,000 (plus VAT) per location, depending on the chosen store format. The VAT is reclaimable.
At least 50 per cent can be financed using Pieminister's preferred high street banks and asset finance providers. Existing Pieminister locations historically paid back the investment in two to three years.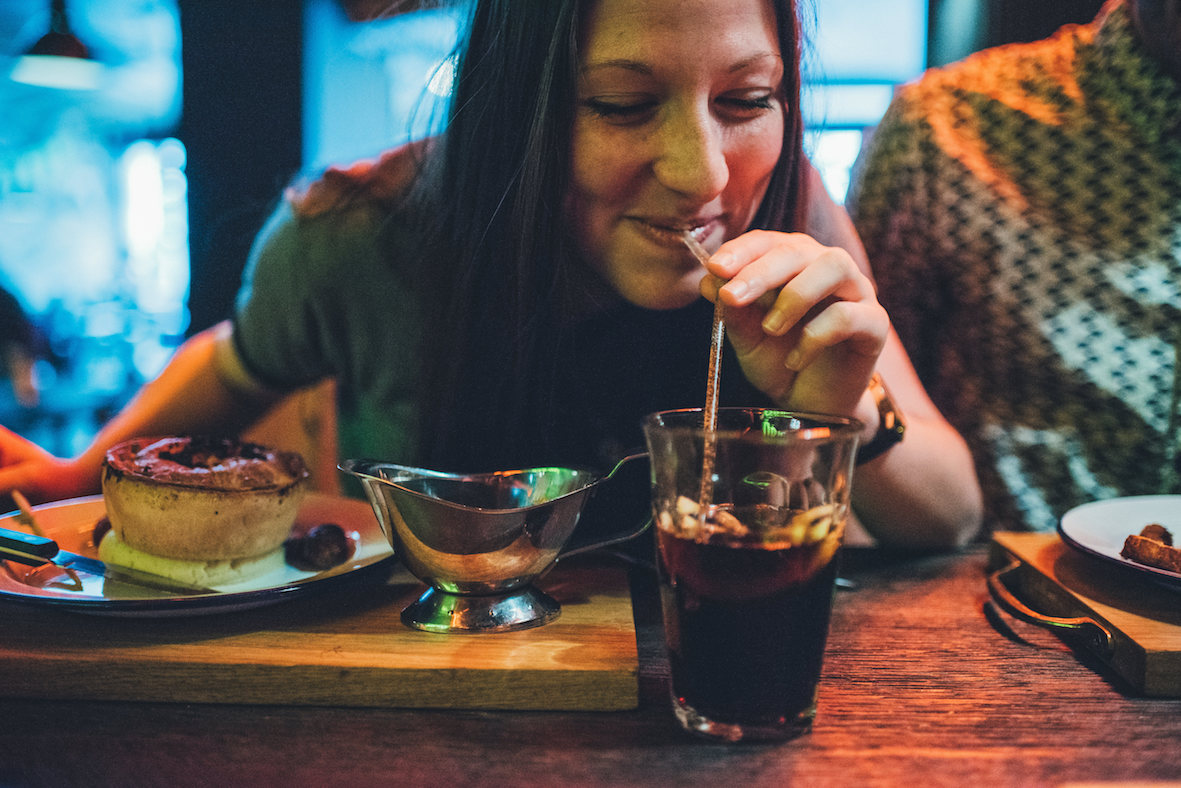 What locations or territories is Pieminister looking to operate in?
Pieminister's 'pins on the map' include the UK's largest cities, university and market towns where it is not present yet.
These include Southampton, Reading, Newcastle, Cambridge, York, Bath and Coventry.
There is also scope for further expanding markets like Manchester, Leeds and Nottingham, where Pieminister already operates with its managed locations.
Priority will be given to multi-unit franchisee profiles.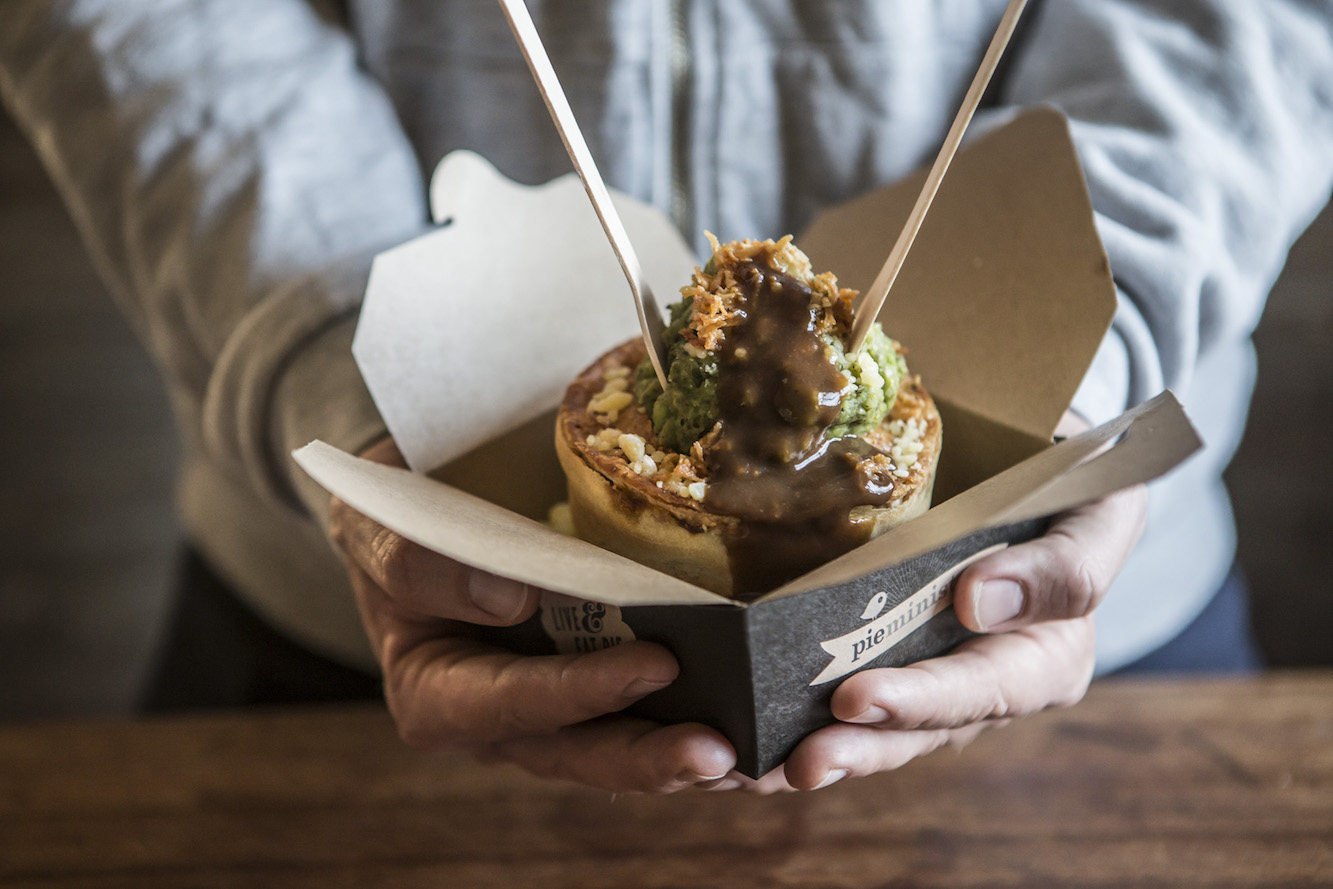 What are the franchise terms of agreement and renewal?

The Pieminister franchise agreement runs for five years and it can be renewed for a further five-year period. Multi-unit franchise agreements may have a longer term.
Why is the Pieminister franchise a good investment?

Pieminister is an established independent British business in the food industry offering a vast array of delicious, award-winning pies in a variety of different locations.
Investing in one of Pieminister's food franchise opportunities means also being part of a quirky and socially engaged brand with national awareness and an enormously loyal following.
Pieminister has successfully operated pie shops across the country, testing the model in various types of formats and trading conditions.
An immense market opportunity remains for qualified operators to further scale the Pieminister brand presence from the current 17 locations to 100 in the next eight to 10 years.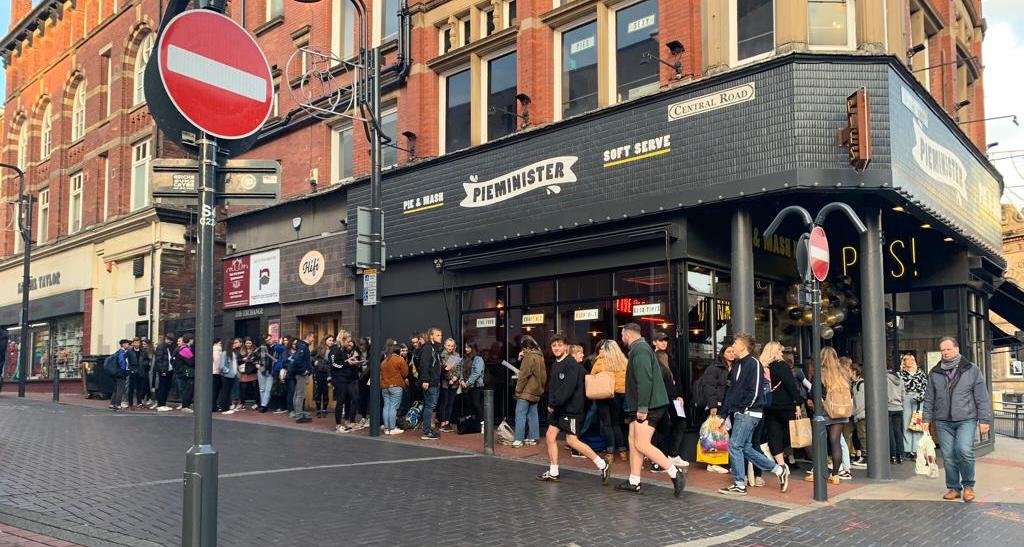 How do I get started on setting up my own Pieminister business?
To request further information about this franchise opportunity in the food sector, complete the enquiry form below and click on the 'Request Free Information' button now.
Request Free Information
Send a free enquiry to Pieminister for further information!
Enquire into this franchise today