The information you submit via our enquiry form is shared only with the franchise business(es) that you have selected.
The franchise business will contact you by means of email and/ or telephone only to the email address and phone number you have provided.
By submitting the enquiry form you are consenting to send your personal information to the selected franchise business.
You also agree to receive further newsletter email marketing from What Franchise.
Close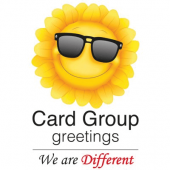 Card Group International
Providing fun, fresh and excellent design in greetings cards, gifts as well as partyware and decorations for all occasions
Minimum Investment
£40,000
Expected Revenue After 2 Years
N/A
About Card Group International
Card Group International provides unique greetings cards by utilising fun and exciting designs to help customers find what they need whatever the occasion. In addition, by housing a team of designers constantly creating new designs, Card Group is one of the only greetings card companies to track and monitor current trends in popular culture to help better serve its customers' needs.
Alongside greetings cards, it provides a huge range of products from gifts to partyware and decorations suitable for all occasions.
Founded in Sweden in 1997, Card Group International has maintained a successful business for well over 20 years and is now extending the opportunity to those who wish to apply. It now has a network of franchisees helping them to supply 45 countries worldwide.
Card Group provides franchisees with a complete system for their franchise business, including a wealth of training, operating manuals, rights on intellectual property, full support for the start-up phase, as well as on-going support through the life of a franchisee's business. It also provides a variety of financial support options to its franchisees, depending on the franchise model selected.
How does a Card Group International franchise work?
Card Group International offers two main franchising opportunities: Master Franchisee or Local Franchisee.
Local Franchisee
Becoming a Local Franchisee will allow you to work almost entirely from home. This is perfect for those who want to reduce the risks and start-up costs of opening a retail location. The main business model is that you will be providing Card Group International products to retailers and outlets, in which Card Group will supply the stock on consignment and retailers only pay for what they sell. This creates a unique win-win situation for both the franchisee and the retailer (as well as Card Group—who will be able to distribute its products farther and wider with the help of franchisees).
Becoming a Local Franchisee might be a good fit for you if you:
- Want to start a business working from home full-time or part-time
- Enjoy working in the field and communicating with business owners
- Are trying to start a successful business with a limited budget
Master Franchisee
Card Group is also looking for highly driven and ambitious franchisees to become Master Franchisees. Becoming a Master Franchisee means that you will be managing a network of franchisees, salespeople and merchandisers in your country. This is a more sophisticated business model and has a higher cost attached as well as factoring in working capital.
Becoming a Master Franchisee might be a good option for you if you:
- Have an entrepreneurial mindset
- Enjoy a combination of working in the field and in the office
- Possess excellent communication skills
- Feel comfortable managing a team
- Have a drive to succeed in business
- Approach things with a positive, winning attitude
How much does a Card Group International franchise cost?
To become a Master Franchisee the minimum investment is £40,000. Franchise fees are an additional £13,500. You will also need to allow for working capital between £40k to £60k.
For Local Franchisees, you can get started from as little as a £2,995 investment. This will include your own area, as well as everything you need to get started. You will need a few extra things such as a computer, vehicle, telephone and a small space for storage - these are not provided by Card Group.
Card Group will supply local franchisees with stock worth £4,350+VAT as part of the start-up package for your first 16 customers.
Master Franchisees will receive over £14,000 worth of stock as financial support to help jump-start their progress and ease the start-up process.
Expected yearly income for a Card Group International franchise?
Approximate yearly earnings based on successful franchisees currently in the network is £30,000.
Do Card Group International franchisees need experience?
To become a Local Franchisee, applicants do not need any prior experience as you will be provided with full training and support from the head office in your country both at the initial stages of business development and ongoing support after.
To become a Master Franchisee, applicants must have prior sales and general business experience. No knowledge of the business or the market is required as again, full training will be provided by Card Group.
How do you apply to become a Card Group International franchisee?
If you are interested in becoming a Card Group International franchisee, you can register your interest by completing the form on this page.

Request Free Information
Send a free enquiry to Card Group International for further information!
Enquire into this franchise today